The potential of community-led heritage
The challenge for the Heritage Trust Network is to raise awareness of the untapped potential of its member charities, community organisations and social enterprises.
Who are the custodians of the UK's heritage? The National Trust and English Heritage, Cadw, National Trust for Scotland or Historic Scotland? The Church of England is the custodian of the most listed buildings, and the Canal & River Trust comes third behind the National Trust. Some of the stately homes are still in private ownership. Many more small-scale historic sites are in everyday use as privately or publicly owned buildings and spaces.
There is a another, important piece of the jigsaw, a growing segment of heritage custodians, rescuing, restoring and reusing historic buildings, structures and spaces. These are the charities, community organisations and social enterprises that form the Heritage Trust Network.
A year ago I started working for network as its first chief executive. This was part of a process of renewal and transformation which has been supported by major funding from the National Lottery Heritage Fund and Historic England. What has struck me most about the network is its diversity. I am not talking about diversity in the sense of ethnicity, disability and so on. Like most of the heritage sector we still have a lot of work to do in that regard. However, the network is incredibly diverse in the range of organisations that are members, the types of historic sites they are working on, and the facilities and services that those sites provide. No longer is this simply a movement for traditional building preservation trusts (more about those later).
Once the network's members have completed the epic process of building and land restoration, their sites provide visitor attractions, business premises, artists' studios, homes, shops, cafes, gardens and community facilities. The size of site restored and managed is also diverse. My original experience of community-led restoration started in the 1990s in Spon End, Coventry, where a local trust was formed to rescue a terrace of six medieval cottages. That trust is still a member of the network. At the other end of the scale, one of our members, Wentworth Woodhouse, near Rotherham, is a Grade I stately home on a scale matching any in the National Trust's portfolio. There is also a growing section of our membership which consists of 'accidental custodians', community organisations that are not dedicated to preserving heritage but have taken on a historic building because it suits their needs. Refugee Education UK in London, which has taken on a former bank building, and Circus Eruption in Swansea, now custodians of a former church, are typical examples.
When we asked our members how they had coped through the period of Covid-19 restrictions, some had not been affected at all, some had been fully compensated by measures such as furloughing and emergency funding, a proportion had lost out financially, and a very small number were facing an existential crisis. This illustrates how diverse are the needs of our members in terms of government action and public policy. However, in many respects our members' needs are no different from those of the rest of the heritage sector (our members get as frustrated by the VAT regime as any others). As a lean organisation, the Heritage Trust Network puts its energies into providing advice and guidance to our members, and facilitating peer support and networking. We support other bodies such as the Heritage Alliance and IHBC to lobby government on the sector's behalf.
Where we do think we have a campaigning and advocacy job to do, is in raising awareness of the potential of community-led heritage initiatives to providing solutions to many of the challenges our society is currently facing.
Take the crisis in our high streets. A number of our members are leading local efforts to bring new life into town and city centres, hit by out-of-town, then online retail and, more recently, by Covid-19. As centres find a new future which is not as a place to go to deal with the necessities of life, but as destinations for culture, leisure, hospitality and diverse interactions with other humans, historic streetscapes provide a compellingly authentic setting. Historic Coventry Trust is managing the national demonstrator project for the high street heritage action zones, restoring 15 buildings in the Burges and Hale Street in a vibrant streetscape full of independent businesses. These are among the 22 buildings that Historic Coventry is working on in a ground-breaking asset-transfer initiative.
While changes in funding regimes, economics and the market for historic buildings has seen a decline in the traditional 'revolving' model of building preservation trusts, this new generation of multi-project trusts is proving its worth to local economies. Recognising this, our colleagues in the Architectural Heritage Fund have developed the Heritage Development Trust initiative to highlight the role that these dynamic building preservation trusts can play in high-street regeneration. For regeneration professionals, and politicians, the traditional answer to town-centre decline was comprehensive redevelopment, a new shopping centre or an anchor store. Our challenge is to persuade them that we are entering a new era where a more fine-grained approach is required, with quality of place at its core.
As we emerge from the pandemic, the importance of outdoor spaces in sustaining people's mental health and general wellbeing has been widely recognised. For many of our members with outdoor spaces these have been the only parts of their sites able to welcome visitors for much of the past year. This is another area where historic environments have untapped potential to contribute to public policy goals.
Riverside House Stourbridge is an organisation that has taken over a post-industrial river and canal-side site historically associated with the steel industry. It has not yet restored the historic buildings on its site but is already providing what has been recognised by local public health officials as a flagship health and wellbeing centre, offering therapeutic craft and land-based activities for people with a variety of needs. Similarly, The Ridge, an organisation in Dunbar, Scotland, is providing training in traditional skills for people with troubled backgrounds while restoring high-street buildings and providing volunteering opportunities for local residents in community gardens created in the burgage plots behind them.
Whether it is reborn building preservation trusts working dynamically, in partnership with local councils, to turn the problem of buildings at risk into an opportunity for regeneration, or community organisations using the historic environment as a platform for initiatives to improve people's health and wellbeing, the network's members are injecting a new sense of purpose into conservation. Our challenge is to raise awareness of that potential in local and national government, and among policy and decision makers more widely.
---
This article originally appeared in Context 169, published by the Institute of Historic Building Conservation (IHBC) in September 2021. It was written by David Tittle, chief executive of the Heritage Trust Network.
--Institute of Historic Building Conservation
IHBC NewsBlog
BRE/BEIS project to modernise home energy rating scheme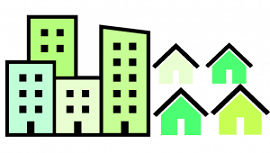 The Building Research Establishment (BRE) has announced a new project with the Department for Business, Energy and Industrial Strategy (BEIS) to improve and modernise the home energy rating scheme used to measure the energy and environmental performance of UK homes.
---
Interdisciplinary IHBC accreditation recognised by CSCS for PQP Cards

Sector lead the Construction Skills Certification Scheme (CSCS) has recognised the IHBC's professional accreditation and support (CPD etc.) in awarding its PQP (Professionally Qualified Person) cards.
---
IHBC Heritage Marketplace provides learning-led virtual engagement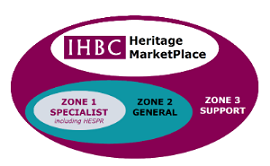 The IHBC's 2022 Aberdeen School Heritage MarketPlace (4.30-7.30PM, 15 June) is designed to extend the scope of a traditional IHBC School exhibition floor.
---
Unearthing the history of Gloucester's 'the Fleece' Hotel starts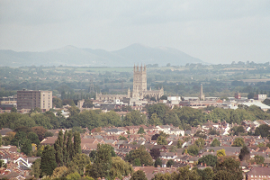 Work to repair a fire-hit medieval hotel in Gloucester is underway as crews have started work to strip back some of the modern trappings and reveal the historic framework.
---
Booking Open for IHBC Annual School: Aberdeen, 16-18 June 2022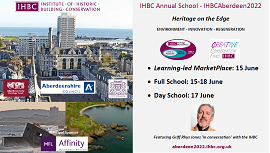 Options for in-person and virtual delegates to explore 'heritage on the edge' across up to 4 days of IHBC engagement & learning.
---
European Heritage Heads Forum statement on Ukraine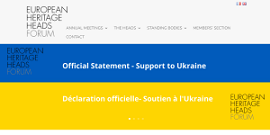 The Secretariat to the European Heritage Heads Forum has has coordinated its declaration of solidarity and support for Ukraine's cultural heritage institutions.
---
Welcome to #IHBC25 – 25 years since we turned professional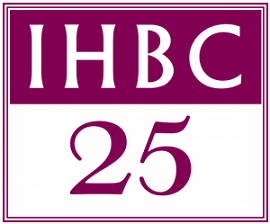 2022 will see the IHBC mark a quarter of a century since our incorporation as a professional body supporting and accrediting built and historic environment conservation specialists. We're kick-starting it by inviting your ideas on how to mark this special year!
---
IHBC launches new Guidance Note on 'Design sources for historic building conservation'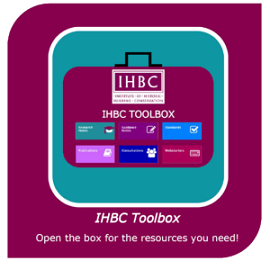 The IHBC's latest Guidance Note adds to the institute's open-access, online practitioner's Toolbox.
---
England's communities empowered to shape design of neighbourhoods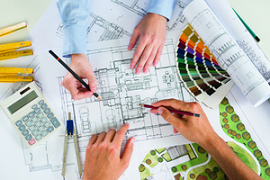 Twenty-five areas in England from Bournemouth to Carlisle have been awarded a share of £3 million to help them set their own standards for design locally. "move from a vicious circle of generic development to a virtuous circle of regenerative development".
---
IHBC at COP26 - Conserving our Places Conserves our Planet - Podcast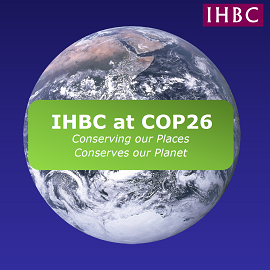 The IHBC seeks to raise awareness and understanding of how building conservation philosophy and practice contributes towards meeting the challenge of climate change.