Conservation area
Conservation areas are areas that have been designated as being of special architectural or historic interest, the character or appearance of which it is desirable to preserve or enhance.
The Planning (Listed Building and Conservation Areas) Act 1990 creates special controls for areas designated as conservation areas. Conservation area controls apply in addition to normal planning controls.
Conservation areas can be designated by a local authority, by Historic England (only in London), or by the Secretary of State for Culture Media and Sport. There are approximately 10,000 conservation areas in England.
The National Planning Policy Framework (NPPF) states that:
'When considering the designation of conservation areas, local planning authorities should ensure that an area justifies such status because of its special architectural or historic interest, and that the concept of conservation is not devalued through the designation of areas that lack special interest.'
If an area is designated as a conservation area, special planning controls apply:
Minor changes that might otherwise be considered 'permitted development' such as adding an extension, installing dormer windows or satellite dishes may not be permitted. Article 4 directions are used by local authorities to remove the right to permitted development. As article 4 directions are specific to particular local authorities, it is important to contact them directly to establish whether minor changes are allowed within a particular conservation area.
Cutting down , lopping or topping trees must be notified to the local authority 6 weeks in advance so that they can consider whether the tree contributes to the character of the conservation area and whether to impose a tree preservation order.
Proposed developments must preserve or enhance the special architectural or historic character of the conservation area. This does not specifically exclude innovative proposals but they must be sympathetic to their context.
Following the introduction of the Enterprise and Regulatory Reform Act 2013, it is no longer necessary to obtain Conservation Area Consent when demolishing unlisted buildings in conservation areas, planning permission will be required instead. Failure to obtain such permission remains a criminal offence.
Local authorities should develop policies to help preserve and enhance the character and appearance of conservation areas. Developers considering projects in conservation areas should contact the local authority conservation officer to find out what the local policies are and whether conservation area consent may be required.
When considering an application, the local authority should consider the contribution the proposals would make to preserving or enhancing the conservation area. Decisions will generally take 8 to 13 weeks, and appeals can be submitted to the Secretary of State within 6 months. Applying for conservation area consent is free.
It is a criminal offence to undertake work in a conservation area without consent, and the local planning authority can insist that the work is reversed.
IHBC NewsBlog
IHBC NI Branch and Heritage Collective thank all for a hugely successful Annual School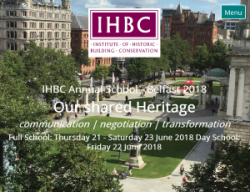 The NI Branch, alongside the School's main sponsors, Heritage Collective, have offered their collective thanks to all concerned for 'Shared heritage in action'!
---
IHBC CPD boost: Caithness Broch Project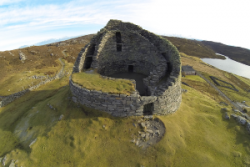 Scotland has played a huge part in architecture, design and engineering - the 'Broch', apparently found only in Scotland, could be described a marvel of engineering legacy.
---
Unesco announces range of new World Heritage Sites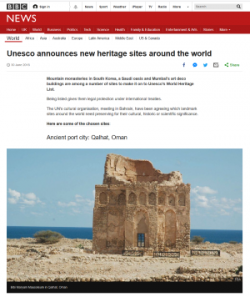 Mountain monasteries in South Korea, a Saudi oasis and Mumbai's art deco buildings are among a number of sites to make it on to Unesco's World Heritage List, reports the BBC.
---
New APPG formed on good design and placemaking is supported by ACE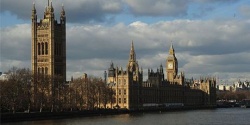 The APPG, formed to ensure housing issues are prioritised, will be provided with secretariat services from the Association for Consultancy and Engineering (ACE).
---
Planning appeal inquiries review with terms of reference announced for England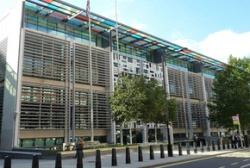 A Planning appeal inquiry review was announced by England's Ministry of Housing, Communities and Local Government (MHCLG) on 22 June 2018.
---
Hand-Arm Vibration Syndrome (HAVS) failures cost Balfour Beatty £695K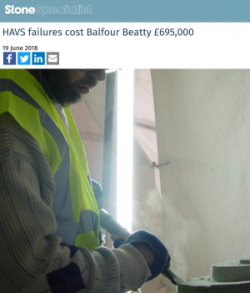 Contractor Balfour Beatty Utility Solutions fined £500K with costs of £195K for exposing workers to HAVS over a 9 year period and failing to report cases.
---
Launch of UK's Great British High Street competition 2018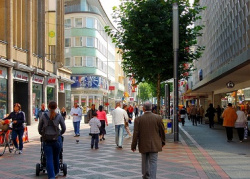 Communities across the UK are being urged to back their local high streets by entering them into the Great British High Street Awards 2018.