Trellick Tower
[edit]
Introduction
Trellick Tower is a block of flats in Kensal Town, west London. It was designed in the Brutalist style by architect Erno Goldfinger, and commissioned by the Greater London Council (GLC).
At 31-storeys, the building is 98 m (322 ft) tall and was completed in 1972. Goldfinger, having drawn inspiration from Le Corbusier's Unite d'Habitation, refined the design from his earlier and slightly smaller Balfron Tower, located in Poplar, east London.
Like Balfron Tower, the building is characterised by its long, thin profile, with a separate lift and service tower linked at every third storey to the main building's access corridors. It contains 217 flats, all of which were originally owned by the GLC and rented as council flats. Today, most are still social housing but a few are privately owned.
Despite going through a period of notoriety due to reports of violence and anti-social behaviour, the tower has in recent decades experienced a reversal of fortune and is now considered to be one of London's key Brutalist icons, and perhaps the most famous example of council housing in the UK.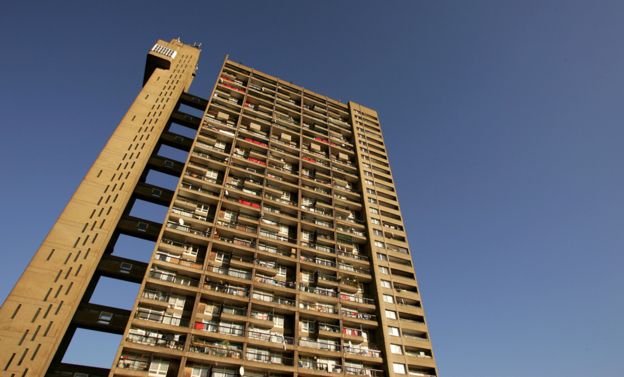 Having been commissioned by the GLC in 1967, Goldfinger decided to base his design on his Balfron Tower which he had recently completed and lived in himself for a couple of months. They are almost identical save for Trellick Tower being four storeys taller and featuring a more slender and lighter service tower.
The building is said to be consistent with Goldfinger's vision of architecture as an art of enclosing space, or 'work that is only appreciable from within'.
Like Balfron, the building features dramatic, bridge-like walkways every third floor that connect the apartment block to the service tower which contains stairways and lifts. At the top of the service tower is the plant room where the majority of the plant, including boiler and hot water storage tanks, is focused. This grouping together of the services reduces the need for pumps and hence the amount of pipework required, which helps to reduce heat loss. However, the original oil-fired boilers were rendered obsolete during the oil crisis of 1973 when the flats were fitted with electric heaters. Despite this, the plant room still contains most of the defunct plant.
[edit]
Post-completion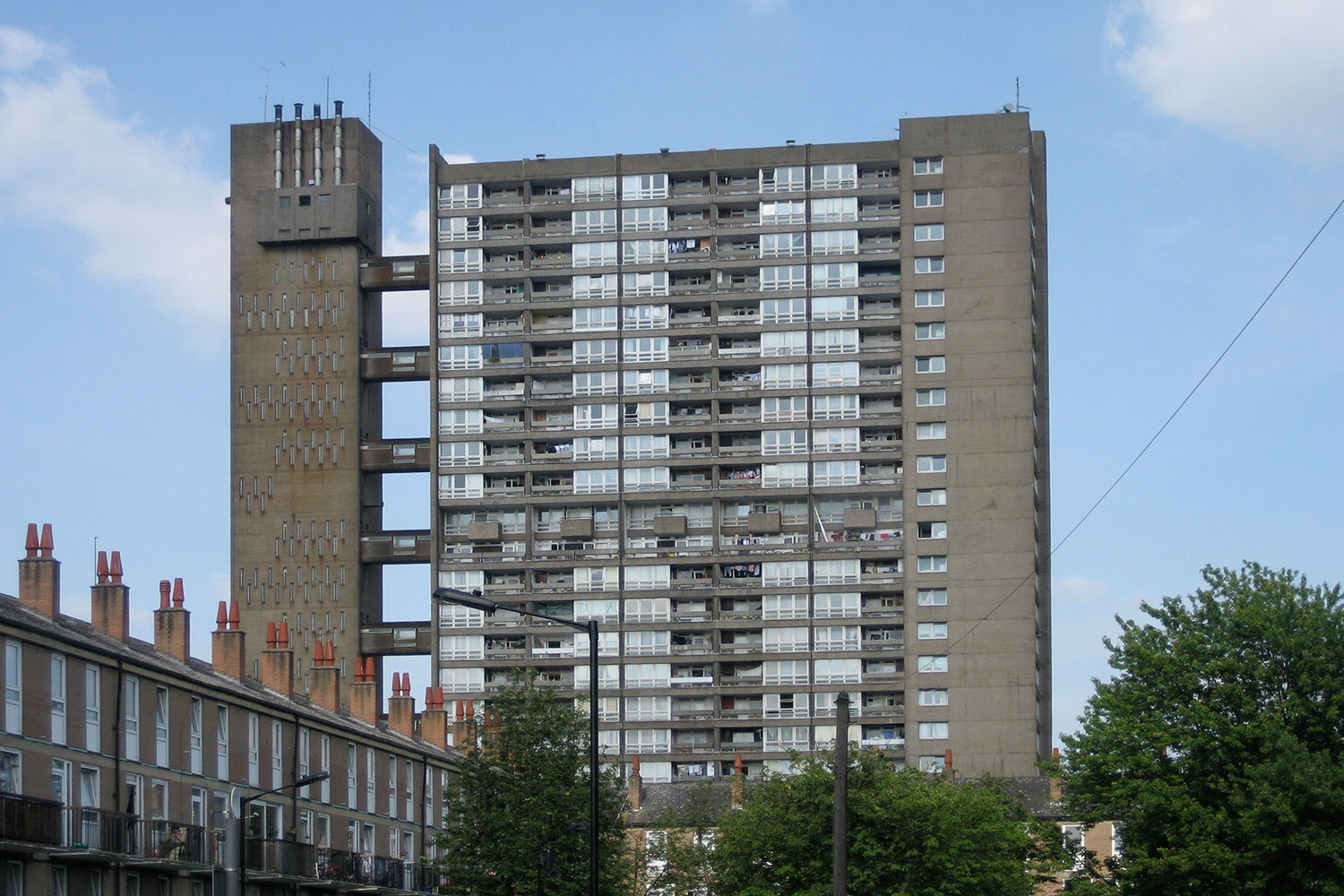 Goldfinger lobbied for the building to be provided with a concierge and for tenants to be vetted for suitability, but he was ignored.
Not long after completion the building was blighted by rough sleepers, vandalism, drugs and violence; the media reporting of which led to it being given the nickname of the 'Tower of Terror'. The Conservative government of the 1980s saw the building as emblematic of the socialistic leanings of the GLC and was keen to see it demolished, along with many of the other 'sink estates' of the Brutalist movement.
However, market forces saved Trellick Tower from demolition, and with the introduction of Right to Buy council homes, many of the flats were bought by the tenants. In 1984, a residents' association was established that successfully applied pressure for a sophisticated door entry system, CCTV and a concierge.
Property prices rose and the flats came to be regarded as highly desirable; because, not in spite of, its cult appeal and gritty reputation. The building was granted Grade II listed status in 1998, and given a £17 million government-funded renovation shortly after.
In terms of culture, Trellick Tower is widely believed to have been the inspiration for J.G. Ballard's cult dystopian novel 'High Rise' (1975), and also features in Martin Amis' novel 'London Fields'. As its 'alternative icon' status has increased, it has featured in numerous film, TV and music videos by artists such as Blur, Tricky and Depeche Mode.
In April 2017, a fire at the Tower was tackled by 58 firefighters and more than 200 people were evacuated. A flat on the 27th floor was badly damaged.
In May 2017, it was announced that Wates Living Space would undertake a £7.2m external restoration programme, including renovation and replacement of the concrete envelope, cladding and windows.
IHBC NewsBlog
IHBC - Heritage Project Management at Bishop Auckland with CIOB
On 18/19 October the IHBC, with CIOB and others will host this event offering practical insights into the working of heritage-led regeneration projects valued at some £90 million.
---
IHBC update on Historic England review of written advice and guidance
Pye Tait is carrying out an independent review of HE's online advice and guidance, and want to boost responses from local authority (LA) conservation officers in particular..
---
Medway Council seeks heritage interpretation strategy and delivery on HLF project, closing 1 September, valued £97,000.
---
DBW Context post - Sir Donald Insall on Chester Conservation Areas
Sir Donald Insall's article on 'Chester, conservation as positive action', written for the IHBC's Conservation Area anniversary issue of Context of March 2017 now on DBW.
---
DCLG publishes guidance on Brownfield Registers and Permission in Principle
The Department for Communities and Local Government guidance supports permission in principle and brownfield registers of land suitable for housing.
---
London Mayor - new planning rules to boost affordable housing
At least half the new homes built on public land in London will have to be affordable to benefit from faster planning permission under a new approach to development.
---
Places, People and Planning – BEFS response to the Position Statement
Built Environment Forum Scotland has submitted its response to the Scottish Government's position paper on the planning review.
---
SAVE and partners granted permission for judicial review on Paddington Cube decision
The High Court grants permission to challenge the Secretary of State for Communities and Local Government over refusal to call in Paddington Cube proposals for public inquiry.
---
Campaigners delighted as reconstruction work finally begins on Carlton Tavern
Work has begun, as a result of campaigners fight, on the reconstruction of a beloved pub the Carlton Tavern, Maida Vale which was knocked down illegally by its owners.
---
Scottish tour operator aims to correct misleading displays
A Scottish tour operator has set up a national 'history police' forum, allowing the public to report misleading or inaccurate information at museums and local information boards.