Trellick Tower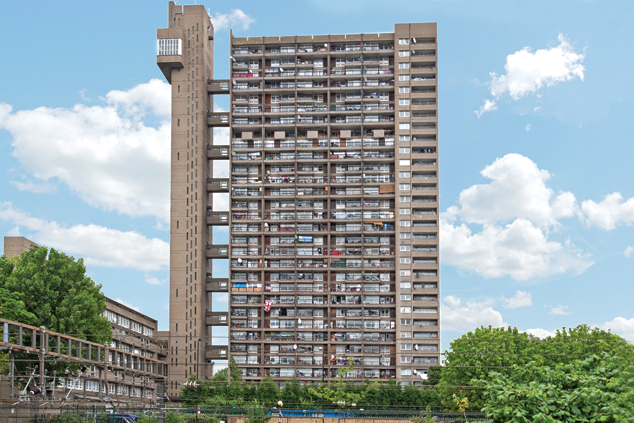 [edit]
Introduction
Trellick Tower is a block of flats in Kensal Town, west London. It was designed in the Brutalist style by architect Erno Goldfinger, and commissioned by the Greater London Council (GLC).
At 31-storeys, the building is 98 m (322 ft) tall and was completed in 1972. Goldfinger, having drawn inspiration from Le Corbusier's Unite d'Habitation, refined the design from his earlier and slightly smaller Balfron Tower, located in Poplar, east London.
Like Balfron Tower, the building is characterised by its long, thin profile, with a separate lift and service tower linked at every third storey to the main building's access corridors. It contains 217 flats, all of which were originally owned by the GLC and rented as council flats. Today, most are still social housing but a few are privately owned.
Despite going through a period of notoriety due to reports of violence and anti-social behaviour, the tower has in recent decades experienced a reversal of fortune and is now considered to be one of London's key Brutalist icons, and perhaps the most famous example of council housing in the UK.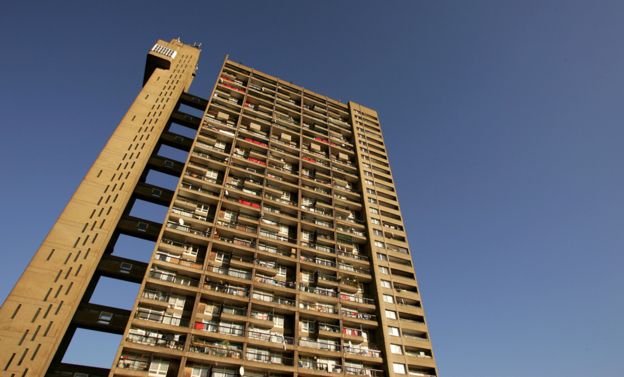 Having been commissioned by the GLC in 1967, Goldfinger decided to base his design on his Balfron Tower which he had recently completed and lived in himself for a couple of months. They are almost identical save for Trellick Tower being four storeys taller and featuring a more slender and lighter service tower.
The building is said to be consistent with Goldfinger's vision of architecture as an art of enclosing space, or 'work that is only appreciable from within'.
Like Balfron, the building features dramatic, bridge-like walkways every third floor that connect the apartment block to the service tower which contains stairways and lifts. At the top of the service tower is the plant room where the majority of the plant, including boiler and hot water storage tanks, is focused. This grouping together of the services reduces the need for pumps and hence the amount of pipework required, which helps to reduce heat loss. However, the original oil-fired boilers were rendered obsolete during the oil crisis of 1973 when the flats were fitted with electric heaters. Despite this, the plant room still contains most of the defunct plant.
[edit]
Post-completion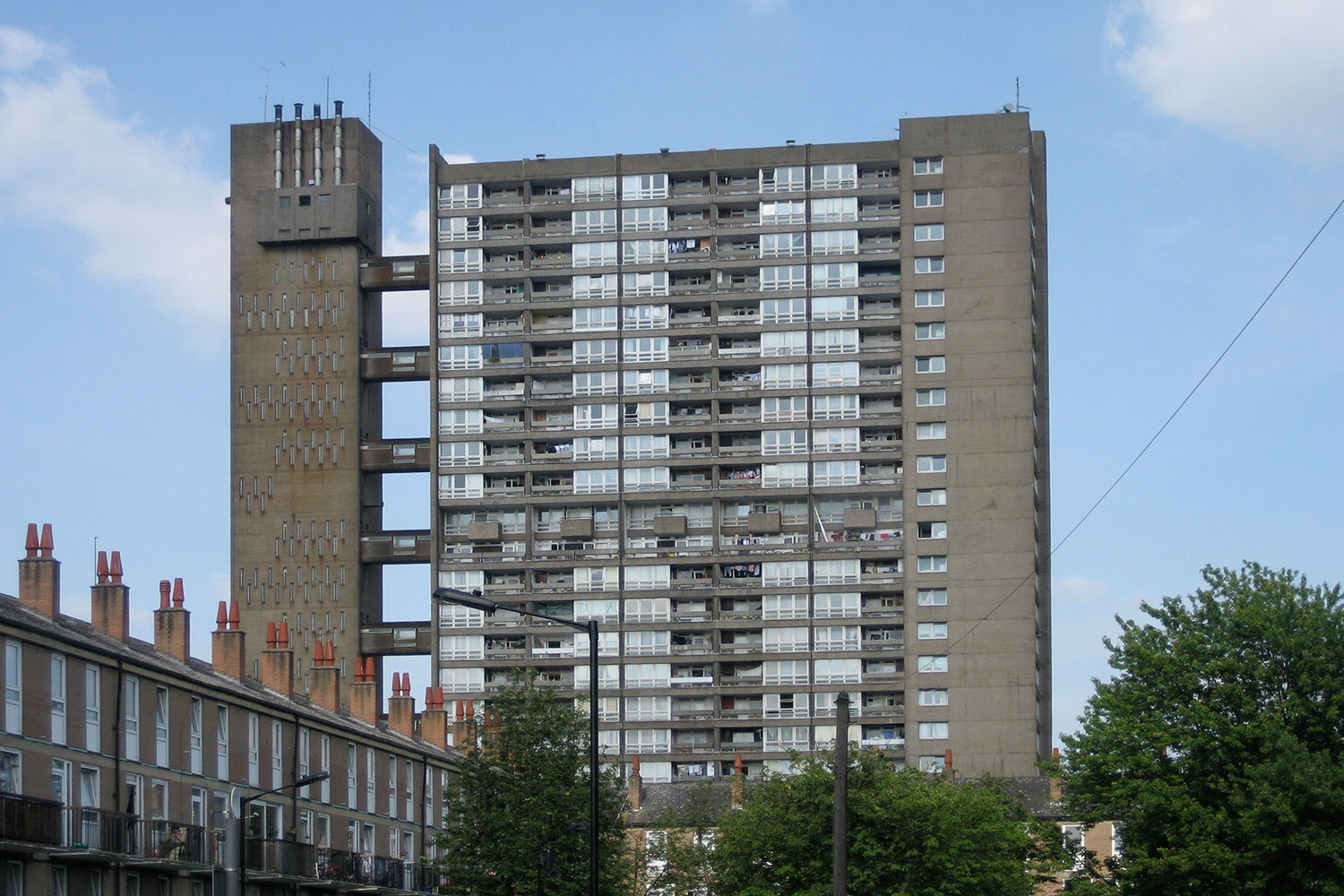 Goldfinger lobbied for the building to be provided with a concierge and for tenants to be vetted for suitability, but he was ignored.
Not long after completion the building was blighted by rough sleepers, vandalism, drugs and violence; the media reporting of which led to it being given the nickname of the 'Tower of Terror'. The Conservative government of the 1980s saw the building as emblematic of the socialistic leanings of the GLC and was keen to see it demolished, along with many of the other 'sink estates' of the Brutalist movement.
However, market forces saved Trellick Tower from demolition, and with the introduction of Right to Buy council homes, many of the flats were bought by the tenants. In 1984, a residents' association was established that successfully applied pressure for a sophisticated door entry system, CCTV and a concierge.
Property prices rose and the flats came to be regarded as highly desirable; because, not in spite of, its cult appeal and gritty reputation. The building was granted Grade II listed status in 1998, and given a £17 million government-funded renovation shortly after.
In terms of culture, Trellick Tower is widely believed to have been the inspiration for J.G. Ballard's cult dystopian novel 'High Rise' (1975), and also features in Martin Amis' novel 'London Fields'. As its 'alternative icon' status has increased, it has featured in numerous film, TV and music videos by artists such as Blur, Tricky and Depeche Mode.
In April 2017, a fire at the Tower was tackled by 58 firefighters and more than 200 people were evacuated. A flat on the 27th floor was badly damaged.
In May 2017, it was announced that Wates Living Space would undertake a £7.2m external restoration programme, including renovation and replacement of the concrete envelope, cladding and windows.
IHBC NewsBlog
Conservation capacity crises causes cornflake consumption confusion - thanks Bob!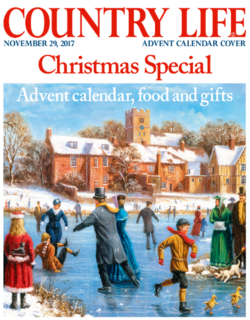 Confusion for columnist Athena, as heritage adviser and IHBC research consultant Bob Kindred explained the background to her realisation on the loss of conservation officer posts.
---
IHBC welcomes Landscape and Urban Planning Special Issue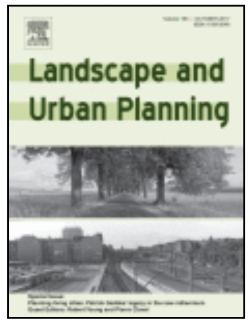 The IHBC recently featured Patrick Geddes in the 'Conservation and Urbanism' issue of Context, this Special Issue also features Patrick's legacy in the new millennium.
---
Interactive map lets you take a literary journey through the historic monuments of Rome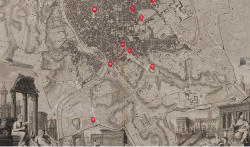 IHBC members may be interested in a new model for touring Rome's best known landmarks, an interactive map, from of the Morgan Library and Museum.
---
IHBC - Heritage from the doorstep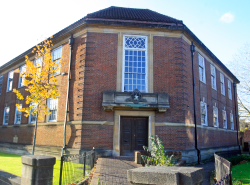 A former library on Queen Victoria Road in High Wycombe, which has stood empty for a number of years, could be turned into offices, according to the county council.
---
Bristol and Wandsworth explore lamposts for electric vehicle charging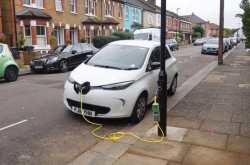 The prospect of electric vehicle charging points being installed in every residential street in Wandsworth has moved a step closer after councillors backed ambitious plans.
---
HE reveals overwhelming public support for saving Mills in England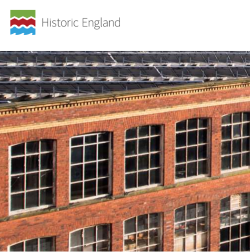 Historic England (HE) reports that 85% of England's population says they are against demolition and replacement of mills.
---
Aberdeenshire biennial AALD Awards 2018 seek nominations

The 11th biennial Architectural and Landscape Design Awards - now seeking project nominations that 'demonstrate innovative and forward thinking design solutions.'
---
DCMS - 1954 Hague Convention for the Protection of Cultural Property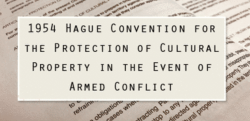 Measures to support the effective implementation of the 1954 Hague Convention for the Protection of Cultural Property in the Event of Armed Conflict have been announced.
---
Play stations at the BBC: Railway stops worth lingering at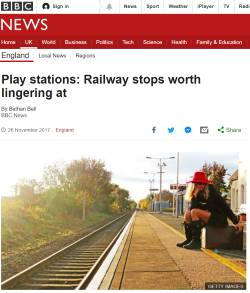 The BBC has listed some interesting railway stations worth visiting.