Trellick Tower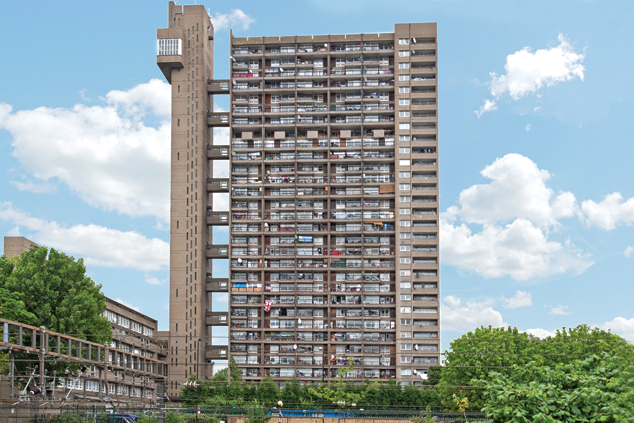 [edit]
Introduction
Trellick Tower is a block of flats in Kensal Town, west London. It was designed in the Brutalist style by architect Erno Goldfinger, and commissioned by the Greater London Council (GLC).
At 31-storeys, the building is 98 m (322 ft) tall and was completed in 1972. Goldfinger, having drawn inspiration from Le Corbusier's Unite d'Habitation, refined the design from his earlier and slightly smaller Balfron Tower, located in Poplar, east London.
Like Balfron Tower, the building is characterised by its long, thin profile, with a separate lift and service tower linked at every third storey to the main building's access corridors. It contains 217 flats, all of which were originally owned by the GLC and rented as council flats. Today, most are still social housing but a few are privately owned.
Despite going through a period of notoriety due to reports of violence and anti-social behaviour, the tower has in recent decades experienced a reversal of fortune and is now considered to be one of London's key Brutalist icons, and perhaps the most famous example of council housing in the UK.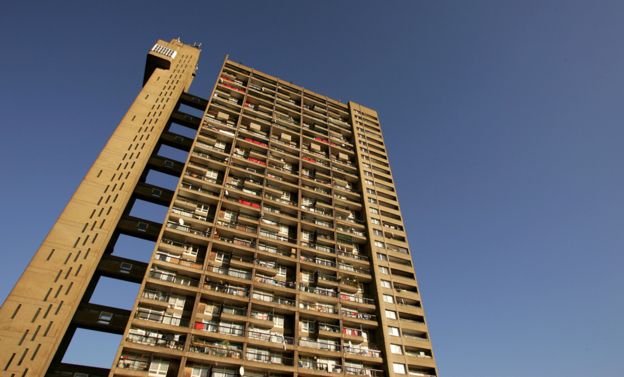 Having been commissioned by the GLC in 1967, Goldfinger decided to base his design on his Balfron Tower which he had recently completed and lived in himself for a couple of months. They are almost identical save for Trellick Tower being four storeys taller and featuring a more slender and lighter service tower.
The building is said to be consistent with Goldfinger's vision of architecture as an art of enclosing space, or 'work that is only appreciable from within'.
Like Balfron, the building features dramatic, bridge-like walkways every third floor that connect the apartment block to the service tower which contains stairways and lifts. At the top of the service tower is the plant room where the majority of the plant, including boiler and hot water storage tanks, is focused. This grouping together of the services reduces the need for pumps and hence the amount of pipework required, which helps to reduce heat loss. However, the original oil-fired boilers were rendered obsolete during the oil crisis of 1973 when the flats were fitted with electric heaters. Despite this, the plant room still contains most of the defunct plant.
[edit]
Post-completion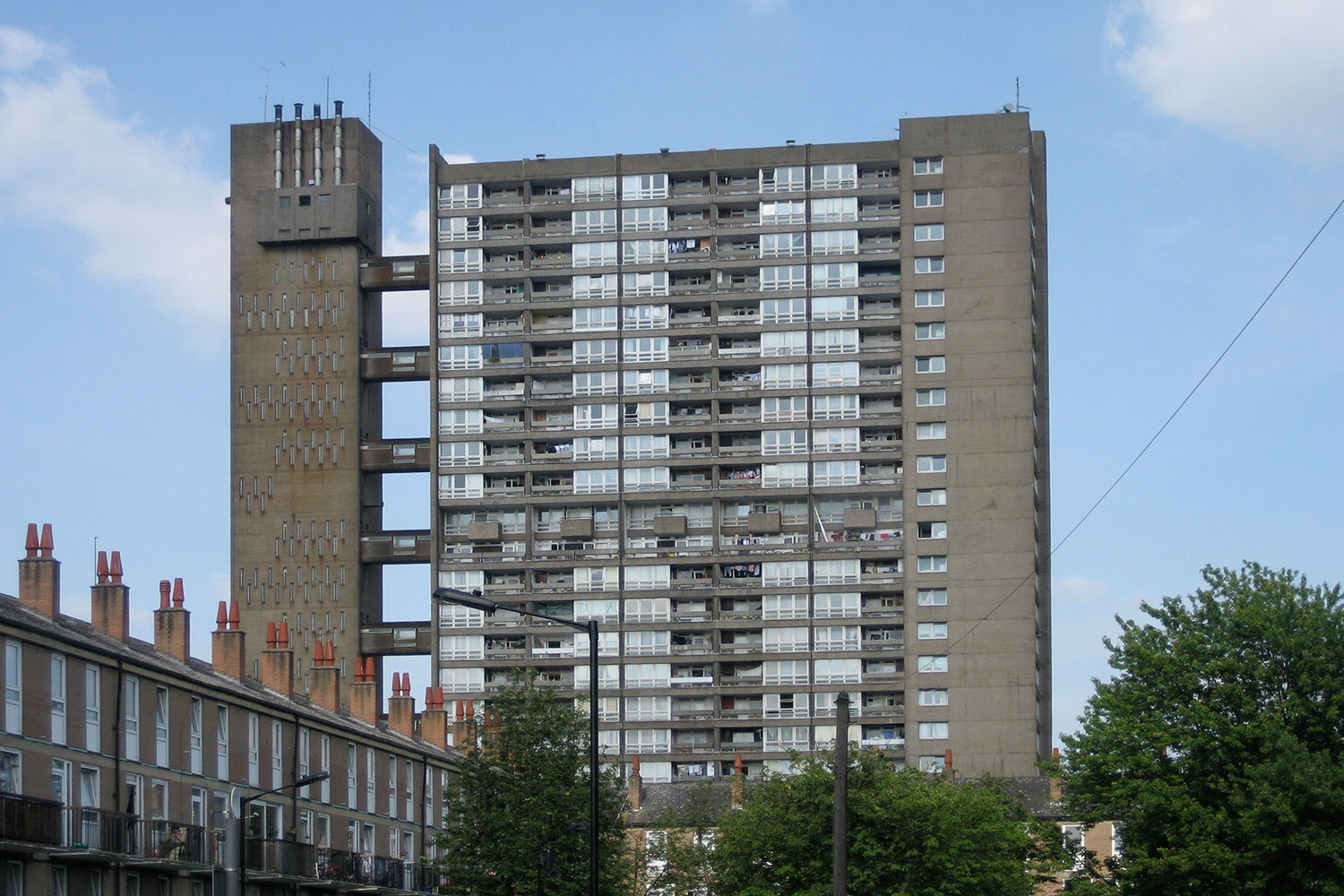 Goldfinger lobbied for the building to be provided with a concierge and for tenants to be vetted for suitability, but he was ignored.
Not long after completion the building was blighted by rough sleepers, vandalism, drugs and violence; the media reporting of which led to it being given the nickname of the 'Tower of Terror'. The Conservative government of the 1980s saw the building as emblematic of the socialistic leanings of the GLC and was keen to see it demolished, along with many of the other 'sink estates' of the Brutalist movement.
However, market forces saved Trellick Tower from demolition, and with the introduction of Right to Buy council homes, many of the flats were bought by the tenants. In 1984, a residents' association was established that successfully applied pressure for a sophisticated door entry system, CCTV and a concierge.
Property prices rose and the flats came to be regarded as highly desirable; because, not in spite of, its cult appeal and gritty reputation. The building was granted Grade II listed status in 1998, and given a £17 million government-funded renovation shortly after.
In terms of culture, Trellick Tower is widely believed to have been the inspiration for J.G. Ballard's cult dystopian novel 'High Rise' (1975), and also features in Martin Amis' novel 'London Fields'. As its 'alternative icon' status has increased, it has featured in numerous film, TV and music videos by artists such as Blur, Tricky and Depeche Mode.
In April 2017, a fire at the Tower was tackled by 58 firefighters and more than 200 people were evacuated. A flat on the 27th floor was badly damaged.
In May 2017, it was announced that Wates Living Space would undertake a £7.2m external restoration programme, including renovation and replacement of the concrete envelope, cladding and windows.
IHBC NewsBlog
IHBC offers new-style local training for UK practitioners
BOOK now for 'Heritage Project Management' – A 'Unique Learning Experience', on site at Bishop Auckland's £90million project suite, 18/19 October.
---
Meet the new Chief Executive at The Churches Conservation Trust
The IHBC has welcomed the announcement that IHBC member Peter Aiers will be the new Chief Executive of the Trust.
---
New Context out - Issue 150 on Conservation and Urbanism
The latest issue of the IHBC's membership journal is themed around Conservation and Urbanism - from conservative surgery to car parking and Yangon & more.
---
Stamford Civic Society thanks IHBC for support at first Conservation Area anniversary
As part of the Stamford 50 local celebrations Stamford Civic Society is holding an exhibition in September, looking at why conservation is still important today.
---
National Heritage Memorial Fund seeks evaluation of projects funded closing 26 August, valued £30,000.
---
Lords Select Committee launches Call for Evidence on civic engagement
The Select Committee will explore the issues of citizenship and civic engagement in the 21st century - deadline for evidence of 7/8 September.
---
New Listings to Celebrate 70 Years of Protecting English Historic Buildings
Listings include a London cabbie's shelter, a WWI wireless station and a 'hobbit house' marking 70 years of protecting England's extraordinary historic buildings.
---
Trudi Elliott to stand down as RTPI chief executive
The Royal Town Planning Institute's (RTPI) chief executive Trudi Elliott has announced that she is to step down from the post.
---
Keep it London - putting heritage at the heart of planning
A new Historic England (HE) report says heritage should be at the core of planning and recognised as vital for future growth.
---
Welsh Cabinet Secretary announces major shake up of council elections
Welsh Cabinet Secretary for Local Government, Mark Drakeford, announces details of new Local Government Bill with regional planning changes.
---
Scottish Civic Trust 50th Anniversary celebration – Doors Open Days 2017
Nominations sought for 50 favourite Scottish doors by the trust in partnership with Aberdeen Asset Management and supported by Historic Environment Scotland