International heritage
This article originally appeared as 'Concerning conservation' in IHBC's Context 157 (Page 12), published in November 2018. It was written by Jukka Jokilehto.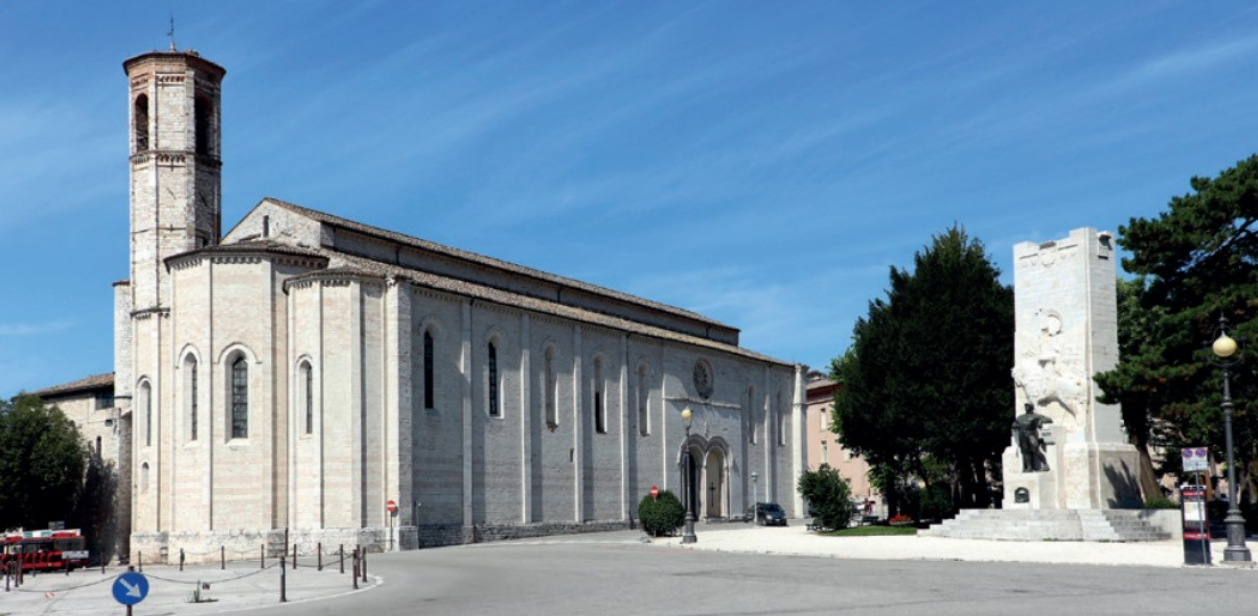 The church of San Francesco in Gubbio, Italy. In 1960 the city was the location of a national expert meeting which stressed the importance of the role of the local authority in guaranteeing the conservative rehabilitation of historic quarters (Photo: Sailco, Wikimedia Commons).
The modern recognition of heritage significance in human and natural resources has been subject to continuous evolution over the past two centuries. The romantic nostalgia of the 19th century resulted in two reactions. One was the revival of past styles, either medieval and classicist, and the restoration or reconstruction of existing historic buildings in the style of a favoured period.
The other approach was based on the recognition of genuine documentary evidence of human creativity over time, therefore proposing to maintain and reveal the existing historical layers. In the early 20th century the tendency was to find a reasonable balance between the two extremes, suggesting maintaining significant parts of a historic structure, and avoiding pastiche or imitation in the new sections required, as was stated in the international conference of Athens in 1931. In the 19th century various countries also started identifying natural areas to be protected as national parks.
After the second world war, it was understood that the previous approaches to the conservation of cultural heritage were often not applicable when dealing with the clearance and reconstruction of war-destroyed cities. There was a new interest in understanding the overall urban or rural context of historic buildings. In 1960 in Italy, this was promoted in a national expert meeting in Gubbio, which stressed the importance of the role of the local authority in guaranteeing the conservative rehabilitation of historic quarters (centristorici).
In 1962 the French Minister André Malraux gave his name to a new law for the establishment of protected areas (secteurs sauvegardés) as the responsibility of the national authority. Also in the 1960s the UK passed legislation to establish conservation areas, which implied the recognition of 'group value' to buildings not found to have special historic or architectural values, but which were an integral part of the townscape. It also stressed the involvement of local property owners.
With the strengthening of international economics, the strategic planning of urbanised territories tended to be based on financial and trading priorities. Protected buildings often remained as individual architectural landmarks within a newly developing context. The 1970s, however, also became a paradigm in the development of a new methodology in integrated urban conservation, recognised by the Council of Europe during the 1975 European Architectural Heritage Year. In 1976, Unesco adopted an international recommendation concerning the safeguarding and contemporary role of historic areas, stressing that every historic area within its surroundings should be considered in its integrity, maintaining its balance and specific nature.
From the 1990s, the previous tendency to consider nature and culture as separate items also started to change. It was recognised that healthy ecosystems of nature were an essential guarantee for quality of life of human society. Protection alone was not sufficient if not properly integrated within territorial planning and management strategies. The 1972 Unesco world heritage list became a test piece for an international reflection on the efficiency of proposed methodologies. All internationally recognised heritage areas must have a proper management plan. The existence of an urban master plan, even though necessary, required a management system for implementation. In the early 2000s, it also became increasingly obvious that cultural and natural resources needed to be managed in conjunction within the larger territorial planning scheme.
By the 2010s there are new questions regarding the introduction of new modernist buildings into existing historic contexts. This has encouraged Unesco to adopt a new international recommendation on the management and planning of historic urban landscapes. This implies not only caring for specified protected areas, but also taking into account the quality of community life, and the interrelation with developments, services and infrastructures that concern the entire territory.
More specifically, the political situation and armed conflicts in the middle east and north Africa have resulted in the destruction of large parts of territories. Purposeful destruction of protected areas has become a part of political warfare, involving even religion. This has caused suffering of populations and massive movements from homelands to new territories. It presents the challenge of important rebuilding of national and local economies, as well as historic cities, such as Aleppo or Damascus in Syria.
In the past, communities used to build their settlements based on lessons learnt from their ancestors. Traditions were gradually formed over generations, which meant integrating these within economic developments in the region. With the emergence of the modern world from the 18th and 19th centuries, emphasis has been on industrialisation and global trade expansion. The built heritage of the modern era is no more local but global. As a result, what remains from the past can have a very different meaning to us compared to what developments meant previously. In the traditional world, the notion of heritage was a common heritage shared by the whole community. With the introduction of the industrial production and drastic changes in building methods, traditional artefacts thus obtained a new value, heritage value. This used to be promoted by intellectuals and sensitive persons for reasons of identity and environmental quality.
Today heritage again touches the life and surroundings of everybody. However, not all are necessarily aware of their heritage, so there is a need for information sharing and capacity building. While being closer to the community, the meaning of heritage is different from what it was before. We can still recognise aesthetic and historic values and meanings, but we also need to consider other issues.
The world heritage listing was first concerned with exceptional human achievements and natural marvels. Today, even this list accepts industrial landscapes and areas not just for their intrinsic quality, but for their specific associations with the development of society in various periods. There is also a new connection between culture and nature. This means that we need to start communicating and negotiating with new interests and new ways of learning. Heritage is no more a matter for elites, but a requirement for the life and survival of society.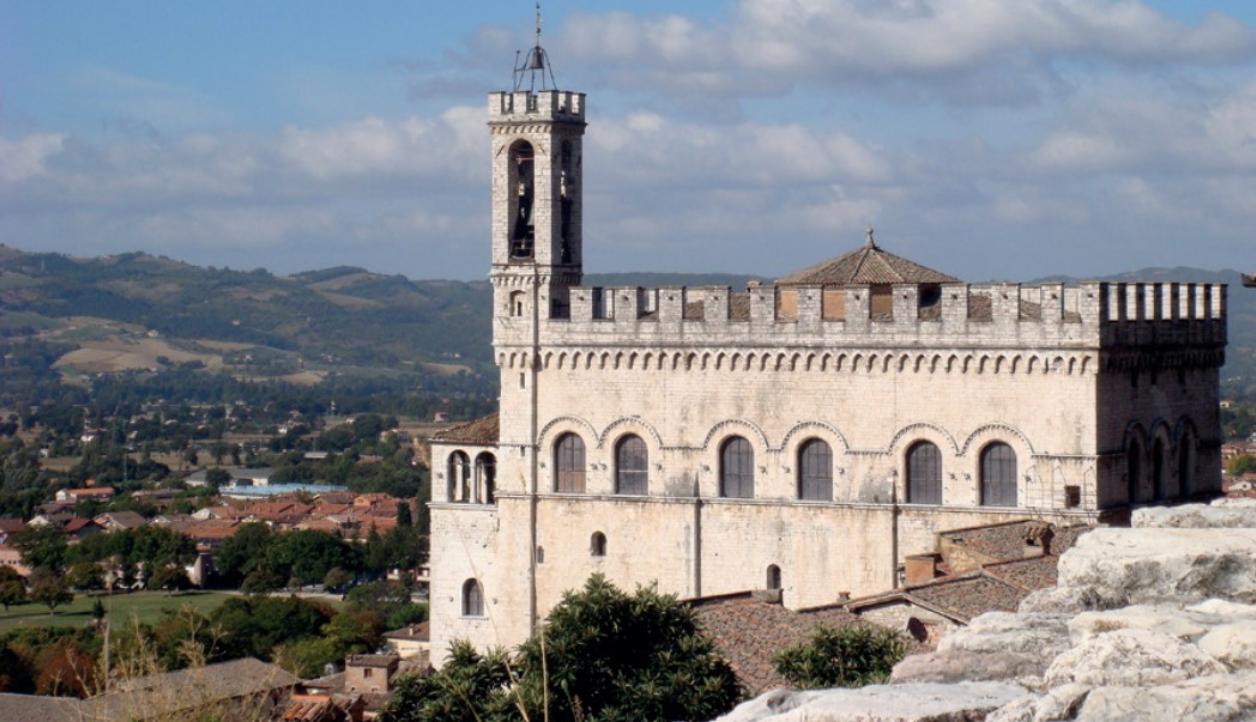 The Palazzo Ducale in Gubbio (Photo: Mariapad, Wikimedia Commons).
This article originally appeared as 'Concerning conservation' in IHBC's Context 157 (Page 12), published in November 2018. It was written by Jukka Jokilehto, a conservation architect, leader in international heritage policy advice and education, and author of the definitive A History of Architectural Conservation.
IHBC NewsBlog
IHBC Marsh Award Nominations – Closing Date 30 March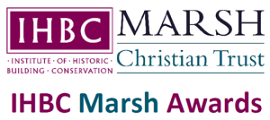 Celebrate your local 'retired members' and 'successful learners' with £500 cash prizes and 2020 Brighton School places!
---
Biodiversity Net Gain through UK Construction Projects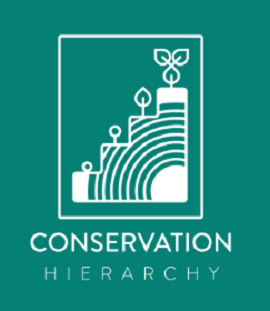 The Conservation Hierarchy is a new framework developed by the University of Oxford to help construction projects achieve Biodiversity Net Gain.
---
How Project Managers for Town Centre Developments can Balance Risk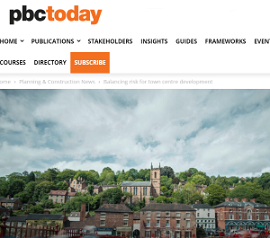 Jacqueline Hughes, senior risk analyst at Equib, in pbctoday discusses how project managers for town centre developments can get their risk management strategies right.
---
Red Tape is Strangling our High Streets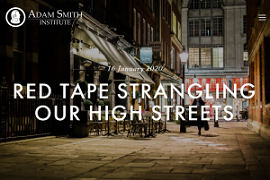 A new paper from the Adam Smith Institute argues that the problem with the High Street has been totally misunderstood, saying that we need to reform restrictive planning rules and reject a policy of managed decline to reinvigorate our town centres.
---
Calculating the full cost of energy used by buildings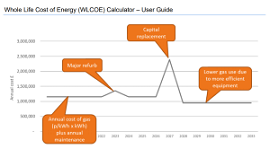 The Whole Life Cost of Energy (WLCoE) calculator – issued by government in BETA form – is intended to help building owners and operators to understand the full financial cost of the energy their buildings use, and welcomes feedback
---
England's heritage worth £31Bn: New Historic England report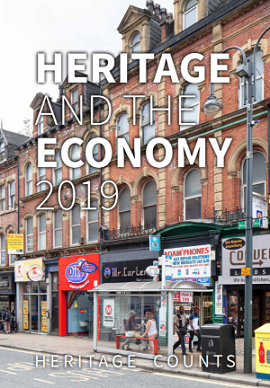 New research published by Historic England (HE) shows the value of heritage to England's economy as it contributes to economic prosperity and growth through jobs in the heritage and construction sectors and from tourism.
---
Part of Roman wall in Chester Collapses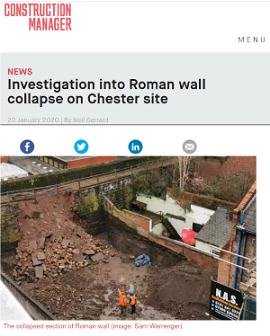 Investigations have begun into what caused part of Chester's Roman city wall to collapse during construction work.
---
Audit on new housing in England: Design overwhelmingly 'mediocre' or 'poor'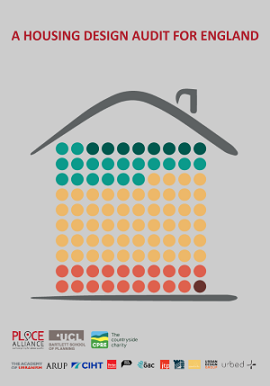 Though conservation professionals' skills in understanding, defining and explaining local character and architecture can help inform new residential design.
---
Historic England's '21 Fascinating Places Listed in 2019'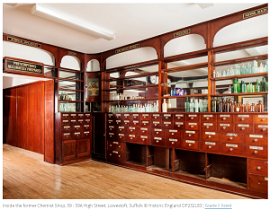 Over 500 historic places have been added to the National Heritage List for England (NHLE) in 2019 and Historic England (HE) has showcased 21 highlights.
---
UK's iconic first red public telephone box upgraded to GII*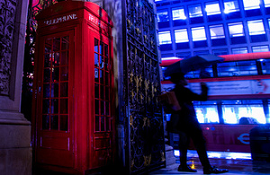 The K2 prototype telephone box situated outside the Royal Academy in London – built as part of the 1924 competition that gave rise to the iconic design and first listed at Grade II in 1986 – has had its listing upgraded to Grade II*.
---
Historic England publishes guidance on BIM for Heritage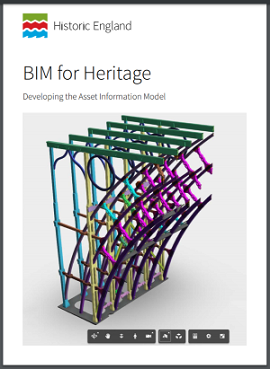 The second in a series focusses on developing the Asset Information Model (AIM).
---
High Streets Face a Bleak Future Without Rethinking Regeneration Strategies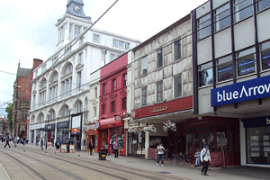 Reflecting issues that will be encountered across the IHBC's June 2020 Brighton School, think tank Centre for Cities argues for High Street success.
---