Brexit and UK research into cultural heritage
Where the UK sits in determining and making available funding for its future research programme into its cultural heritage-related needs remains uncertain.

The town of Loket on the Ohe River, Czech Republic (Photo: European Year of Cultural Heritage).
Introduction
Although the UK has perhaps not gained as much from European-funded cultural heritage research projects as other countries, a considerable amount of existing relevant information and knowledge can be sourced from within the EC's complex archive. This article seeks to review some of the developing processes by which related research projects came about and offers a few pointers as to where to start looking. In doing so it also alludes to the question of how the UK might go it alone after Brexit. In reviewing the collaborative cultural heritage research activities, it is essential to recognise that the names of evolving opportunities, advisory groups and supported projects rely on a profuse use of acronyms, generally and contortedly extracted from their fully worded descriptors. This article is not immune.
EU support for cultural heritage until 2008
Between 1986 and 2006, involving over 500 universities, research centres, museums and private organisations, the European Commission (EC) supported at least 120 Europe-wide cultural heritage research projects through its various programmes. In 2009, a two-volume publication 'Preserving Our Heritage, Improving Our Environment' helpfully summarised and indexed the situation: 'Volume I: 20 years of EU research into cultural heritage' [1] provided an overview while, spanning 2000–2008, 'Volume II: Cultural Heritage Research: FP5, FP6 and related projects' [2] reviewed some 100 cutting-edge studies into preserving and restoring historic buildings, monuments and artwork, frequently involving advanced technologies and non-destructive means.
Currently spanning 26 countries with 150 member organisations, the European Construction Technology Platform (ECTP) was founded in 2004 to create an integrated stakeholder vision for Europe's built environment [3]. Its significance rests in its recognition by the EC as an effective means of helping define research and development priorities and requirements in its pending Framework Programmes (FP) and related intentions. Placing an emphasis on future heritage research needs, the ECTP Focus Area on Cultural Heritage (ECTP-FACH) was launched in 2004 [4], emerging as one of the then seven (and currently 38) topic-specific focus areas (FA).
Looking towards 2030, the themes of the 2005 FACH Strategic Research Agenda (SRA) were integrated into the wider ECTP SRA, with its opportunity to influence future European research programme themes and topics. In determining the Priorities and Strategies to Support Cultural Heritage Research Activities within ECTP and Future FP7 activities (CHRAF), an 18-month project ran from 2006, with the results being offered in the CHRAF Report Summary [5] and disseminated during the 2008 8th European Commission Conference on Cultural Heritage in Ljubljana. It might be fairly claimed that the ECTP FACH initiative helped create a significant awareness of cultural heritage requirements in the European research funded agenda.
During the period 2007–2013, the FP7 programme emerged as the EU's main funding instrument for collaborative research and technological developments [6]. As one example, details of the 2010-initiated, €6.6 million, 42-month Efficient Energy for EU Cultural Heritage (3ENCULT) project [7], aiming to bridge the gap between conservation of historic buildings and climate protection, can be found on the ECTP website.
CORDIS and the future
As the primary source for information on EU-funded projects since 1990, the Community Research and Development Information Service (CORDIS) includes the latest information on the Horizon 2020 (H2020) initiative where, currently, on entering 'cultural and heritage' in the CORDIS website search window, 2,379 results are produced [8].
Expanding an increasingly recognised fact that cultural heritage is a significant contributor to European GDP, an EC report 'Getting Cultural Heritage to Work for Europe: report of the Horizon 2020 Expert Group on Cultural Heritage' [9] was published in 2015. The findings are salutary in that they note: 'Cultural heritage is now widely appreciated as an essential part of Europe's underlying socio-economic, cultural and natural capital… This is a significant change in focus as cultural activities have traditionally been regarded as costs to society.'
Risks from disasters
Emphasising that this broader appreciation remains at serious risk, in support of the European Year of Cultural Heritage 2018 (EYCH), an EC Study on 'Safeguarding Cultural Heritage from Natural and Man-Made Disasters' [10] was published in 2017. This study was responding to a 2014 request by the Council of the European Union to the European Commission to review 'Risk assessment and prevention for safeguarding cultural heritage from the effects of natural disasters and threats caused by human action' in the framework of its Work Plan for Culture (2015–2018): priority area B Cultural Heritage [11].
The study abstract summarises the established concerns: 'Natural and man-made hazards, anthropogenic effects and extreme climate change events, are persistently putting the cultural heritage of Europe under constant pressure, all with a daily incremental frequency… Consequently, research into adaptation strategies, methodologies and other remedial tools is urgently required to safeguard the heritage from the continuous pressures it faces and the related decay-inducing consequences.'
As undertaken, the approach was consistent with the key issue stated in the Sendai Framework Action Plan, Priority 4: enhancing disaster preparedness for effective response and to 'Build Back Better' in recovery, rehabilitation and reconstruction [12], adopted by UN member states in 2015. The message was that, despite the considerable amount of research work that has been carried out to date, much more remains to be done.
Future support for the UK
While it can be difficult to fully interpret succinct results of online investigations, a search into the Horizon 2020 Project Summary [13] illustrates that (covering all research aspects) the UK has been the EC's top applying country by region, with 43,939 eligible proposals, 6,276 retained proposals and 68,960 applications, requesting a significant EU contribution of €31,261,780,000 – statistically ahead of Germany, Italy and Spain in the applying league.
But within the H2020 'Climate action, environment, resource efficiency and materials' sector of the summary, the 10 per cent success rate of 4,825 proposals is low. Clearly there is no shortage of demand for funding a wide range of research activities but, with heritage interest already well down the research food chain, it would seem that significant challenges lie ahead despite the currently projected growing needs.
But, pending Brexit, exactly where the UK sits in determining and making available funding for its relevant future research programme into its cultural heritage-related needs remains uncertain.
Online references (accessed 17 August 2018)
---
This article originally appeared in IHBC's Context 157 (Page 16), published in November 2018. It was written by Ingval Maxwell OBE, chair of the Council on Training in Architectural Conservation.
--Institute of Historic Building Conservation
IHBC NewsBlog
IHBC's 2019 Nottingham Annual School a Great Success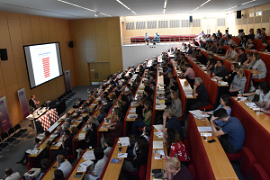 One of the IHBC's most populous Schools, the 2019 Nottingham School will be remembered for its combination authoritative speakers, urban experiences and accessible learning, including the IHBC's Spotlights.
---
England's new High Streets Task Force will help revitalise high streets and town centres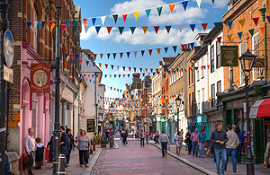 A new High Streets Task Force, to support local leaders as they revitalise England's high streets and town centres, has been launched.
---
UK petition to Zero-rate VAT on deep retrofit/eco-refurbishment building works now open

A UK parliamentary petition to Zero-rate VAT on deep retrofit/eco-refurbishment building works on all homes, has been launched, with a deadline of 8 January 2020.
---
IHBC's new Guidance Notes launched at Nottingham's 2019 School Spotlights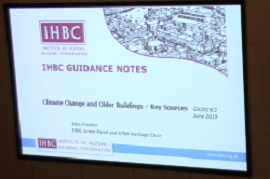 The IHBC has launched two new Guidance Notes, on Retrofitting of Traditional Buildings and Climate Change and Older Buildings – Key Sources.
---
NLA awards 2019 include Pitzhanger Manor and Gallery for Conservation & Retrofit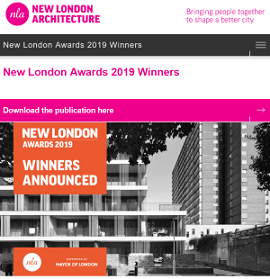 The Conservation & Retrofit award of the New London Awards (NLA) 2019 has been won by Pitzhanger Manor and Gallery, W5, by Jestico + Whiles and Julian Harrap Architects.
---
AHF £15M fund – 'Transforming Places Through Heritage'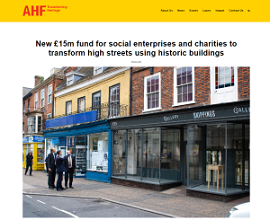 The Architectural Heritage Fund (AHF) has announced the opening of the 'Transforming Places Through Heritage' fund, focussed on reinvigorating England's high streets.
---
How wartime photographers dodged Nazi bombing to record historic buildings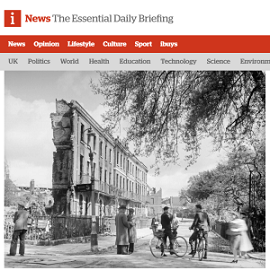 A race against devastation - a new exhibition chronicles the wartime work of the National Buildings Record – set up to capture a disappearing landscape.
---
---
---