Spanish Colonial revival style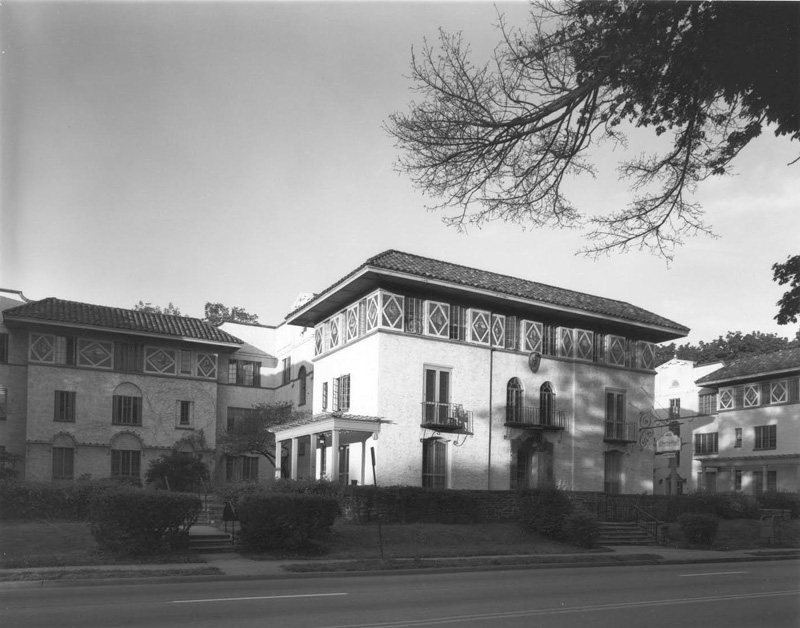 The Spanish Colonial Revival Style, also known as the Spanish Eclectic style, is a remnant of the traditional Spanish architectural themes seen in Spain's early American colonial settlements.
The traditional elements like clay tile roofs, round arch openings, and carved wooden doors follow the form of the early Spanish missions and are very distinctive. Other ornate decorative features draw from later periods of Spanish architecture and show the influence of Moorish, Byzantine, Gothic, or Renaissance design.
This revival style became popular in the early 20th century after the Panama-California Exposition was held in San Diego in 1915. Exotic-themed architectural revivals (Egyptian, Moorish, Dutch Colonial, Swiss Chalet) were popular throughout the country in the period from 1920 to 1940.
This style was commonly used for houses, mansions, apartment buildings, institutional buildings and churches.
The most common identifiable features of the style include:
Low-pitched, clay tile roof.
Stucco exterior walls.
Elaborately carved doors.
Decorative window grills of wood or iron.
Spiral columns.
Multi-paned windows.
Balconies or terraces.
Curvilinear gable.
This article was written by PHMC.
--Pennsylvania Historical and Museum Commission
[edit]
External references
Featured articles and news
IHBC South West Branch Annual conference - Heritage in Law
The branch explores 'Heritage in Law' in its 2017 Conference, supported by Historic England which takes place in Bristol on 9 June with reduced rates for IHBC members.
---
IHBC welcomes Built Environment Forum Scotland success in new National Performance Framework heritage measures
Including the recommendation that 'the current measure of % of A-listed buildings on the Buildings at Risk Register is replaced with % of pre-1919 dwellings classified as having disrepair to critical elements.'
---
IHBC Context online now includes issues 1-20
Originally the 'Newsletter' of the predecessor organisation, the ACO, Context is today the historic environment practitioner's best source for accessible expertise in contemporary conservation.
---
Director's top pick this week features a call from Greenham Parish Council for a Project Manager to lead on the refurbishment of the iconic control tower of the former Greenham Common airfield.
---
Largest Community Right to Build Order in Britain - if successful
The Mount Pleasant Neighbourhood Forum has submitted the Order as the group intends to provide 40 more affordable homes than the Royal Mail scheme that has already been granted permission.
---
Heritage Lottery Fund statement on changes for funding for places of worship
The HLF is changing the way it funds places of worship as From September 2017, the current Grants for Places of Worship programme will close to new applications.
---
Locality launches new Commission on the Future of Localism and Consultation
Locality, the link group for community-led neighbourhood organisations, seeks to uncover what is needed to reinvigorate local democracy and empower communities.
---
Towers that will change the face of Liverpool approved
£250 million scheme to build a three-tower housing complex on the edge of Liverpool's business district has secured approval.