Classical Revival style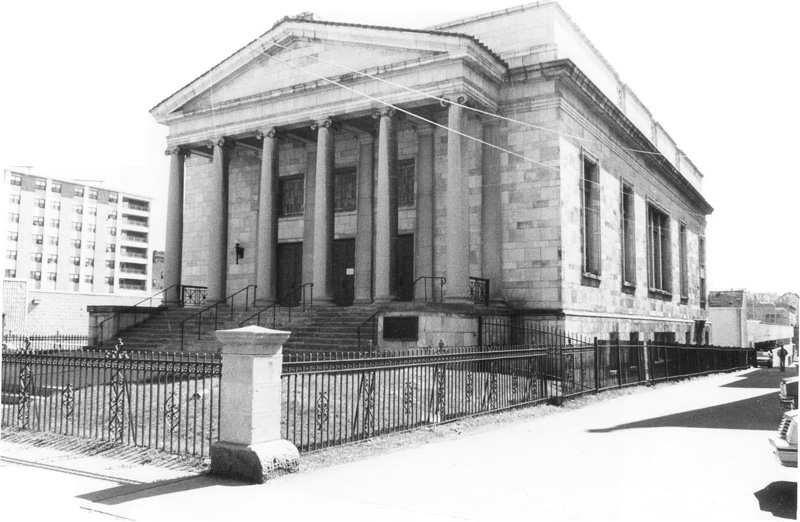 The Classical Revival or Neoclassical style (1895-1950) is one of the most common architectural styles seen in the US. This style was inspired by the World's Columbian Exposition in Chicago held in 1893 which promoted a renewed interest in the classical forms.
Similar to the Colonial Revival style which was popular in the same period, the Classical Revival style was more formal and monumental in its design. Relying on stylistic details of the earlier Greek Revival style, Classical Revival style buildings often have massive columns with classical Corinthian, Doric or Ionic capitals, topped by a front facing pediment.
One of the most distinctive versions of this style features a full-height columned front porch topped with a classical pediment. Other variations of this style may feature a rounded front portico with columns and a balustraded flat roof, or a flat-roofed, full or partial front porch with columns. The arrangement of windows and doors is formal and symmetrical, with the front door often flanked by pilasters or side lights and capped with a flat entablature, broken pediment or rounded fanlight.
The Classical Revival style is less ornate than the Beaux Arts style which was also popular in the 1885 to 1930 period and employs similar classical details.
The Classical Revival style, with its impressive Greek temple-like form, was most often used for courthouses, banks, churches, schools and mansions. However, it was never quite as popular as the Colonial Revival style for more common residential buildings.
The prominent architectural firm of McKim, Meade and White designed many buildings in this style across the nation in the early years of the 20th century. One of the most outstanding examples of this style is the imposing Philadelphia Museum of Art, completed in 1928 and designed by prominent Philadelphia architects Horace Trumbauer and Julian Abele, and the firm of Zantzinger, Borie and Medary.
The most commonly identifiable features include the following:
Formal symmetrical design, usually with centre door.
Front facade columned porch.
Full-height porch with classical columns.
Front-facing gable on porch or main roof.
Broken pediment over entry door.
Decorative door surrounds, columns, or sidelights.
Side or front portico or entry porch.
Dentiled cornice.
Rectangular double hung windows.
Roof line balustrade.
This article was written by PHMC.
--Pennsylvania Historical and Museum Commission
[edit]
External references
Featured articles and news
Historic England publishes Heritage Crime Guidance for Sentencers update
The IHBC has welcomed HE's update, designed to assist Judges, Magistrates and their legal advisers in determining the appropriate sentence for a heritage crime.
---
IHBC 2017 Manchester School is looking for friends
Use your network to join ours, absolutely free! (Limited Offer) as we are offering a chance for sector organisations to have a free place on our School website as a 'Friend'.
---
RTPI on Industrial Strategy and missing links
The RTPI has outlined its response to the UK Government's 'Industrial Strategy' saying 'it fails to link up with other government strategies such as housing and the environment'.
---
Residents in luxury Southbank flats sue Tate Modern over intrusion to privacy
Residents of the Neo Bankside flats on London's Southbank are suing Tate Modern over its public balcony which allows gallery-goers to look straight into their luxury apartments.
---
London pub numbers drop by a quarter – mayoral consultation seeks to halt the decline
London Mayor Sadiq Khan has branded as 'shocking' that London has lost 1,220 pubs since 2001 and seeks suggestions via a consultation ending on 31 May.
---
EU Prize for Cultural Heritage and Europa Nostra Awards 2017
Winners announced on 5 April 2017 include two UK winners - Cromford Mills Building, Derbyshire, and Samphire Maritime Project in western Scotland.
---
Guardian headline feature on economic opportunities for historic swimming pools
The feature explores Manchester Victoria Baths funding event which sold out quicker than Glastonbury and is the latest in a long line of projects to restore historic swimming pools.