Classical Revival style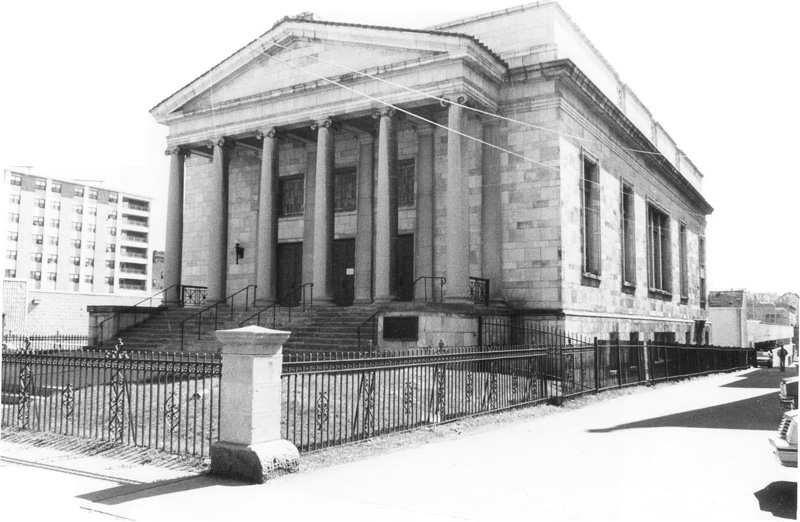 The Classical Revival or Neoclassical style (1895-1950) is one of the most common architectural styles seen in the US. This style was inspired by the World's Columbian Exposition in Chicago held in 1893 which promoted a renewed interest in the classical forms.
Similar to the Colonial Revival style which was popular in the same period, the Classical Revival style was more formal and monumental in its design. Relying on stylistic details of the earlier Greek Revival style, Classical Revival style buildings often have massive columns with classical Corinthian, Doric or Ionic capitals, topped by a front facing pediment.
One of the most distinctive versions of this style features a full-height columned front porch topped with a classical pediment. Other variations of this style may feature a rounded front portico with columns and a balustraded flat roof, or a flat-roofed, full or partial front porch with columns. The arrangement of windows and doors is formal and symmetrical, with the front door often flanked by pilasters or side lights and capped with a flat entablature, broken pediment or rounded fanlight.
The Classical Revival style is less ornate than the Beaux Arts style which was also popular in the 1885 to 1930 period and employs similar classical details.
The Classical Revival style, with its impressive Greek temple-like form, was most often used for courthouses, banks, churches, schools and mansions. However, it was never quite as popular as the Colonial Revival style for more common residential buildings.
The prominent architectural firm of McKim, Meade and White designed many buildings in this style across the nation in the early years of the 20th century. One of the most outstanding examples of this style is the imposing Philadelphia Museum of Art, completed in 1928 and designed by prominent Philadelphia architects Horace Trumbauer and Julian Abele, and the firm of Zantzinger, Borie and Medary.
The most commonly identifiable features include the following:
Formal symmetrical design, usually with centre door.
Front facade columned porch.
Full-height porch with classical columns.
Front-facing gable on porch or main roof.
Broken pediment over entry door.
Decorative door surrounds, columns, or sidelights.
Side or front portico or entry porch.
Dentiled cornice.
Rectangular double hung windows.
Roof line balustrade.
This article was written by PHMC.
--Pennsylvania Historical and Museum Commission
[edit]
External references
IHBC NewsBlog
REMINDER – Gus Astley Student Award closing soon
Only 2 weeks left to win £500 and a free place in IHBC's 2018 Annual School as Student Award closes 31 July – 'Just send us your coursework, online and on time'!
---
IHBC Context 21 to 44 now online
From British Standard's pre-history to historic paints and decorative features view the historic environment practitioner's best source for accessible expertise in contemporary conservation.
---
IHBC CPD boost - Saving Art Deco heritage in Craigmillar
Historic Environment Scotland (HES) has highlighted how investing a little time and effort in older buildings can help Scotland's communities.
---
Stone carving tutor Nina Bilbey awarded Prince Philip Medal
Nina Bilbey is the Senior Stone Carving Tutor at City & Guilds, London Art School, the internationally highly respected centre of architectural and sculptural stone carving.
---
Research Council PhD Policy Internships Scheme - call closing August 10
The scheme provides an opportunity for Research Council-funded PhD students to work for three months in one of a selected group of highly influential policy organisations.
---
CultureisDigital the conversation on culture and digital technology working better together
Contains public sector information licensed under the Open Government Licence v3.0.

Join the conversation between Government, the cultural sector and tech companies on the digitisation of public collections and enhancement of online cultural experiences.
---
Infrastructure systems for a better world - apply for funding from innovate UK
Contains public sector information licensed under the Open Government Licence v3.0.
If you're a UK business or research organisation you can apply to Innovate UK for a share of £15 million to develop innovative infrastructure solutions – deadline 13 September 2017.
---
Saving closed chapels and churches in Wales for future generations
WalesOnline focuses on Carmarthen as it explores 'thinking outside the box' in creating new uses for places of worship to ensure the historic buildings survive for years to come.