Classical Revival style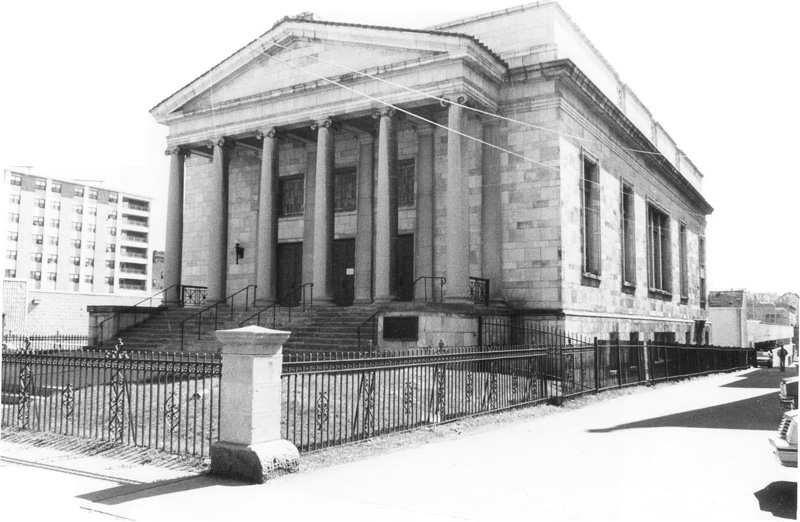 The Classical Revival or Neoclassical style (1895-1950) is one of the most common architectural styles seen in the US. This style was inspired by the World's Columbian Exposition in Chicago held in 1893 which promoted a renewed interest in the classical forms.
Similar to the Colonial Revival style which was popular in the same period, the Classical Revival style was more formal and monumental in its design. Relying on stylistic details of the earlier Greek Revival style, Classical Revival style buildings often have massive columns with classical Corinthian, Doric or Ionic capitals, topped by a front facing pediment.
One of the most distinctive versions of this style features a full-height columned front porch topped with a classical pediment. Other variations of this style may feature a rounded front portico with columns and a balustraded flat roof, or a flat-roofed, full or partial front porch with columns. The arrangement of windows and doors is formal and symmetrical, with the front door often flanked by pilasters or side lights and capped with a flat entablature, broken pediment or rounded fanlight.
The Classical Revival style is less ornate than the Beaux Arts style which was also popular in the 1885 to 1930 period and employs similar classical details.
The Classical Revival style, with its impressive Greek temple-like form, was most often used for courthouses, banks, churches, schools and mansions. However, it was never quite as popular as the Colonial Revival style for more common residential buildings.
The prominent architectural firm of McKim, Meade and White designed many buildings in this style across the nation in the early years of the 20th century. One of the most outstanding examples of this style is the imposing Philadelphia Museum of Art, completed in 1928 and designed by prominent Philadelphia architects Horace Trumbauer and Julian Abele, and the firm of Zantzinger, Borie and Medary.
The most commonly identifiable features include the following:
Formal symmetrical design, usually with centre door.
Front facade columned porch.
Full-height porch with classical columns.
Front-facing gable on porch or main roof.
Broken pediment over entry door.
Decorative door surrounds, columns, or sidelights.
Side or front portico or entry porch.
Dentiled cornice.
Rectangular double hung windows.
Roof line balustrade.
This article was written by PHMC.
--Pennsylvania Historical and Museum Commission
[edit]
External references
Featured articles and news
IHBC South West Branch Annual conference - Heritage in Law
The branch explores 'Heritage in Law' in its 2017 Conference, supported by Historic England which takes place in Bristol on 9 June with reduced rates for IHBC members.
---
IHBC welcomes Built Environment Forum Scotland success in new National Performance Framework heritage measures
Including the recommendation that 'the current measure of % of A-listed buildings on the Buildings at Risk Register is replaced with % of pre-1919 dwellings classified as having disrepair to critical elements.'
---
IHBC Context online now includes issues 1-20
Originally the 'Newsletter' of the predecessor organisation, the ACO, Context is today the historic environment practitioner's best source for accessible expertise in contemporary conservation.
---
Director's top pick this week features a call from Greenham Parish Council for a Project Manager to lead on the refurbishment of the iconic control tower of the former Greenham Common airfield.
---
Largest Community Right to Build Order in Britain - if successful
The Mount Pleasant Neighbourhood Forum has submitted the Order as the group intends to provide 40 more affordable homes than the Royal Mail scheme that has already been granted permission.
---
Heritage Lottery Fund statement on changes for funding for places of worship
The HLF is changing the way it funds places of worship as From September 2017, the current Grants for Places of Worship programme will close to new applications.
---
Locality launches new Commission on the Future of Localism and Consultation
Locality, the link group for community-led neighbourhood organisations, seeks to uncover what is needed to reinvigorate local democracy and empower communities.
---
Towers that will change the face of Liverpool approved
£250 million scheme to build a three-tower housing complex on the edge of Liverpool's business district has secured approval.