The Victorian Society's top 10 endangered buildings 2019
On September 13 2019, the Victorian Society announced its top 10 endangered buildings list. Victorian Society Director Christopher Costelloe said: "This year's Top Ten Endangered Buildings is a particularly rich mix, with buildings of amazing quality throughout the country facing demolition or ruin. With a great country house, one of the country's most important industrial complexes, and public buildings at the heart of our cities all on the list, it is vital that we get the public's help to try to save our threatened heritage."
Griff Rhys Jones, President of the Victorian Society, said: "It is both inspiring and saddening to see this list. Who would have thought that a call to arms would reveal such a wealth of distinguished and absorbing architecture?
"From libraries to pubs to gorgeous theatres, these are gems. We are not looking at the second rate here. We are looking at real historical monuments – and yet we can only be taken aback. How can a beautiful, rambling exemplary Victorian mansion like Shadwell Court lie abandoned? One would expect it to be starring in TV series not crumbling away, and in Norfolk too. Can we really want to lose a sturdy industrial site like Chatterley Whitfield Colliery near Stoke? Or a fine school in Glamorgan or worthy industrial frontage in the now newly-flourishing Jewellery Quarter in Birmingham?
"All of these historic sites are glorious and imaginative places ready for a new and productive life. How incredible that they should feature on the Top Ten Endangered Buildings list. Let us hope that people spring into action and pay attention…".
The Victorian Society writes:
The 2019 Top 10, in no particular order, are:
Chatterley Whitfield Colliery, Staffordshire, C19 & 20, GII*-listed/Scheduled Monument
On the outskirts of Chell in Staffordshire, stands an industrial monument of the utmost importance – the Chatterley Whitfield Colliery. The disused coal mine is considered to be the most comprehensive survival of a deep-mine site in England from the industry's period of peak production and it was the first colliery in the UK to produce 1,000,000 tons of saleable coal in a year. Following the closure of the mine, the buildings had served as a museum, which has long-since closed. The whole colliery site is now vacant and the buildings are in a very poor condition, it will need substantial public funding if it is to be rescued.
Christopher Costelloe, Director of the Victorian Society, said: "The Industrial Revolution has left few more evocative sites than Chatterley Whitfield. Someone needs to think big here – King Coal was at the heart of our prosperity for centuries, and this complex is far too important to be lost."
Shadwell Court, Norfolk. GI-listed, c.1840-1860. Edward Blore & SS Teulon
The striking Grade I-listed Shadwell Court in Norfolk is an impressive gothic country mansion. Shadwell Lodge (as it was originally known) was initially built in 1715, but was extended and remodelled out of all recognition in 1840 by Edward Blore and again in 1857-60 by SS Teulon. It has been empty since the mid-1990s and is owned by a member of the Dubai ruling family. It has extensive roof problems and has long been deteriorating.
Christopher Costelloe said: "Shadwell Court's owner can easily afford to look after this important building properly. This major country house has been neglected for far too long and it will be a scandal if it isn't put right soon."
Queensbury Tunnel, Yorkshire, (unlisted), 1874-78. John Fraser
Queensbury Tunnel is a disused railway tunnel that connects Holmfield and Queensbury in West Yorkshire, England. The now rapidly deteriorating tunnel symbolises the irreplaceable infrastructure legacy left to us by the Victorians. Built by the Great Northern Railway, it was the longest tunnel on the company's network at the time of its opening in 1878. It is currently abandoned and flooded with water, and is at the centre of a heated debate between campaigners. The campaigners want the tunnel restored to be a cycle path, whereas the Department for Transport (DfT) wants to fill in sections of the tunnel with concrete and then leave it to collapse. We hope it will be used to give new life to the communities it connects rather than being lost forever.
Christopher Costelloe said: "Queensbury Tunnel could be the heart of a new transport revolution, bringing cyclists and tourists to this part of Yorkshire. If it is filled-in, this irreplaceable asset will be lost for ever. Bath's Two Tunnels cycleway has been a triumphant success and there is no reason why Yorkshire – now the beating heart of British cycling – couldn't do the same."
Everton Library, Liverpool, GII-listed, 1896. Thomas Shelmerdine
When the impressive Everton Library opened in 1896 it was one of the earliest public libraries in Liverpool. It is Grade II-listed on account of its architectural quality and its role in the development of Liverpool's public library service. Everton Library has not been in use since 1999, there have been two failed schemes to develop it, which have failed to even touch the building. In recent years, the library has suffered severe vandalism including lead theft, resulting in extensive water damage. It is vital that a building of such enormous quality in an area that has suffered so much is saved.
Christopher Costelloe said: "Liverpool is a city full of great district libraries, and Everton Library is probably the best. This fantastic building is a jewel, and the city can't afford to lose it. The Florrie shows how buildings like this can be given new life."
Hulme Hippodrome, Manchester, GII-listed, 1901. J. J. Alley
The future of this Manchester landmark hangs in the balance. The Hulme Hippodrome opened its doors on 10th October 1901 as a spectacular venue. Originally named the Grand Junction Theatre, the ornate theatre was recently sold at auction on 18 May for £325,000. The building is an important community building of social, historical and architectural significance, and currently stands in a very poor state of repair and facing an uncertain future.
Christopher Costelloe said: "There is nothing sadder than a shuttered theatre. Central Manchester's increasing prosperity has not yet spread to Hulme, which cannot afford to lose assets such as this splendid building."
Cowbridge School, Vale of Glamorgan, Wales, (unlisted) 1896. Robert Williams
In a small town in south Wales stands this historic former school building that lies derelict and under threat from demolition. Much of the history of education is reflected in these school buildings: Cowbridge was one of ninety-four County Intermediate Schools designed to mainly cater for children who had little or no prospect of attending independent public schools due to their social status or financial situation.
Christopher Costelloe stated: "Cowbridge School is a beautifully-crafted building, solid, handsome and capable of being reused. Its thoughtless demolition would be a huge blow to the town. Many other Victorian school buildings are in a similar position – these buildings can and should be reused."
Pelican Works, Birmingham, GII-listed, c.1868 (architect unknown)
The Grade II-listed Pelican Works building in the Jewellery Quarter of Birmingham was built for Thomas Wilkinson of Sheffield as an electroplating works, and the company was noted for its cutlery production. The elegant frontage part of the red brick building is like a small Italian Palazzo, with the sculpture of a Pelican –the company crest – placed above the central main entrance. It is a significant landmark on one of the main thoroughfares of the Jewellery Quarter conservation area.
Currently only the frontage part of the building is apparently occupied by a fashion company and the structures appear to be generally increasingly neglected. In May 2019, there was a serious collapse of part of the Hockley Street shopping range, which closed the road, and part of this rear range has been demolished on safety grounds. This could be reinstated, but little seems to be being done at present to secure the future of this extraordinary building. Other recent collapses at historic factory buildings in the Quarter, including a tragic loss of life on another site, mean that we are extremely concerned that the Pelican Works is currently at risk.
Christopher Costelloe explained: "The Jewellery Quarter, one of Birmingham's most loveable areas, combines increasing development pressure with some very derelict historic buildings. The Pelican Works is a prominent symbol of the area, and it must be repaired before more of it collapses."
Former Church of St Luke, Warrington, Cheshire, GII*-listed, 1892.– Bodley & Garner
The former church of St Luke was designed by the distinguished architect George Frederick Bodley and built from 1892-3. It was declared redundant over 30 years ago and has since served as builders' storage. The interior of this church is where its significance lies. This is one of only three examples of churches designed by Bodley with a double nave under a single roof, separated by a tall, slender central arcade. It is extremely unorthodox and highly inventive, and the result is remarkable. A new use is clearly required for this highly significant building, one that respects the extraordinary nature of its interior.
Christopher Costelloe, Director of the Victorian Society, said: "This is a really unusual church of great architectural interest, by one of the greatest architects of the period. It is far too good to be lost, and its importance lies predominantly in its interior, making subdivision impossible. Public bodies and Warrington Council need to give serious thought on how to save this architectural jewel."
Former Leslie Arms Public House, Croydon, London, GII-listed, c.1850s (architect unknown)
A derelict Arts and Crafts-style pub in Croydon, South London: this pub is permanently closed, despite many planning applications. Built by Croydon brewers Nalder & Colyer, this pub occupies a prominent position at the south end of Cherry Orchard Road, but has been closed for several years. In an area undergoing so much development, it is crucial that pieces of our heritage such as this are protected.
Christopher Costelloe said: "Victorian pubs are closing all over the country and it is no surprise that this year there is one on our Top Ten Endangered List. A particularly intractable case, this is a building of great quality where continued pub use should be viable. The right owner is needed!"
Corn Exchange/ Former Town Hall, Swindon, GII-listed, 1852-1854.Sampson Sage & E Robertson – additions by Wilson and Willcox
This ruined complex at the heart of Swindon's Old Town is central to the town's history. It has been a Corn Exchange, Town Hall and dance hall at various periods, before falling into disuse. Many redevelopment proposals have come and gone, while the building continues to deteriorate. Urgent action is needed to save this historic and imposing building from being lost forever.
Christopher Costelloe, Director of the Victorian Society, said: "Swindon is now a Heritage Action Zone, and this building is one of several prominent historic buildings in Swindon that should be a priority. An imaginative and sensitive scheme is needed to return the complex to its place at the heart of the town's life."
About this article
This article was co-written by IHBC and the Victorian Society. It previously appeared on the website of IHBC in September 2019 and can be accessed HERE.
Other articles by IHBC on Designing Buildings Wiki can be found HERE.
IHBC NewsBlog
Find an IHBC HESPR accredited professional using our map-based search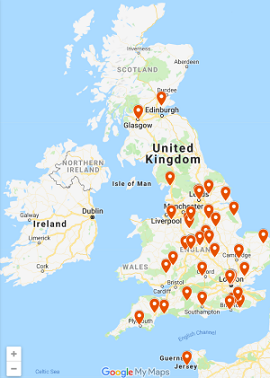 Find the office locations of HESPR members – IHBC's Historic Environment Service Provider Recognition (HESPR) scheme – using our map-based facility.
---
Flintshire: Shotton steelworks' John Summers building to be restored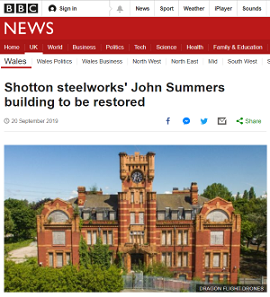 A landmark on a list of the UK's most endangered buildings, Shotton steelworks' Grade II-listed general office and clock tower, is to be brought back to life in Flintshire.
---
Rochdale Market, Manchester, to close as trader numbers and revenue continue to fall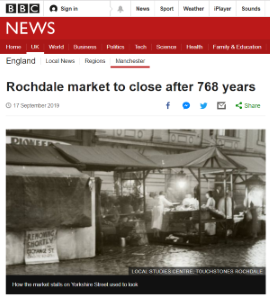 Rochdale Borough Council writes: Over the past year the number of traders regularly attending the market has halved and it is not financially viable.
---
IHBC supports Climate Heritage Network Global Launch: Edinburgh 24-25 Oct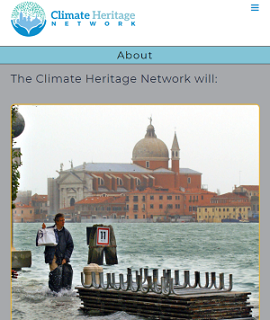 The Climate Heritage Network (CHN) Global Launch is a two-day program devoted to urgently mobilizing the cultural heritage sector for climate action across the globe.
---
Brunel's 'other bridge' in Bristol to be 'saved with £62k grant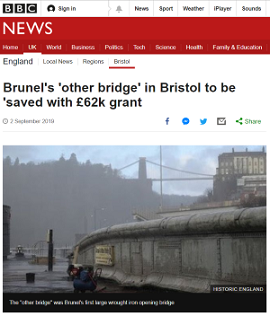 A swing bridge that was designed by Brunel is to be 'saved' with a £62,000 grant from Historic England.
---
Victorian Society announce Top 10 Most Endangered Buildings 2019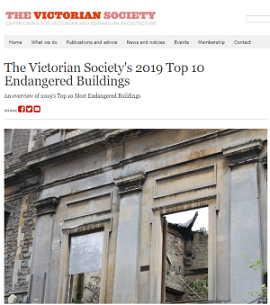 On September 13th the Victorian Society announced its Top 10 Endangered buildings list.
---
American Cities Then & Now: See How New York, Los Angeles & Detroit Look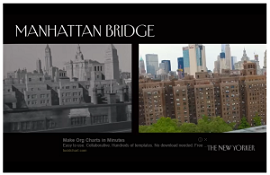 An Open Culture article takes a look at the American Cities of New York, Los Angeles and Detroit comparing how they look now compared to the 1930s and 1940s.
---
Great Yarmouth's Venetian Waterways to recapture former glories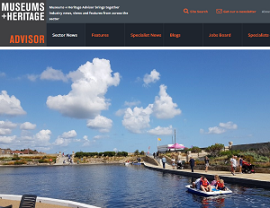 Great Yarmouth's 91 year old Venetian Waterways has been re-opened to the public following a £2.7 million regeneration project.
---
Fire engulfs Grade II-listed Horncliffe Mansion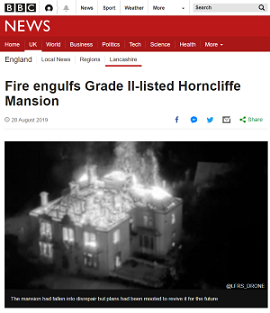 BBC news has reported on how the Grade II-listed mansion, Horncliffe Mansion in Rawtenstall has been 'completely gutted' after a fire tore through the derelict building.
---
England's Heritage Open Days celebrates 25 years!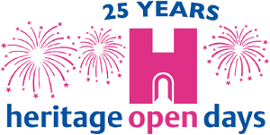 England's Heritage Open Days celebrates it's 25th year with 25 new places opening their doors. Take advantage of a huge range of regular and one-off opportunities!
---