Embodied energy in construction
[edit]
Introduction
It is thought that in the UK, buildings account for around 50% of the total energy consumed (ref CIBSE). The UK construction industry is the largest consumer of resources, consuming more than 400 million tonnes of material a year (ref Davis Langdon) and this consumption of materials in itself accounts for around 10% of UK carbon emissions (ref. ENVEST from ICE).
The energy consumed by a building throughout its life comprises:
The full, life-cycle 'cradle to grave' embodied energy a building therefore is the initial embodied energy plus the recurring embodied energy plus the demolition energy.
Embodied energy in buildings was first considered when the industry began to undertake detailed life cycle assessments, evaluating the whole-life environmental load of buildings. It had been assumed that service and maintenance operations during a buildings life consumed considerably more energy than the processes used to construct it (ref The Living Rainforest, 2013), however, assessment revealed that this was not always true, with some building's embodied energy equating to several years of maintenance.
As regulation and improvements in efficiency reduce the amount of energy buildings use in operation, so embodied energy becomes relatively more significant. If zero carbon buildings become a reality, all attention will be focussed on embodied energy.
A study of Swedish low-energy buildings found that in one case the initial embodied energy was as much as 40% of the energy consumed by the building through its 50 year life (ref. Thormark 2002). In the UK, a study found that the embodied energy in some commercial buildings was much as 30 times the annual operational energy use (ref. Rawlinson 2007).
The process of assessing embodied energy involves measuring or estimating the total energy consumed in the life-cycle of a product. This may include; gas, electricity, oil, and so on, but can also include features that are not be easy to quantify such as water use and ecological impact.
The measurement process involves assessing the relevant production means, which may include but is not limited to:
Extraction.
Manufacturing (including the energy to manufacture capital equipment, heating and lighting of factories and so on)
Some assessment methods exclude maintenance and disposal, but this is not ideal.
The full measure of the energy processes involved in the various stages of a products life is often referred to as 'cradle to grave'. However, the embodied energy of products is often specified in terms of 'Cradle-to-Gate', that is, the energy consumed until the product leaves the factory gate. An alternative measure is 'Cradle-to-Site', which is the energy consumed until the product reaches the construction site.
NB: Life cycle assessments, evaluate all impacts over the whole life of a product or element. In a full life cycle assessment, the energy and materials used, along with waste and pollutants produced as a consequence of a product or activity are quantified over the whole life cycle (see life cycle assessment for more information).
A further complication is the concept of 'embodied carbon'. This refers to the carbon dioxide emitted as a consequence of sourcing and processing materials or products, concerned with mechanical and chemical operations and the by-products these create.
The terms embodied energy and embodied carbon produce very different figures. For example, cement has an embodied energy of 4.5 MJ/kg but has an embodied carbon value of 0.73 kg CO2/kg (ref. The University of Bath ICE, 2013). Correctly measuring embodied carbon includes consideration of the sequestration of carbon within materials such as timber as well as chemical reactions such as the carbonation of concrete.
The units of measurement for embodied energy are represented as megajoule per kilogram (MJ/kg). This is the energy density of a material. Embodied energy can also be expressed in terms of MJ/m2.
There are number of tools that have been developed to help assess embodied energy:
[edit]
Design considerations.
Calculation of embodied energy is very complex, and is just one of the environmental indicators that designers must consider when specifying materials and components for a building.
Other considerations might include the deleterious nature of some materials, difficulty of disposal, ecological impact, waste generation, recycled component and recyclability, renewable resources, locally sourced materials, ease of deconstruction and separation, durability, efficiency in use, standardisation and so on (see sustainable materials for more information).
A higher embodied energy material or component may sometimes be justified, for example if it reduces operational energy requirements (such as higher efficiency building services, high performance glazing, or high durability aluminium). Whilst lightweight building materials may tend to have a lower embodied energy, they might result in higher heating or cooling requirements, whilst heavyweight construction can even out diurnal temperature swings and so reduce overall energy consumption.
[edit]
External references
Designing out waste: a design team guide for buildings. Davis Langdon LLP, 2009.
A low energy building in a life cycle—its embodied energy, energy need for operation and recycling potential. Building and environment. Thormark, C., 2002.
Sustainability: Embodied carbon, Building, 12 October 2007, Rawlinson, S., Weight, D. (2007).
University of Bath, Inventory of Carbon & Energy (ICE) now available from Circular Ecology.
Mael Spencer 2017
IHBC NewsBlog
Heritage Collective IHBC 2018 School Principal Sponsor to focus on welcoming delegates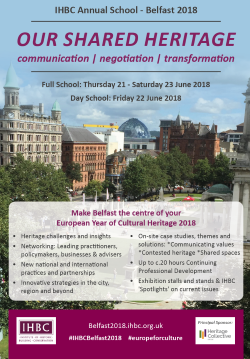 Heritage Collective, principal sponsor and one of 38 IHBC HESPR members, reports that its 11 staff attending the School look forward to offering personal welcomes to delegates.
---
Update for IHBC 2018 School study tour in Derry-Londonderry on Saturday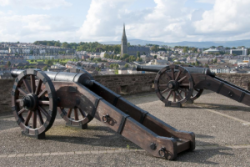 New Derry Walls Management Plan launched complementing the Conservation Plan of 2015.
---
Another IHBC CPD Boost for the 2018 School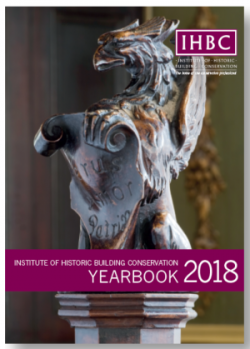 NI Branch Chair and School lead Andrew McClelland explores social takes on shared heritage in IHBC's 2018 Yearbook.
---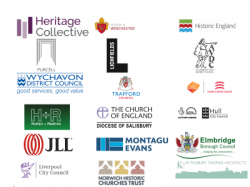 From Historic England's 'Taylor Review' pilot posts to HESPR member Heritage Collective's 'Heritage Consultant' opportunity the IHBC now offers regular reviews.
---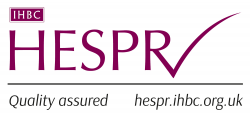 Birmingham CC seeks conservation professional architectural services for GII* listed Highbury Hall, closing 22/06, value £400k.
---
Glasgow Art school- Mackintosh building extensively damaged in recent fire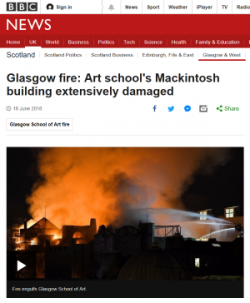 Glasgow's world-renowned School of Art has been gutted by another huge blaze, four years after part of the building was destroyed by fire.
---
RTPI challenges apprenticeship body on assessment plan ruling
The RTPI has challenged the Institute for Apprenticeships' (IfA) ability in assessing professional standards.
---
English government departments - heritage thread highlighted in plans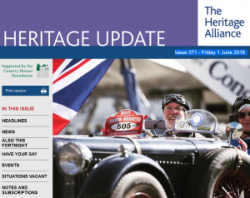 An update from the link body for England's heritage bodies – The Heritage Alliance (THA) - has summarised the heritage threads in recent departmental plans.
---
DCMS Areas of Research Interest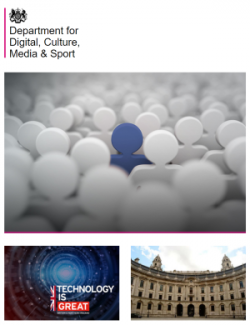 The first Areas of Research Interest (ARI) publication has been issued, summarising the most important research questions facing DCMS.
---
SAVE 2018 to 2019 Buildings at Risk Catalogue due 27 June 2018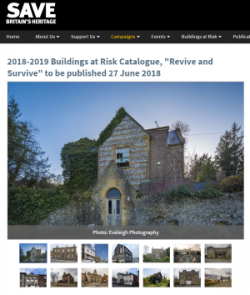 The 2018-2019 Buildings at Risk Catalogue, 'Revive and Survive' will be published by SAVE on 27 June 2018.