Maracana Stadium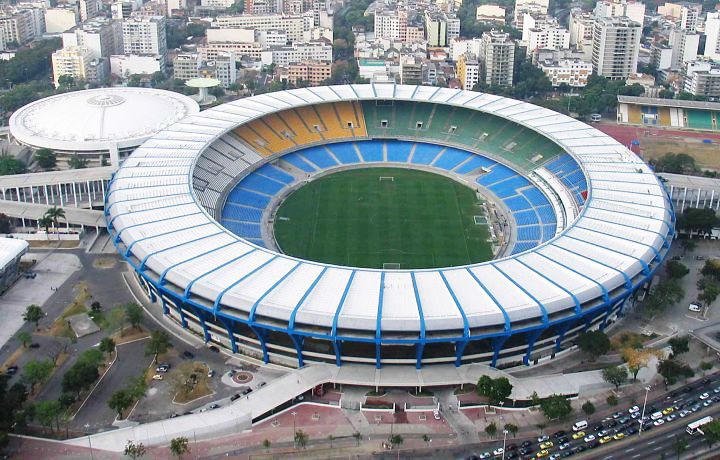 [edit]
Introduction
The Estadio Jornalista Mario Filho, or Maracana Stadium as it is more commonly known, is a football stadium in Rio de Janeiro, Brazil.
It was built by the Brazilian government after winning the right to host the 1950 FIFA World Cup. In 1947, a competition for the design and construction was launched, with the construction contract awarded to engineer Humberto Menescal, and the architectural contract awarded to seven Brazilian architects.
Upon completion in 1950, it was the world's largest stadium by capacity, with 199,854 attending – legally and illegally – the final between Brazil and Uruguay.
Since then it has been a prominent venue for club and international football, and has also hosted other sporting events and music concerts.
The stadium will be the venue for the opening and closing ceremonies of the 2016 Summer Olympics and Paralympics.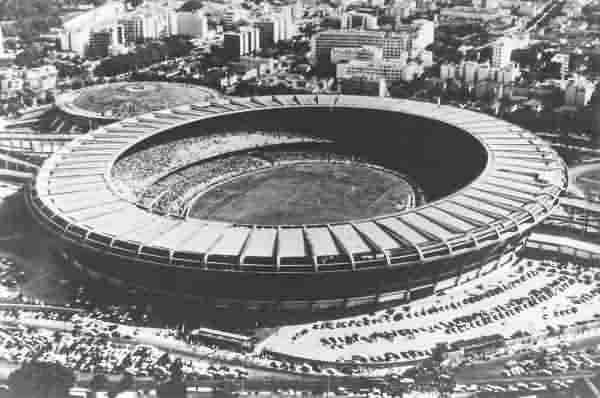 Construction work began on the stadium in August 1948, with a little under two years before the first World Cup game was due to be played. Work quickly fell behind the tight schedule, meaning that a work force of 1,500 had to be employed, with an additional 2,000 in the final months, to be ready on time.
The stadium is characterised by its elliptical framework which is almost circular, and the maximum height is only 24 m (78 ft). Two large rings of tiers run round the entire stadium divided by medium-sized open boxes, with a cantilevered roof spanning 30 m covering the rows at the rear of the stadium.
It was built using solid and reinforced concrete. The façade of the elliptical perimeter incorporates 60 large Y-shaped pillars that sustain the supporting beams.
Despite the stadium having come into use in 1950, the construction was only fully completed in 1965. It was not only considered one of the most luxurious stadiums in the world, but was also commended for its functionality and security. Two large external flights connect the stadium's upper tiers with the surrounding park, enabling a fast evacuation time.
During a football match in July 1992, an upper stand collapsed, killing 3 spectators and injuring 50 others. Following this disaster, it was converted to an all-seater stadium, greatly reducing the capacity. Around the same time, it was classified as a national landmark and saved from possible demolition.
The stadium underwent renovations between 2005 and 2006, which increased its all-seated capacity to 87,000, making it the largest stadium in Brazil.
With the 2014 World Cup and 2016 Olympics approaching, a major reconstruction project was started in 2010. Analysis of the existing structure revealed that the cantilevered concrete roof had become functionally inadequate and lacked sufficient structural safety.
The roof was removed and the original two-tier seating bowl demolished, to be replaced with a one-tier configuration. The original reinforced concrete columns of the old bowl were retained and used to support a new lightweight roof structure that was designed as a spoked wheel laid horizontally.
The innovative roof structure features one compression ring and three tension rings, which give it the appearance of floating. Between the rim of the wheel – the compression ring – and the tension rings at the roof's inner edge, there are a series of high-strength spoke cables.
The roof covering is a fibreglass-tensioned membrane coated with polytetrafluoroethylene (PTFE). The surface is stabilised using additional radial filet cables, which also ensure adequate water drainage. The membrane sections have a gently-curved deltoid shape, and emphasise the deliberately cautious intervention into the existing concrete structure.
Whereas the original roof had only covered the rear spectators, the new roof covered 95% of the seats. The roof is also fitted with 1,500 photovoltaic solar modules to produce solar energy.
Just six months on from the 2016 Games, concern was raised by the Rio de Janeiro Football Federation about the deteriorating state of the Maracana, as well as a number of other venues purpose-built for the Olympics in Rio.
As no one took over responsibility for the up-keep of the stadium after the closing ceremony, reports have surfaced of the rapid disrepair of the stadium. Worms have damaged the threadbare playing surface, internal windows have been smashed, copper wire stolen from walls and ceilings.
In addition, due to general looting, around 10% of the 78,000 seats have been torn up. Looters have also stolen fire extinguishers, hoses, televisions and even a bronze bust of Mario Filho, the journalist after whom the stadium was named.
In late-January 2017, Light, a local electric utility company, cut off the stadium's power due to unpaid bills, which they claim are in the region of 3 million reals (US$940,000).
[edit]
Find out more
IHBC NewsBlog
IHBC FREE CPD Boost - Easy Access Webinar from Historic England and the IHBC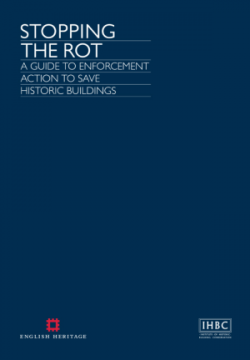 'Enhancing conservation areas & townscapes with S.215s', 13 December - numbers limited so book now!
---
IHBC Out of Context - CPD check-up and prize


'Who said that and what would you say back? FREE BS7913 for the best responses…
---
IHBC CPD boost: bite-sized briefings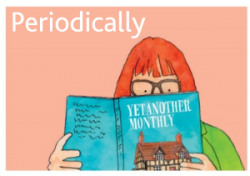 'Periodically', Bob Kindred's bite-sized briefings from the best of current heritage handbooks.
---
IHBC CPD Green Issue QuickQuiz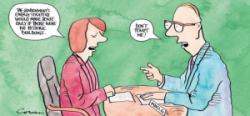 Do you know the ABCs of EPCs?
---
IHBC CPD Green Issue QuickQuiz Part 2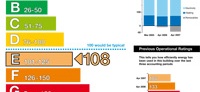 Do you know the ABCs of EPCs? - The answers! You tested your knowledge on energy performance certificates (EPC's) in the last Newsblog so now see how well you did!
---
IHBC at Listed Property Show London 2019 – FREE CPD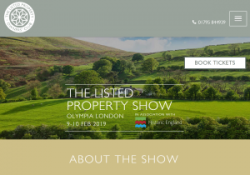 4 hours free CPD via IHBC and partners + lots more at the show in association with Historic England, on 9-10 February 2019 at London's Olympia.
---
IHBC launches new Toolbox Guidance Note for small traders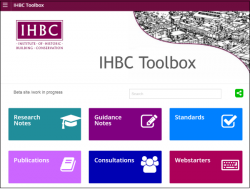 IHBC's latest Guidance Note in our Toolbox aims to provide sole practitioners and small traders with advice on taking on new work, offering 'Ten Red Flags' to watch out for.
---
Scotland - Historic Environment Audit (SHEA) 2018 is now out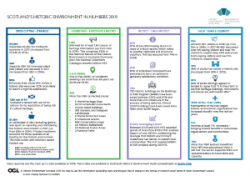 HES lead officer, Karen Robertson, has offered her personal blog looking at the trends and findings.
---
Slate Landscape of North-West Wales - preferred UNESCO World Heritage Site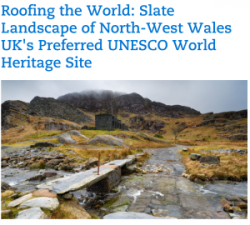 The Slate Landscape of North-West Wales will be the UK's next preferred nomination for UNESCO World Heritage Site status, Heritage Minister Michael Ellis announced recently.
---
Draft Parliamentary Buildings (Restoration and Renewal) Bill for Palace of Westminster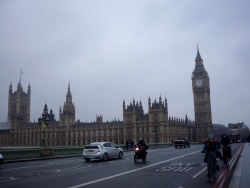 The draft Bill has been presented to allow 'interested parties the opportunity to consider the approach taken to the governance of the Restoration and Renewal Programme'.
---
APPG for Healthy Homes & Buildings White Paper published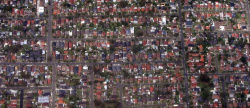 The White Paper highlights 'the need for a holistic approach to building design and renovation'.
---
Register English Community Assets on CAsE and you could win £100 gift voucher
The Architectural Heritage Fund (AHF) asks if you own or manage a community asset that you register it on the new Community Assets Exchange - you could win £100 gift voucher.
---
North of Tyne gets £600m devolution deal
Northern Powerhouse minister Jake Berry has confirmed a £600 million devolution deal for the North of Tyne. It is expected to generate £1.1 billion for the local economy.
---
Fifteen projects reach final of Heritage Angel Awards Wales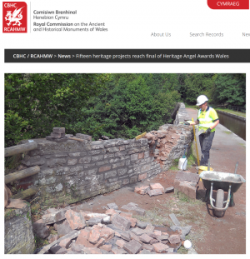 Fifteen outstanding examples of heritage achievement have been selected for a Heritage Angel Award by a panel of judges headed by Baroness Kay Andrews.
---
Entries open for 2019 John Betjeman award: Closing 26 Feb 2019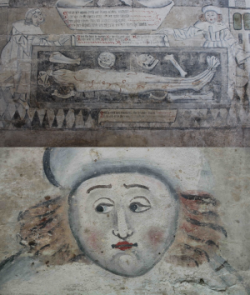 SPAB invites nominations for the award celebrating excellence in the repair to specific elements of places of worship of all denominations and faiths in England and Wales.
---
Civic Voice: Guidance tool for communities to identify local heritage assets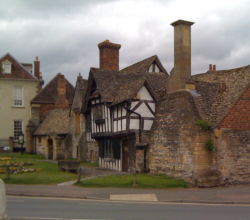 A resource developed as part of Civic Voice's Big Conservation Conversation and their 'Local Heritage List' campaign.
---
The economic value of culture - a benefit transfer study on museums in England
New research has been published to help understand the visitor and non-visitor value of cultural engagement at 4 cultural institutions in England – is this transferrable?
---
Former housing minister Nick Raynsford issues warning on planning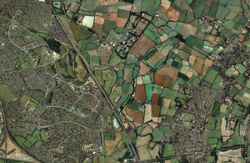 He writes that it has been reduced to a 'chaotic patchwork' of responsibilities which is not compatible with promoting the health, wellbeing and civil rights of communities.
---
DCMS revises - Principles of Selection for Listed Buildings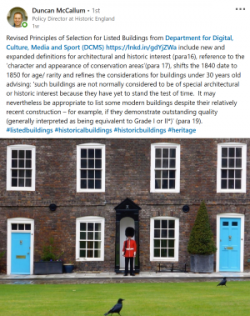 The Department for Digital, Culture, Media and Sport (DCMS) has issued its revised 'Principles of Selection for Listed Buildings' with new dates, definitions and more.
---
Specialist contractors call for government regulation of the construction industry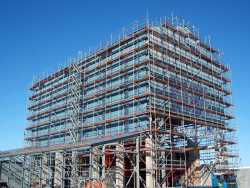 The chairman of the Specialist Engineering Contractors' (SEC) Group wants to government to set up a statutory authority to regulate construction industry practice.
---
Brexit skills shortages - survey

Add your company's take to the largest-ever poll on Brexit skills shortages.
---
Slow progress on encouraging female apprentices to construction industry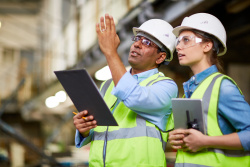 With 88% male in 2016/17 industry initiatives to encourage young women to join the construction industry do not appear to be making much headway.
---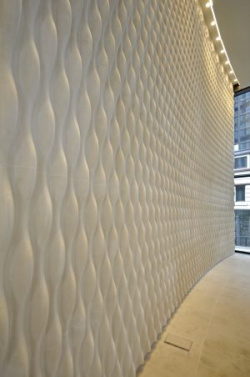 Water-jet cutting of stone changes the industry, but only so far!
---
Nuclear archive wins Andrew Doolan Best Building in Scotland Award for 2018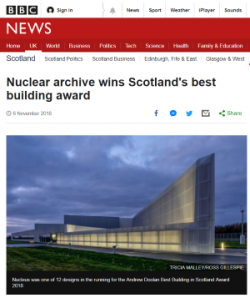 A national archive for the civil nuclear industry by Reiach & Hall Architects has won a top Scottish architecture prize: the Andrew Doolan Best Building in Scotland Award for 2018.