Reconciling conservation and sustainable development
The controversy around a development proposal for Norton Folgate in London sheds light on the need to balance conservation and urbanism.
---

[Image: Blossom Street warehouses elevation. Building dates: 1 1886; 2 around late 19th century; 3 1887.]
---
A 2014 development proposal for Norton Folgate, a one-hectare site abutting the boundary of the City of London, became an enduring contest between the developer, British Land and the conservation group, the Spitalfields Trust, persisting until the Trust's options for appeal were exhausted in November 2016. The commercially-driven proposal of British Land, on behalf of the Corporation of the City of London, which owns the site, was met by a vigorous campaign of resistance from the Trust, buttressed by the presentation of a rival, conservation-led vision for the site.
The two distinct proposals allowed comparison of different approaches to a site wholly within a conservation area and in close proximity to the expanding financial district of the City of London, as expressed in commercially and conservation-led schemes, but also for comparison of the impacts each scheme would have on a triple bottom line of sustainability, and how sustainability outcomes are mediated with priorities of contemporary conservation practice.
The original comparative analysis used the issues and criteria from the BREEAM Communities rating framework, with its multi-focal examination of environmental, social, cultural and economic aspects, to examine the sustainability contribution of both proposals, and planning policy to evaluate impacts to heritage assets. The evaluation of the distinct approaches of developer and conservation-led responses to the Norton Folgate site, coupled with the application of a ratings framework and planning policy, helped to illustrate the limitations of contemporary interdisciplinary practice, and where opportunities may exist to fortify the application of conservation and sustainability principles through a better understanding of how core principles align. This article seeks to use the findings from the Norton Folgate case study, and examine their relevance in the wider concern of 'conservation and urbanism'.
The sustainability sector emerged from a position in the 1970s of fringe concern for loosely-connected environmental issues to a mainstream interest which attracts significant political attention in the present day. The 1987 Brundtland Report is credited with establishing a unified sense of direction for these environmental issues, crucially expanding the purview of responsive action to include social and economic agendas with the environmental, and so form the 'triple bottom line' of sustainability. The accepted definition of sustainable development as 'development that meets the needs of the present generation without compromising the ability of future generations to meet their own needs', also came from the Brundtland Report.[1]
The evolution of awareness and widespread recognition of the sustainability agenda shares similarities to the way in which the conservation of built heritage emerged from ideas strongly-held by a small sector of society to general awareness and popular consensus. So too does the intergenerational imperative resonate between the two fields. Conservation of the built environment is often situated in the context of retaining places valued for their capacity to inform identity and inspire a sense of place for present and future generations, in much the same way as sustainable development emphasises that meeting the needs of the present generation should not compromise the ability of future generations to meet their own needs.
Further to similarities in origins and intergenerational ideals, both sustainable development and conservation of historic built environments are given considerable weight in the National Planning Policy Framework (NPPF). Conservation of heritage assets 'in a manner appropriate to their significance' is one of 12 core principles, and sustainable development as the 'golden thread running through both plan-making and decision taking'.[2] As sustainable development is progressively embraced by planning authorities, and proposals are increasingly tailored to this end, it is worth questioning if there is a risk that schemes satisfying values of sustainable development, but causing harm to heritage assets, could ultimately be considered as a public benefit?
In the case of Norton Folgate, elements contributing to British Land's proposal fulfilled criteria for consideration as 'sustainable development', and the public benefits associated with these were determined to outweigh the harm caused by substantial demolition in a conservation area and the loss of undesignated heritage assets. It should be noted that the former London mayor, Boris Johnson, acted as the local planning authority after calling the scheme in following Tower Hamlets Council refusing planning permission for the proposal.
The certification of environmental performance of buildings has been a growing field as both market and regulatory pressures demand more efficiency in energy use and construction processes. Ratings frameworks informing certification are gradually expanding to assess wider social and economic impacts of development in communities, in order to reflect the interlinked principles of sustainable development. Using the issues and criteria set out in BREEAM Communities as the framework for the comparative analysis of the British Land and the Spitalfields Trust schemes was a revealing exercise.
Given their reputation for high-performing 'green' developments, it was not surprising the British Land scheme performed very well against the environmental sustainability criteria, and that their less-developed responses to social and economic impacts on sustainability for the local community would have earned average scores against the BREEAM Communities criteria.
The 'light-touch conservation' scheme of the Spitalfields Trust, with a high proportion of fabric retention, well-articulated schemes for small business opportunities and a high proportion of affordable housing, would score well in discrete areas, but would fail to attract consistently high scores across the full breadth of factors and criteria. Despite their almost singular focus on environmental factors of sustainability, the British Land proposal for Norton Folgate would have achieved a significantly higher rating than the Spitalfields Trust scheme.
This disparity represents a fundamental flaw, not just with BREEAM Communities, but with frameworks assessing the environmental, social and economic impacts of sustainable development generally: the rigid criteria allow only a narrow range of responses to achieve the highest ratings. They afford little scope for acknowledging the unique requirements of projects in historic environments, and the positive contribution which can be made through the conservation of heritage assets to economic vitality and sustainable communities.[3]
It is evident that sustainability rating systems do not yet take into account the full sustainability value of historic places, nor leave any significant room for unique responses to social and economic issues to be recognised. The lack of scope for conservation-led schemes to achieve highly against sustainability frameworks, coupled with the tendency of these frameworks to 'only deal with "high-end" developments',[4] may promote a generic approach to sustainable development that limits alternative responses in favour of homogenised development, and forces a position where conservation practice could be seen as being at odds to sustainable practice.
Looking beyond ratings frameworks, it is evident that the focus of scholarship, discourse and practice in sustainability is focused on environmental issues, and by comparison the social, cultural and economic aspects of the triple bottom line are under-developed. This bias presents a clear opportunity for the heritage sector to contribute to policy and practice of the sustainable development sector by sharing the expertise generated within their own field of scholarship and practice in effecting positive outcomes for community identity and place value which flow from conservation projects, and the growing body of knowledge on economic impacts associated with conservation programmes. Such a contribution would allow the heritage sector to inform and influence the manner in which sustainable development addresses historic environments, rather than adopting a reactive stance to implications of sustainable development affecting heritage assets.
While some in the conservation sector may view an increasing focus on sustainability issues in the discourse and practice of conservation as straying from the core tasks of 'restoration, rehabilitation, maintenance and interpretation',[5] others will see the opportunity to broaden the perception of built heritage from a specialism concerned with architectural and historic interest to a more 'coordinated mainstream activity'[6] representative of social gains and inclusivity. Although there is an evident alignment between the social, cultural and economic agendas for sustainability and benefits of conservation-led projects, purposefully including environmental concerns and operational performance of historic buildings as a strategic aim would enhance the perception of conservation as a holistically-sustainable pursuit.
The impression of environmentally sustainable outcomes often relates foremost to 'eco-technical' solutions in buildings, which in a heritage context can involve invasive work and loss of material integrity. However, as measurable data for embodied energy become more reliable, the inherent benefit of fabric retention becomes more pronounced.[7] Better awareness of the inherent benefits of historic buildings and embodied energy, and the cumulative gains to be had from non-invasive measures in the context of operational energy, could allow a shift to the heritage sector advocating sustainable benefits rather than so often being caught on the back foot countering arguments of energy performance originating from the development industry.
Sustainable development sets an admirable agenda for progressing environmental, social, cultural and economic issues, and the unified consideration for these elements in the built environment is certainly a positive thing. Balancing the multiplicity of concerns among the triple bottom line is still an ambitious goal, and no doubt it will still be some time before singular concerns for environmental agendas or energy performance are not misconstrued as constituting the core, or even the entirety, of sustainable development.
At this time of emerging understanding and growing consensus, it is therefore crucial that the conservation sector seeks to contribute to discourse on delivering positive social, cultural and economic outcomes, and demonstrating how these objectives are routinely realised through programmes of heritage conservation
[edit]
References
[1] World Commission on Environment and Development (1987), Our Common Future, http://www.un-documents.net/our-common-future.pdf, accessed 14 May 2017.
[2] NPPF, paragraphs 14, 17 and 126.
[3] NPPF, paragraph 131.
[4] Sullivan, Ridin and Buchanan, Neighbourhood Sustainability Frameworks.
[5] Barthel-Bouchier, Cultural Heritage.
[6] Rodwell, Conservation and Sustainability.
[7] Stephen Ward (2012) 'Breathing life into the corpse: upcycling through adaptive reuse', in Steffen Lehmann and Robert Crocker (eds), Designing for Zero Waste: consumption, technologies and the built environment, Routledge.
---
This article originally appeared in IHBC's Context 150, published in September 2016. It was written Sean McEntee, who graduated from the University of Leicester MA in urban conservation in 2016, is undertaking internships with Lambeth Council's conservation and urban design team and JLL's heritage planning and development team.
--Institute of Historic Building Conservation
IHBC NewsBlog
IHBC Course Connection Day 2017 held in Birmingham on 23 Nov - update and review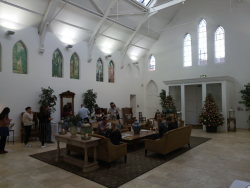 Students from diverse heritage related courses in the UK and Ireland enjoyed an expenses –paid opportunity to learn about built and historic environment conservation and the IHBC.
---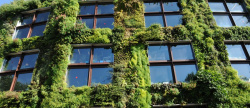 Real estate needs focus on urban context not technical 'green construction' - new professional perspectives on asset management in article by Professor Colin Lizieri.
---
Up to 160 jobs reported at risk at English Heritage Trust
Civil Society reports that EH is planning to cut staff numbers in a bid to be financially sustainable by 2023, and has consulting its staff on the restructure (closed 15 December).
---
How to protect heritage buildings against fire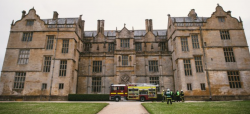 Devon & Somerset Fire & Rescue Service (FRS) has issued advice on protecting heritage buildings against fire.
---
Buildings at Risk Catalogue from SAVE calls for new entries including GII and unlisted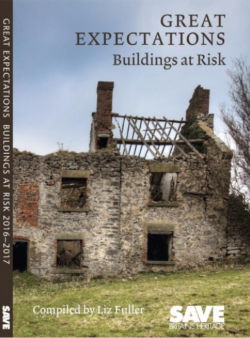 SAVE is looking for Grade II (GII) listed and unlisted historic buildings which are at risk, vacant and in need of a new use and/or new users, by 30 December.
---
Churches Conservation Foundation announces second grant award scheme
The scheme seeks to support young craftspeople with an interest in religious built heritage wanting to travel to increase their expertise and knowledge - closes 26 Jan 2018.