Method statement for construction
Method statements are widely used in construction as a means of controlling specific health and safety risks that have been identified (perhaps following the preparation of a risk assessment) such as; lifting operations, demolition or dismantling, working at height, installing equipment, the use of plant and so on.
A method statement helps manage the work and ensures that the necessary precautions have been communicated to those involved.
The process of preparing a written method statement provides evidence that:
Significant health and safety risks have been identified.
The co-operation of workers has been ensured.
Safe, co-ordinated systems of work have been put in place.
Workers have been involved in the process.
Method statements are not a requirement of the Construction (Design and Management) Regulations, however they are identified by the Health and Safety Executive (HSE) as being one way of satisfying the requirements of the regulations and as an effective means of assessing risks, managing risks, collecting workers' views and briefing workers.
The fact that method statements are not a requirement of the CDM Regulations is evidence of the HSE's intention that implementation of the requirements of the CDM Regulations should not be a paper exercise, where the filling out of a standard template is sufficient, but that it should be an integral and fundamental part of the construction process.
The format in which method statements are prepared, reviewed and used should be set out at the outset of a project, perhaps within the Project Execution Plan (PEP), ensuring not only that the method statement is produced by a competent person, but that it is peer-reviewed as part of the Quality Assurance (QA) system prior to it's use.
Where they are prepared, method statements need be no longer than is necessary for them to be effective. They are for the benefit of those carrying out the work and so should be clear, should not be overcomplicated and should be illustrated where necessary.
Method statements should be written by a competent person who is familiar with the process being described and may need to be agreed between the client, principal contractor and contractor. The HSE suggests that those preparing method statements should consider:
The contents of a method statement will vary with the work process being described however, it may contain:
Together, risk assessments and method statements are sometimes described as 'RAMS'. RAMS may be required by third parties to demonstrate that health and safety has been properly considered and that the requirements of the CDM regulations have been satisfied. For example, a contractor may require submission of RAMS form sub-contractors, a landlord may require submission of RAMS from tenants proposing to carry out works to a property, or a client may require submission of RAMS from contractors operating on their premises.
NB George Forster in his book Construction Site Studies details method statements used for management purposes showing personnel needed, time, and work output among other factors.
[edit]
External references
IHBC NewsBlog
IHBC launches online registration for Recognised CPD providers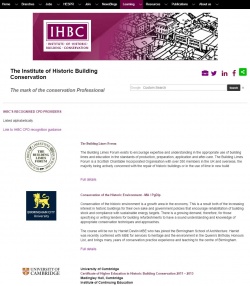 New online registration process for anyone seeking IHBC recognition as a CPD provider as part of IHBC's refinement of CPD and related learning opportunities.
---
IHBC Annual School Manchester2017 – a chance to use your network to join ours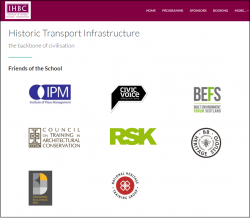 Interested bodies can be a 'Friend' of the IHBC's 2017 Manchester School, hosted by our North West Branch, and have their logo and website linked.
---
IHBC responds to White Paper on housing market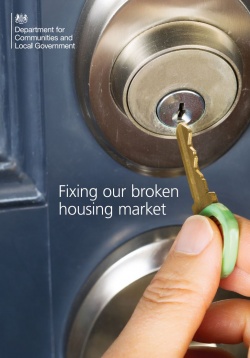 The consultation on England's Housing White Paper – 'Fixing our Broken Housing Market' - has now closed and the IHBC has submitted its comments.
---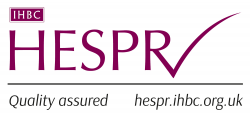 The IHBC's heritage business listing, HESPR offers members weekly Bulletins and this top tender comes from Pembrokeshire County Council.
---
Welsh Economy Secretary launches first statutory list of historic place names in the UK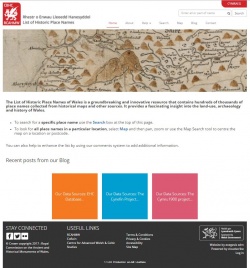 This new resource has already recorded c.350,000 historic place names in Wales and will capture their historical importance for future generations.
---
UNESCO - Jerusalem and Culture resolutions
EoV delivered by the UK Delegation to UNESCO, regarding the Jerusalem resolution and that concerning Educational And Cultural Institutions in the Occupied Arab Territories.
---
Belfast dry docks may lose listed building status
Two dry docks which are the oldest part of Belfast's port may lose listed status as a result of a review by Northern Ireland's heritage authorities, the Belfast Telegraph reports.
---
Italy is giving away historic buildings with the proviso they are used as tourist facilities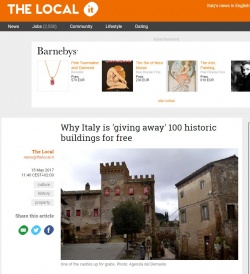 103 of Italy's historic buildings are being given away for free - all takers will need to commit to transforming the properties into tourist facilities including hotels, restaurants or spas.
---
University of Dundee invites people to virtually design new building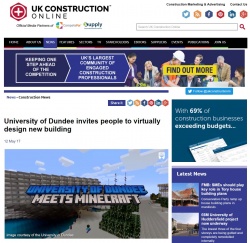 As part of its 50th Anniversary celebrations, the University of Dundee invited people to design and build a new iconic university building in a virtual version of Dundee.