Lincoln Memorial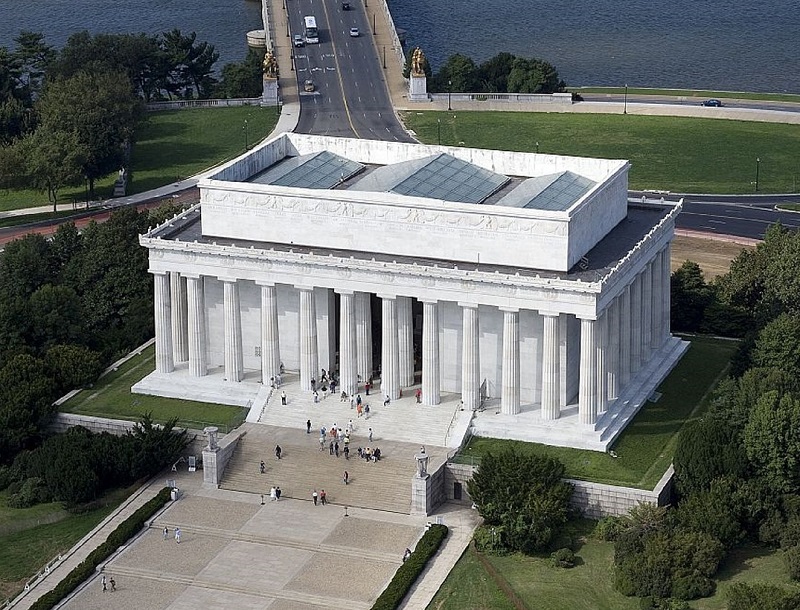 [edit]
Introduction
The Lincoln Memorial is a monument honouring Abraham Lincoln, the 16th President of the United States who was assassinated in 1865. It is located at the western end of the National Mall in Washington D.C. The centrepiece of the memorial is a large marble sculpture of a seated Lincoln looking down the Mall towards the Washington Monument directly opposite. Carved on the internal walls are two famous speeches by Lincoln – The Gettysburg Address and his Second Inaugural Address.
Dedicated in 1922, it is one of several monuments honouring American presidents across the city. The memorial was designed by the architect Henry Bacon, and the designer of the statue was Daniel Chester French.
Shortly after Lincoln's death, Congress proposed the idea of erecting a monument to commrated a commission to oversee it. However, various disputes delayed the project until 1914 when construction finally began.
Since it was completed it has become an iconic symbol of America, featuring on the reverse side of the $5 bill. Because of Lincoln's abolition of the slave trade, the memorial became a popular place of protest during the Civil Rights Movement, and was the site of Martin Luther King's 1963 'I Have a Dream' speech.
Open 24 hours a day, it is also a popular tourist attraction, with approximately 6 million people visiting each year. It is administered by the National Park Service, and has been listed on the National Register of Historic Places since 1966.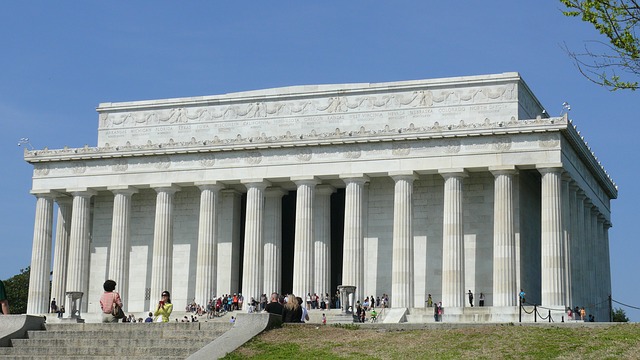 The building takes the form of a Greek Doric temple, and Bacon specifically based its design on the Parthenon. There were many opposition voices who regarded this as being too grand a design for a man of Lincoln's refined character. The architect John Russell Pope presented alternative ideas which were no less elaborate, including a traditional Mayan temple, an Egyptian pyramid, and a Mesopotamian ziggurat.
In the end, however, Bacon argued that it was a structure from the birthplace of democracy that was well suited to a man who defended democracy so eminently.
There was also concern about the site that had been chosen on reclaimed land in West Potomac Park. It was thought to be too swamp-like and ill-suited for easy access. Eventually however, Congressional approval was granted, along with a $300,000 budget and construction began in February 1914.
Built using Yule marble from Colorado, the structure measures 57.8 x 36.1 m (189.7 x 118.5 ft), and is 30 m (99 ft) tall. Thirty-six fluted Doric columns surround the exterior in a peristyle. The number of columns is symbolic, each representing one of the Union states at the time of Lincoln's death.
The columns are made up of 12 drums including the capital, and measure 13 m (44 ft) in height, with a base diameter of 2.3 m (7.5 ft). As is typical of Ancient Greek architecture, the columns are inclined slightly to compensate for distortions of perspective which would otherwise give an impression of bulging at the top.
Anchoring the memorial is a large concrete foundation, extending 13-20 m (44-66 ft) deep to support the weight of the marble structure. The foundation is enclosed by a rectangular granite retaining wall 4.3 m tall.
Above the colonnade there is a frieze on which are carved the 36 states, separated by bas-reliefs of double-wreath medallions. The cornice is a carved scroll decorated with projecting lions' heads and palmetto cresting.
[edit] Sculpture
The Lincoln sculpture was carved by the Piccirilli brothers of New York. The original design was 3 m (10 ft) tall, but this was increased to 5.8 m (19 ft) when the scale of the building provoked concerns that it would be overwhelmed.
There are a number of rumours about the sculpture, one of the most persistent of which is that Lincoln's hands are positioned in sign language for his initials 'A' and 'L'.
[edit]
External references
IHBC NewsBlog
IHBC's first Virtual School a Marked Success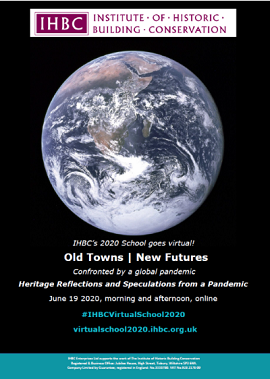 The first 'Virtual School' hosted by the IHBC was launched on 19 June with lead speakers covering pandemic-related topics shaping valued places over two sessions.
---
Ireland National Heritage Week: 15-23 August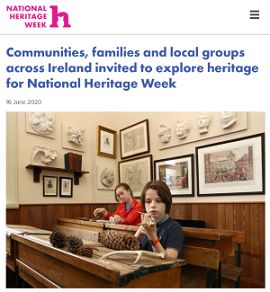 Plans are in place for a modified National Heritage Week for Ireland, which take into account ongoing restrictions on events and gatherings due to COVID-19.
---
Grimsby's historic Ice Factory thrown new survival lifeline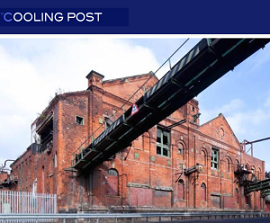 Opened in 1901, and derelict for the last 30 years, the Grimsby Ice Factory is the earliest and largest known surviving ice factory in the world. It still contains an array of historic ice making equipment including four J&E Hall ammonia compressors installed in 1931.
---
Risk Assessments and Contractual Impact from CIAT

A note on contractual obligations under the current COVID-19 pandemic has been issued by The Chartered Institute of Architectural Technologists(CIAT).
---
RTPI calls on government to issue planning guidance to prevent development delays

The Royal Town Planning Institute (RTPI) has called on the government to urgently issue planning guidance to prevent unnecessary delays to development from the pandemic.
---
How to Enjoy Heritage from Home, from the Heritage Fund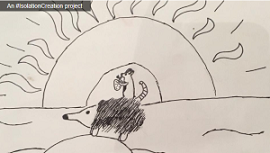 The Heritage Fund has put together a list of heritage-inspired activities to be done from home.
---
Listed Property Owners Club's Spring Checklist for Buildings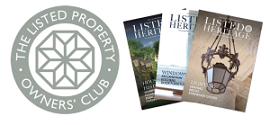 Spring is a good time to stand back and consider any building repairs that are required over the next 12 months, notes the LPOC, and regular inspection and maintenance is the key to keeping homes in good repair, as per its accessible step-by-step guidance.
---
Firefighters tackle blaze at converted Grade II listed former mill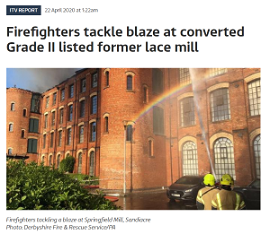 Derbyshire Fire and Rescue Service said "rapid and effective firefighting" had saved three quarters of the mill – which is now apartments.
---
Thieves take advantage of lockdown to steal lead from church roof in Halsham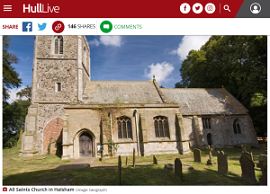 Police have appealed for witnesses after thieves stole lead from the roof of All Saints Church in Halsham near Hedon during the coronavirus lockdown.
---
IHBC's CPD Circular provides info on digital CPD opportunities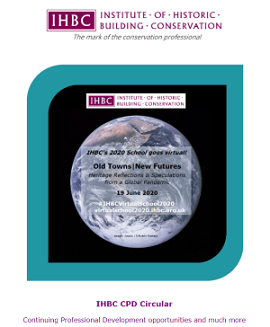 The regular newsletter showcases the IHBC's own Continuing Professional Development (CPD) content as well as online opportunities from 'IHBC Recognised CPD Providers' and other conservation related training and events.
---
Frank Lloyd Wright houses offer virtual tours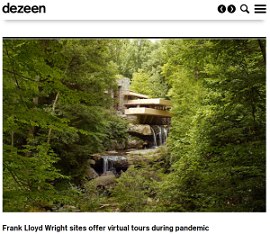 To make sure the public still has access to twelve of those famous works, #WrightVirtualVisits has been launched, which offers virtual tours of 12 iconic houses.
---
CIC's Coronavirus Digest review and survey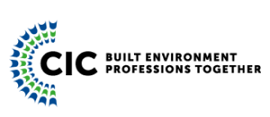 The Construction Industry Council's (CIC's) 'CIC Coronavirus Digest – Issue 8' surveys the latest government advice with updates from the construction industry.
---