Lincoln Memorial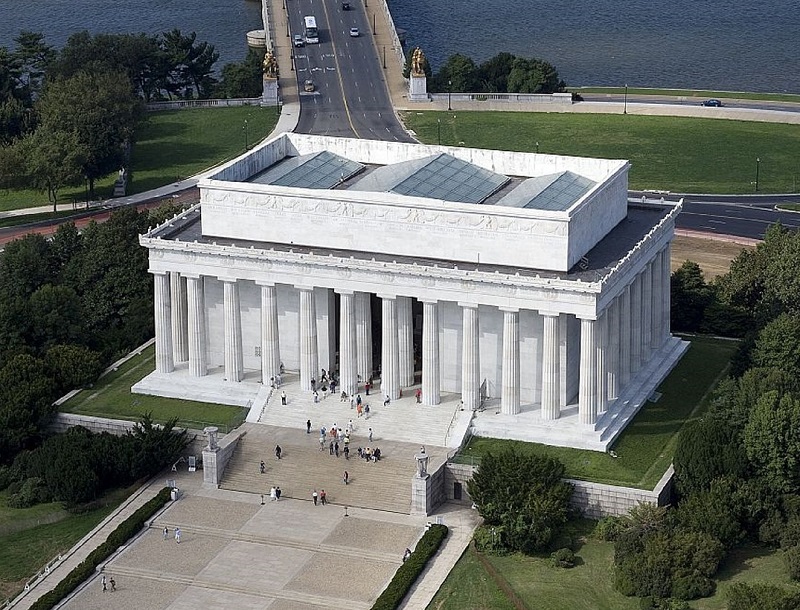 [edit]
Introduction
The Lincoln Memorial is a monument honouring Abraham Lincoln, the 16th President of the United States who was assassinated in 1865. It is located at the western end of the National Mall in Washington D.C. The centrepiece of the memorial is a large marble sculpture of a seated Lincoln looking down the Mall towards the Washington Monument directly opposite. Carved on the internal walls are two famous speeches by Lincoln – The Gettysburg Address and his Second Inaugural Address.
Dedicated in 1922, it is one of several monuments honouring American presidents across the city. The memorial was designed by the architect Henry Bacon, and the designer of the statue was Daniel Chester French.
Shortly after Lincoln's death, Congress proposed the idea of erecting a monument to commrated a commission to oversee it. However, various disputes delayed the project until 1914 when construction finally began.
Since it was completed it has become an iconic symbol of America, featuring on the reverse side of the $5 bill. Because of Lincoln's abolition of the slave trade, the memorial became a popular place of protest during the Civil Rights Movement, and was the site of Martin Luther King's 1963 'I Have a Dream' speech.
Open 24 hours a day, it is also a popular tourist attraction, with approximately 6 million people visiting each year. It is administered by the National Park Service, and has been listed on the National Register of Historic Places since 1966.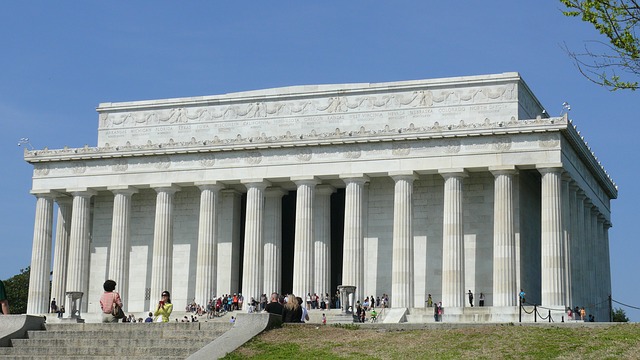 The building takes the form of a Greek Doric temple, and Bacon specifically based its design on the Parthenon. There were many opposition voices who regarded this as being too grand a design for a man of Lincoln's refined character. The architect John Russell Pope presented alternative ideas which were no less elaborate, including a traditional Mayan temple, an Egyptian pyramid, and a Mesopotamian ziggurat.
In the end, however, Bacon argued that it was a structure from the birthplace of democracy that was well suited to a man who defended democracy so eminently.
There was also concern about the site that had been chosen on reclaimed land in West Potomac Park. It was thought to be too swamp-like and ill-suited for easy access. Eventually however, Congressional approval was granted, along with a $300,000 budget and construction began in February 1914.
Built using Yule marble from Colorado, the structure measures 57.8 x 36.1 m (189.7 x 118.5 ft), and is 30 m (99 ft) tall. Thirty-six fluted Doric columns surround the exterior in a peristyle. The number of columns is symbolic, each representing one of the Union states at the time of Lincoln's death.
The columns are made up of 12 drums including the capital, and measure 13 m (44 ft) in height, with a base diameter of 2.3 m (7.5 ft). As is typical of Ancient Greek architecture, the columns are inclined slightly to compensate for distortions of perspective which would otherwise give an impression of bulging at the top.
Anchoring the memorial is a large concrete foundation, extending 13-20 m (44-66 ft) deep to support the weight of the marble structure. The foundation is enclosed by a rectangular granite retaining wall 4.3 m tall.
Above the colonnade there is a frieze on which are carved the 36 states, separated by bas-reliefs of double-wreath medallions. The cornice is a carved scroll decorated with projecting lions' heads and palmetto cresting.
[edit] Sculpture
The Lincoln sculpture was carved by the Piccirilli brothers of New York. The original design was 3 m (10 ft) tall, but this was increased to 5.8 m (19 ft) when the scale of the building provoked concerns that it would be overwhelmed.
There are a number of rumours about the sculpture, one of the most persistent of which is that Lincoln's hands are positioned in sign language for his initials 'A' and 'L'.
[edit]
External references
IHBC NewsBlog
Methodology for Moisture Investigations in Traditional Buildings agreed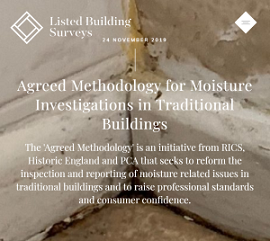 A 'Methodology for Moisture Investigations in Traditional Buildings ' has been agreed between RICS, Historic England and the service provider PCA, a trade body, which should help raise professional standards and consumer confidence.
---
Drinkers toast the future after historic Leeds pub granted GII listed heritage status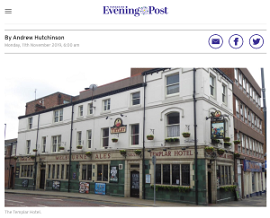 The Templar Hotel on Vicar Lane has been listed at Grade II by the Department for Digital, Culture, Media and Sport on the advice of Historic England.
---
Housing Minister announces new champion for modern 'MMC' housebuilding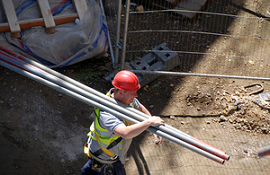 Government has announced a new Champion for Modern Methods of Construction as part of the government's drive to make the UK the global leader in housing standards.
---
RTPI on 'Why planning needs better outcome measurement'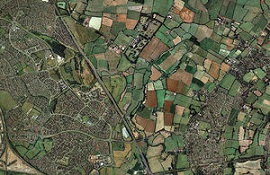 Planning is about so much more than the number of applications approved and the speed of processing them so the RTPI is commissioning research aimed at producing a toolkit that can demonstrate a wider range of outcomes.
---
The rise of 'facadism' in London, from the BBC and 'The Gentle Author'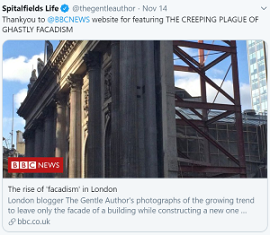 London blogger The Gentle Author has been photographing the changing face of London, focusing on what is known as 'facadism', the practice of destroying everything apart from the front wall and constructing a new building behind it.
---
Great Yarmouth Winter Gardens Facing Off Dilapidation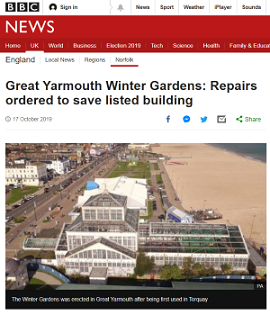 Urgent repairs have been ordered to save one of the country's most endangered buildings from dilapidation while Great Yarmouth Borough Council seeks an investor.
---
Construction urged to do more for butterflies and bees, via SNH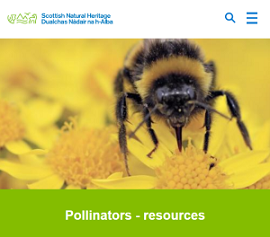 SNH has published new guidance on how best to fit pollinators into urban design and construction with a series of easy steps to suit all project budgets and sizes.
---
Applications now open for the Sustainability Scholarship for 2020: Closing 29/11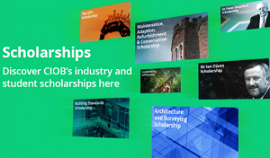 Applications are invited for the Sustainability Scholarship 2020, with successful applicants to receive £3000, support and mentoring from experts, and closing 29 November.
---
Government asked to save plans for Queensbury tunnel cycle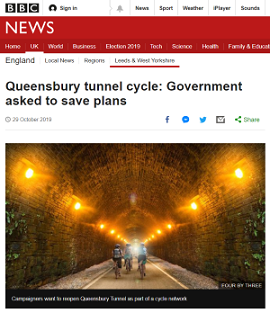 It was hoped the 1.4 mile (2.3km) Victorian Queensbury Tunnel could be used by cyclists travelling between Bradford and Halifax, but plans have been threatened.
---
Case Study in Durham Cathedral: Project Managment and Building Services Challenges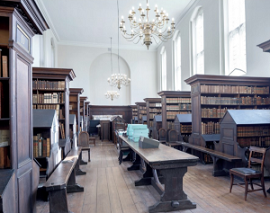 Completing works that widened public access to the hidden architectural spaces and collections of Durham Cathedral showcases exceptional project management.
---
Autumn clamp down on dust by HSE – site visits planned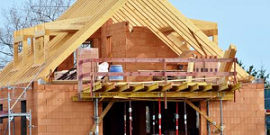 This month HSE is carrying out its latest construction inspection initiative with a focus in particular on measures in place to protect workers from occupational lung disease caused by asbestos, silica, wood and other dusts when carrying out common construction tasks.
---