Decorative metal ceilings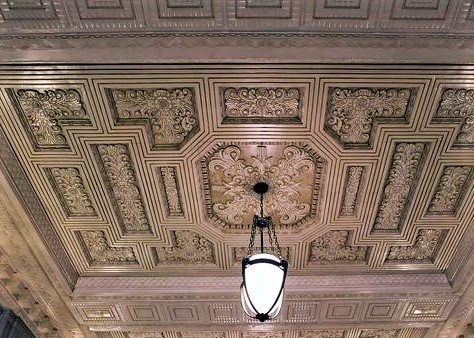 This decorative metal ceiling is in the lobby of the US federal building in Fort Wayne, Indiana.
[edit]
Introduction
Ceilings help create enclosure of, and separation between, spaces. They help to control the diffusion of light and sound around a room, and help prevent the passage of sound, light, air, fire, heat etc between rooms.
Ceiling tiles, also known as ceiling panels, can be used to create, or as a surface finish for ceilings. Most ceiling tiles are made of mineral fibre in the UK. The decorative metal ceiling tile was sometimes used in North America, South Africa and Australia. These decorative metal panels achieve a specific aesthetic effect and have become more popular around the world over the past few decades.
Decorative metal ceilings are also referred to as pressed metal ceilings, pressed tin ceilings or simply tin ceilings. In Australia, they are sometimes called Wunderlich ceilings (or Wunderlite) after the primary manufacturer in the country.
By pressing patterns into tiles or sheets of tin or other types of metal, fabricators are able to produce faux plasterwork ceilings at more affordable prices. The ceilings are also durable and relatively lightweight.
[edit]
History
An early form of what would become the traditional decorative metal ceiling was produced in the 1870s. These were manufactured from corrugated iron sheets (which had been used for roofing purposes) and were intended to be more functional than decorative; they served as a basic form of fire separation between the floors of buildings.
Over time, a preference for more decorative metal ceilings was expressed by newly arrived immigrants and others - who had seen elegant plasterwork ceilings in Europe. To satisfy the increasing demand from this clientele, fabricators mass produced thinly rolled, patterned sheets of iron dipped in molten tin (also referred to as tinplate). Early patterns were sometimes grouped into general classifications, such as Classical, Rococo, Greek, Gothic and so on.
Early decorative elements were manufactured separately from zinc and then added to the ceilings to cover seams. It later became possible to stamp sheets of steel, copper, zinc and lead with simple or elaborate patterns, paint them white (like their plasterwork counterparts) and make them into durable ceiling materials, cornice work or wainscoting. Relatively easy to manufacture, install and maintain, they became more popular than their plasterwork counterparts. Decorative metal ceilings were sometimes used to repair or upgrade existing ceilings of plaster or wood (this practice is still used in some renovation projects).
During their period of peak popularity, pressed metal ceilings were considered a suitable choice for businesses, churches, hospitals, restaurants, financial institutions, schools, municipal buildings, steamships, train stations and other structures. They were even incorporated into the living rooms and parlours of customers from the middle and upper classes. Some British figures from the world of art and architecture did not approve of this misappropriation of design and criticised it for being false and degrading.
Despite their affordability, decorative metal ceilings lost their appeal during the Depression. They became even less popular during the Second World War, as metal was needed for military priorities.
[edit]
Contemporary applications
In the 1970s, decorative metal ceilings experienced something of a revival as installations from several decades earlier managed to survive in relatively good condition. Between the restoration of original ceilings, the production of modern products and the introduction into new markets (including those associated with plasterwork ceilings), decorative metal ceilings are re-emerging into the market.
Most surviving decorative metal ceilings are steel. They are made up of several components including ceiling tiles (sometimes referred to as plates and panels), a field, moulding to go around the field, fillers and cornices. Tile patterns were originally stamped using cast iron moulds and steam hammers (also referred to as drop hammers). This method would permanently embed the pattern into the surface of the metal.
Patterns for the tiles were sometimes copied from plasterwork originals. Every ceiling could be different due to the range of patterns and installation options.
Patterns could be complex to provide a focal point in a room. They could also be simple geometric shapes that served as minor accent features. These patterns sometimes continued from the ceiling down and through the wainscoting until they reached the floor.
In addition to being painted white (to mimic plasterwork), decorative metal ceiling tiles could be finished to look like wood or other effects. Pattern painting is a modern technique that uses different colours of paint to highlight the details of the embossed pattern.
Modern decorative metal ceilings are often made from tin-plated steel, although copper, brass and zinc are still sometimes used. Other reproduction methods use aluminium, PVC and even mineral fibre, although these materials are not as effective in capturing the depth and complexity of historic materials.
IHBC NewsBlog
IHBC at COP26 - Conserving our Places Conserves our Planet 1-12 Nov 2021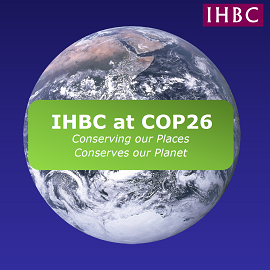 The IHBC seeks to raise awareness and understanding of how building conservation philosophy and practice contributes towards meeting the challenge of climate change.
---
IHBC, CIfA, IEMA launch Principles of Cultural Heritage Impact Assessment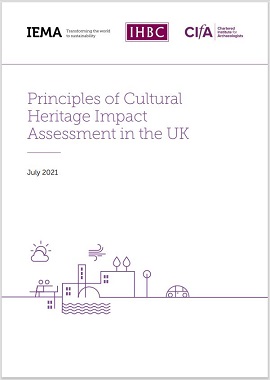 The joint-institute document aims to help maintain cultural heritage by providing a consistent framework across different sectors & geographies
---
Enter Now to Win: IHBC's GASA Awards 2021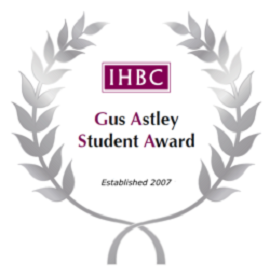 IHBC's Gus Astley Student Awards 2021: Win £500 and a place on IHBC's 2022 Aberdeen School with your built environment/heritage coursework, closes 31/07!
---
Former Harris meat factory mansion in Calne, Wilts, to be restored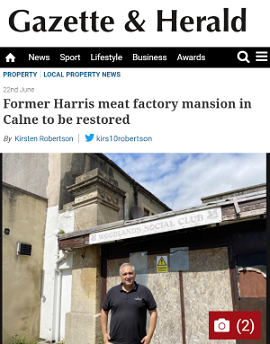 The last remaining buildings on the site of the Harris meat factory family's historic mansion are being restored to their former glory and converted into new homes.
---
CICV Forum introduces professional indemnity insurance guide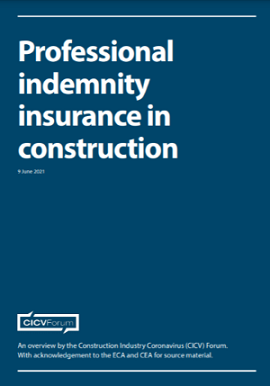 The Construction Industry Coronavirus Forum (CICV Forum) has unveiled a new guide to the crucial and increasingly complex issue of professional indemnity insurance (PII).
---
The World Heritage Committee(WHC): Liverpool should lose its World Heritage status.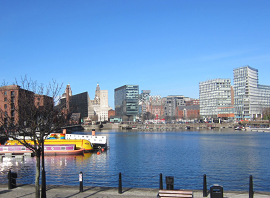 ICOMOS has advised that the new football stadium proposal, if implemented, would have a completely unacceptable major adverse impact its authenticity and integrity.
---
Scotland's CSIC: New plans to transform public spaces into sustainable office hubs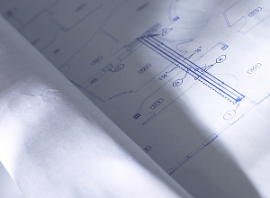 Responding to the changing working patterns of a post-Covid Scotland, the Construction Scotland Innovation Centre (CSIC) has revealed new plans to help retrofit public spaces into out-of-town alternatives to city centre offices.
---
IHBC's latest Context explores 'Applying Digital Technology'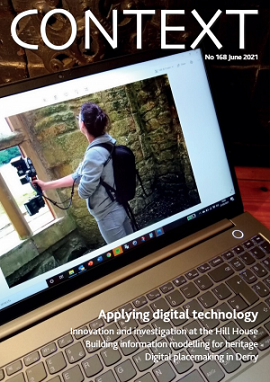 The free-to-access online issue mixes the topical and practical to explore how the sector can best adapt to digital innovation.
---
IHBC Annual School: Historic Places - People Places: 18 June 2021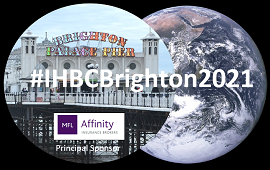 IHBC's 2021 virtual conference examines how we can best change and sustain places for the benefit of people, led by expert practitioners boasting international, national and local profiles and experiences.
---
Europe's top heritage awards honour 24 exemplary achievements from 18 countries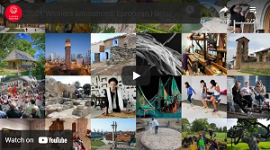 The 2021 winners of the European Heritage Awards / Europa Nostra Awards have been announced.