CIC BIM Protocol
[edit]
Overview
The Construction Industry Council (CIC) Building Information Modelling Protocol: Standard protocol for use in projects using Building Information Models (the CIC BIM Protocol) was first published in February 2013. It was commissioned by CIC as part of its response to the UK Government Construction Strategy which stated that '...Government will require fully collaborative 3D BIM (with all project and asset information, documentation and data being electronic) as a minimum by 2016'.
This represents a requirement for Level 2 BIM on centrally-procured public projects. Level 2 is a managed 3D environment with data attached, but created in separate discipline models.
The CIC BIM Protocol claims to be suitable for use on all Level 2 BIM projects. It can be downloaded from the website of the BIM Task Group, along with two appendices, guidance notes and model contract amendments. It is a 7 page supplementary legal agreement that can be incorporated into professional services appointments, construction contracts, sub contracts and novation agreements by addition of a model enabling amendment. It establishes specific obligations, liabilities and limitations on the use of building information models and can be used by clients to mandate particular working practices.
It is one of a number of standards, protocols and tools available to support the adoption of level 2 BIM in the construction industry:
The protocol is a contractual document that takes precedence over existing agreements. Clause 2.1 states '…In the event of a conflict or inconsistency between the terms of this Protocol and any other documents contained in and/or forming part of the Agreement, except where the Protocol states otherwise, the terms of this Protocol shall prevail.' Parties to the protocol may wish to consult their insurers to seek confirmation that they are not accepting un-insured contractual duties by adopting the protocol.
It is important therefore that the protocol and its appendices are made available pre-appointment and that changes to it or its appendices are treated as variations to the contract, following suitable change control procedures.
The protocol provides the definition of responsibilities, liabilities and limitations for project team members and defines deliverables to a specific level of detail (LOD) for 'data drops' at key stages during the development of the project. This is set out on a project-specific basis in a Model Production and Delivery Table (MPDT) in Appendix 1 to the protocol. Appendix 2 sets out the information management standards that will be adopted.
The protocol requires that the client appoints an information manager. This appointment may change through the course of the project (for example the lead designer or lead consultant may be the information manager during the early stages but then the contractor during construction). The information manager is not a BIM co-ordinator and has no responsibility for clash detection or model coordination. They are essentially a procedural gate-keeper, policing the model to ensure it follows the protocol and that the data is secure.
As with copyright on conventionally designed buildings, the protocol grants a licence to the client to use the information contained in the model(s) produced for the 'permitted purpose' (ie for the purpose for which that level of detail of information was intended). A sub-license from the client enables project team members to use models prepared by other project team members, but if the client wishes third parties to use the model, a new license may be required.
The protocol guidance advocates the use of collaborative practices and the adoption of PAS 1192-2 (Publicly Available Specification for information management for the capital/delivery phase of construction projects using building information modelling), but there are no references to such practices or specifications in the protocol itself.
The CIC warns that any future move to Level 3 BIM (the creation of a single, online project model with construction sequencing, cost and lifecycle management information), may raise very different issues of responsibility, copyright and liability that will require the development of new protocols.
[edit]
Second edition
In April 2018, CIC published the highly-anticipated BIM Protocol Second Edition; to reflect current practices and standards regarding the use of BIM.
The Protocol remains the UK's only standard contractual BIM protocol, and has been drafted by international construction law specialists Beale & Company, following consultation with industry professionals and legal practitioners. The new edition is updated to reflect the significant progress made with BIM standards and practices since the it was first published in 2013. It is closely aligned with PAS 1192-2 and includes security provisions reflecting PAS 1192-5.
CIC describe the updated version as '...a more flexible document, which can be used alongside a range of different contractual arrangements'.
Andrew Croft, Associate at Beale & Company said; "We are very pleased to have been involved in what has been an extremely interesting project and hope that the second edition of the Protocol will help provide additional clarity as to how contractual obligations in relation to BIM are addressed".
Graham Watts OBE, Chief Executive of CIC, said; "CIC has had a seven-year involvement with being at the leading edge of promoting best practice in BIM, which continues with the work of our BIM Forum. The Second Edition of the BIM Protocol demonstrated our ongoing commitment to the multi-professional, collaboration potential of BIM."
To download the Second edition, see here.
For a legal analysis see: The BIM Protocol Second Edition... Three Months On.
[edit]
Find out more
[edit]
External references
IHBC NewsBlog
IHBC Annual School 18 June 2021: Over 25 MarketPlace Stalls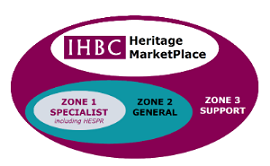 IHBC's Virtual Annual School 2021 MarketPlace stalls provide access to over 25 of the sector's most influential organisations. Book now to join!
---
IHBC Annual School: Historic Places - People Places: 18 June 2021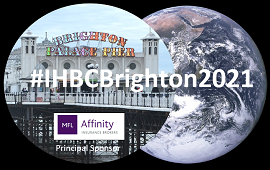 IHBC's 2021 virtual conference examines how we can best change and sustain places for the benefit of people, led by expert practitioners boasting international, national and local profiles and experiences.
---
Europe's top heritage awards honour 24 exemplary achievements from 18 countries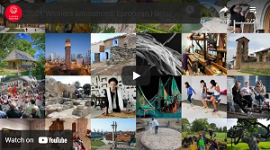 The 2021 winners of the European Heritage Awards / Europa Nostra Awards have been announced.
---
10 Local Councils in England to test the use of digital tools in planning process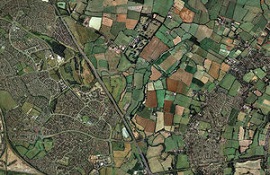 England's Housing Minister has announced a £1.1 million fund to test the use of digital tools and data standards across 10 local areas.
---
LABC launches new home improvement website: Front Door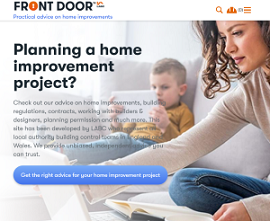 Created by the Local Authority Building Control (LABC), Front Door provides practical guidance on home improvements and renovations as well as technical advice on obtaining building control and planning approvals.
---
Oriel College decision on 'Rhodes' and Related Issues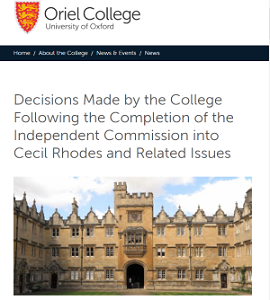 The Independent Commission established by the Governing Body of Oriel College on the memorials and legacy of Cecil Rhodes has reported.
---
Platt's Eyot fire: River Thames GII Boatyards Destroyed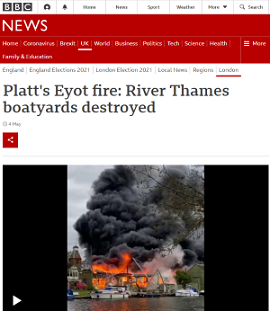 A huge blaze has destroyed two Grade-II listed boatyards on a River Thames island.
---
St Albans Cathedral restoration features a figure wearing a face-mask!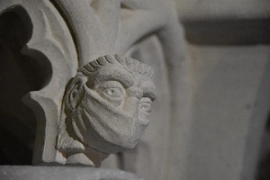 The medieval shrine of St Amphibalus has been restored to its former glory, now with 'a modern addition of a face wearing a face-mask to commemorate the shrine's restoration project' in the pandemic!
---
Ulster Canal to be Restored and Reopened in Border Region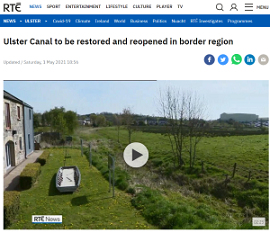 A section of the Ulster Canal, a disused canal in the border region of Monaghan and Fermanagh, will be restored and reopened as a public amenity more than 90 years after it was abandoned.
---
Remains of 'high-status' Roman villa and bath-house found in Scarborough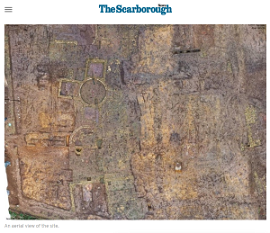 One of the most stunning Roman finds ever unearthed in Britain has been discovered on the site of a new housing development in a village near Scarborough.