London Build 2020: Best Practice in Design and Build panel discussion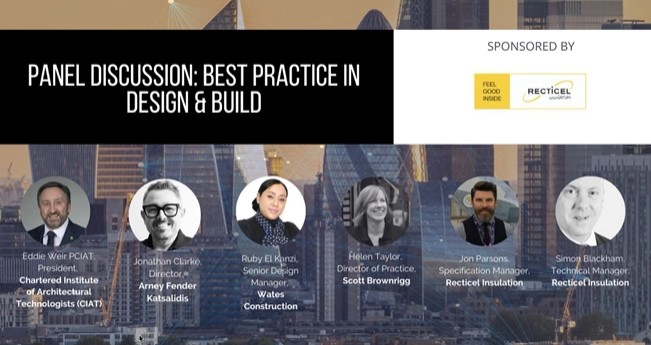 [edit]
Introduction
On 26 November 2020, London Build Online presented a panel discussion, "Best Practice in Design & Build". After a brief presentation by Jon Parsons of Recticel Insulation, Simon Blackham (also with Recticel) opened the discussion by asking the participants to share their definitions of the term, "best practice".
When asked the question, "what do we mean by best practice? How is it measured and managed (e.g. through procurement and accreditations) and is this driving quality and a better built environment?"
Helen Taylor, Director of Practice for Scott Brownrigg started by making the case that design professionals "only get one chance to get it right." She explained that best practices must go beyond the basic minimum despite past methods of project delivery. Helen stressed the importance of thinking differently, particularly in terms of sharing and documenting factors that are not traditionally measurable.
Eddie Weir PCIAT, President, Chartered Institute of Architectural Technologists (CIAT) referred to best practice as "a definitive way of doing something" based on a defined code of practice. He also stated that performance based results can be achieved through a good outcome.
Early engagement is essential to best practice according to Ruby El Kanzi, Senior Design Manager, Wates Construction. Ruby spoke about her experience putting people at the heart of achieving effective design build outcomes, especially in terms of getting the project specified correctly from the start. "If the specifications are not clear from the beginning," she added, "that's when changes start to creep in."
During the next part of the discussion, the panelists examined methods for improving the design and build process. Jonathan Baldwin, ICIOB ACIAT, Associate Director, AECOM Specification Consulting stressed the importance of communication early on in the process. He also said that traditional architects may not be "at the top of the tree" at this point, based on his experience in the field.
Helen clarified this point by saying that architects are now taking on different titles and roles, while maintaining their significance in the process - regardless of the procurement route. She continued by suggesting additional improvements to design and build, which she considers to be an ecosystem. Unfortunately, all too often there are designs created at the start of the project that are then sometimes overlooked or ignored unless one passionate person is in a position to drive high quality results.
The importance of data and digital tools is also having an impact, and Helen stated that clients and members of the supply chain are even starting to appreciate and adapt to tech-based approaches. She mentioned the Building Safety Bill as one of the major motivators behind growing pressure to demonstrate compliance.
Ruby then brought up the issue of data clashes. She did say one of the positive outcomes of the 2020 COVID-19 pandemic has been higher productivity levels and quicker decision making processes, as people become more comfortable communicating with data tools.
Eddie made the point that the technical design stage must be managed properly. He felt that model simulations should expose clashes or other conflicts.
Embracing the group project was Jonathan's suggestion for improving the process, to which point Helen added the importance of shared purpose, which reinforces collaboration. She felt good project management could make a significant difference, which could also have a positive impact on wellbeing.
The controversy around value engineering was brought up as a contrast to sustainable design. Jonathan admitted that getting value engineering right can be difficult, and sustainability makes it even more difficult.
Helen acknowledged this challenge, but brought up the golden thread that has been part of safety initiatives following the Grenfell Tower fire. She introduced the concept of a green thread, which would be built into projects right from the very beginning. Someone would be tasked with managing this through the lifecycle of a project and into operations. She also brought up the point that sustainability must be measured or demonstrated at the end of a project.
Eddie was of the opinion that value engineering is anything but value, and he felt there was a need for a culture change towards the subject. He sees the post-Grenfell period as a turning point and stressed that product substitutions must satisfy all regulations and requirements in instances of value engineering.
Jon Parsons, Specification Manager, Recticel Insulation suggested that it's not always a cheaper product that can be part of value engineering, but sometimes it can be a cheaper system instead. It's important to be aware of alternative approaches, especially when they may create less waste.
When asked if BIM can truly work together, Eddie suggested that enthusiasm for BIM may have plateaued, although he sees it as more facilities management driven now.
While clients and facilities managers may be using BIM for operations, Helen was not sure what the long-term usage trends for BIM will be. However, Ruby saw it as an opportunity to create continuity between the design team and the operations team - perhaps resulting in a greater chance of achieving best practice.
BIM Directory
---
[edit] Information Requirements
---
[edit] Information Models
---
[edit] Collaborative Practices
---
[edit] Standards
---
[edit] Levels of BIM
---
[edit] Glossary
---
[edit] Guide to BIM Level 2