Dudley townscape heritage initiative
This article describes a tour by The Institute of Historic Building Conservation (IHBC) in 2016.
---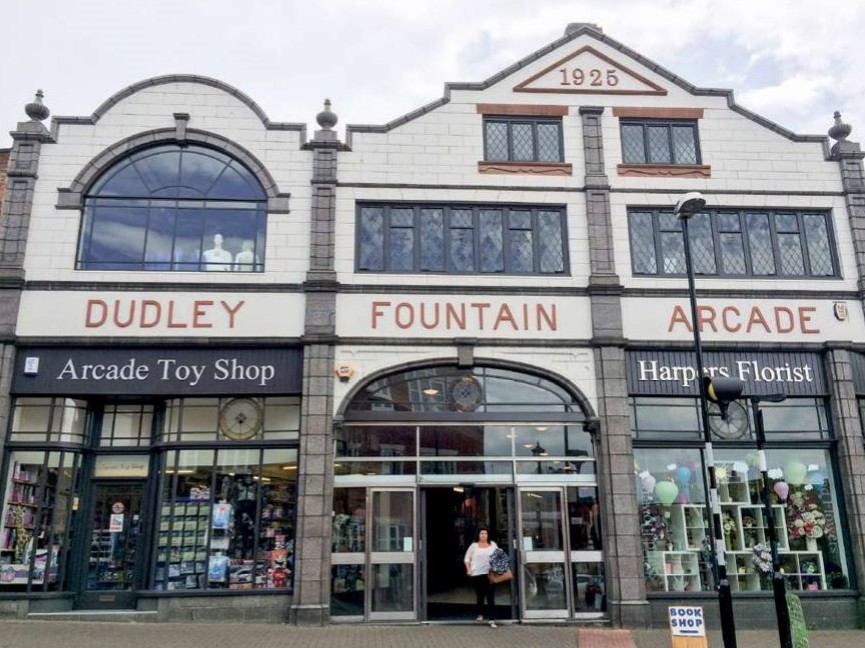 [Image: Dudley Fountain Arcade. Copyright Sara Crofts.]
Visitors to Dudley Zoo could be forgiven for overlooking the architectural delights of this fine Black Country town: the poor physical links between the two were made clear when conservation officer Jayne Pilkington led us out of a hidden back gate to gather at the statue of the first Earl of Dudley at the foot of the Broadway. From this location we were able to admire the high-quality public realm works funded through European Regional Development Fund (ERDF) grants at the beginning of our tour of the recent townscape heritage project. The work included new stone paving to the Market Place and Castle Street, and the refurbishment of the 150-year-old fountain in the Market Place.
It has to be asked what the future could hold for Dudley with Brexit and the subsequent loss of EU funding for projects such as this in areas that have suffered from deindustrialisation. Fortunately, Pilkington was able to tell us about the heritage lottery funding Dudley has been awarded for further regeneration of the town centre.
Pilkington was an excellent guide, and her determined efforts to deliver heritage-led regeneration should be heartily commended. Getting the community and its politicians to appreciate the quality and potential of the town's historic buildings has not been easy. Some bold ideas were needed – punching through a solid brick facade to create a light modern restaurant space in the Old Glasshouse, and accepting facade retention to facilitate the conversion of the fire station, are examples. Key strategic moves are paying dividends: relocating the college to the town centre has brought increased footfall there, and gap sites have been successfully filled with sensitively scaled responses to context.
The much-needed repairs to listed buildings are well judged, but decisions have been pragmatic – accepting that it is not always possible to implement a goldstandard conservation solution, but making sure that works do not jeopardise the potential for a better solution in the future. It was a delight to see such a wealth of high-quality civic buildings and to know that they are in safe conservation hands.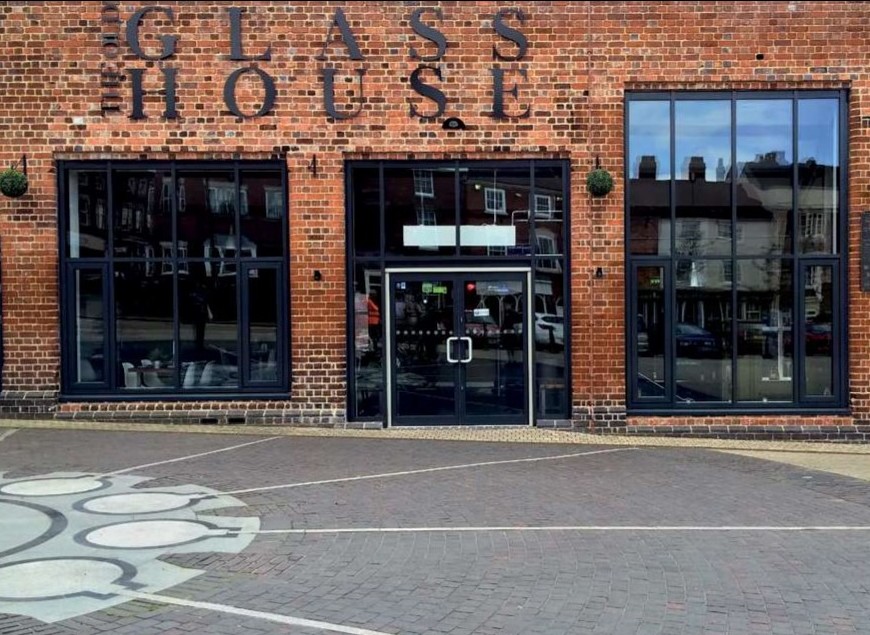 [Image: The Glass House. Copyright Sara Crofts.]
---
Dudley coverage was compiled from reports by Sara Crofts, Claire Gayle and Rosamund Worrall.
--user:Institute of Historic Building Conservation
IHBC NewsBlog
Alnwick Civic Society thanks IHBC and Civic Voice etc
Alnwick Civic Society has secured £6,600 for a special publishing project on local 'Heritage Heroes', thanks to seed-funding from the IHBC and Civic Voice.
---
New DBW post on understanding dampness from IHBC Context
The article from IHBC's 'Green Retrofit' Context by John Edwards and Peter Ward, is now DBW through the IHBC's Conservation Wiki resource.
---
Five towns and cities shortlisted for UK City of Culture 2021
Coventry, Paisley, Stoke-on-Trent, Sunderland and Swansea have been shortlisted to host UK City of Culture 2021.
---
Jodrell Bank's Mark II telescope gets Grade I listed status
Jodrell Bank's second largest radio telescope has been given Grade I listed status for its pioneering role in radio astronomy.
---
New Generation Thinkers scheme 2018 from the Arts and Humanities Research Council
The pioneering scheme aims to develop a new generation of academics to bring the best university research and scholarly ideas to a broad audience.
---
National Churches Trust - five point plan to secure the future of UK church buildings
Prioritise maintenance, create community centres, add to the visitor and tourist map,

create a one-stop shop for churche funding and open church buildings every day.

---
IHBC Belfast 2018 preamble: Titanic Quarter project gets £29m
The co-owner of the project has injected another £29m into the business, ensuring that there will be even more to consider at the IHBC 2018 School in Belfast in June.
---
Halifax Piece Hall opens after £19m regeneration
The UK's only surviving 18th Century cloth trading hall has re-opened after a £19m restoration.
---
Historic Environment Scotland Blog - work to unroofed nave at Dunkeld Cathedral
The stone of the nave is vulnerable to changing climate but specialist conservation teams are working to protect it – from 1920 into Scotland's Year of History, Heritage and Archaeology.