The 18th century schooner Peggy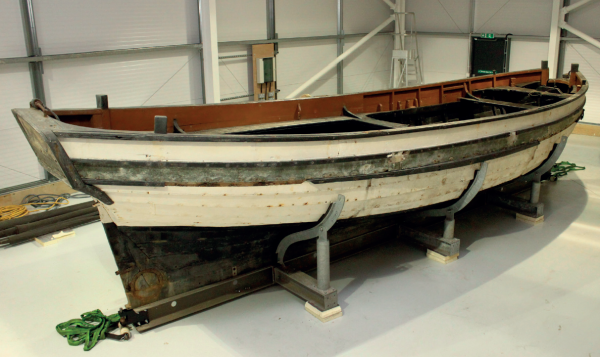 After the death of its eccentric owner, the 18th-century schooner Peggy lay hidden for 200 years in a cellar. How best can she be displayed in the buildings that were her home?
In a modern climate-controlled industrial unit on the outskirts of Douglas, the capital of the Isle of Man, is a small clinker-built boat called Peggy. This boat is little known outside of the Isle of Man and a small community of nautical history enthusiasts, but she is of international significance, as recognised by her inclusion by National Historic Ships UK (NHSUK) in the National Historic Fleet (NHF). The NHF includes 207 vessels, mostly over 33ft in length. These are ships of pre-eminent national or regional significance, illustrating changes in construction and technology which may merit a higher priority for long-term conservation. Peggy, remarkably well preserved, is the last survivor of her class and the world's oldest schooner.
Constructed in 1789, Peggy is without doubt one of the most important accessioned objects within the management of Manx National Heritage (MNH, the island's heritage agency). Before moving to her current home she had spent over 200 years blocked up in her boat cellar, where her eccentric owner had left her sometime in the first decade of the 19th century. The permanently humid environment and intermittent flood conditions in the boat cellar over those two centuries took their toll on Peggy and it became essential to remove her to a facility for conservation.
The undoubted importance of Peggy as an historic object in her own right is in conservation terms diminished by her removal to a modern building where only limited supervised access can be offered. The other part of Peggy's story is at the Nautical Museum, Castletown, also owned and managed by MNH, where the boat cellar is part of a larger complex of buildings on the bank of the Silverburn River. Hitherto poorly understood, a recent conservation management plan has underlined that the sum of the significances of Peggy and the Nautical Museum was greater than the parts. The plan is intended to guide decisions about the future of both.
The boathouse, with boat cellar beneath, belonged to George Quayle, an eccentric Manxman from a privileged and well-connected family who was variously a gentleman, politician, banker, soldier, sailor, inventor and, allegedly, smuggler. The extant building represents his early hobby (or obsession with) the sea. It is the ultimate development of earlier buildings on the site specifically to accommodate Peggy when she was built complete with a beautifully constructed private dock and sea gate. Quayle's pièce de résistance was his Cabin Room, constructed above the space created by extending an earlier building to form the boat cellar. This space – accurately recreating the appearance, if not the proportions, of a Captain's Cabin of much larger naval vessels of the time – was where he met his friends and did business, but it was not for the great unwashed. The extent to which Quayle revealed its hidden panels and secret passages can only be speculated, but they have fuelled the stories, so far unsubstantiated by any other evidence, of his smuggling activities.
Once part of the same complex, now in private ownership on the boundary of the site, are two houses: one (Bridge Court), the primary home of the Quayle family, the other (Bridge House), the grand statement of a building that became Quayle's Bank.
Acknowledging the collective significance of Peggy and the Nautical Museum, a key conclusion of the conservation plan by Drury McPherson Associates (DMP) was that MNH should aim to return Peggy to the Nautical Museum when she has been conserved and when she can be accommodated without placing her at renewed risk. This is a policy enthusiastically accepted by MNH, but a challenging one nevertheless.
The first challenge was to accept that Peggy could only be returned to her boat cellar if there were a guarantee that the internal environment could be controlled and tidal inundations could be prevented. Both are just about technically possible at considerable financial cost. More important, they would result in irreversible damage to and/or remove large sections of the historic fabric of the boat cellar, Cabin Room above and the wonderfully preserved private dock outside. Further, the boat cellar was built to accommodate Peggy with almost no space around her for access, interpretation and future study; a situation that would only be worsened by interventions to waterproof the space.
The challenge that followed was to consider options for returning Peggy to a different location at the Nautical Museum. The conservation plan research necessarily included a detailed architectural development appraisal by Paul Drury (DMP) with the benefit of metric survey information provided by James Brennan Associates, and access to an archive of George Quayle's papers held by MNH and historic maps and images of Castletown. We now have a much better understanding of the gradual evolution of the site, which continued after George Quayle's death and resulted, in the later 19th century, with the filling-in of his dock. With this knowledge we now know which structures are most significant to the Quayle era and therefore which are of less importance to the integrity of the site, so providing a foundation on which to formulate options for returning Peggy.
A very accurate 3D scan of the 27.5ft x 7.7ft Peggy had been previously been commissioned by MNH as a record and means of planning and recording conservation work, so we knew broadly what space she would occupy on plan. One of the unusual features of Peggy is that she was stored with her original masts and spars, which survive. In consultation with technical advisors from NHSUK and the National Maritime Museum, it has been decided that Peggy should be displayed fully rigged, if possible. So, in addition to finding space at the Nautical Museum to accommodate the footprint required for Peggy while providing access around, above and below her, this aspiration adds approximately 26ft vertically to the requirements for the space she eventually returns to.
On plan, no building at the Nautical Museum can accommodate Peggy with sufficient space around her to provide access without substantial demolition and alteration to walls, and none has sufficient height to accommodate Peggy fully rigged. Two other potential options are available: suspending her above the dock in some way, or enclosing her within the courtyard area.
While initially philosophically attractive as the next best location to the boat cellar, the technical difficulties and long-term maintenance implications of supporting Peggy in an environmentally controlled, possibly glass, box above the excavated dock are formidable. A structure enclosing the courtyard seemed to be the only option. However, we were very conscious that the additional height required to accommodate mast and rigging would necessitate a structure rising well above the existing roof line of the Nautical Museum and might impact on the setting of the Castletown Conservation Area. The conservation of Peggy and her return to a repaired, conserved and reinterpreted site is a medium- to long term project requiring careful planning and significant investment, which will be reliant on fundraising. An understanding of where and how we might accommodate Peggy is crucial to the success of the project, so in 2017 MNH commissioned early concept studies by the local architectural practice Modus to explore the feasibility of creating an accessible enclosure at the Nautical Museum and, importantly, to project the visual impact of any structure on views within the conservation area.
Modus used the conservation management plan to inform their understanding of the site and balance the impact of potential interventions into historic fabric or archaeology to develop an outline concept. This confirmed that it would be possible to accommodate Peggy, with various options for orientating her, by managing structural interventions to limit loss of significance to the boat and historic buildings. The outline concept also illustrates that the impact of a high roofline can be mitigated by careful design.
The project is still in its infancy and a great deal more work is required to develop the design before we are confident that it is good enough to submit for planning consent and have raised the money to pay for it. Understanding the significance of individual elements of the site and of the relationship between them, as outlined in the conservation plan, has been crucial to the work carried out so far and will continue to inform future decisions about the interpretation strategy. Among other things, the conservation of the Cabin Room with Quayle's innovations, and the small matter of what to do about Peggy's dock, now excavated, remain to be addressed.
---
This article originally appeared as 'Bringing Peggy home' in IHBC's Context 153, published in March 2018. It was written by Steve Blackford, head of properties for Manx National Heritage.
--Institute of Historic Building Conservation
IHBC NewsBlog
IHBC, CIfA, IEMA launch Principles of Cultural Heritage Impact Assessment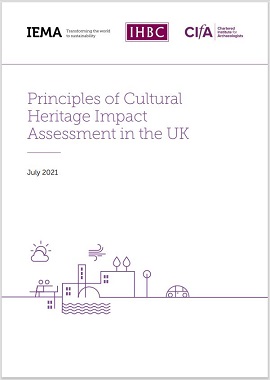 The joint-institute document aims to help maintain cultural heritage by providing a consistent framework across different sectors & geographies
---
Enter Now to Win: IHBC's GASA Awards 2021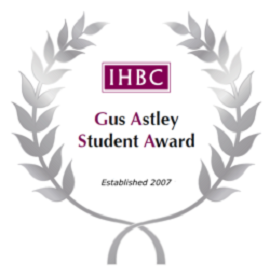 IHBC's Gus Astley Student Awards 2021: Win £500 and a place on IHBC's 2022 Aberdeen School with your built environment/heritage coursework, closes 31/07!
---
Former Harris meat factory mansion in Calne, Wilts, to be restored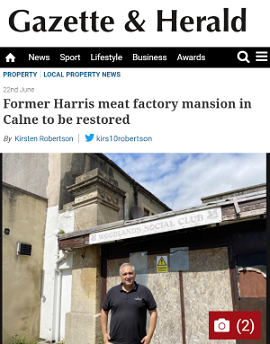 The last remaining buildings on the site of the Harris meat factory family's historic mansion are being restored to their former glory and converted into new homes.
---
CICV Forum introduces professional indemnity insurance guide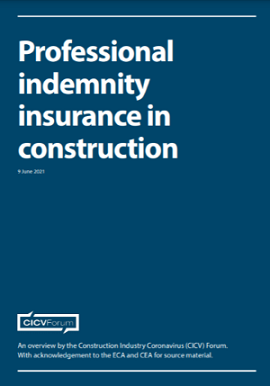 The Construction Industry Coronavirus Forum (CICV Forum) has unveiled a new guide to the crucial and increasingly complex issue of professional indemnity insurance (PII).
---
The World Heritage Committee(WHC): Liverpool should lose its World Heritage status.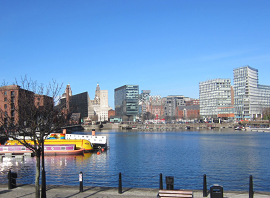 ICOMOS has advised that the new football stadium proposal, if implemented, would have a completely unacceptable major adverse impact its authenticity and integrity.
---
Scotland's CSIC: New plans to transform public spaces into sustainable office hubs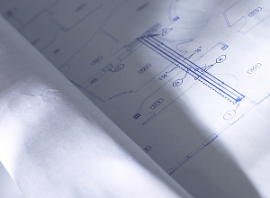 Responding to the changing working patterns of a post-Covid Scotland, the Construction Scotland Innovation Centre (CSIC) has revealed new plans to help retrofit public spaces into out-of-town alternatives to city centre offices.
---
IHBC's latest Context explores 'Applying Digital Technology'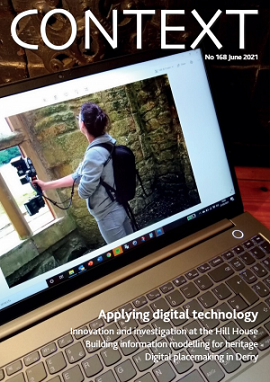 The free-to-access online issue mixes the topical and practical to explore how the sector can best adapt to digital innovation.
---
IHBC Annual School: Historic Places - People Places: 18 June 2021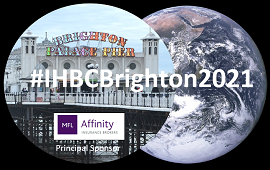 IHBC's 2021 virtual conference examines how we can best change and sustain places for the benefit of people, led by expert practitioners boasting international, national and local profiles and experiences.
---
Europe's top heritage awards honour 24 exemplary achievements from 18 countries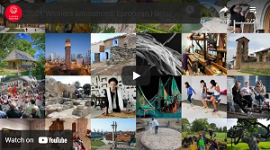 The 2021 winners of the European Heritage Awards / Europa Nostra Awards have been announced.
---
10 Local Councils in England to test the use of digital tools in planning process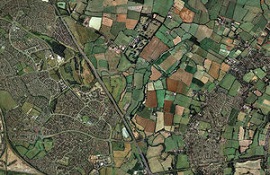 England's Housing Minister has announced a £1.1 million fund to test the use of digital tools and data standards across 10 local areas.