EUIPO building - case study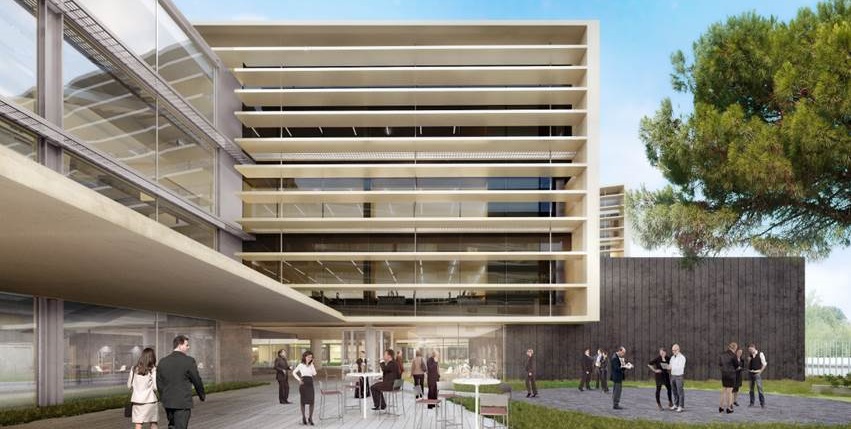 In March 2017, EUIPO's new building design was awarded the coveted Your BREEAM Award, at the BREEAM Awards ceremony in London. You can read Designing Buildings Wiki's report about the ceremony here.
Designated the Eidificio EUIPO AA3, the building is currently under construction, and on completion will form part of the sustainable campus envisaged by EUIPO for its Alicante headquarters.
The EUIPO (European Union Intellectual Property Office) is a decentralised agency of the European Union, which manages the registration of the European Union trademark (EUTM) and the Registered Community Design (RCD).
The building obtained an 'Exceptional' ranking from BREEAM, the highest possible classification, which only 2% of all evaluated buildings achieve. It is in the process of obtaining the same classification for the post-construction phase.
The building is approximately 14,000 sq. m, and when compared with a traditionally constructed building of the same size, the design allows for a 71% reduction in CO2 emissions and a 67% reduction in energy.
The new AA3 Project benefits from the lessons learned during the BREEAM certification process of the AA2 building in 2015, and also from the 'In-Use' Certification of the AA1 building, which is currently in process.
Key features of the design include:
Project team:
Key facts:
Images and content courtesy of EUIPO.
[edit]
Find out more
Issue support documents
| | |
| --- | --- |
| | These are Multiple Author Articles - click on them and add to them today. It's easy. |
You can also add to General Multiple Author Articles here.
Issue support documents are written for named BREEAM Issues or sub-issues. More info. (ac) = awaiting content.
[edit] Management:
[edit] Health and Wellbeing
[edit] Energy
[edit] Transport
[edit] Materials
[edit] Land Use and Ecology
[edit] Pollution
Once an ISD has been initially created the '(ac)' marker can be removed
This particular index is based around the structure of the New Construction and RFO schemes.