EUIPO building - case study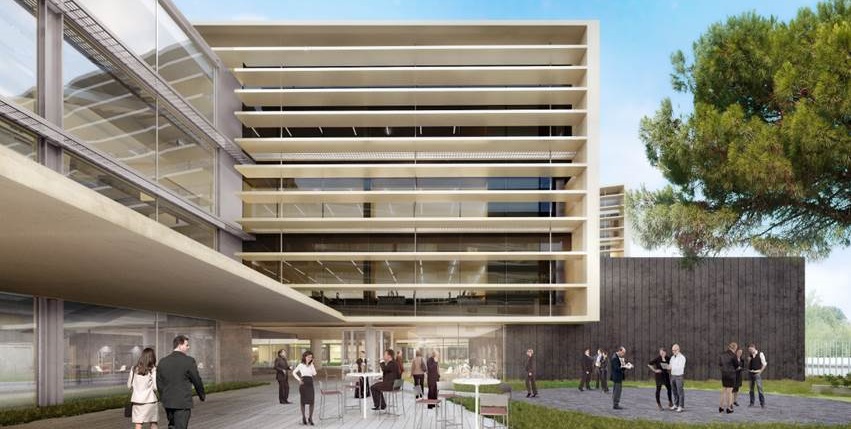 In March 2017, EUIPO's new building design was awarded the coveted Your BREEAM Award, at the BREEAM Awards ceremony in London. You can read Designing Buildings Wiki's report about the ceremony here.
Designated the Eidificio EUIPO AA3, the building is currently under construction, and on completion will form part of the sustainable campus envisaged by EUIPO for its Alicante headquarters.
The EUIPO (European Union Intellectual Property Office) is a decentralised agency of the European Union, which manages the registration of the European Union trademark (EUTM) and the Registered Community Design (RCD).
The building obtained an 'Exceptional' ranking from BREEAM, the highest possible classification, which only 2% of all evaluated buildings achieve. It is in the process of obtaining the same classification for the post-construction phase.
The building is approximately 14,000 sq. m, and when compared with a traditionally constructed building of the same size, the design allows for a 71% reduction in CO2 emissions and a 67% reduction in energy.
The new AA3 Project benefits from the lessons learned during the BREEAM certification process of the AA2 building in 2015, and also from the 'In-Use' Certification of the AA1 building, which is currently in process.
Key features of the design include:
Reduction in water consumption of 496.7 m3/year.
Recycling or recovery of more than 95% of construction and demolition waste generated during the construction phase.
Monitoring energy consumption with sub-meters in the main and secondary distribution boards, and by integrating them in the BMS system.
Installation of energy-efficient equipment.
Installation of lifts with an energy recovery system using a regenerative drive, that saves energy and feeds it back into the network with a positive charge.
Monitoring water consumption via the BMS system.
Re-use of greywater.
Use of rainwater collected in storm tanks for watering plants.
Implementation of low CO2 emissions technology.
Maximum use of natural daylight.
Use of environmentally-sustainable materials that have an Environmental Product Declaration (EPD).
Use of recycled aggregates.
Improvement of the biological quality of the site, with the creation of habitats with native plants that favour biodiversity.
A strategy for eliminating existing invasive plants.
The use of cooling gases with low CO2 emissions and installation of a leak-detecting system.
Electricity supply obtained from renewable sources with zero emissions.
Installation of an adjustable outdoor lighting system to reduce night-time light pollution.
Charging stations for electric vehicles, reserved car share parking spaces, and parking spaces for bicycles.
Appointment of a commissioning manager.
For the first three years of occupation, information will be compiled on occupant satisfaction, water and energy consumption, to check whether the building's performance meets the expected standards.
Key facts:
BREEAM Rating: Outstanding (Design Stage)
Score: 90.85%
Size: 13,993 m2
BREEAM Version: BREEAM ES New Construction 2015
Gross rentable area: 4,067.5 m2
Plot surface : 14,032 m2
Number of floors: Two below ground level and four above ground level
Images and content courtesy of EUIPO.
Issue support documents
| | |
| --- | --- |
| | These are Multiple Author Articles - click on them and add to them today. It's easy. |
You can also add to General Multiple Author Articles here
Issue support documents are written for named BREEAM Issues or sub-issues. More info. (ac) = awaiting content
[edit] Management:
[edit] Health and Wellbeing
[edit] Energy
[edit] Transport
[edit] Materials
[edit] Land Use and Ecology
[edit] Pollution
Once an ISD has been initially created the '(ac)' marker can be removed
This particular index is based around the structure of the New Construction and RFO schemes.