Conservation of Architectural Ironwork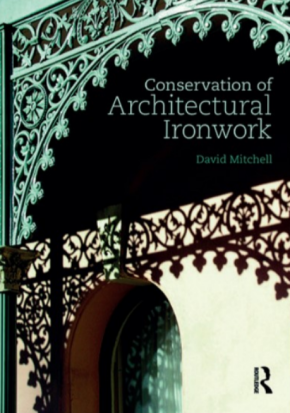 Conservation of Architectural Ironwork, David S Mitchell, Routledge, 261 page, black and white illustrations with some colour plates, hardback.
The last 20 years has seen a renewed appreciation of architectural ironwork, particularly that of the Victorian period. This has been partly driven by funding programmes such as the Heritage Lottery Fund's Parks for People programme. Investment in urban parks which contain many fine iron structures, from bandstands to glass-houses, fountains to gates, has been significant. It is in this context that David Mitchell has produced his timely publication 'Conservation of Architectural Ironwork'.
Starting with a history of iron, its manufacture and use architecturally, the book then describes the varied types, their chemical and physical properties, their weaknesses and decay mechanisms. It dispels many oft-perpetuated myths regarding iron (cast and wrought) and steels. Mitchell effectively combines technical and scientific information with practical descriptions and a clear narrative history.
The book covers the diverse and ever-evolving manufacturing processes and the development of alloyed materials, through to common weaknesses and even manufacturers' tricks to conceal defects in poor-quality castings. The most infamous example is the use of Beaumont's Egg (a composition of beeswax, fiddler's rosin, iron borings and lamp-black) in the casting and manufacture of the Tay Bridge near Dundee, which consequently collapsed in 1879. An excellent overview of the survey of iron structures provides practical advice on the application of a variety of survey techniques to identify different materials and make diagnostic assessment of defects. It highlights the potential pitfalls and illustrates how easy it is to make erroneous assumptions.
Unusually for a technical conservation publication, the robust management of a project and its material effect on the outcome are given a significant weighting. This is both refreshing and helpful. The conservation practitioner, in any field, would do well to read the sensible processes outlined. The book acknowledges the reality of working in a procurement-led, cost-driven environment, and provides a sound methodology to achieve good conservation outcomes.
Mitchell addresses the philosophical and technical challenges faced when conserving an iron structure. From the removal (or not) of surface finishes to wide-ranging corrosion issues, the principles of repair and the inherent challenges of different types of iron are covered in detail and cross-referenced to practical examples. As with most conservation work, there is rarely a definitive right answer, but Mitchell paints a clear picture and establishes a robust framework within which to make decisions.
The narrative on fixings and their appropriateness is particularly interesting, balancing the technical, philosophical and aesthetic rationale for using traditional or modern fixings in particular contexts and environments. The illustration of the factors to be considered when joining different metals and the consequent potential specifications are invaluable. Following a discussion on the relative merits or weaknesses of different coating systems, traditional and modern, Mitchell effectively illustrates the themes of the previous chapters with a series of detailed case studies.
Throughout the book the descriptive text is supported by well-considered and appropriate examples and illustrations. It is entirely appropriate that the book uses Scottish examples extensively (Mitchell is director of conservation at Historic Environment Scotland) as the great Scottish manufacturers were leaders both in the global market place and in technological innovation.
A well-thumbed copy of 'Conservation of Architectural Ironwork' should be found on the shelves of all conservation practitioners. The philosophically robust, yet practical approach not only provides a sound framework for the conservation of iron structures, it has a much wider potential application as a benchmark for developing approaches to the conservation of modern component-based buildings.
---
This article originally appeared as 'Hard lessons' in IHBC's Context 157 (Page 61), published in November 2018. It was written by Robert Chambers, director of Chambers Conservation, Chester.
--Institute of Historic Building Conservation
IHBC NewsBlog
IHBC Virtual School 19 June: Heritage Reflections & Speculations from a Pandemic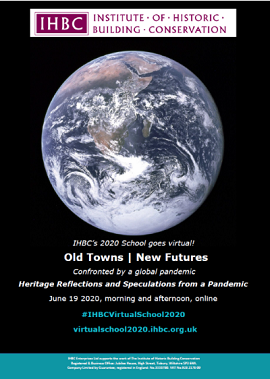 How the current pandemic will shape historic urban areas and their surrounding communities across the globe is impossible to tell. Join us to reflect on the implications for our current approaches to caring for valued places, and even speculate on future strategies and responses.
---
Risk Assessments and Contractual Impact from CIAT

A note on contractual obligations under the current COVID-19 pandemic has been issued by The Chartered Institute of Architectural Technologists(CIAT).
---
RTPI calls on government to issue planning guidance to prevent development delays

The Royal Town Planning Institute (RTPI) has called on the government to urgently issue planning guidance to prevent unnecessary delays to development from the pandemic.
---
How to Enjoy Heritage from Home, from the Heritage Fund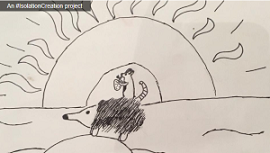 The Heritage Fund has put together a list of heritage-inspired activities to be done from home.
---
Listed Property Owners Club's Spring Checklist for Buildings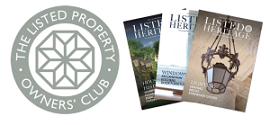 Spring is a good time to stand back and consider any building repairs that are required over the next 12 months, notes the LPOC, and regular inspection and maintenance is the key to keeping homes in good repair, as per its accessible step-by-step guidance.
---
Firefighters tackle blaze at converted Grade II listed former mill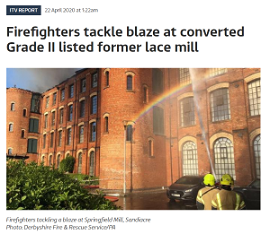 Derbyshire Fire and Rescue Service said "rapid and effective firefighting" had saved three quarters of the mill – which is now apartments.
---
Thieves take advantage of lockdown to steal lead from church roof in Halsham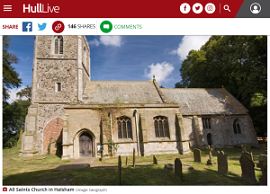 Police have appealed for witnesses after thieves stole lead from the roof of All Saints Church in Halsham near Hedon during the coronavirus lockdown.
---
IHBC's CPD Circular provides info on digital CPD opportunities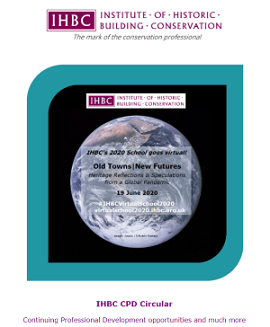 The regular newsletter showcases the IHBC's own Continuing Professional Development (CPD) content as well as online opportunities from 'IHBC Recognised CPD Providers' and other conservation related training and events.
---
Frank Lloyd Wright houses offer virtual tours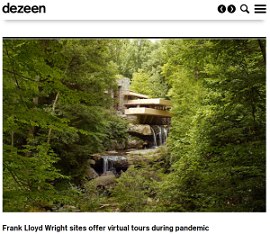 To make sure the public still has access to twelve of those famous works, #WrightVirtualVisits has been launched, which offers virtual tours of 12 iconic houses.
---
CIC's Coronavirus Digest review and survey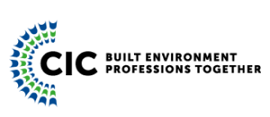 The Construction Industry Council's (CIC's) 'CIC Coronavirus Digest – Issue 8' surveys the latest government advice with updates from the construction industry.
---
COVID-19: Advice and Updates collated from the Heritage Sector
Organisations with conservation links have been collating resources on COVID-19 impacts, including Built Environment Forum Scotland (BEFS), Historic Environment Forum, The Heritage Alliance (THA), and Historic England, on cleaning surfaces.
---
Councils considering 'executive powers' as measures to avoid planning gridlock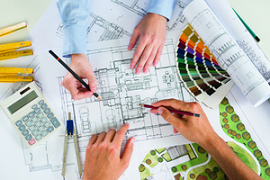 Councils are reported to be considering taking up rarely-used executive powers to keep the planning and development system moving during the coronavirus pandemic.
---
Historic England provides updated flood recovery advice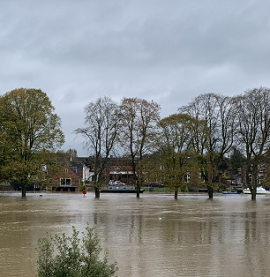 Historic England's 'After a Flood' provides timely advice on how to dry walls properly and avoid further damage to the building fabric.
---
Conservation of Timber Buildings: an example of evolving conservation techniques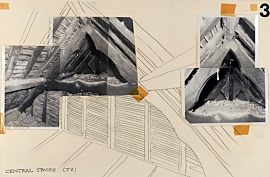 Context Issue 162 offers a peek into an archive of timber conservation history through the records of the practice of FWB and Mary Charles Chartered Architects.
---