Wrought iron
[edit] What is wrought iron?
Wrought iron is a very low carbon metal made by intensive hand work using small scale production methods. Predominantly, it was manufactured prior to the Patent for the Bessemer process in 1856.
There were numerous methods for producing wrought iron; early iron is often referred to as Charcoal iron, or Bloomery iron, because it was produced in small blooms. In the late 18th century more efficient Puddling furnaces were used to produce Puddled wrought iron. Many other types of production methods were used across the world, all of which produced varying qualities and quantities of iron.
Confusingly, the term 'wrought iron' can also be applied to decorative hand made steel artifacts because wrought means to make by hand (to wrought). However, a more generally accepted description for these hand made steel items is decorative ironwork.
[edit] Identifying wrought iron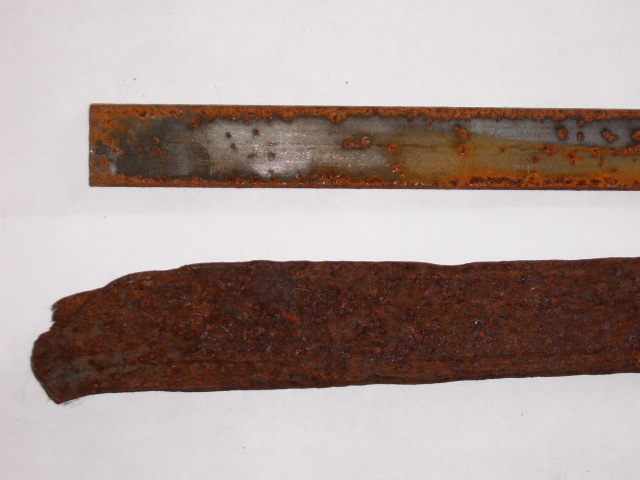 There are four ways in which wrought iron can be identified by using a comparison method:
Microscopic analysis will more accurately determine if the metal is iron or steel.
[edit] The difference in performance and character between wrought iron and steel
Clearly there are visual differences between steel and early wrought iron due to the wood grain effect of the latter. Wrought iron from all periods, and production methods, could take on the same appearance as mild steel if it was repeatedly worked to refine it; furthermore, once painted the visual differences are less apparent to the naked eye.
The structural performance of wrought iron cannot be compared with mild steel, despite the 1938 British Standards (BS 762-1938) because, without reliable records, there is no definitive way of knowing the provenance of the specific wrought iron as found. Analysis from Brunell's iron ship SS Great Britain 1843, by Dr R. Walker in 2002 showed that the mechanical properties were '..considerably poorer than those tolerated for mild steel.'
Corrosion resistance was investigated in 1952 by Chilton and Evans who concluded that even the very best quality wrought iron had not shown '...phenomenally good resistance to corrosion.' earlier investigations by the Hudson Corrosion Committee reported similar findings. There is some evidence that the presence of nickel in the iron ore when smelted, may have an influence over corrosion resistance; ores from Sweden and Greece tended to contain higher levels of nickel in the iron ore (Tylcote 1972) and showed barriers to corrosion.
Methods for cleaning and re-coating wrought iron must first be carefully considered. Aggressive forms of cleaning and inappropriate coatings can contribute to further accelerated corrosion. Cardiff University are examining the effects of cleaning and re-coating http://orca.cf.ac.uk/61280/1/Emmerson%20and%20Watkinson_Metal%202013.pdf
This enquiry should inform decisions regarding the most appropriate methods for the longevity of exposed ironwork.
Corrosion generally takes place at the crevices where the iron is joined. Crevices tend to put stresses on the coating at these junctions causing water to ingress and be trapped, sometimes by the coating itself. Current thinking advises the use of flexible or mobile protective coating to accommodate this expansive action.
In some cases it may be beneficial to control corrosion rather than attempting to stop it. Cardiff University has been contributing to the conservation methods used to preserve Brunel's SS Great Britain using one such method. http://www.cardiff.ac.uk/share/research/projectreports/ssgreatbritain/index.html
[edit] Availability of wrought iron and alternatives for consideration
Wrought iron is still available as recycled iron; the last production of virgin wrought iron from iron ore was in 1974. Good conservation will consider repairs in wrought iron, mild steel, weathering steel (CORTEN), pure iron and other ferrous and non-ferrous metals. The specification should be informed by an experienced professional who can explore all the options and provide good justification for the choice.
The potential for bi-metallic corrosion should always be checked before using dissimilar metals. https://en.wikipedia.org/wiki/Galvanic_corrosion
[edit]
Organisations
For practical assistance and advice the following organisations can be contacted:
IHBC NewsBlog
IHBC President contributes to RIBA publication - Design Companion for Planning and Placemaking
Described as 'invaluable for anyone involved in planning, creating or changing places', it includes a contribution from IHBC President David McDonald on the historic environment.
---
£10 off for IHBC members at RTPI NE on 'Heritage Matters', in Newcastle, 5 July at which IHBC North Branch Chair Jules Brown will speak on 'Conservation Areas: 50 and beyond'.
---
Innovate UK seeks applications for £5m for innovation in 'infrastructure systems for a better world' – opens 10 July 2017.
---
Nominations open for third Scottish Heritage Angels Awards 2017
The Awards aim to find those groups and individuals who have played a special part in caring for, recording and celebrating the nation's historic environment.
---
Lichfields publishes latest research into rural tourism
Lichfields' most recent insight 'Rural estates: economic benefits of rural tourism', details findings underpinning the case that 'Planning is key to unlock the value in rural estates'.
---
National Trust scoops a special recognition award
On 17 May the National Trust (NT) was awarded a one-off Special Recognition Award at the prestigious Museums Heritage Awards for Excellence.
---
Campaigners win right to appeal Lancashire fracking decision
Campaigners have been granted permission to appeal against the decision to allow fracking in Lancashire.
---
Grosvenor unveils £500m plans for 12 acres in Bermondsey
Building reports that Grosvenor Britain & Ireland has unveiled its £500m masterplan for 1,500 new rental homes in Bermondsey in South East London.
---
Titanic Belfast and Odyssey expansion plans
Titanic Belfast and the Odyssey Pavilion are both set to undergo fresh expansion according to new plans reported on by the Belfast Telegraph.