Cleaning brickwork, faience and terracotta
Past damage caused by inappropriate treatment has led to masonry, and particularly brickwork, faience and terracotta, being cleaned more carefully in the past 25 years.

A terracotta frieze (1887) to the front elevation of Cutlers Hall, London EC4M, before and after cleaning. The upward facing surfaces have a substantial layer of particulate matter. The majority was removed dry, with soft brushes, prior to light and diffuse rinsing (the spray becoming more finely atomised at lower pressures and high temperature, 20bar and 150–155°C respectively) with a proprietary superheated water system. Localised repairs, principally of cracks, and re-colouring of old repairs were also carried out. (Photo far right: Cliveden Conservation).
In 1988, the first series of the English Heritage Technical Handbooks were published under the authorship of John and Nicola Ashurst. Volume 2, Brick, Terracotta and Earth, includes two pages of advice on the cleaning of terracotta and faience, commencing with 'Cleaning systems to be avoided'. Move forward to the Icon Stone and Wall Paintings Group seminar in October 2015 on 'The Conservation of Architectural Terracotta'. As we were leaving, a fellow delegate commented (in reference to cleaning methods): 'that was very interesting but I feel I know much more about what I can't do than what I can.' One might be forgiven for thinking that nothing has changed in three decades. However, established cleaning methods have in fact evolved significantly, but so too have our expectations.
In December 2015 Historic England published 'Earth, Brick and Terracotta', the final book in its Practical Building Conservation series. This is perhaps a useful moment at which to take stock of these changes. This article describes masonry of fired clay (thus excluding bricks made from other materials), with glazed elements (including glazed bricks) labelled 'faience' and unglazed elements as 'terracotta' (although unglazed, frequently possessing a fireskin). Although unglazed bricks in particular vary greatly in composition, the broad approach and precautions apply.
During the past 25 years the conservation field has become more circumspect towards masonry cleaning generally, and the cleaning of sandstone and terracotta in particular. This is principally a reaction to past damage inflicted by unsympathetic or inappropriate treatment. The underlying issue is the greater susceptibility of these substrates to 'discoloration', alteration of the mineral composition as distinct from the presence of overlying residue. Such alteration is normally driven by water saturation or migration, transporting salts from without (from mortar, fixings, pollution and cleaning chemicals) or mobilising constituent salts/compounds contained within the fireclay. The fireskin of brick or terracotta (and porous or cracked faience) is susceptible to forming strong physical/chemical bonds with pollution residues and applied coatings.
The removal of overlying residue is invariably much easier than reversing discoloration. Even so, the effort required and the risk of substrate damage increase significantly when cleaning is taken towards the maximum. The dangers of aggressive or excessive cleaning were recognised in the cautionary advice published in the first English Heritage Technical Handbooks and much earlier in 'Weathering of Natural Building Stones' (Schaffer, 1932) and Building Stones (Warnes, 1926).
Considerable care has been taken with the cleaning of certain of our most valuable buildings, recorded in the Ministry of Works case studies detailed in 'Cleaning Historic Buildings', for example. However, it has taken time and the introduction of policy (principally PPG15 Planning Policy Guidance: Planning in the Historic Environment, 1994) for this caution to be widely accepted and enforced, at least for listed buildings. Retaining sound surface takes precedence over the level of clean or whether cleaning shall be carried out at all, and a greater degree of discoloration is now accepted as patina.
The nature of soiling and the rate of accumulation have changed over time. The clean air act of 1956 has slowed the deposition of carbon sulphation and associated residues (primarily generated from burning coal) but has delivered a corresponding increase of organic soiling. Traffic film (principally airborne dust and diesel particulate) is now more prevalent.
Part 1 of BS8221:2000 Code of practice for cleaning and surface repair of buildings (and its predecessor BS6270:1982) provides the principal guidance for masonry cleaning. Although not a specification, it does suggest methods appropriate for different substrates. Revised in 2012, it continues to recommend the use of dilute hydrofluoric acid as the primary means of cleaning terracotta, although it is more cautious for faience. Abrasive cleaning is largely dismissed as unsuitable. Regardless of this, there is now a general reluctance to use any strong acid or alkali (particularly hydrofluoric acid) treatment on terracotta.
An important consideration is to combine techniques, each dealing with a different soiling or aspect of the task. Water BS8221:2012 states that deposits on terracotta and faience are not water-soluble. This is not a hard-and-fast rule as water can contribute to softening by extended wetting with intermittent spray or in a plain poultice. Superheated water cleaning now plays a major role in masonry cleaning since its introduction in the mid-1990s. Very hot pressurised water (100–150C) at lower flow rates is maintained in a liquid condition by careful nozzle selection. Offering wider and particularly lower parameter settings, this is very effective in the removal of organic and traffic films and resinous paints, reducing overall chemical use and enhancing the performance of milder chemicals. Intuitively, high temperatures should be used only with caution on faience, being adopted principally for rinsing after chemical treatment or manual agitation.
Dry steam. Widely used for internal cleaning, this is now more affordable and particularly useful to reduce solvent use in removing waxes and grease.
Air abrasion. Past emphasis has been on fine particle size, but for terracotta and faience low mineral hardness is equally vital. BS8221 and the majority of current published guidance continues to list the full range of abrasive types available. It must be clearly understood that only the softest of these (generally ≤3–4 Mohs hardness) are possibly suitable for faience and terracotta. We now adopt much finer, softer abrasives at more consistent and lighter flow. Nozzles generally have a broader spread and vortex options, and can be used wet or dry. Controls have more accurate, convenient adjustment. There is less use of abrasive 'blasting' for paint removal, although this remains a significant danger for unlisted brick buildings.
Manual agitation. A broad choice of products is now available, including fibre pads, Wishab and melamine sponges. These should not contain abrasive particulate.
Acid and alkali. Hydrofluoric acid and sodium hydroxide are much less used these days, although sodium hydroxide is still available for paint removal. Sequestering agents such as EDTA (capable of mobilising insoluble metallic salts) should be used only with caution when the fireskin or glaze is porous. Chemicals are now used in gel rather than liquid form, so treatment can be localised, with a reduced tendency to run or streak. Products are usually supplied dilute, ready to use. Lower solution strengths are generally adopted. The use of hot or superheated water has improved the speed and thoroughness of rinsing.
Laser and ultrasonic cleaning. Laser cleaning is still used principally for the cleaning of museum artefacts or limited external sculpture. Equipment and running costs have improved and further improvement is likely. A great deal of experience has been gained over the past 30 years, the recording and publication of which has been very thorough. The irregular mineralogy of pre-19th-century terracotta requires particularly close observation during cleaning, but thoughtful selection of wavelength and power settings facilitate this.
Recommended reading
---
This article originally appeared in Context 143, published by the Institute of Historic Building Conservation (IHBC) in March 2016. It was written by Jamie Fairchild, director of Restorative Techniques.
--Institute of Historic Building Conservation
The Institute of
IHBC NewsBlog
IHBC Marsh Awards 2022 launched - Submissions Close 31 March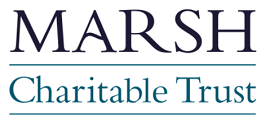 A chance to nominate retired IHBC members and/or successful learners in heritage skills, with prizes that include £500 and a free place at the IHBC's Aberdeen 2022 Annual School in June.
---
IHBC-SAHGB announce 2021 annual research award winner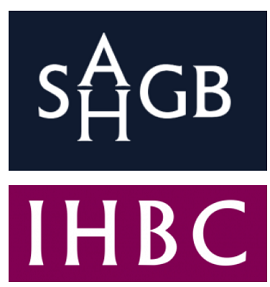 Donald Insall Associates has been announced as the winner of the new joint award with the Society of Architectural Historians of Great Britain (SAHGB). The award celebrates the quality of architectural-historical research produced as private consultants or for public bodies etc.
---
IHBC at COP26 - Conserving our Places Conserves our Planet 1-12 Nov 2021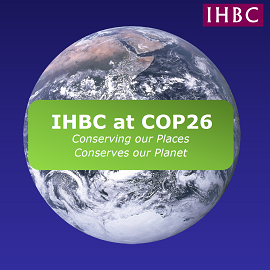 The IHBC seeks to raise awareness and understanding of how building conservation philosophy and practice contributes towards meeting the challenge of climate change.
---
IHBC's latest CONTEXT explores 'Conservation Leadership by the People'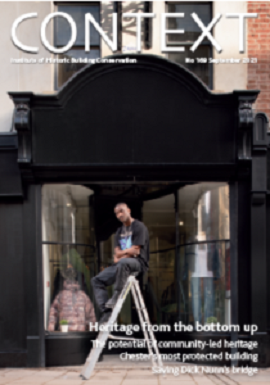 From Amenity Societies and Wentworth Woodhouse to Kurt Schwitters, Scotland's Towns, Chester and more...
---
Edinburgh's Royal High School to become '£55M national centre for music'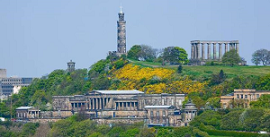 The former Royal High School building in Edinburgh is to be transformed into a £55 million national centre for music after the City of Edinburgh Council agreed to the lease of the historic property.
---
IHBC, CIfA, IEMA launch Principles of Cultural Heritage Impact Assessment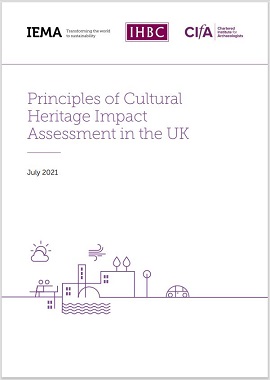 The joint-institute document aims to help maintain cultural heritage by providing a consistent framework across different sectors & geographies
---
Enter Now to Win: IHBC's GASA Awards 2021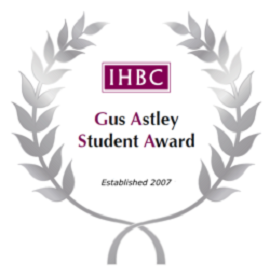 IHBC's Gus Astley Student Awards 2021: Win £500 and a place on IHBC's 2022 Aberdeen School with your built environment/heritage coursework, closes 31/07!
---
Former Harris meat factory mansion in Calne, Wilts, to be restored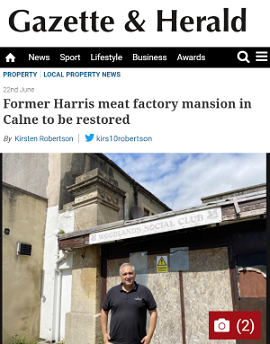 The last remaining buildings on the site of the Harris meat factory family's historic mansion are being restored to their former glory and converted into new homes.
---
CICV Forum introduces professional indemnity insurance guide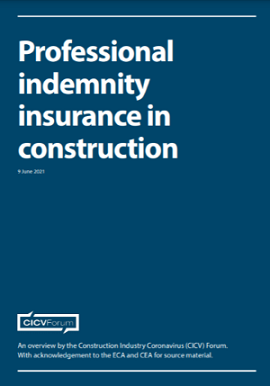 The Construction Industry Coronavirus Forum (CICV Forum) has unveiled a new guide to the crucial and increasingly complex issue of professional indemnity insurance (PII).
---
The World Heritage Committee(WHC): Liverpool should lose its World Heritage status.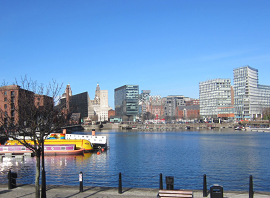 ICOMOS has advised that the new football stadium proposal, if implemented, would have a completely unacceptable major adverse impact its authenticity and integrity.