Pre-construction services agreement PCSA
Pre-Construction Services Agreements (PCSAs), sometimes referred to as Pre-Contract Services Agreements, enable clients to employ contractors before the main construction contract commences.
Typically they are part of a two-stage tender process, used in the first stage to procure contractor involvement in the design process. This can enable the contractor to:
This early involvement of the contractor should improve the buildability and cost-certainty of the design as well as creating a better integrated project team and reducing the likelihood of disputes.
The PCSA will define the services that are required of the contractor during the pre-construction phase and is generally similar to a consultancy agreement. It should make clear whether the contractor is undertaking design work, whether they will have any design liability, and what will happen to this liability if they are not appointed for the second stage. It should also set out the method of payment, and any provisions for deferred payment.
The contractor appointed under the PCSA will not necessarily be appointed for the second-stage construction contract. However, the client inevitably loses leverage in the second-stage of the tender process, as the contractor becomes embedded in the team and potential competitors lose interest once they find out that another contractor has been awarded the first-stage tender.
However, a longer period of familiarity with the project creates better relationships as well as a reduction in learning curves and programme performance, and so, whilst tender prices for two-stage contracts may initially be higher than single-stage tenders, which are subject to full competition, the final account tends to include fewer variations and fewer claims. Competition can be introduced into the second stage by an open-book approach to the tendering of sub-contracts.
It is important that the client ensures they have some means of securing an alternative bid if second-stage negotiations fail, albeit this is likely to result in delays and difficulties regarding design liability.
PCSAs are often used on design and build projects to obtain early input from the contractor. They can also be used to obtain pre-construction services by specialists, appointed either by the contractor, or by the client (for example on a construction management contract) or on Private Finance Initiative (PFI) or Public Private Partnership (PPP) projects to obtain contractor input to a consortium bidding for a project.
The JCT publishes two standard forms of PCSA, one for general contractors and one for specialists.
[edit]
External references
Maxwell Winward: Pre-Construction Services Agreements.
IHBC NewsBlog
APPG on 'Conservation, Places and People' Opens first Parliamentary Inquiry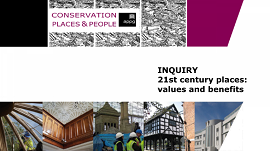 The Inquiry is into '21st Century Places – Values & Benefits'
---
Historic Photographer of the Year 2020 Winners Announced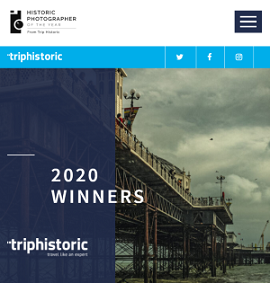 The awards showcase the very best historic places and cultural sites from across the globe.
---
IHBC Launches new 'Guidance Note' on Alterations to Listed Buildings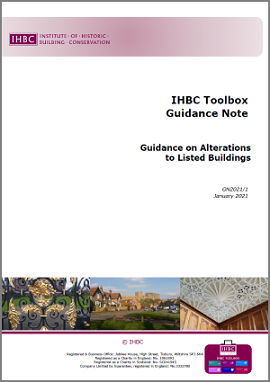 The IHBC's latest Toolbox Guidance Note, on 'Alterations to Listed Buildings' has been issued following UK-wide consultation.
---
Caithness Iron Age Stone Tower Conserved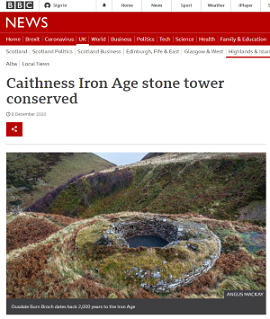 The ruins of Ousdale Burn Broch, north of Helmsdale in Caithness, had fallen into further disrepair over the past 130 years.
---
The American Air Museum at Duxford has been listed Grade II*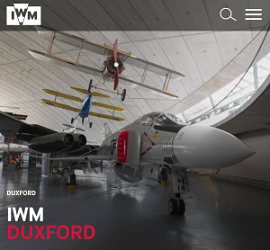 Europe's largest air museum and Britain's best-preserved Second World War airfield – has been included in Grade II* listing, even though technically too recent.
---
West Dean College wins Sussex Heritage Trust Award 2020 for Roof Restoration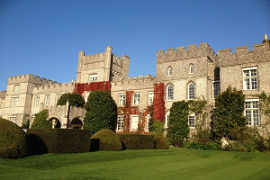 The College of Arts and Conservation has won the award for a for a project which provides or improves facilities for the community, including a £5.8M restoration of the College's 126-year-old roof.
---
Stowe North Hall & WMF: A Step Closer to Completion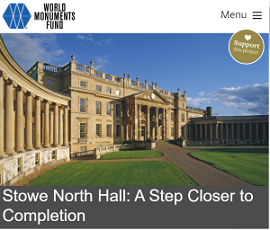 Completion of the restoration of Stowe House's North Hall, largely funded by World Monuments Fund (WMF), came a step closer this summer with the installation of a statue of Mercury opposite the imposing Laocoön group installed last year.
---
IHBC CREATIVE Conservation Fund launched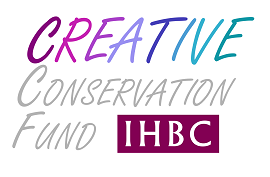 The CREATIVE Conservation Fund helps the IHBC generate and distribute funds exclusively to deserving causes in built and historic environment conservation.
---
The tunnel near Plymouth with a nuclear secret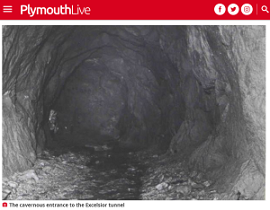 For years, there have been rumours whispered around Plymouth and Cornwall about so-called 'nuclear tunnels' that exist beneath the Tamar Valley.
---
141 bridges with 'very poor' rating remain open to avoid disruption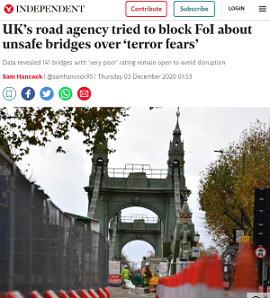 Just under half of England's busiest bridges are severely defected or damaged, but have remained open due to concerns about an influx of traffic should repairs be ordered, it has been revealed.