Listed Buildings and Other Heritage Assets (fifth edition)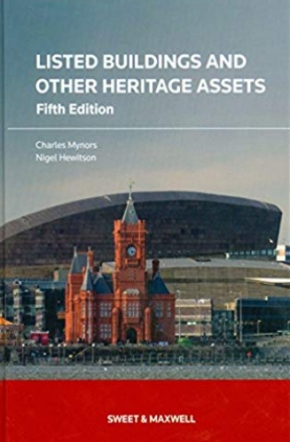 Listed Buildings and Other Heritage Assets (fifth edition), Charles Mynors and Nigel Hewitson, Sweet and Maxwell, 2017, 834 pages, hardback.
---
Here is the fifth edition of the bible for all those professionally engaged in the business of heritage assets and their management. Much has changed since the last edition (2006), including the widespread adoption, as here, of that useful catch-all term 'heritage assets'. We have bidden farewell to PPGs 15 and 16, embraced (with varying degrees of enthusiasm) the National Planning Policy Framework and its associated guidance, tried to get our heads around the Enterprise and Regulatory Reform Act, taken on board the Equality Act, seen the arrival of Historic England (a branding rather than a legal matter, as Mynors points out) and seen a number of landmark legal judgements, for example on setting.
Legislators have also been busy in the devolved nations; 'indeed this may be the last time we are able to cope with the diverging systems of law and policy in all four parts of the United Kingdom'. And that is before we start making adjustments for life outside the EU. One thing is certain, a sixth edition will be needed, probably fairly soon, and it will look very different from this one. Paradox: why does the business of conservation have to be characterised by so much by flux?
Charles Mynors, a rare (unique?) example of a barrister who has also been a conservation officer, will be well known to many Context readers for his once-regular column, 'M'learned friend'. An invitation from the Law Commission to sort out planning in Wales meant that for this edition he has had to enlist help, from Nigel Hewitson (former legal director of English Heritage). The meat of the book comes in five parts, each introduced by a couple of pithy and sometimes subversive quotes.
The first part sets out the framework and background to current law and policy, and includes an international section. The second guides us through the various forms of designation, and addresses such thorny issues as the extent of listing and definitions of curtilage. Part 3 concerns repair, maintenance, finance and public acquisition, and Part 4 procedural and other matters (including a section on places of worship). The final part concerns enforcement and prosecution. There follows a useful set of appendices, 21 of them, including pro formas for repairs notices, listed building enforcement notices and so on.
As in previous editions, the language is clear, jargon-free and often (given that the territory is potentially as dry as dust) entertaining. The authors are not afraid of offering (or implying) their own opinions – for example, that the concept of conservation areas is in danger of being degraded by excessive or inappropriate designation, and that 'listing is a form of compulsory acquisition of owners' rights, but with the critical feature that there is no financial compensation'. Discuss?
This book is an indispensable aid to all who toil in the conservation vineyard. You will not get a lot of change from £200, but at less than an hour of a lawyer's time, that can be considered a snip.
---
This article originally appeared as 'Cheaper than a lawyer' in IHBC's Context 155, published in July 2018. It was written by Andrew Derrick, a director of the Architectural History Practice (AHP).
--Institute of Historic Building Conservation
IHBC NewsBlog
Methodology for Moisture Investigations in Traditional Buildings agreed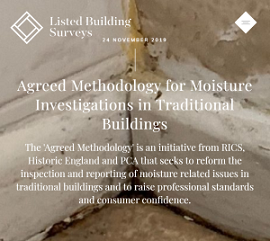 A 'Methodology for Moisture Investigations in Traditional Buildings ' has been agreed between RICS, Historic England and the service provider PCA, a trade body, which should help raise professional standards and consumer confidence.
---
Drinkers toast the future after historic Leeds pub granted GII listed heritage status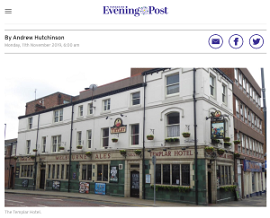 The Templar Hotel on Vicar Lane has been listed at Grade II by the Department for Digital, Culture, Media and Sport on the advice of Historic England.
---
Housing Minister announces new champion for modern 'MMC' housebuilding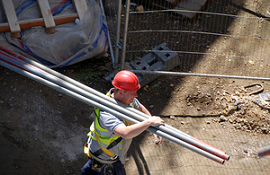 Government has announced a new Champion for Modern Methods of Construction as part of the government's drive to make the UK the global leader in housing standards.
---
RTPI on 'Why planning needs better outcome measurement'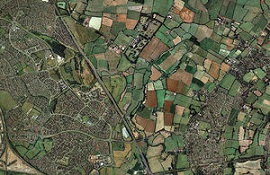 Planning is about so much more than the number of applications approved and the speed of processing them so the RTPI is commissioning research aimed at producing a toolkit that can demonstrate a wider range of outcomes.
---
The rise of 'facadism' in London, from the BBC and 'The Gentle Author'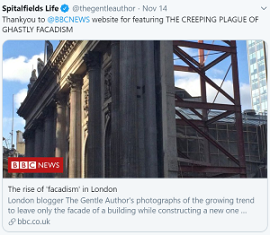 London blogger The Gentle Author has been photographing the changing face of London, focusing on what is known as 'facadism', the practice of destroying everything apart from the front wall and constructing a new building behind it.
---
Great Yarmouth Winter Gardens Facing Off Dilapidation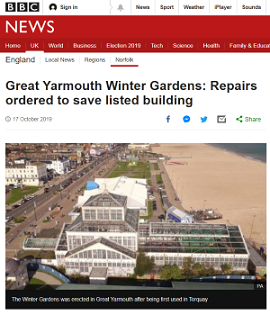 Urgent repairs have been ordered to save one of the country's most endangered buildings from dilapidation while Great Yarmouth Borough Council seeks an investor.
---
Construction urged to do more for butterflies and bees, via SNH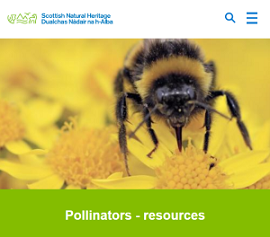 SNH has published new guidance on how best to fit pollinators into urban design and construction with a series of easy steps to suit all project budgets and sizes.
---
Applications now open for the Sustainability Scholarship for 2020: Closing 29/11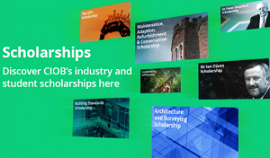 Applications are invited for the Sustainability Scholarship 2020, with successful applicants to receive £3000, support and mentoring from experts, and closing 29 November.
---
Government asked to save plans for Queensbury tunnel cycle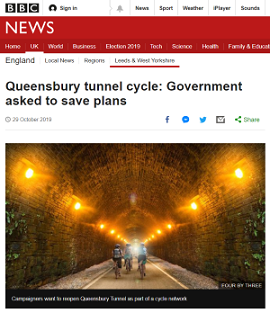 It was hoped the 1.4 mile (2.3km) Victorian Queensbury Tunnel could be used by cyclists travelling between Bradford and Halifax, but plans have been threatened.
---
Case Study in Durham Cathedral: Project Managment and Building Services Challenges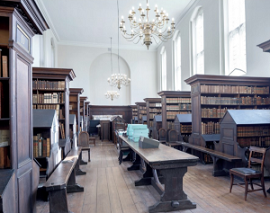 Completing works that widened public access to the hidden architectural spaces and collections of Durham Cathedral showcases exceptional project management.
---
Autumn clamp down on dust by HSE – site visits planned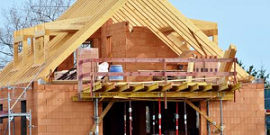 This month HSE is carrying out its latest construction inspection initiative with a focus in particular on measures in place to protect workers from occupational lung disease caused by asbestos, silica, wood and other dusts when carrying out common construction tasks.
---