Carpentry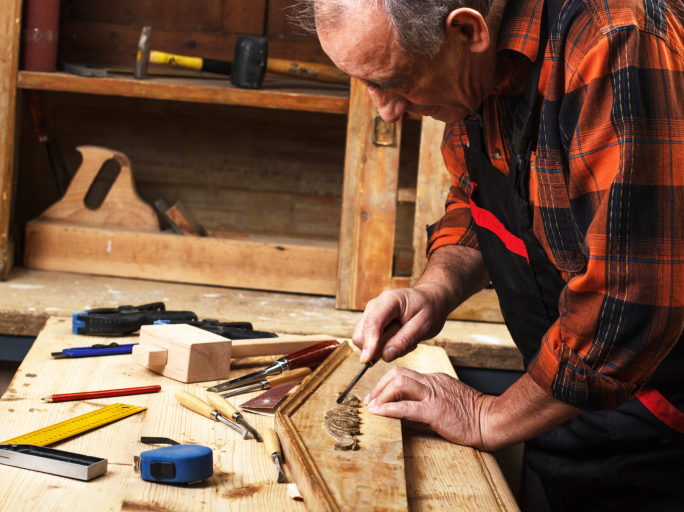 [edit]
Introduction
Carpentry is one of the oldest skilled trades and is still widely required in modern construction. It involves the cutting, shaping and installation of wood (timber) for buildings and other structures.
Carpentry is often part of the 'first fix' of timber components in the construction of roofs, floors, walls and other timber-framed constructions. It is also often part of 'second fix' works, such as the construction of skirting boards, architraves, doors, and so on. Carpenters may also required to prepare shuttering (formwork into which concrete is poured), building stairs, installing door and window frames, and so on.
Carpenters often specialise in one or two areas, allowing them to develop and hone their skills accordingly, in particular where they tend to work on larger projects. Some of the different types of carpenter include:
A joiner, or finish carpenter, is typically not considered to be a carpenter (although there is some confusion and overlap between the use of the terms). Joiners generally specialise in lighter and more ornamental work than that done by a carpenter. This includes fine woodworking, fittings, doors and windows, furniture, details, and so on. Joiners typically work in a workshop where the intricate detailing and formation of various joints is made easier by using non-portable machinery. Carpenters on the other hand typically work on construction sites.
[edit] History of carpentry
As timber naturally degrades there are not very many remaining early examples of carpentry. The oldest archaeological finds are water well casings that were built using split oak timbers that were excavated in Germany and date back to circa 5,000 BC.
Some of the world's oldest wooden buildings are Chinese temples such as the Nanchan Temple which was built in 782, or the stave churches in Norway, such as the Heddal stave church, which were built during the 12th and 13th centuries.
Carpentry evolved over the centuries in line with the technology and tools that were used in construction. Sawmills were widespread by the 16th century, which established the timber industry. The Industrial Revolution of the 18th century introduced steam engines and cut nails, which freed carpenters from the labour-intensive process of relying on handmade nails.
Carpenters largely focused on framed post-and-beam buildings until the end of the 19th century when other materials such as steel and concrete became increasingly popular. There has been something of a resurgence in timber construction recently, with products such as glulam and laminated veneer lumber (LVL) seeking to exploit the sustainable benefits that timber provides.
The tasks that a carpenter may be involved in might include:
Some questions that it can be beneficial to ask a carpenter before hiring them include:
[edit]
Qualifications
Traditionally, a carpenter would train as an apprentice and work their way up to becoming a 'master carpenter'. On-the-job training is often provided from college or training providers for those seeking to attain the appropriate NVQ/SVQ level. The NVQ/SVQ in Wood Occupations, between levels 1 and 3, is the most common qualification to acquire as a carpenter.
The Institute of Carpenters (IOC) enables carpenters to expand their skills with extra qualifications. Membership of the IOC comes with a bronze, silver or gold card which represents ability.