Barracks, Forts and Ramparts: regeneration challenges for Portsmouth Harbour's defence heritage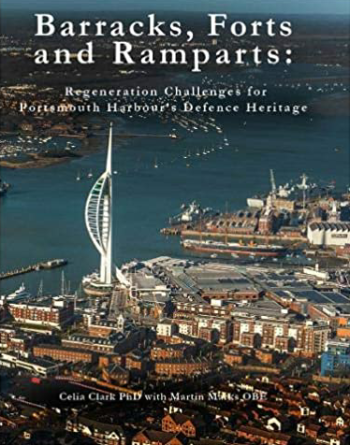 Barracks, Forts and Ramparts: regeneration challenges for Portsmouth Harbour's defence heritage, Celia Clark with Martin Marks, Tricorn, 2020, 452 pages, paperback.
---
Opening with the affirmation that 'Portsmouth Harbour has one of the densest concentrations of specialised defence establishments in the country', Barracks, Forts and Ramparts documents and celebrates the complex and ongoing transition of substantial components of Portsmouth and Gosport's assemblage of military, naval, air defence, support and supply structures to civilian life. The rich legacy includes dockyards, barracks, hospitals, victualling and ordnance yards, and successive rings of landside and offshore fortifications. The spectrum of adaptive reuse and additions over the last half century embraces industrial and residential estates; arts, entertainment and sports facilities; film locations; a traditional boatbuilding and restoration school; conservation and research centres, university facilities and student hostels; and the landmark Spinnaker Tower.
Celebration of Portsmouth Harbour's maritime past has long been highlighted locally and to visitor audiences in the National Museum of the Royal Navy, and by HMS Victory (transferred to dry dock in 1922), the Marie Rose (raised from the seabed in 1982), HMS Warrior (returned from restoration in Hartlepool in 1987) and, more recently, the A-class submarine HMS Alliance (restoration completed in 2014). The commitment to Portsmouth's rich heritage lauded in this book speaks to immense civic pride, allied to a rich coincidence of creative imagination, energised interests, and determination both within and beyond the local community to enhance and expand the legacy for present and future generations.
Barracks, Forts and Ramparts poses and addresses essential questions. How have the former defence sites found new uses, and whose vision and creativity shaped them? How were the challenges of decay, contamination and investment resolved? What roles did the local authorities play? How did defence heritage tourism develop? Who gains and who benefits from this profound land-use change? What lessons can be drawn from and shared with other formerly defence-dominated communities around the world?
The diverse case studies applaud the campaigning spirit and initiatives of individuals and groups as varied as schoolboys, specialist developers, local historians, civic groups and campaigning heritage bodies. Special mentions are given to SAVE Britain's Heritage's 1993 pioneering study Deserted Bastions: historic naval and military architecture, and to the local authority conservation officers.
Residential conversions are the focus of several studies, including Eastney Barracks and St George Barracks. Defence heritage tourism (9.3 million visitors are quoted for 2015) is recognised for its important contribution to the local economy, as is the National Lottery Heritage Fund's substantial investment into the city's naval and maritime heritage. The important role that anniversaries play in uniting family and community memories and strengthening place-attachment is commended. Examples include the centenary of the Battle of Jutland, regular commemorations of D-Day, and 'farewell' on the decommissioning of HMS Ark Royal. The book is replete with personal memories of all aspects of Portsmouth's rich defence past: its routes, sites and multi-varied buildings. Specialist interests are noted: the ecologist delighted by the reclamation of redundant forts by plants and animals. Sustainability interests are triggered: 'old buildings are an investment of energy and money that should be recycled'.
The concluding chapter, 'The bigger picture: local lessons', in a call for joined-up thinking, opens with what it describes as the unresolved and irreconcilable three-way split in the UK between incompatible objectives. First, the Treasury and National Audit Office's insistence on sales of redundant government land achieving the highest price in the shortest possible time; unfavourable outcomes are identified in several of the case studies and the UK system is compared unfavourably with the USA, which supports free transfer to meet community needs. Second, government objectives on sustainable development, regeneration of former defence-dependent communities, environmental protection, and conservation of natural resources and historic buildings. Third, local communities' needs for urban and rural regeneration and economic development.
Celia Clark, co-editor with Samer Bagaeen of Sustainable Regeneration of Former Military Sites (Routledge, 2016), is a specialist in the transition of former defence sites to civilian uses in different parts of the world. Commander Martin Marks saw long-time service in the Royal Navy as a mechanical engineer.
Barracks, Forts and Ramparts fills an important research gap. It is masterfully researched, comprehensively illustrated with maps, drawings and photographs, and incorporates first-hand accounts by key actors in the transition. It resonates especially with this reviewer, whose immediate and extended family connections with Portsmouth and Gosport date back at least through the Victorian era, as housebuilder-developers, in civic life, the navy and the marines. Navigation and cross-referencing through the book are unfortunately impeded by the overly abbreviated index.
---
This article originally appeared as 'Up Pompey' in Context 170, published by the Institute of Historic Building Conservation (IHBC) in December 2021. It was written by Dennis Rodwell, architect-planner, consultant in cultural heritage and sustainable urban development.
--Institute of Historic Building Conservation
IHBC NewsBlog
Bristol Harbourside landmark Canons House gets GII listing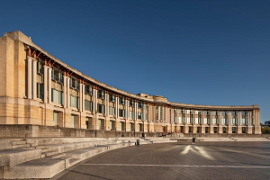 Canons House, a landmark building on Bristol Harbourside, has been awarded Grade II (GII) listed status having been built as a regional headquarters for Lloyds Bank between 1988 and 1991 (Arup)
---
BRE/BEIS project to modernise home energy rating scheme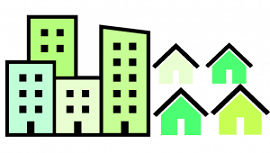 The Building Research Establishment (BRE) has announced a new project with the Department for Business, Energy and Industrial Strategy (BEIS) to improve and modernise the home energy rating scheme used to measure the energy and environmental performance of UK homes.
---
Interdisciplinary IHBC accreditation recognised by CSCS for PQP Cards

Sector lead the Construction Skills Certification Scheme (CSCS) has recognised the IHBC's professional accreditation and support (CPD etc.) in awarding its PQP (Professionally Qualified Person) cards.
---
IHBC Heritage Marketplace provides learning-led virtual engagement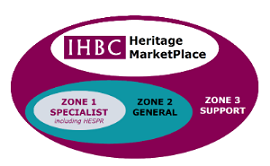 The IHBC's 2022 Aberdeen School Heritage MarketPlace (4.30-7.30PM, 15 June) is designed to extend the scope of a traditional IHBC School exhibition floor.
---
Unearthing the history of Gloucester's 'the Fleece' Hotel starts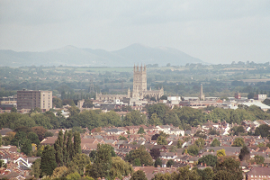 Work to repair a fire-hit medieval hotel in Gloucester is underway as crews have started work to strip back some of the modern trappings and reveal the historic framework.
---
Booking Open for IHBC Annual School: Aberdeen, 16-18 June 2022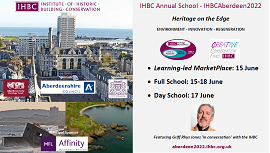 Options for in-person and virtual delegates to explore 'heritage on the edge' across up to 4 days of IHBC engagement & learning.
---
European Heritage Heads Forum statement on Ukraine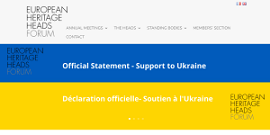 The Secretariat to the European Heritage Heads Forum has has coordinated its declaration of solidarity and support for Ukraine's cultural heritage institutions.
---
Welcome to #IHBC25 – 25 years since we turned professional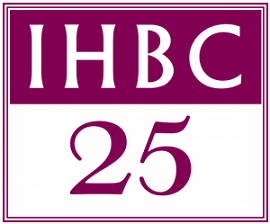 2022 will see the IHBC mark a quarter of a century since our incorporation as a professional body supporting and accrediting built and historic environment conservation specialists. We're kick-starting it by inviting your ideas on how to mark this special year!
---
IHBC launches new Guidance Note on 'Design sources for historic building conservation'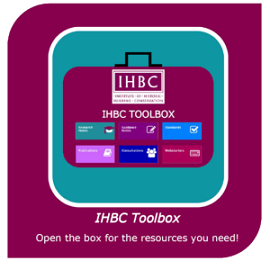 The IHBC's latest Guidance Note adds to the institute's open-access, online practitioner's Toolbox.
---
IHBC at COP26 - Conserving our Places Conserves our Planet - Podcast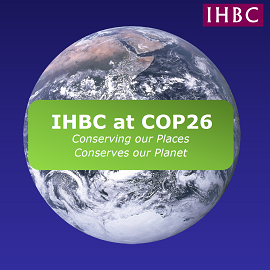 The IHBC seeks to raise awareness and understanding of how building conservation philosophy and practice contributes towards meeting the challenge of climate change.