6 Uses of 3D Laser Scanning in Construction Project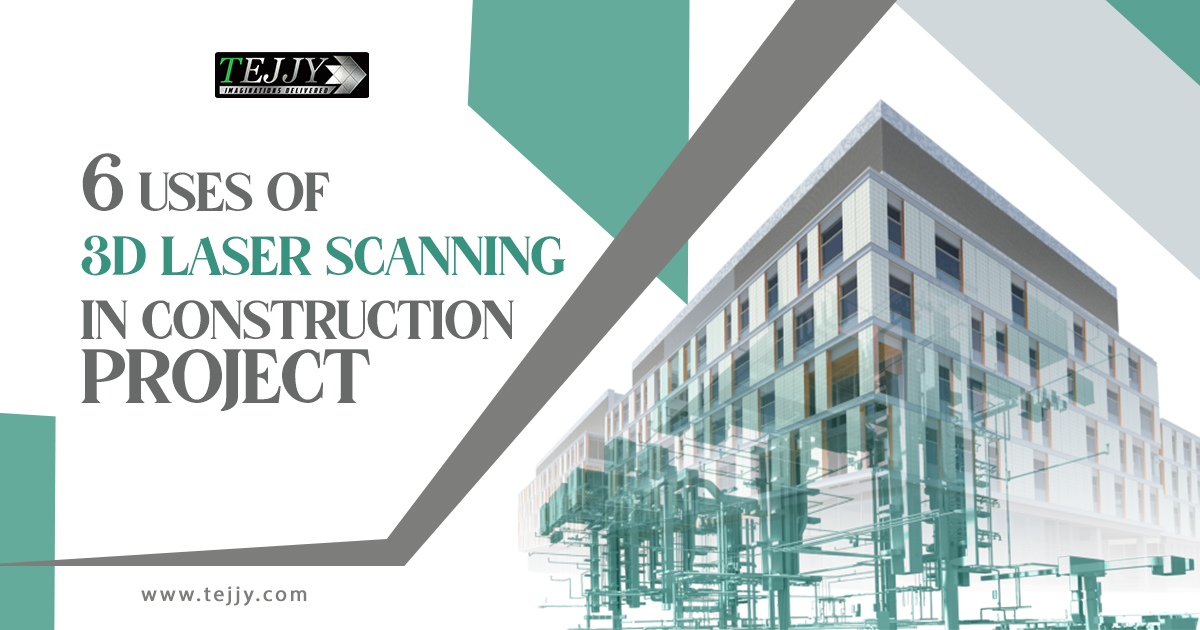 Laser scanning is a highly accurate methodology that captures all details of an existing building or a construction site. Through laser light, advanced construction laser 3D scanners help to create 3D representations called point clouds, containing data for creating a map of the accurate shapes and sizes of physical objects.
Let's explore the 6 uses of 3D laser scanning in construction:
Architects build their design based on the as-built drawings of the building owners. Sometimes as-built is not accurate. Further, when contractors perform a site survey for verifying site conditions, they fail to capture details or detect errors present in original design and construction plans, due to lack of time and resources. All such errors in the design plan get converted to problems at later stages of the construction workflow, resulting in change orders, project delays and additional costs. Implementing a 3D laser scanning process, the contractors confirm as-built conditions and identify design issues at the pre-construction stage.
3D laser scanning is also used to validate the process of design execution for quality assurance. By undertaking a quick 3D laser scan of a construction project, building contractors create a 3D model of the existing condition, which they compare to as-designed drawings or models for quality assurance. BIM engineers use colour codes and mark up the model for varying degrees of deviation from the design. This helps the building contractors know exactly what needs to be fixed before it becomes a serious issue at a later stage of the construction workflow.
When 3D laser scanning is used throughout the construction project, you're left with an accurate record of every phase. Whatever is present in the wall, above the ceilings and under the floors get recorded. The building management team uses records throughout the whole lifecycle of the building. In this manner, 3D laser scanning creates improved value in the closeout package of the contractor.
Architects often communicate complicated design ideas to the project stakeholders, who may not have any design or construction experience. It is often easier to create a 3D model or a virtual model for effective design communication to the stakeholders. Using 3D laser scanners the process of virtual model creation gets quicker and more accurate with quick 3D data capture.
Laser scanning facilitates streamlined coordination and enhanced collaboration so that the AEC stakeholders ensure better and faster decision making. When all project stakeholders collaborate, there's improved communication and transparency for a successful project execution.
Scan-to-BIM is used for all applications of scan, uploading data directly in BIM schematics. Scanned data helps to compare various stages of project development directly to the project execution stages. This cross-checking enables the team to immediately spot errors, and makes it easy to engage with modern manufacturing technologies like 3D printing to prefabricated materials offsite for quick assembly and transportation.
---
About the Author:
Reetie Multani is a content creator having a background in construction, Building Information Modeling and other technologies like 3D laser scanning services. She writes for Tejjy Inc.'s 3D laser scanning services to remove all cost barriers faced by Architectural, Engineering and Construction (AEC) firms. She provides readers with insights, updates and information related to construction that help the AEC industry professionals to achieve goals and reach the next level of growth.
6 Uses of 3D Laser Scanning in Construction Project.
BIM Directory
---
[edit] Information Requirements
---
[edit] Information Models
---
[edit] Collaborative Practices
---
[edit] Standards
---
[edit] Levels of BIM
---
[edit] Glossary
---
[edit] Guide to BIM Level 2