Structure relocation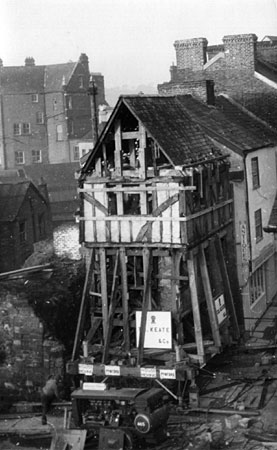 Relocation is the process of moving a structure from one place to another. This can be done either by disassembling the structure and reassembling it in a new position, or by transporting it in its entirety.
There are a number of reasons why a structure may need to be moved. There could be commercial reasons, it may be necessary to free up the plot of land that it stands on, it may be sold to a new owner and so on. It is also an increasingly common method of preserving important or historic buildings that may be threatened by flooding, redevelopment, adverse ground conditions, and so on.
If the method selected is to move the structure in one piece, then very careful planning and coordination is required. Typically, the process begins with openings being cut in the building's foundation. This allows the installation of a temporary framework attached underneath for structural support.
Hydraulic jacks are installed under the framework that are connected to a central control system. This system monitors the pressure on each jack and helps to keep the building level as it is lifted up off the foundation. The structure may be elevated in increments using cribs (large timber beams) that are stacked into piles as a means of supporting the hydraulic jacks that are re-positioned gradually higher on them. Once raised to a sufficient height, the building is ready to be transported.
If the distance is relatively short, temporary rails or hydraulic dollies can be placed under the framework to enable it to move. If the distance is greater, flatbed trucks are used. In this case, projections such as chimneys may need to be removed and the journey planned to allow for obstacles en route such as trees and overhead cables. Once the move is complete, the structure is lowered onto a newly prepared foundation by reversing the above steps.
Some modern modular buildings may be designed to be re-locatable. This may be possible without disassembly, or may require some separation of parts. Site huts on construction sites are an example of modular buildings that can be taken apart, moved, and reconfigured for another use. Increasingly other construction buildings are also re-locatable, such as pre-fabrication and manufacturing facilities. See flying factory for more information.
Disassembling buildings that were not designed for relocation is a complex process that requires careful planning and meticulous record keeping. This is only likely to be necessary for buildings that are important or protected, such as historically significant buildings.
Some structures are intended to be disassembled and relocated, such as live events structures which may tour from one location to another. In this case, the components are designed to be dismantled, transported and re-assembled.
Increasingly, permanent buildings are also being 'designed for deconstruction', that is they are constructed in a way that will make it easier to take them apart and use the components again, either at the end of their life, or for relocation.
See Design for deconstruction for more information.
Some famous examples of relocated buildings include:
[edit]
External references
IHBC NewsBlog
Hammersmith Bridge illuminated red in Valentine's Day message to Government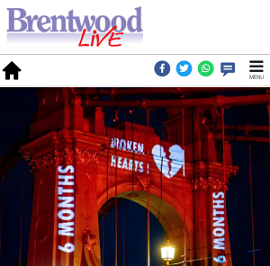 The stunt aimed at highlighting ongoing delays to its repair, as the 133-year-old west London bridge has been closed to traffic since April 2019 when cracks appeared in its pedestals.
---
Drone Surveying a London Landmark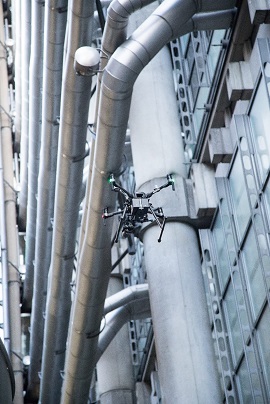 Uninhabited Aerial Vehicles (UAVs) have been used to undertake a survey of the Lloyd's building's external façade in the heart of the City of London.
---
Green Party calls for no VAT on refurbishment in new Parliamentary petition
The petition calls on the government to remove VAT on refurbishment projects and raise VAT on non-Passivhaus new-build construction to 20 per cent. Retrofitting is carbon-efficient but the current VAT regime privileges new build over refurbishment.
---
Conservation Professionals Concerned about Future Planning Policy

Directors of the IHBC and the Victorian Society are among those whose opinions are featured in the RICS in-house publication Modus as it explores heritage impacts in England's planning proposals.
---
Learn all about the Professions in Building Conservation at upcoming Conference

Glasgow City Heritage Trust (GCHT) 3-day online conference aimed at anyone working, or interested in working, within the building and heritage sectors.
---
New use for abandoned oil rigs: Offshore reefs!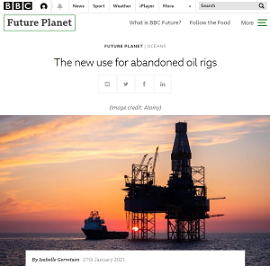 One way in which these old rigs can be remarkably useful is that the subsurface rig can provide the ideal skeleton for coral reefs, allowing the remarkable ecosystems beneath the waves come into their own.
---
Birnbeck Pier, in Weston-super-Mare, to undergo Restoration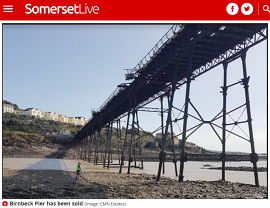 A new company – Birnbeck Holdings Limited – has now been set up by CNM Estates which has purchased Birnbeck Island and the historic pier.
---
Ecclesiastical Heritage Risk Barometer 2020 Published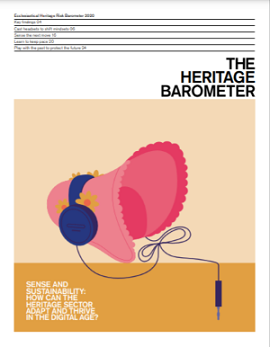 The publication offers research to help answer the question: 'How can the heritage sector adapt and thrive in the digital age'?
---
Victorian Bath House dug up from under a Manchester Car Park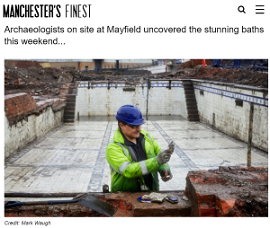 A stunning Victorian Bath House has been uncovered during works on creating the city's first public park in over 100 years.
---
APPG on 'Conservation, Places and People' Opens first Parliamentary Inquiry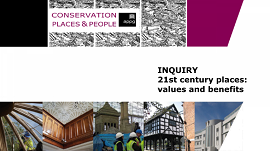 The Inquiry is into '21st Century Places – Values & Benefits.