Strip foundation
Foundations provide support for structures, transferring their load to layers of soil or rock that have sufficient bearing capacity and suitable settlement characteristics.
Very broadly, foundations can be categorised as shallow foundations or deep foundations. Shallow foundations are typically used where the loads imposed by a structure are low relative to the bearing capacity of the surface soils. Deep foundations are necessary where the bearing capacity of the surface soils is not adequate to support the loads imposed by a structure and so they need to be transferred to deeper layers with higher bearing capacity.
Strip foundations (or strip footings) are a type of shallow foundation that are used to provide a continuous, level (or sometimes stepped) strip of support to a linear structure such as a wall or closely-spaced rows of columns built centrally above them.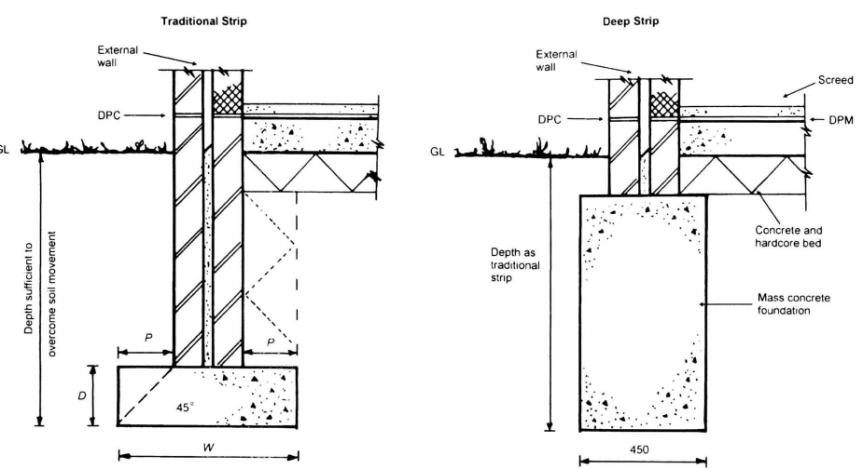 Strip foundations can be used for most subsoils, but are most suitable for soil which is of relatively good bearing capacity. They are particularly suited to light structural loadings such as those found in many low-to-medium rise domestic buildings - where mass concrete strip foundations can be used. In other situations, reinforced concrete may be required.
Older buildings may have brick strip foundations.
Very broadly, the size and position of strip foundations is typically related to the wall's overall width. The depth a traditional strip foundation is generally equal to or greater than the overall wall width, and the foundation width is generally three times the width of the supported wall. This results in the load being transmitted at 45º from the wall base to the soil.
Approved document A of Building Regulations defines minimum widths for strip footings based on the type of ground and load-bearing wall, although it is generally advisable to consult a structural engineer when designing foundations.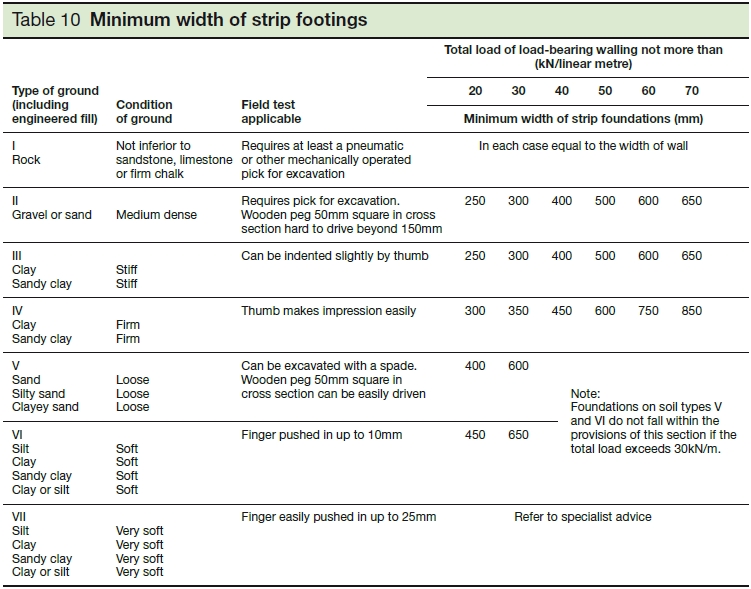 The underside of strip foundations should be deep enough to avoid frost action; for example, at least 450 mm unless they are bearing on rock, and at least 1 m on high shrinkage clays.
Deep strip foundations may be necessary where soil with a suitable bearing capacity is deeper.
Wide strip foundations may be required where the soil is soft or of a low bearing capacity, so as to spread the load over a larger area. Wide strip foundations will typically require reinforcement.
Where there are higher localised loads, such as columns, pad foundations may be used. See pad foundations for more information.
Where ground conditions are poor, settlement is likely, or where it may be impractical to create individual strip or pad foundations for a large number of individual loads, raft foundations may be used. See Raft foundations for more information.
Where the bearing capacity of the surface soils is not adequate to support the loads imposed by the structure, deep foundations such as pile foundations may be used. See Pile foundations for more information.
Larger or more complex buildings may involve the use of a number of different types of foundation.
Additional guidance is available in BRE's Simple foundations for low-rise housing: 'rule of thumb' design.
[edit]
Find out more
IHBC NewsBlog
---
Stay 'in the know' about recent job and trainee openings with IHBC's latest 'Jobs, etc.'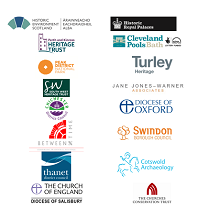 March updates include Scottish trainee opportunities in HES, and QS and PM openings in HRP. Sign up for free alerts today.
---
IHBC HESPR top pick from £400k+ costed work this week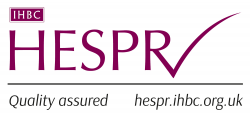 NE Lincs seeks appraisal and business planning team for regen, Port of Grimsby 08/04, value £50k
---
Tailored Review of Historic England: Closing 9 May

The Department for Digital, Culture Media and Sport (DCMS) is conducting a tailored review of Historic England – so to help inform this review, DCMS seeks feedback through an online survey closing on 9 May.
---
Degree apprenticeship for town planners gets green light from Government


The first degree-level apprenticeship to train Chartered Town Planners in England has been approved by the Government, with employers in England able to recruit candidates.
---
Councils fear Swansea construction giant's collapse could be 'Welsh Carillion'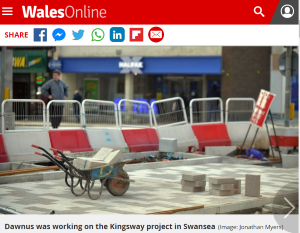 LocalGov new has reported on how the collapse of Dawnus Construction could be a 'Welsh Carillion'.
---
Civic Voice provides evidence to the England's Building Better Commission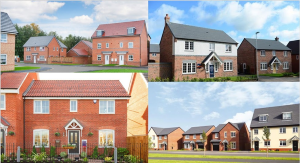 Civic Voice has presented evidence to the Government's Building Better, Building Beautiful Commission.
---
Find HESPR members' offices using the IHBC's new map-based search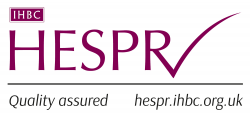 IHBC members, colleagues and client bodies can now find the office locations of HESPR members using our new map-based facility.
---
IHBC Gus Astley Student Awards update - See the benefits through online testimonials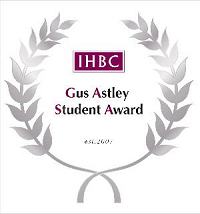 See how 2018 winners have secured places on Nottingham's 2019 School: 'Heritage, Risk and Resilience', 4-6 July, while entries for 2019 close on July 31.
---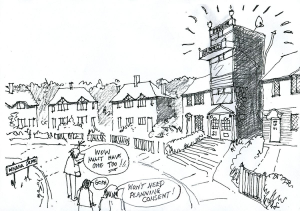 As the government plans to bring forward most of its controversial package of new permitted development rights (PDR) and use class uses Civic Voice raises the deep concerns of local communities.
---
RICS highlights the 'High Street' dilemma: How to save the UK high street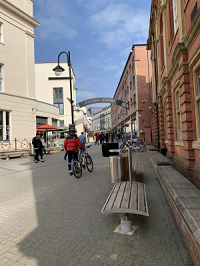 RICS has featured an article from its Modus publication on town centres that asks if there is 'any purpose in 'defending' something once its economic purpose fades?'.
---
Committee calls for public inquiry into GSA fires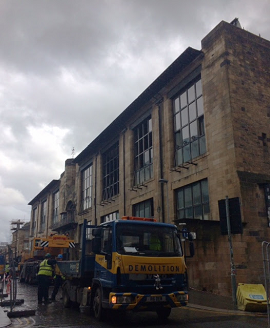 The circumstances surrounding the two fires at the Glasgow School of Art's Mackintosh Building should be the subject of a public inquiry with judicial powers argued an inquiry into the issue by MSPs on the Culture, Tourism, Europe and External Affairs Committee.
---
Appointment of new BRE Group CEO: Gillian Charlesworth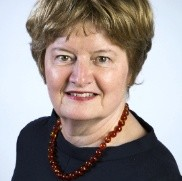 BRE Group has appointed a new Group Chief Executive, Gillian Charlesworth, currently a member of the Global Executive team of the RICS, to succeed Niall Trafford.
---