Strip foundation
Foundations provide support for structures, transferring their load to layers of soil or rock that have sufficient bearing capacity and suitable settlement characteristics.
Very broadly, foundations can be categorised as shallow foundations or deep foundations. Shallow foundations are typically used where the loads imposed by a structure are low relative to the bearing capacity of the surface soils. Deep foundations are necessary where the bearing capacity of the surface soils is not adequate to support the loads imposed by a structure and so they need to be transferred to deeper layers with higher bearing capacity.
Strip foundations (or strip footings) are a type of shallow foundation that are used to provide a continuous, level (or sometimes stepped) strip of support to a linear structure such as a wall or closely-spaced rows of columns built centrally above them.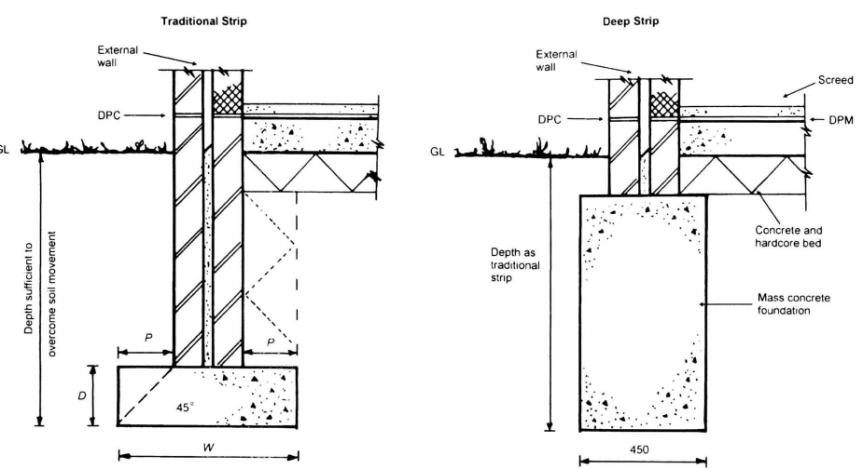 Strip foundations can be used for most subsoils, but are most suitable for soil which is of relatively good bearing capacity. They are particularly suited to light structural loadings such as those found in many low-to-medium rise domestic buildings - where mass concrete strip foundations can be used. In other situations, reinforced concrete may be required.
Older buildings may have brick strip foundations.
Very broadly, the size and position of strip foundations is typically related to the wall's overall width. The depth a traditional strip foundation is generally equal to or greater than the overall wall width, and the foundation width is generally three times the width of the supported wall. This results in the load being transmitted at 45º from the wall base to the soil.
Approved document A of Building Regulations defines minimum widths for strip footings based on the type of ground and load-bearing wall, although it is generally advisable to consult a structural engineer when designing foundations.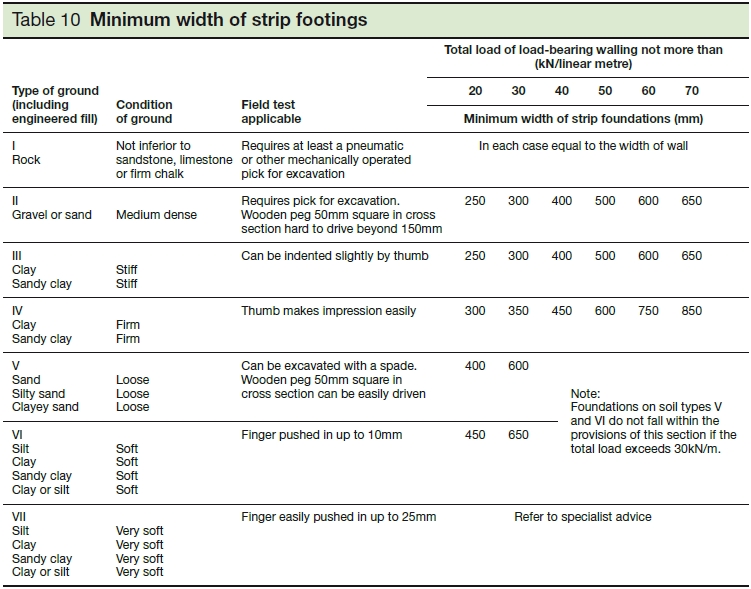 The underside of strip foundations should be deep enough to avoid frost action; for example, at least 450 mm unless they are bearing on rock, and at least 1 m on high shrinkage clays.
Deep strip foundations may be necessary where soil with a suitable bearing capacity is deeper.
Wide strip foundations may be required where the soil is soft or of a low bearing capacity, so as to spread the load over a larger area. Wide strip foundations will typically require reinforcement.
Where there are higher localised loads, such as columns, pad foundations may be used. See pad foundations for more information.
Where ground conditions are poor, settlement is likely, or where it may be impractical to create individual strip or pad foundations for a large number of individual loads, raft foundations may be used. See Raft foundations for more information.
Where the bearing capacity of the surface soils is not adequate to support the loads imposed by the structure, deep foundations such as pile foundations may be used. See Pile foundations for more information.
Larger or more complex buildings may involve the use of a number of different types of foundation.
Additional guidance is available in BRE's Simple foundations for low-rise housing: 'rule of thumb' design.
[edit]
Find out more
IHBC NewsBlog
IHBC offers a a huge thanks to our volunteers and leads at LPOC Show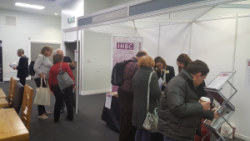 The IHBC CPD partnership with the Listed Property Owners Club has again secured free places for members and an IHBC stand at the show in Olympia on 9-10 February.
---
IHBC welcomes 2019 School speakers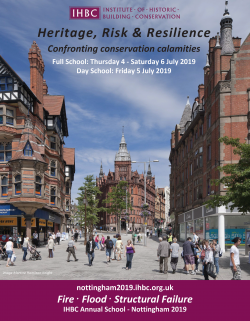 James Innerdale, on sensitive intervention for flood resilience, & Helen Brownlie, on dealing with the after effects of flood particularly in Cockermouth.
---
IHBC members services – checkup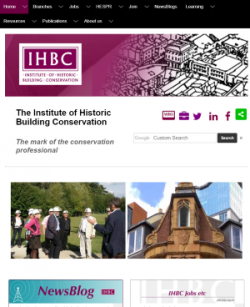 Simple ways to be sure your IHBC NewsBlog email alerts read correctly, and keep up with our latest news, jobs and more!
---
Serious about Heritage careers as an employer or job seeker?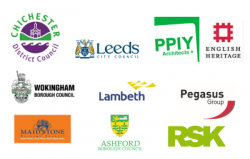 Stay 'in the know' with IHBC's latest 'Jobs etc.' updates for all your conservation needs.
---
RTPI renews call for more resources for planning in light of NAO report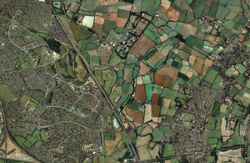 RTPI welcomes the findings of the report, 'Planning for New Homes', which flagged up issues, including the fall in spending and skills shortages in LA's planning departments.
---
IHBC HESPR top pick from £250K+ costed work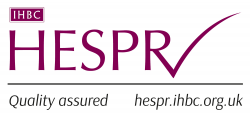 Chartered landscape architect sought for Sydney Gardens, Bath, closing 01/03, value £47k.
---
Historic England Online Debate No 8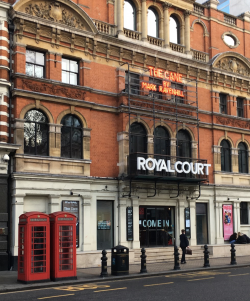 Interim protection for historic buildings before they can be listed with posts including the IHBC's President's 'Confessions of a Conservation Officer'.
---
GII farm demolition results in £20k fine
In a successful prosecution by Chorley Council the judge highlighted the 'public duty to ensure people don't just ignore the listing of buildings'.
---
BPT launches crowdfund call to support challenges poor planning decisions in Bath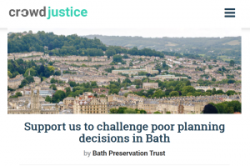 Bath Preservation Trust launches crowdfunding campaign to establish a 'legal fighting fund' to enable it challenge poor or irrational planning decisions in Bath...
---
Planning bodies response to MHCLG PDR consultation
The Consultation Institute has updated on how planning bodies have submitted strong objections to government proposals to further relax permitted development (PD) rights.
---
England - Spending on cultural resources slashed by £400m over 8 years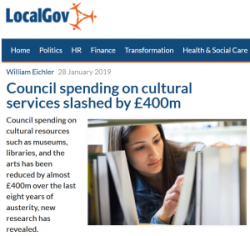 Spending on cultural resources such as museums, libraries, and the arts has been reduced by almost £400m over the last eight years of austerity CCN reveals.
---
UK confirms it will adopt EU standards for construction products post no-deal Brexit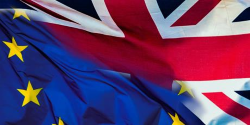 Contractors, architects and product manufacturers can breathe a sigh of relief, apparently, with confirmation that products ok'd in Europe will be ok'd for UK.
---
Strategic framework for heritage science in the UK 2018-2023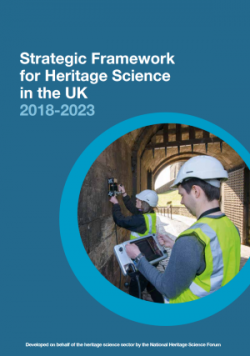 Following a year of consultation and development by the National Heritage Science Forum (NHSF), a new strategic framework was launched at the Tower of London in 2018.
---
BBC on Bauhaus & its centenary year in pictures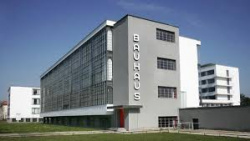 Established in 1919, Germany's Bauhaus art school brought a radical new approach to design and aesthetics helping inform modernist architecture worldwide.
---
Photographic record of the concrete blocks that once protected Britain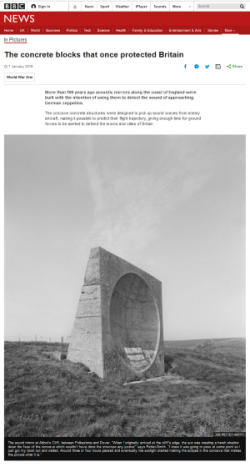 The BBC reports on how more than 100 years ago acoustic mirrors along the coast of England were built to detect the sound of approaching German zeppelins.