Fly-tipping in the construction industry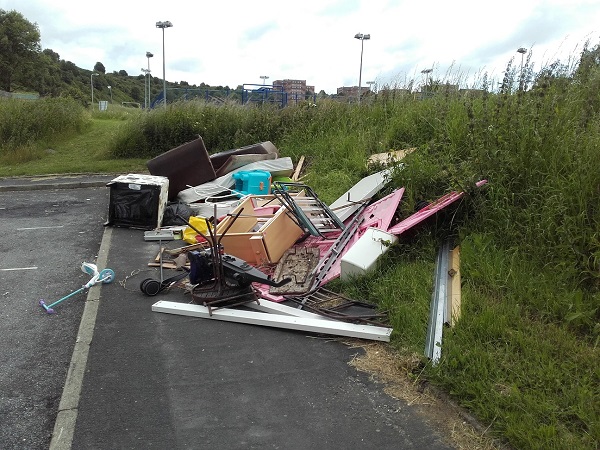 Fly-tipping, also known as 'illegal dumping', is the dumping of any waste onto land, public or private, or in water that does not have a licence to accept it, making it an illegal act. Fly-tipping is an illegal method for avoiding the time and/or costs of organising a proper disposal.
In 2016/17, there were 1,602 fly-tipping prosecutions in England, a figure that was down from 2,135 in 2015/16, despite the overall rise in reported incidents.
The responsibility for clearing and disposing of fly-tipped waste on private land lies with the owners/occupiers. However, it should always be reported to the relevant local authority. Local councils normally charge a fee for the removal of fly-tipped waste but may launch formal investigations into such incidents and, if successful, reimburse the payment.
The Environment Agency should be contacted if the dumped waste is more than 20 tonnes, contains hazardous material (e.g. asbestos, industrial waste in drums/containers, etc.), and if it might be linked to organised criminal activity.
In May 2016, councils were granted a new power to issue fixed penalty notices as an alternative to the more costly and time-consuming process of court proceedings. Councils can issue such notices for small-scale fly-tipping and decide the penalty according to the seriousness of the offence; the minimum being £120 and the maximum being £400.
Solutions to protect private land/property from fly-tipping include:
About the wiki
Anyone is welcome to use and contribute to the wiki in different ways.
---
[edit] Engaging with the wiki
You can:
Contribute to existing articles
Create articles
Share articles through social media and other channels
Contact the CIRCuIT project to let us know what you think and how we can improve
---
[edit] Add your own content
To contribute to or create an article, you can follow these steps:
Register as a user
Read through the editorial policy and guidance on writing and contributing to articles
See the detailed help page on tips on writing wiki articles
Try editing a test article
If editing an article, select 'Edit this article' underneath the article title
If creating a new article, select 'Create an article'. In the 'Select categories' area, expand the 'Industry context' list and tag 'Circular economy' to add your article to this wiki
---
[edit] Who is this wiki for?
The articles contain information on implementing circular economy approaches in construction that could be relevant to:
Architects
Construction contractors
Designers
Developers, owners, investors
Engineers
Landowners
Manufacturers and supplier
Universities and research
Urban planners
---
[edit] About CIRCuIT
The Circular Economy wiki is supported by the Circular Construction in Regenerative Cities (CIRCuIT) project, which is funded by the European Union's Horizon 2020 research and innovation programme. CIRCuIT is a collaborative project involving 31 ambitious partners across the entire built environment chain in Copenhagen, Hamburg, Helsinki Region and Greater London. Through a series of demonstrations, case studies, events and dissemination activities, the project will showcase how circular construction practices can be scaled and replicated across Europe to enable sustainable building in cities and the transition to a circular economy on a wider scale.