Our waste, our resources: a strategy for England
On 18 December 2018, the Department for Environment, Food & Rural Affairs (DEFRA) and the Environment Agency (EA) launched Our Waste, Our Resources a Strategy for England, a resources and waste strategy to overhaul England's waste system, putting a legal onus on those responsible for producing waste or items that are harder or more costly to recycle including cars, electrical goods, and batteries.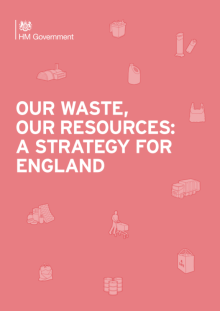 This is the first comprehensive update to the waste strategy in more than a decade, intended to eliminate avoidable plastic waste and improve the environment.
Householders will see the existing recycling system simplified, with plans for a consistent approach to recycling across England. This will ensure weekly collections of food waste, subject to a consultation which will also consider introducing free garden waste collections.
The government will introduce a consistent set of recyclable material for collection, subject to consultation, funded by industry through Extended Producer Responsibility (EPR), which will see industry pay higher fees if their products are harder to reuse, repair or recycle. EPR for packaging will raise between £500 million and £1 billion a year for recycling and disposal.
Other measures may also include:
Launching the strategy at Veolia's recycling centre in London, Environment Secretary Michael Gove said; "Our strategy sets out how we will go further and faster, to reduce, reuse, and recycle. Together we can move away from being a 'throw-away' society, to one that looks at waste as a valuable resource. We will cut our reliance on single-use plastics, end confusion over household recycling, tackle the problem of packaging by making polluters pay, and end the economic, environmental and moral scandal that is food waste."
Richard Kirkman, Veolia's Chief Technology and Innovation Officer, said; "...these steps have the clear potential to dramatically change the way the sector operates to increase recycling and recovery rates… It's the direction we have been hoping and waiting for, and with the public and businesses playing their part the UK can build a sustainable future."
Anna Surgenor, Senior Sustainability Advisor and Circular Economy programme lead at UKGBC said; "UKGBC is already working with Defra and BEIS in this area and we're committed to continuing engagement with them as part of our Circular Economy programme. Construction, demolition and excavation in the UK currently produces a staggering 120 million tonnes of waste each year. This is nearly 60% of all UK waste. There is evidently a huge opportunity for the sector to improve and we support Defra's work with the Green Construction Board to establish a definition of zero avoidable waste in the sector."
You can see the strategy at: https://assets.publishing.service.gov.uk/government/uploads/system/uploads/attachment_data/file/765625/resources-waste-strategy-dec-2018.pdf
The next day, the government published draft clauses for a proposed Environment Bill.
About the wiki
Anyone is welcome to use and contribute to the wiki in different ways.
---
[edit] Engaging with the wiki
You can:
Contribute to existing articles
Create articles
Share articles through social media and other channels
Contact the CIRCuIT project to let us know what you think and how we can improve
---
[edit] Add your own content
To contribute to or create an article, you can follow these steps:
Register as a user
Read through the editorial policy and guidance on writing and contributing to articles
See the detailed help page on tips on writing wiki articles
Try editing a test article
If editing an article, select 'Edit this article' underneath the article title
If creating a new article, select 'Create an article'. In the 'Select categories' area, expand the 'Industry context' list and tag 'Circular economy' to add your article to this wiki
---
[edit] Who is this wiki for?
The articles contain information on implementing circular economy approaches in construction that could be relevant to:
Architects
Construction contractors
Designers
Developers, owners, investors
Engineers
Landowners
Manufacturers and supplier
Universities and research
Urban planners
---
[edit] About CIRCuIT
The Circular Economy wiki is supported by the Circular Construction in Regenerative Cities (CIRCuIT) project, which is funded by the European Union's Horizon 2020 research and innovation programme. CIRCuIT is a collaborative project involving 31 ambitious partners across the entire built environment chain in Copenhagen, Hamburg, Helsinki Region and Greater London. Through a series of demonstrations, case studies, events and dissemination activities, the project will showcase how circular construction practices can be scaled and replicated across Europe to enable sustainable building in cities and the transition to a circular economy on a wider scale.