Strip foundation
Foundations provide support for structures, transferring their load to layers of soil or rock that have sufficient bearing capacity and suitable settlement characteristics.
Very broadly, foundations can be categorised as shallow foundations or deep foundations. Shallow foundations are typically used where the loads imposed by a structure are low relative to the bearing capacity of the surface soils. Deep foundations are necessary where the bearing capacity of the surface soils is not adequate to support the loads imposed by a structure and so they need to be transferred to deeper layers with higher bearing capacity.
Strip foundations (or strip footings) are a type of shallow foundation that are used to provide a continuous, level (or sometimes stepped) strip of support to a linear structure such as a wall or closely-spaced rows of columns built centrally above them.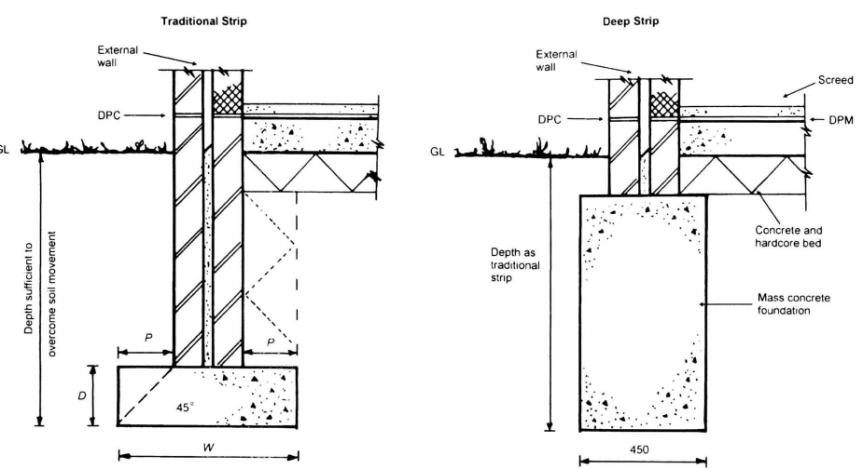 Strip foundations can be used for most subsoils, but are most suitable for soil which is of relatively good bearing capacity. They are particularly suited to light structural loadings such as those found in many low-to-medium rise domestic buildings - where mass concrete strip foundations can be used. In other situations, reinforced concrete may be required.
Older buildings may have brick strip foundations.
Very broadly, the size and position of strip foundations is typically related to the wall's overall width. The depth a traditional strip foundation is generally equal to or greater than the overall wall width, and the foundation width is generally three times the width of the supported wall. This results in the load being transmitted at 45º from the wall base to the soil.
Approved document A of Building Regulations defines minimum widths for strip footings based on the type of ground and load-bearing wall, although it is generally advisable to consult a structural engineer when designing foundations.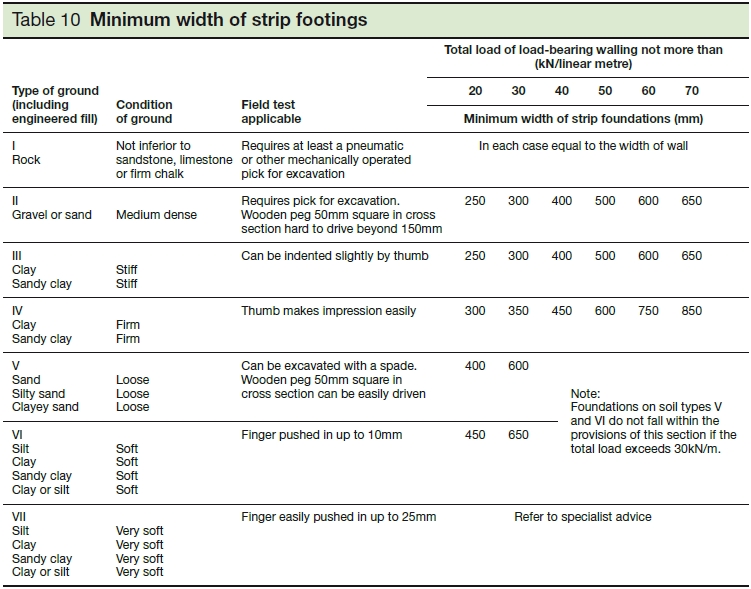 The underside of strip foundations should be deep enough to avoid frost action; for example, at least 450 mm unless they are bearing on rock, and at least 1 m on high shrinkage clays.
Deep strip foundations may be necessary where soil with a suitable bearing capacity is deeper.
Wide strip foundations may be required where the soil is soft or of a low bearing capacity, so as to spread the load over a larger area. Wide strip foundations will typically require reinforcement.
Where there are higher localised loads, such as columns, pad foundations may be used. See pad foundations for more information.
Where ground conditions are poor, settlement is likely, or where it may be impractical to create individual strip or pad foundations for a large number of individual loads, raft foundations may be used. See Raft foundations for more information.
Where the bearing capacity of the surface soils is not adequate to support the loads imposed by the structure, deep foundations such as pile foundations may be used. See Pile foundations for more information.
Larger or more complex buildings may involve the use of a number of different types of foundation.
Additional guidance is available in BRE's Simple foundations for low-rise housing: 'rule of thumb' design.
[edit]
Find out more
IHBC NewsBlog
IHBC hosts stand at 50th Anniversary conservation area celebration in Cambridge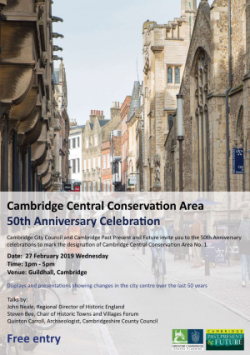 Free CPD and more on 27 February at Cambridge's Guildhall: all welcome though with the evening event by prior booking only…
---
IHBC welcomes top lawyer double-up to the 2019 Annual School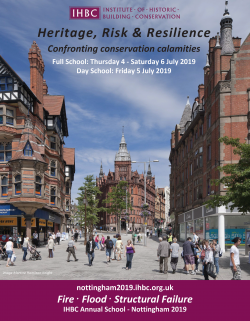 Charles Mynors and Nigel Hewitson: '… on legal issues around conservation calamities'!
---
More speakers announced for IHBC 2019 Day School
'Structures and structural failure' at IHBC's Nottingham School, with Ed Morton (ex Canterbury, York and Westminster to St Paul's) and John Ruddy.
---
IHBC HESPR top pick from £10.2M+ costed work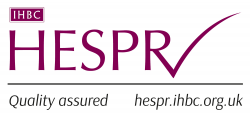 RSPB Scotland, seeks developer of 'micro-adventure with heritage interpretation' ('Wanderings and Windings'), closing 11/03, value £9000.
---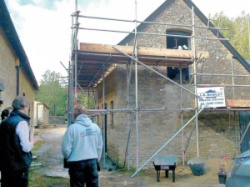 An ethnographic approach to conservation from Tom Yarrow in Context – with an 'energy twist', from the Trobriand Islands to Scotland.
---
Ageing gracefully - restorations which retain historical decay.
---
Survey on the importance of high quality design in building - Civic Voice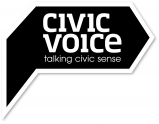 Following the government's launch of the Building Better, Building Beautiful Commission in Dec 2018 Civic Voice has launched a survey to assist in its submission.
---
Funding deal agreed to build homes on London rooftops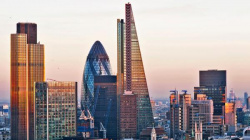 Government backa a project to build rooftop properties in London on the top of existing buildings - part of a £500m project for 11K+ affordable properties across the country…
---
RIBA publishes latest future trends survey results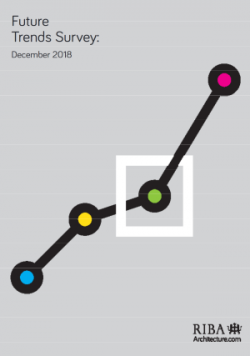 The latest RIBA survey of architects indicates a considerable fall in optimism about their future workload.
---
£38 million T Level Capital Fund launched for England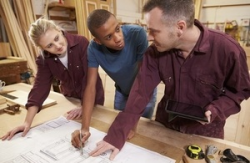 From 2020 young people taking T Levels – the technical equivalent of A levels - will benefit from a £38 million funding boost.
---
MHCLG on Construction Products Regulation in the event of no Brexit deal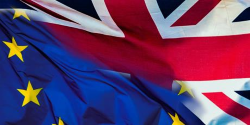 MHCLG has provided guidance with practical information on the legal requirements that would be required in a no deal scenario in relation to construction products.
---
Centre for Cities think tank reveals that British cities bear the brunt of austerity

The Centre for Cities think tank has called for an end to local government austerity as it reveals that Whitehall cuts have hit cities twice as hard as the rest of Britain.