Permeable pavements
[edit]
Introduction
A pavement with base and sub-base that allows the water to infiltrate or pass through the surface is known as Permeable Pavement. It not only helps to reduce the surface run off but also effectively traps the pollutants and solid particles in the water avoiding ground water pollution.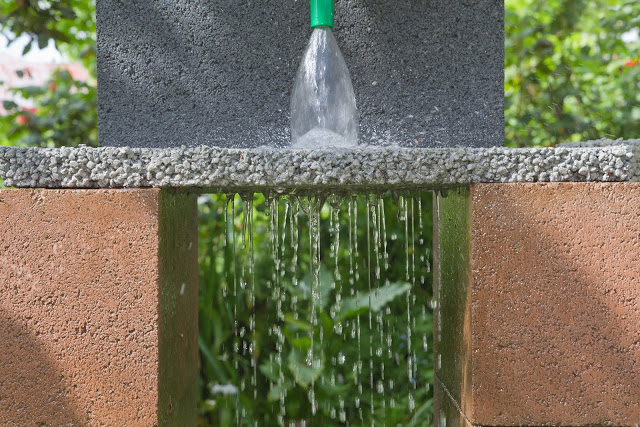 Evaporation of water at or below the surface also produces surface cooling, as opposed to the traditional heating of paved areas. This is especially beneficial in cities which experience extremely high temperatures in summer – traditional "blacktop" temperatures can make some public spaces unusable in warmer weather.
Generally, permeable pavement structures consists of a pervious / permeable surface course which may be of Asphalt concrete or Portland cement concrete laid over a layer of fine aggregates, which acts as a filter layer for infiltrating storm or rain water. Underneath this filter layer is a uniformly-graded gravel course to store water, which ultimately penetrates into the ground. General design practice requires an un-compacted natural ground, which allows relatively easier discharge of water avoids any standing water under the pavement structure that may cause structural failure.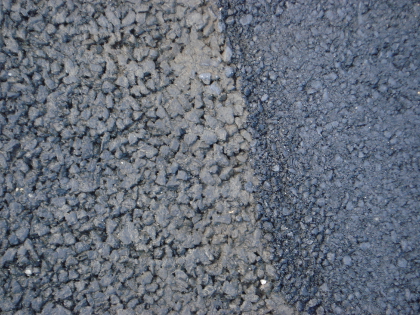 Permeable pavements are generally recommended for residential, commercial and urban areas but not highways, motorways and streets with heavy traffic loading as these pavements are not designed with structural capacities to support such loads.
[edit]
Advantages
Permeable pavements offer many benefits, both aesthetic and practical. Some of the benefits are listed below:
Reduces storm water runoff, total water volume, and flow rate.
Treats water runoff.
Increases groundwater infiltration and recharge.
Provides local flood control.
Improves the quality of local surface waterways.
Reduces soil erosion.
Reduces the need for traditional storm water infrastructure, which may reduce overall project costs.
Increases traction when wet.
Reduces splash-up in trafficked areas.
Extends the life of paved areas in cold climates as there is less cracking and buckling from the freeze-thaw cycle.
Reduces the need for salt and sand use during the winter, as there is little or no black ice.
Requires less snow-plowing.
Reduces groundwater pollution.
Offers evaporative cooling.
[edit]
Disadvantages
Some of the disadvantages associated with these pavements are:
Highly contaminated runoff can be generated by some land uses where pollutant concentrations exceed those typically found in storm water.
In cold climates, salts used for the removal of snow, contains chlorides that could migrate through the porous pavement into groundwater.
Frequent maintenance is required to prevent the blockage of pores.
Additional maintenance cost compared to conventional pavement.
IHBC NewsBlog
Alnwick Civic Society thanks IHBC and Civic Voice etc
Alnwick Civic Society has secured £6,600 for a special publishing project on local 'Heritage Heroes', thanks to seed-funding from the IHBC and Civic Voice.
---
New DBW post on understanding dampness from IHBC Context
The article from IHBC's 'Green Retrofit' Context by John Edwards and Peter Ward, is now DBW through the IHBC's Conservation Wiki resource.
---
Five towns and cities shortlisted for UK City of Culture 2021
Coventry, Paisley, Stoke-on-Trent, Sunderland and Swansea have been shortlisted to host UK City of Culture 2021.
---
Jodrell Bank's Mark II telescope gets Grade I listed status
Jodrell Bank's second largest radio telescope has been given Grade I listed status for its pioneering role in radio astronomy.
---
New Generation Thinkers scheme 2018 from the Arts and Humanities Research Council
The pioneering scheme aims to develop a new generation of academics to bring the best university research and scholarly ideas to a broad audience.
---
National Churches Trust - five point plan to secure the future of UK church buildings
Prioritise maintenance, create community centres, add to the visitor and tourist map,

create a one-stop shop for churche funding and open church buildings every day.

---
IHBC Belfast 2018 preamble: Titanic Quarter project gets £29m
The co-owner of the project has injected another £29m into the business, ensuring that there will be even more to consider at the IHBC 2018 School in Belfast in June.
---
Halifax Piece Hall opens after £19m regeneration
The UK's only surviving 18th Century cloth trading hall has re-opened after a £19m restoration.
---
Historic Environment Scotland Blog - work to unroofed nave at Dunkeld Cathedral
The stone of the nave is vulnerable to changing climate but specialist conservation teams are working to protect it – from 1920 into Scotland's Year of History, Heritage and Archaeology.