Permeable pavements
[edit]
Introduction
A pavement with base and sub-base that allows the water to infiltrate or pass through the surface is known as Permeable Pavement. It not only helps to reduce the surface run off but also effectively traps the pollutants and solid particles in the water avoiding ground water pollution.
Evaporation of water at or below the surface also produces surface cooling, as opposed to the traditional heating of paved areas. This is especially beneficial in cities which experience extremely high temperatures in summer – traditional "blacktop" temperatures can make some public spaces unusable in warmer weather.
Generally, permeable pavement structures consists of a pervious / permeable surface course which may be of Asphalt concrete or Portland cement concrete laid over a layer of fine aggregates, which acts as a filter layer for infiltrating storm or rain water. Underneath this filter layer is a uniformly-graded gravel course to store water, which ultimately penetrates into the ground. General design practice requires an un-compacted natural ground, which allows relatively easier discharge of water avoids any standing water under the pavement structure that may cause structural failure.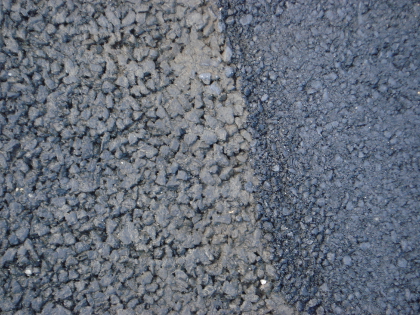 Permeable pavements are generally recommended for residential, commercial and urban areas but not highways, motorways and streets with heavy traffic loading as these pavements are not designed with structural capacities to support such loads.
[edit]
Advantages
Permeable pavements offer many benefits, both aesthetic and practical. Some of the benefits are listed below:
Reduces storm water runoff, total water volume, and flow rate.
Treats water runoff.
Increases groundwater infiltration and recharge.
Provides local flood control.
Improves the quality of local surface waterways.
Reduces soil erosion.
Reduces the need for traditional storm water infrastructure, which may reduce overall project costs.
Increases traction when wet.
Reduces splash-up in trafficked areas.
Extends the life of paved areas in cold climates as there is less cracking and buckling from the freeze-thaw cycle.
Reduces the need for salt and sand use during the winter, as there is little or no black ice.
Requires less snow-plowing.
Reduces groundwater pollution.
Offers evaporative cooling.
[edit]
Disadvantages
Some of the disadvantages associated with these pavements are:
Highly contaminated runoff can be generated by some land uses where pollutant concentrations exceed those typically found in storm water.
In cold climates, salts used for the removal of snow, contains chlorides that could migrate through the porous pavement into groundwater.
Frequent maintenance is required to prevent the blockage of pores.
Additional maintenance cost compared to conventional pavement.
IHBC NewsBlog
IHBC extends private sector support for applicants
Free IHBC CPD 'MATE's (Membership Application Training Events) update, for a CgMS audience who welcomed the pilot as '… an excellent, bespoke seminar.….'
---
IHBC welcomes new research on Local Planning Authority Urban Design services
Research by a team at UCL Bartlett School of Planning, supported by the Urban Design Group confirms that England's housing delivery is threatened by design skills shortage.
---
Scottish Civic Trust launches IHBC supported Annual Conference on 27 November
The conference celebrates both 50 years of conservation areas and the 50th anniversary of the Trust, with reduced rates offered to IHBC members attending in Glasgow on 27/11.
---
IHBC HESPR's top pick from £600,000 of costed work this week
IHBC's heritage business listing, HESPR, highlights a call through ChurchCare for an accredited architect for a quinquennial inspection of a Leicestershire church - closes 27/10.
---
IHBC CPD boost - mimetic architecture scandal with bribery and corruption
DBW features US Teapot Dome Service Station and its scandal-struck background, the Teapot Dome Scandal of 1921-22 which involved bribery and corruption.
---
Work on Cardiff Coal Exchange examined to see if it goes beyond planning consent
Wales online reports that Cardiff council is examining whether the Coal Exchange developer is carrying out work without planning consent.
---
RTPI World Town Planning Day 8 Nov 2017 - Schools Competition
The competition to mark World Town Planning day and its theme - 'How would you make your local place more inclusive resilient and sustainable?, closes on 8/11.
---
Impact of Brexit and local authority role to be examined by Commons Select Committee
Calls relating to the 'Brexit and Local Government' inquiry into which powers currently held by the EU could be transferred to town halls after the UK's exit closes on 14/11.
---
Bolton Beehive Mills demolition plan to go ahead as Government cancels planning inquiry
The Beehive Mills, in Great Lever, Grade II Listed, will be demolished sooner than expected after a Government inquiry into plans to build homes on the site was cancelled.
---
Blackpool piers placed on WMF heritage watch list
Blackpool's 3 piers - including the GII listed North Pier - have been put on the 2018 'at risk' list due to the threats from the effects of climate change and changing tourism.