Library of Celsus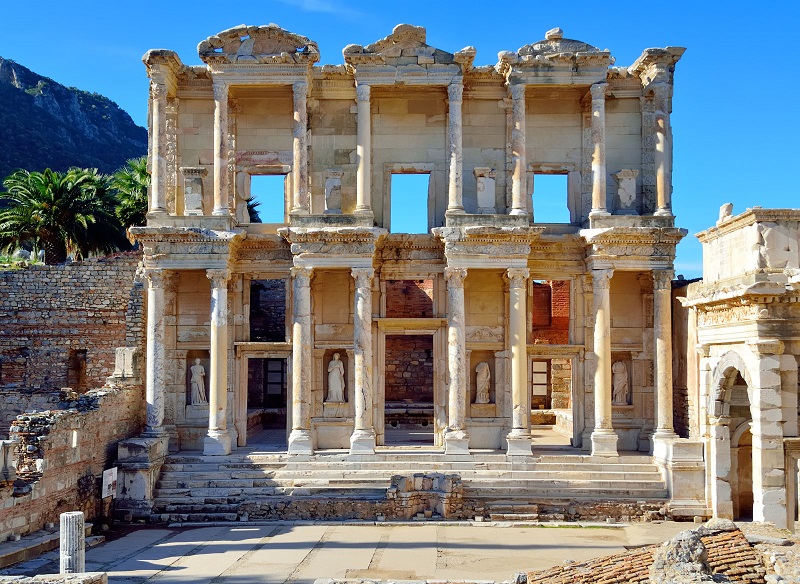 [edit]
Introduction
The Library of Celsus is an ancient Roman building in the historic city of Ephesus, Turkey. It is considered one of the most beautiful surviving structures of its time.
The well-planned, balanced and ornate style of the library reveals the influence ancient Greek architecture had on Roman designs. As well as this, the materials – brick, concrete, mortared rubble – were those that were first used c. 2nd century AD.
The Library was built from 114-117 AD as a monumental tomb for the Roman Senator Tiberius Julius Celsus Polemaeanus, governor of the province of Asia, who financed the construction using his considerable wealth. His grave was interred beneath the ground floor of the library with a statue of Athena (goddess of wisdom) positioned over it.
As one of the most impressive buildings in the Roman Empire, the library was capable of storing 12,000 scrolls, making it the third largest library in the ancient world, behind Alexandria and Pergamum.
The library was designed by Roman architect Vitruoya, and is typical of the architectural style prevalent in the period 76-138 AD under Emperor Hadrian. It was built on a platform with nine steps spanning the full 21 m width of the building leading up to three front entrances. The surviving façade is two storeys in height and decorated with relief carvings.
Four pairs of marble columns flank the entrances. They are a composite of the Ionic and Corinthian orders (each based on a separate quadrilateral pedestal and ending in complex capitals). Corinthian columns stand directly above, framing the windows. The columns at either side of the façade are slightly shorter than those in the centre, creating an illusion that the building is bigger than it actually is.
As was typical of ancient Greek theatre architecture, the columns create niches which house copies of the four original statues representing wisdom, intelligence, knowledge, and virtue.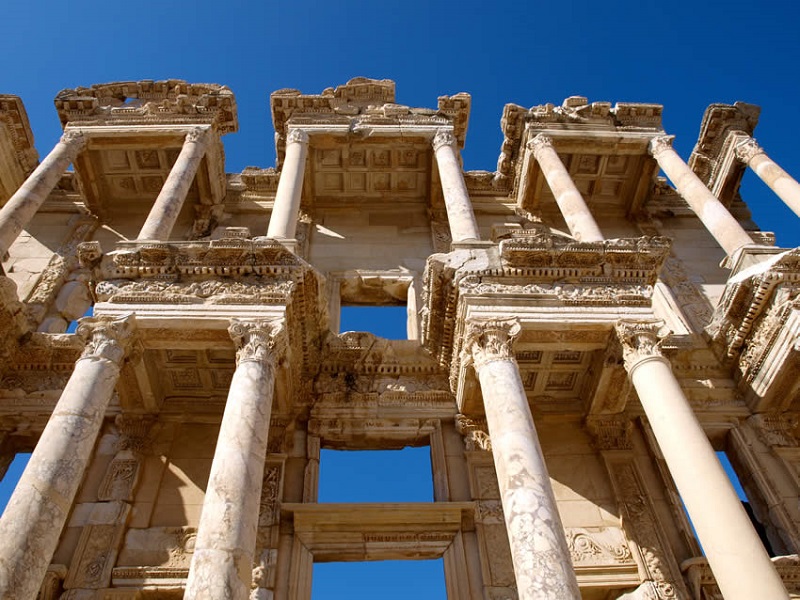 The building's interior housed a single rectangular room, 17 x 11 m, with a central apse framed by a large arch, all paved with decorated marble. The three sides were fitted with rectangular recesses for shelving to hold the scrolls.
At the second-storey level, a railed balcony ran around the interior wall, providing access to higher level recesses that could be reached using a set of stairs built into the walls. The ceiling was flat but it is thought there may have been a central square oculus to provide natural light.
[edit]
Reconstruction
The library interior was destroyed in 262 AD, either by earthquake or by a fire during a Gothic invasion. The façade was the only part of the library to survive, but this too was destroyed by an earthquake in the 10th or 11th century.
It lay in ruins for many centuries until 1970-78, when the German archaeologist Volker Michael Strocka led a reconstruction campaign. Using the process of anastylosis, the façade was successfully rebuilt, replacing missing fragments (such as the statues which had been acquired by a Viennese museum) with copies or leaving them absent.
[edit]
Find out more
IHBC NewsBlog
IHBC South Branch Conference - Yearning for Timelessness


The conference on October 26 will look at 'Modern architecture in historic settings' with expert talks and site visits offering top-notch CPD with exceptional settings.
---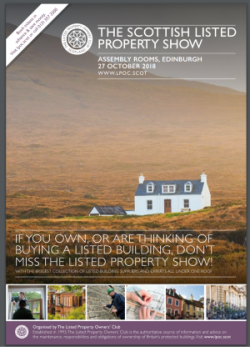 Don't forget your free IHBC CPD & more for members and colleagues: 27 Oct, Edinburgh (Book ahead for free entry) with IHBC Scotland.
---
Topical CPD focusing on curtilage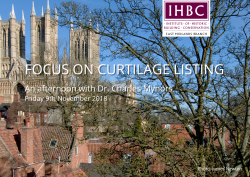 IHBC East Midlands branch will be hosting an afternoon with Charles Mynors, the leading authority on heritage law, on Friday 9 November in the Lincoln City Council Chamber.
---
IHBC Belfast School Context now out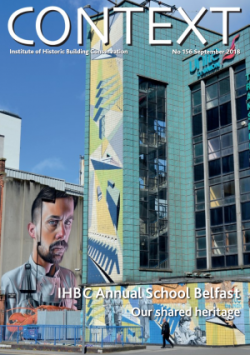 'Our shared heritage', with thanks to all, including Main School Sponsor and HESPR member 'Heritage Collective'.
---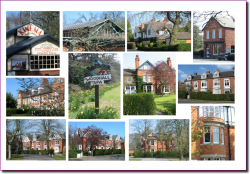 Lincolnshire local authority's 'national first' offers a new approach to Conservation Area controls – two Article 4 Directions with a Local Development Order (LDO).
---
IHBC's Policy Chair Roy Lewis notes the award of costs against Lambeth Council in a recent appeal which emphasises the importance of doing site visits!
---
IHBC - VAT reminder - LPOC Campaign 10K target signatures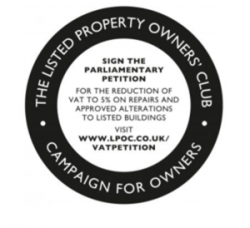 Sign the LPOC's petition to the Chancellor if you agree with the IHBC, that '…it is perverse that repairs should be subject to VAT when new development is not'.
---
IHBC HESPR top pick from £205K+ costed work this week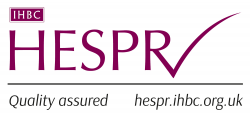 Braintree DC seeks Conservation Area Appraisals – closing 26/10, valued £10-25,000.
---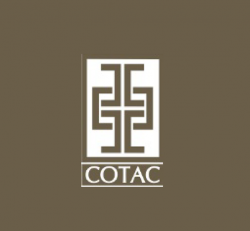 COTAC, the Council on Training in Architectural Conservation, seeks trustees with notes of interest by 15 November.
---
FMB says MAC recommendations would cripple construction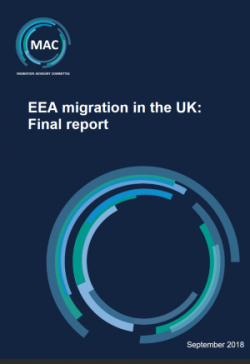 The Migration Advisory Committee's recommendations for new immigration policy post-Brexit, would cripple the construction industry, says Federation of Master Builders.
---
New government investment aimed at overcoming barriers to building in England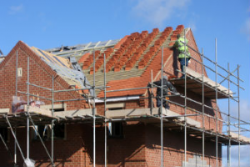 Government has established investment to tackle issues on potential housing sites and get homes built in parts of England where they may be most needed.
---
IHBC Heritage from the doorstep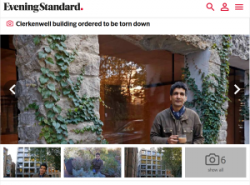 The Evening Standard has reported that an architect has been ordered to tear down award winning £4.65m home in Clerkenwell.
---
HE National Capacity Building Programme launched – closing 4/11
Historic England has launched the programme for projects running for 1 year max with a deadline for submitting grant applications 4/11/18 and funding to begin from 1/04/19.
---
Planning (Scotland) Bill – Briefing by BEFS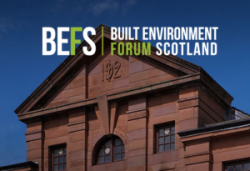 Built Environment Forum Scotland (BEFS) has issued a briefing on the Planning (Scotland) Bill.
---
England's youngest Civic Society chair elected to Birmingham Civic Society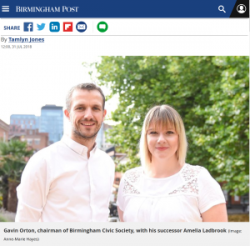 26 year old Amelia Ladbrooke has been elected as the chair of Birmingham Civic Society, and is the youngest ever Civic Society chair in England.
---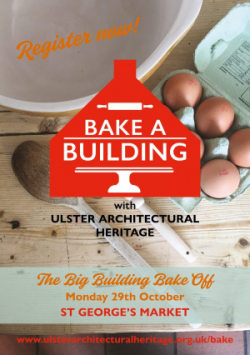 Ulster Architectural Heritage (UAH) and Food NI invite you to BAKE A BUILDING for the Big Building Bake Off at St. George's Market, 29 October 12-3pm.