Library of Celsus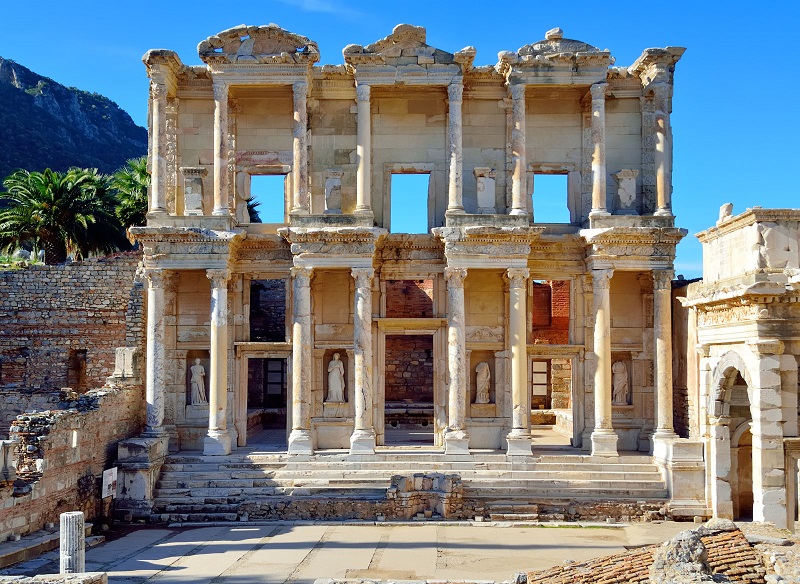 [edit]
Introduction
The Library of Celsus is an ancient Roman building in the historic city of Ephesus, Turkey. It is considered one of the most beautiful surviving structures of its time.
The well-planned, balanced and ornate style of the library reveals the influence ancient Greek architecture had on Roman designs. As well as this, the materials – brick, concrete, mortared rubble – were those that were first used c. 2nd century AD.
The Library was built from 114-117 AD as a monumental tomb for the Roman Senator Tiberius Julius Celsus Polemaeanus, governor of the province of Asia, who financed the construction using his considerable wealth. His grave was interred beneath the ground floor of the library with a statue of Athena (goddess of wisdom) positioned over it.
As one of the most impressive buildings in the Roman Empire, the library was capable of storing 12,000 scrolls, making it the third largest library in the ancient world, behind Alexandria and Pergamum.
The library was designed by Roman architect Vitruoya, and is typical of the architectural style prevalent in the period 76-138 AD under Emperor Hadrian. It was built on a platform with nine steps spanning the full 21 m width of the building leading up to three front entrances. The surviving façade is two storeys in height and decorated with relief carvings.
Four pairs of marble columns flank the entrances. They are a composite of the Ionic and Corinthian orders (each based on a separate quadrilateral pedestal and ending in complex capitals). Corinthian columns stand directly above, framing the windows. The columns at either side of the façade are slightly shorter than those in the centre, creating an illusion that the building is bigger than it actually is.
As was typical of ancient Greek theatre architecture, the columns create niches which house copies of the four original statues representing wisdom, intelligence, knowledge, and virtue.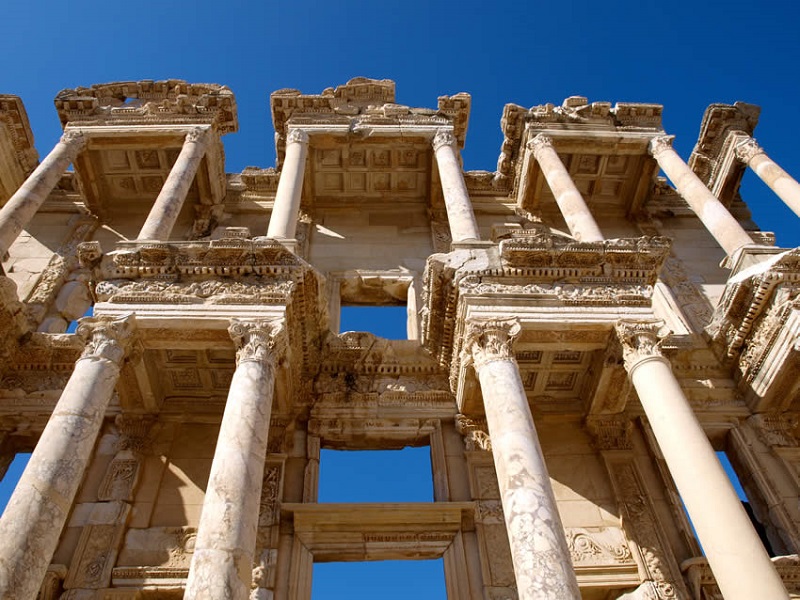 The building's interior housed a single rectangular room, 17 x 11 m, with a central apse framed by a large arch, all paved with decorated marble. The three sides were fitted with rectangular recesses for shelving to hold the scrolls.
At the second-storey level, a railed balcony ran around the interior wall, providing access to higher level recesses that could be reached using a set of stairs built into the walls. The ceiling was flat but it is thought there may have been a central square oculus to provide natural light.
[edit]
Reconstruction
The library interior was destroyed in 262 AD, either by earthquake or by a fire during a Gothic invasion. The façade was the only part of the library to survive, but this too was destroyed by an earthquake in the 10th or 11th century.
It lay in ruins for many centuries until 1970-78, when the German archaeologist Volker Michael Strocka led a reconstruction campaign. Using the process of anastylosis, the façade was successfully rebuilt, replacing missing fragments (such as the statues which had been acquired by a Viennese museum) with copies or leaving them absent.
IHBC NewsBlog
IHBC Chair & Vice Chair join Civic Societies APPG on Conservation Areas – London 8/5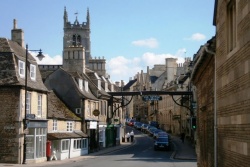 The meeting will look at how communities can play a greater role in managing their local conservation area and with the social media handle #myconservationareamatters.
---
Reminder: Promote your business, service or operations at the IHBC's 2018 School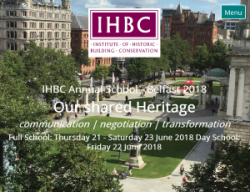 Great value, from leaflet distribution and exhibition space to sponsorship!
---
IHBC 2018 School CPD special offer with Yale University Press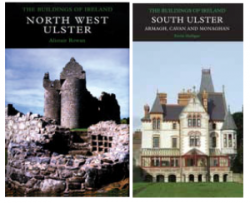 Pevsner Architectural Guides to Ulster - £15 off the pair, free post.. and more for School delegates when purchased together from the Yale Books.
---
IHBC 2018 School bursaries still available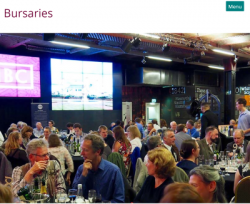 Bursary places still available for IHBC's 2018 School in Belfast on 21-23 June, themed on 'Shared Heritage' – offering some of the best heritage learning and CPD around.
---
IHBC Context out - Isle of Man themed in a 64 page issue with lots more for your CPD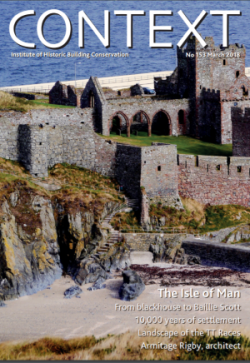 Latest IHBC membership journal is themed around the Isle of Man, combining distinctive national histories and resources with heritage and conservation challenges.
---
New Welsh HE consultations include listed places of worship and scheduled monuments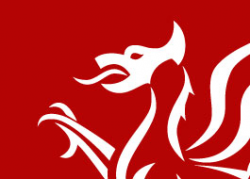 This third public consultation linked to the implementation of the Historic Environment (HE) (Wales) Act 2016 closes on 13 July.
---
Saltire Infrastructure Awards 2018 now open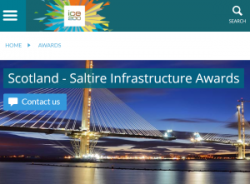 Showcasing engineering excellence in Scotland the Award entries close Friday 25 May.
---
Industry-supported new CITB Training Model launched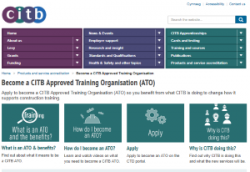 A transformative new system to access training and grant from the Construction Industry Training Board (CITB) has been launched.
---
IHBC CPD boost - Historic England offers Heritage Planning Case Database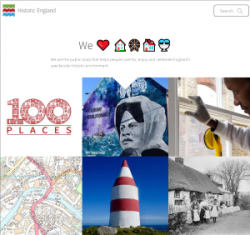 HE maintains a searchable online database of appeal and call-in decisions relating to planning permissions affecting heritage assets and listed building consent.
---
Design Council and Social Change UK launch Healthy Placemaking report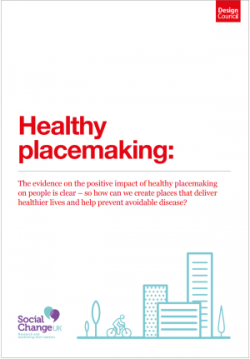 The report highlights the outcomes from their survey of over 600 UK built environment practitioners offering insight and understanding on healthy placemaking.
---
New plan unveiled for Edinburgh UNESCO World Heritage Site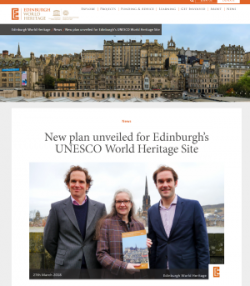 The plan includes commitments to improve the quality of new development, better manage tourism growth, and deepen residents' awareness and understanding of the site.
---
Wales publishes report on recent inquiry into the historic environment
Culture, Welsh Language and Communications Committee of the National Assembly has published its report entitled 'Past & Present: Inquiry into the Historic Environment'.
---
HE tweets and responds on picture of Nelson's Column being bulldozed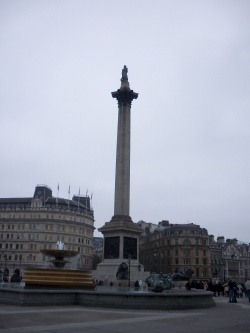 Historic England (HE) has apologised after posting a message online interpreted by some as suggesting that Nelson's Column should be bulldozed.