Becoming Jane Jacobs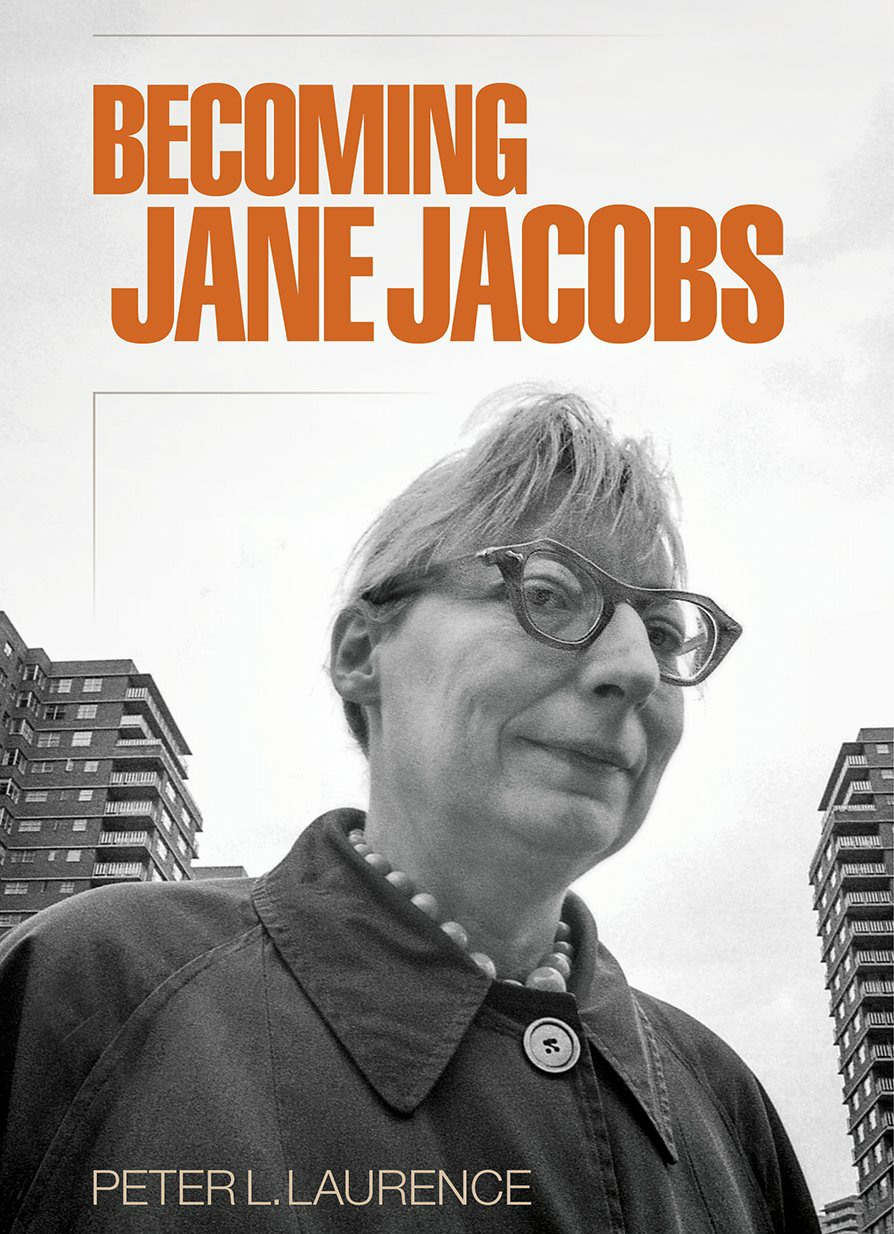 Becoming Jane Jacobs, Peter L Laurence, University of Pennsylvania Press, Philadelphia, 2016, 365 pages, 50 black and white illustrations.
A man with a cold went to the doctor, demanding a cure. When told there was no cure for the common cold, the doctor advised sleeping with the windows open, although it was winter, and letting the cold air rush through. The patient retorted: 'I might get pneumonia!' 'Exactly!' the doctor replied, and, glancing at his medicine cabinet, said: 'We know how to cure that!'
Jane Jacobs told this story in 1957 as a parable of urban renewal in New York. The city authorities should have seen their job as being preserving and improving healthy neighbourhoods, she wrote, but they did not know how to do that. So they came up with a much more drastic, and simple, remedy: redevelopment. The effect was that people who had lived in slums often ended up moving to slums elsewhere, and the huge housing projects soon failed to provide good places to live for anyone.
A few years ago the Urban Design Group asked its members to name the person, living or dead, whose contribution to urban design and planning they most admired. A large majority chose Jane Jacobs (1916–2006), the campaigner and writer best known for her 1961 book 'The Death and Life of Great American Cities'. Jacobs was neither an architect nor a planner, and she had no university education. Who was she?
Peter L Laurence answers that question with this magnificent intellectual biography of the first half of Jacobs' life. As an architectural writer, based at that time in New York, she at first subscribed to the beliefs of many architects and planners in modernism and large-scale redevelopment. Gradually, though, her examination of the places that were being built persuaded her that contemporary planning was fatally flawed.
She was not developing her ideas in isolation. A 1952 issue of 'Architectural Forum', published shortly before Jacobs joined its staff, welcomed what it called 'The Philadelphia cure'. The six essential points of this new approach to urban redevelopment were:
Smaller redevelopment areas;
Minimising the dislocation of present inhabitants;
Preserving an area's social institutions;
Engaging architects skilled in urban design; and
Preserving historic buildings and neighbourhood structures.
These were radical ideas in 1952 (the design and planning professions having forgotten that Patrick Geddes had advocated them as early as the 1880s). It turned out that Jane Jacobs had the passion and intellect not only to develop and communicate such ideas highly effectively, but to take on Robert Moses in live planning battles. He was the powerful public official responsible for New York's huge public housing schemes of the 1940s and 50s, and for expressways in New York City and State from the 1930s to the 60s. 'When you operate in an overbuilt metropolis,' Moses explained, 'you have to hack your way with a meat axe.'
Jacobs recalled Moses' outburst at a meeting at which she and her fellow campaigners protested at his latest highway-building plan. 'There is nobody against this,' he shouted. 'Nobody, nobody, nobody, but a bunch of mothers.' Laurence has done a good job of dispelling the inaccurate image of Jacobs as a feisty, untutored amateur that has had some traction over the years. In recording her development as a thinker and writer in the thick of the academic and professional life of her time, he shows in fascinating detail some of the origins of modern planning, conservation and urban design.
---
This article originally appeared as 'Put away the meat axe' in Context 167, published by the Institute of Historic Building Conservation (IHBC) in March 2021. It was written by Rob Cowan, editor of Context.
--Institute of Historic Building Conservation
IHBC NewsBlog
BRE/BEIS project to modernise home energy rating scheme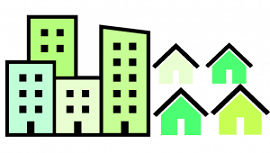 The Building Research Establishment (BRE) has announced a new project with the Department for Business, Energy and Industrial Strategy (BEIS) to improve and modernise the home energy rating scheme used to measure the energy and environmental performance of UK homes.
---
Interdisciplinary IHBC accreditation recognised by CSCS for PQP Cards

Sector lead the Construction Skills Certification Scheme (CSCS) has recognised the IHBC's professional accreditation and support (CPD etc.) in awarding its PQP (Professionally Qualified Person) cards.
---
IHBC Heritage Marketplace provides learning-led virtual engagement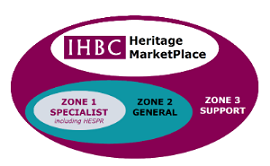 The IHBC's 2022 Aberdeen School Heritage MarketPlace (4.30-7.30PM, 15 June) is designed to extend the scope of a traditional IHBC School exhibition floor.
---
Unearthing the history of Gloucester's 'the Fleece' Hotel starts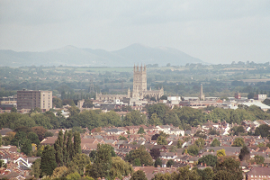 Work to repair a fire-hit medieval hotel in Gloucester is underway as crews have started work to strip back some of the modern trappings and reveal the historic framework.
---
Booking Open for IHBC Annual School: Aberdeen, 16-18 June 2022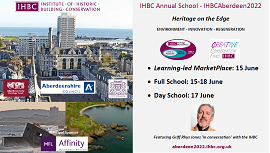 Options for in-person and virtual delegates to explore 'heritage on the edge' across up to 4 days of IHBC engagement & learning.
---
European Heritage Heads Forum statement on Ukraine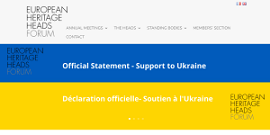 The Secretariat to the European Heritage Heads Forum has has coordinated its declaration of solidarity and support for Ukraine's cultural heritage institutions.
---
Welcome to #IHBC25 – 25 years since we turned professional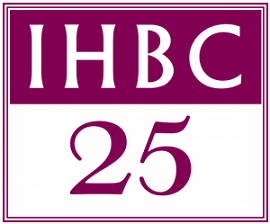 2022 will see the IHBC mark a quarter of a century since our incorporation as a professional body supporting and accrediting built and historic environment conservation specialists. We're kick-starting it by inviting your ideas on how to mark this special year!
---
IHBC launches new Guidance Note on 'Design sources for historic building conservation'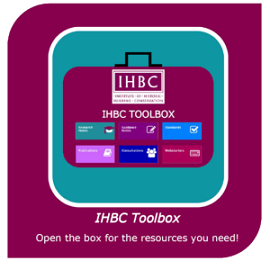 The IHBC's latest Guidance Note adds to the institute's open-access, online practitioner's Toolbox.
---
England's communities empowered to shape design of neighbourhoods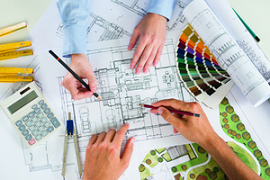 Twenty-five areas in England from Bournemouth to Carlisle have been awarded a share of £3 million to help them set their own standards for design locally. "move from a vicious circle of generic development to a virtuous circle of regenerative development".
---
IHBC at COP26 - Conserving our Places Conserves our Planet - Podcast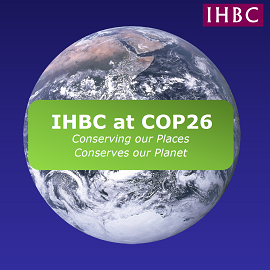 The IHBC seeks to raise awareness and understanding of how building conservation philosophy and practice contributes towards meeting the challenge of climate change.