Howell Killick Partridge and Amis
This article originally appeared as 'Vertebrate architecture' in IHBC's Context 152, published in November 2017. It was written by Peter de Figueiredo, heritage consultant.
---
Howell Killick Partridge and Amis, Geraint Franklin, RIBA Publishing, 2017, 218 pages, numerous colour and black & white illustrations, paperback.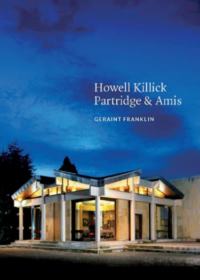 After a five-year hiatus, the enterprising series Twentieth Century Architects, produced by Historic England, the Twentieth Century Society and RIBA Publishing, has been revived. Howell Killick Partridge and Amis (HKPA) is the 12th architectural practice to be treated to a monograph, and not before time.
The four architects first worked together at London County Council, where they designed the celebrated Roehampton Lane (Alton West) estate (1955–60). Much influenced by Le Corbusier's Unités, it was described at the time by the American critic George Kidder Smith as 'probably the finest low-cost housing development in the world'. Unlike other high-rise schemes of the post-war period it has stood the test of time. On the strength of this project, Howell, Killick, Partridge and Amis left the LCC to set up their own practice, attracting attention for their second-placed entry in the Churchill College, Cambridge, competition, which many felt should have been the winner.
There followed a series of educational projects at Oxford and Cambridge during the 1960s, and at other universities and learning establishments. With these buildings they developed a distinctive style, based on expression of structure and vigorous modeling of surfaces. They pioneered the use of pre-cast concrete, often with exposed aggregate finishes, and exploited the raw texture of timber and other materials. Several of these buildings, including the monumental Hilda Besse Building at St Antony's College, Oxford, the Acland Burghley School at Tufnell Park, London, and the Mathematics Research Centre Houses at the University of Warwick, are now listed, the latter at Grade II*.
Unlike other architects who could be classified as embracing brutalism, however, they had a sensitive understanding of context, and Geraint Franklin reveals the breadth of their historic sources. In a series of lectures in 1970, Howell explained their theories around 'vertebrate buildings' which could be read as a series of structured spaces, and which underpinned the organisation and structural expression of all their work. Howell found prototypes in Celtic beehive tombs, Gothic structural engineering, the Crystal Palace and Buckminster Fuller's Domes.
After two introductory chapters, the book is divided into sections dealing with different building types. From Roehampton onwards, residential buildings were an abiding interest of the team members, and the sociological concerns of Jane Jacobs became an important influence. The performing arts were a specialist area in which they excelled, the Young Vic and Regent's Park Theatres being pioneers of flexible planning and elemental design.
The political shift in the 1970s and 80s from spending on higher education to law and order led to HKPA taking commissions for courthouses, prisons and work for the defence sector. The scale of projects changed too, the massive Devonport Dockyard complex, housing nuclear submarines, and Belmarsh Prison being among their most notable achievements. Their most complex vertebrate structure was the Hall of Justice, Trinidad, a tough but elegant solution to the tortuous problems of planning criminal courts, which was completed in 1985.
When establishing the practice, the partners thought that they would all retire on the same day, but the early deaths of Killick in 1971 from multiple sclerosis, and Howell in a car accident in 1974, had a profound effect. Amis retired in 1989, and Partridge, who was never comfortable with the values of the Thatcher era, finally wound up the practice in 1995. The book is illustrated with archive photos, plans and striking new images by the Historic England photographer James O Davies, and comes with a set of post cards and a fold-out strip featuring eight staircases designed by HKPA. Franklin's incisive and sympathetic analysis of one of the most important architectural practices of the 20th century has been worth waiting for.
---
This article originally appeared as 'Vertebrate architecture' in IHBC's Context 152, published in November 2017. It was written by Peter de Figueiredo, heritage consultant.
--Institute of Historic Building Conservation
Find out more
IHBC NewsBlog
IHBC FREE CPD Boost - Easy Access Webinar from Historic England and the IHBC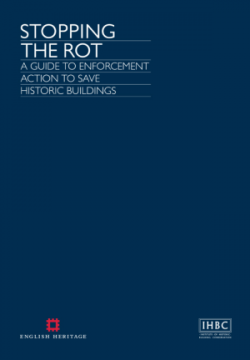 'Enhancing conservation areas & townscapes with S.215s', 13 December - numbers limited so book now!
---
IHBC Out of Context - CPD check-up and prize


'Who said that and what would you say back? FREE BS7913 for the best responses…
---
IHBC CPD boost: bite-sized briefings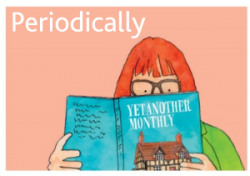 'Periodically', Bob Kindred's bite-sized briefings from the best of current heritage handbooks.
---
IHBC CPD Green Issue QuickQuiz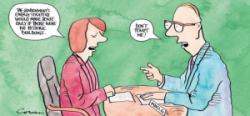 Do you know the ABCs of EPCs?
---
IHBC CPD Green Issue QuickQuiz Part 2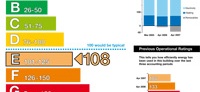 Do you know the ABCs of EPCs? - The answers! You tested your knowledge on energy performance certificates (EPC's) in the last Newsblog so now see how well you did!
---
IHBC at Listed Property Show London 2019 – FREE CPD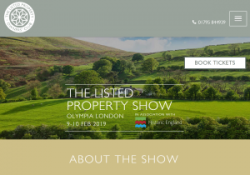 4 hours free CPD via IHBC and partners + lots more at the show in association with Historic England, on 9-10 February 2019 at London's Olympia.
---
IHBC launches new Toolbox Guidance Note for small traders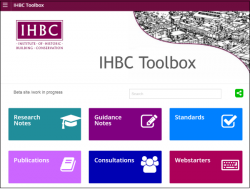 IHBC's latest Guidance Note in our Toolbox aims to provide sole practitioners and small traders with advice on taking on new work, offering 'Ten Red Flags' to watch out for.
---
Scotland - Historic Environment Audit (SHEA) 2018 is now out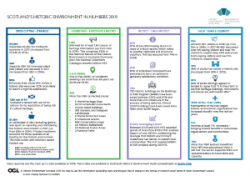 HES lead officer, Karen Robertson, has offered her personal blog looking at the trends and findings.
---
Slate Landscape of North-West Wales - preferred UNESCO World Heritage Site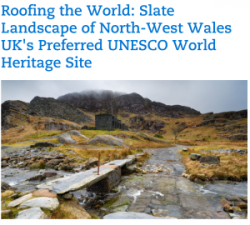 The Slate Landscape of North-West Wales will be the UK's next preferred nomination for UNESCO World Heritage Site status, Heritage Minister Michael Ellis announced recently.
---
Draft Parliamentary Buildings (Restoration and Renewal) Bill for Palace of Westminster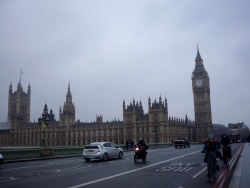 The draft Bill has been presented to allow 'interested parties the opportunity to consider the approach taken to the governance of the Restoration and Renewal Programme'.
---
APPG for Healthy Homes & Buildings White Paper published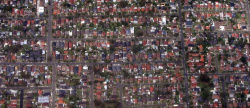 The White Paper highlights 'the need for a holistic approach to building design and renovation'.
---
Register English Community Assets on CAsE and you could win £100 gift voucher
The Architectural Heritage Fund (AHF) asks if you own or manage a community asset that you register it on the new Community Assets Exchange - you could win £100 gift voucher.
---
North of Tyne gets £600m devolution deal
Northern Powerhouse minister Jake Berry has confirmed a £600 million devolution deal for the North of Tyne. It is expected to generate £1.1 billion for the local economy.
---
Fifteen projects reach final of Heritage Angel Awards Wales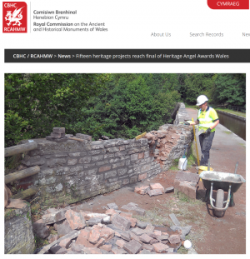 Fifteen outstanding examples of heritage achievement have been selected for a Heritage Angel Award by a panel of judges headed by Baroness Kay Andrews.
---
Entries open for 2019 John Betjeman award: Closing 26 Feb 2019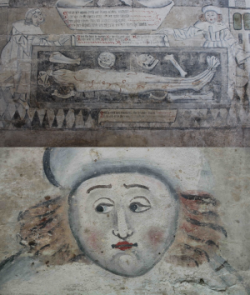 SPAB invites nominations for the award celebrating excellence in the repair to specific elements of places of worship of all denominations and faiths in England and Wales.
---
Civic Voice: Guidance tool for communities to identify local heritage assets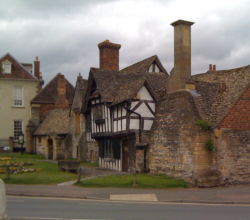 A resource developed as part of Civic Voice's Big Conservation Conversation and their 'Local Heritage List' campaign.
---
The economic value of culture - a benefit transfer study on museums in England
New research has been published to help understand the visitor and non-visitor value of cultural engagement at 4 cultural institutions in England – is this transferrable?
---
Former housing minister Nick Raynsford issues warning on planning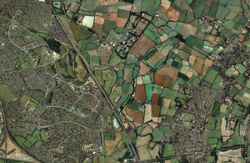 He writes that it has been reduced to a 'chaotic patchwork' of responsibilities which is not compatible with promoting the health, wellbeing and civil rights of communities.
---
DCMS revises - Principles of Selection for Listed Buildings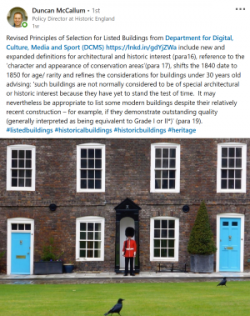 The Department for Digital, Culture, Media and Sport (DCMS) has issued its revised 'Principles of Selection for Listed Buildings' with new dates, definitions and more.
---
Specialist contractors call for government regulation of the construction industry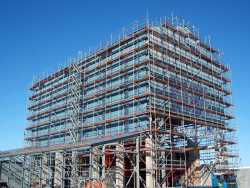 The chairman of the Specialist Engineering Contractors' (SEC) Group wants to government to set up a statutory authority to regulate construction industry practice.
---
Brexit skills shortages - survey

Add your company's take to the largest-ever poll on Brexit skills shortages.
---
Slow progress on encouraging female apprentices to construction industry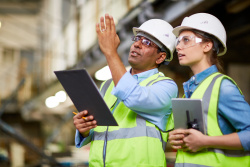 With 88% male in 2016/17 industry initiatives to encourage young women to join the construction industry do not appear to be making much headway.
---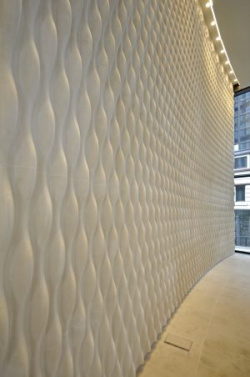 Water-jet cutting of stone changes the industry, but only so far!
---
Nuclear archive wins Andrew Doolan Best Building in Scotland Award for 2018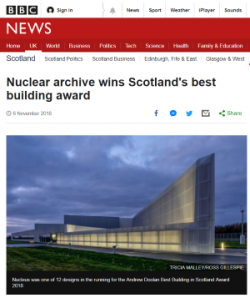 A national archive for the civil nuclear industry by Reiach & Hall Architects has won a top Scottish architecture prize: the Andrew Doolan Best Building in Scotland Award for 2018.