Private rented sector regulations and traditional buildings
What do you know about the private rented sector regulations (PRS)? From 1 April 2018 they started to bite in earnest, and traditional buildings are right in the frame.
Tenants have had the right to request improvements since 2016, but from 1 April a landlord of a private rented property with an EPC (Energy Performance Certificate) rating of F or G must not grant a new lease or renew an existing lease of that property until works have been carried out to improve the energy efficiency to a rating of E or above. While these requirements relate to new or renewing leases, landlords will feel the full force of compulsion from 2020 for domestic, and 2023 for non-domestic, properties; from these dates, they will not be able to continue to let a property until it has been improved to band E or above. [1]
Band E has been specified, for the present, as the minimum energy efficiency standard (or MEES), but this requirement is just the first stage of a ratchet that will bite ever more sharply on buildings of traditional construction. The government's Clean Growth Strategy wants all fuel-poor homes, as many private rented homes are, and as much social housing as possible, to reach Band C by 2030. It wants as many homes as possible to be EPC Band C by 2035 'where practical, cost-effective, and affordable'. [2] The Committee on Climate Change notes that 19 million homes out of 27 million are below Band C, and 64 per cent of all energy performance certificates registered in England Wales are below Band C. [3]
Government guidance has been issued to landlords in relation to non-domestic (February 2017) [4] and domestic private-rented property (October 2017) [5]. The domestic guidance is notable for including good advice on traditional buildings. Chapter 3, 'Technical advice for landlords on making energy efficiency improvements', highlights performance characteristics of traditional buildings, and issues relating to both historic character and breathing buildings; and it references the whole-house approach developed by the Sustainable Traditional Buildings Alliance.
It states that: 'In nearly all cases, retrofit work will need to comply with the building regulations' (although puzzlingly, there is no mention of Part L of the building regulations, now up for review for implementation in 2019 – be vigilant!) 'through either the local authority, an approved inspector, or the competent persons scheme.' It continues: 'If the property in question is a traditional building, then knowledge of BS 7913: Guide to the Conservation of Historic Buildings is encouraged.' Historic England's advice relating to traditional buildings is referenced, and 'landlords are encouraged to approach their local authorities for more direct advice' (although conservation officers are not mentioned by name).
So far, so good, but there is major confusion in relation to the minimum energy efficiency requirements and to the exemptions. The draft Department for Business, Energy and Industrial Strategy (BEIS) guidance suggested a conditional exemption for listed buildings (as not requiring an EPC, so not within the scope of PRS). In its response, the IHBC objected to this approach on the basis that many historic buildings are amenable to some energy-efficiency improvements without harm (as per Part L), and that a blanket exemption would exacerbate perceptions of historic buildings as obstacles to climate-change adaptation.
The published BEIS guidance potentially extends the exemptions to include buildings in conservation areas. This change is consistent with the governing European Energy Performance of Buildings Directive 2008, which provides exemptions for 'designated environments'. This approach is carried forward in the Ministry of Housing, Communities & Local Government (MHCLG) guidance on EPCs for dwellings and non-dwellings, published in December 2017 .
'An EPC is generally not required where the seller or landlord can demonstrate that the building is any of these: buildings protected as part of a designated environment or because of their special architectural or historical merit are exempt from the requirements to have an energy performance certificate insofar as compliance with minimum energy performance requirements would unacceptably alter their character or appearance.
'To comply with minimum energy performance requirements, many of the recommendations in an EPC report eg double glazing, new doors and windows, external wall insulation, and external boiler flues would likely result in unacceptable alterations in the majority of historic buildings. These can include buildings protected as part of a designated environment or because of their special architectural or historical merit (eg listed buildings or buildings within a conservation area). In these cases an EPC would not be required.
'Building owners will need to take a view as to whether this will be the case for their buildings. If there is any doubt as to whether works would unacceptably alter the character or appearance of a building, building owners may wish to seek the advice of their local authority's conservation officer.' (The guidance goes on to list a number of other situations in which an EPC is not required.)
The Catch-22 is that to know what measures would be needed to get a protected building to Band E, and whether they would be damaging, you need an EPC. The last paragraph puts the hard-pressed conservation officer (if there is one) in the hot seat, but this guidance expects him or her to be even more all-knowing than usual. How can a conservation officer be reasonably expected to know what works might be needed to bring any particular building up to meet a specified minimum energy efficiency standard, to make a reasoned assessment as to the acceptability of any impacts, or what might be the alternative options? How many conservation officers will even have time to begin to grapple with these questions?
References:
---
This article originally appeared in IHBC's Context 153, published in March 2018. It was written by John Preston, convenor of the IHBC green panel and heritage chair of the Sustainable Traditional Buildings Alliance. With thanks to David Pickles and Robyn Pender of Historic England.
--Institute of Historic Building Conservation
IHBC NewsBlog
COVID-19: Advice and Updates collated from the Heritage Sector
Organisations with conservation links have been collating resources on COVID-19 impacts, including Built Environment Forum Scotland (BEFS), Historic Environment Forum, The Heritage Alliance (THA), and Historic England, on cleaning surfaces.
---
Councils considering 'executive powers' as measures to avoid planning gridlock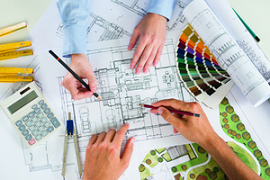 Councils are reported to be considering taking up rarely-used executive powers to keep the planning and development system moving during the coronavirus pandemic.
---
Historic England provides updated flood recovery advice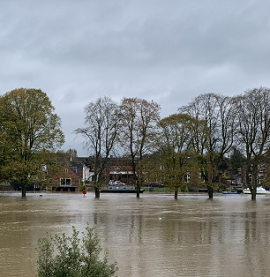 Historic England's 'After a Flood' provides timely advice on how to dry walls properly and avoid further damage to the building fabric.
---
Conservation of Timber Buildings: an example of evolving conservation techniques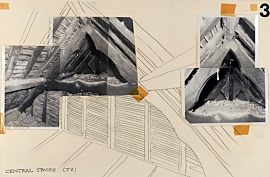 Context Issue 162 offers a peek into an archive of timber conservation history through the records of the practice of FWB and Mary Charles Chartered Architects.
---
Call for VAT rates for Refurbishment to be Reduced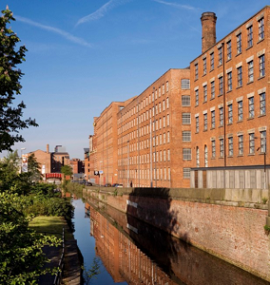 To meet the government's target of being carbon neutral by 2050, we must recycle, reuse and responsibly adapt our existing historic buildings, according to this year's Heritage Counts report, so Historic England and partners are calling for a reduction in VAT rates to incentivise this more sustainable option.
---
Grade II Edwardian swimming baths in Birmingham restored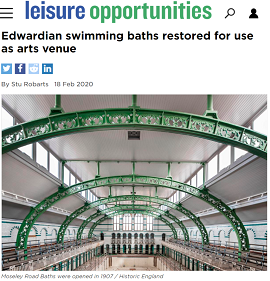 Donald Insall Associates, with the help of Historic England, has completed restoration work of Moseley Road Baths, being converted for use as an arts and culture venue.
---
IHBC Marsh Award Nominations – Closing Date 30 March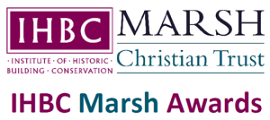 Celebrate your local 'retired members' and 'successful learners' with £500 cash prizes and 2020 Brighton School places!
---
Biodiversity Net Gain through UK Construction Projects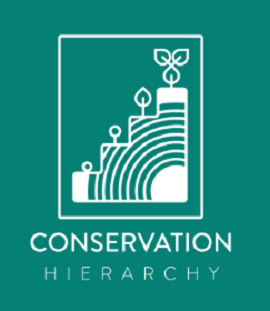 The Conservation Hierarchy is a new framework developed by the University of Oxford to help construction projects achieve Biodiversity Net Gain.
---
How Project Managers for Town Centre Developments can Balance Risk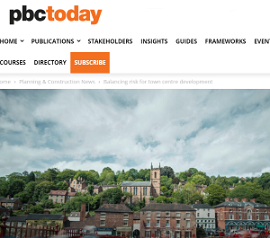 Jacqueline Hughes, senior risk analyst at Equib, in pbctoday discusses how project managers for town centre developments can get their risk management strategies right.
---
Red Tape is Strangling our High Streets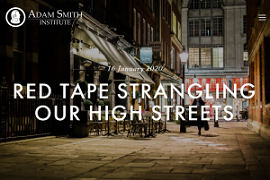 A new paper from the Adam Smith Institute argues that the problem with the High Street has been totally misunderstood, saying that we need to reform restrictive planning rules and reject a policy of managed decline to reinvigorate our town centres.
---
Calculating the full cost of energy used by buildings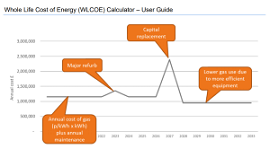 The Whole Life Cost of Energy (WLCoE) calculator – issued by government in BETA form – is intended to help building owners and operators to understand the full financial cost of the energy their buildings use, and welcomes feedback
---
England's heritage worth £31Bn: New Historic England report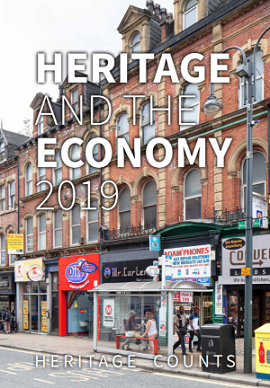 New research published by Historic England (HE) shows the value of heritage to England's economy as it contributes to economic prosperity and growth through jobs in the heritage and construction sectors and from tourism.
---