Bandstands: pavilions for music, entertainment, and leisure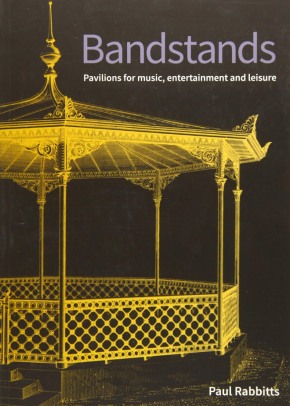 'Bandstands: pavilions for music, entertainment, and leisure', Paul Rabbitts, Historic England, 248 pages, 244 colour illustrations, softback.
---
Anyone who expects merely a celebration of the familiar cast-iron bandstand, an example of which graces the front cover of this book, will find it to be far more. It is a study of open-air music and its links with private pleasure gardens, the development of 19th and 20th century parks, and the expansion of seaside resorts as places of entertainment and leisure. Published by Historic England, with the aid of 111 supporters, its academic credentials are established by a comprehensive index and gazetteer of both existing and lost bandstands with dates, manufacturer or foundry, full bibliography and extensive notes.
The early chapters review leisure in private pleasure gardens and move to the 'rational recreation' of public parks and the place of music within them. Surprisingly, it was the sounding boards of bandstands that were important in amplifying northern brass bands and those of the military to increase public appreciation of music in parks. A further chapter deals with the varied art and architecture of bandstands, not only the familiar cast and wrought iron so excoriated by Ruskin and Mawson, but also to those of arts-and-crafts influence, such as that at Rushdene in Nottinghamshire by Sir Albert Richardson.
From there Rabbitts notes the post-war decline through changing musical taste and lack of local authority maintenance. He records the change in attitude to parks in the late 20th century, and the numerous restorations and replacements of bandstands fostered by the Heritage Lottery Fund. The book finishes positively with the array of uses for bandstands as focal points for our restored and vibrant parks.
A brief recital of the book's coverage gives little indication of the treasures to be found within. There are wonderful and varied historic and modern photos of the bandstands (including shells) in use. Drawing on contemporary commentators, there is considerable detail on events up and down the country, which lauds the variety of musical entertainment as seen through the eyes of citizens. A book for savouring, it will repay close reading for a wider historical understanding of the place of music in entertainment and leisure, and its role in the democratic nature of public parks.
Cast-iron enthusiasts will sift through a treasury of varied designs by Macfarlanes and the other Scottish foundries of the central belt. They exported their wares to the Commonwealth and the new world, thus promoting globally British ideas of music and its favoured place in public parks.
---
This article originally appeared as 'Rational recreation' in IHBC's Context 163 (Page 54), published by The Institute of Historic Building Conservation in March 2020. It was written by GR Arnold, retired Wirral conservation officer.
--Institute of Historic Building Conservation
IHBC NewsBlog
IHBC's first Virtual School a Marked Success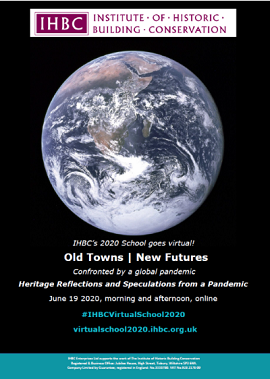 The first 'Virtual School' hosted by the IHBC was launched on 19 June with lead speakers covering pandemic-related topics shaping valued places over two sessions.
---
Ireland National Heritage Week: 15-23 August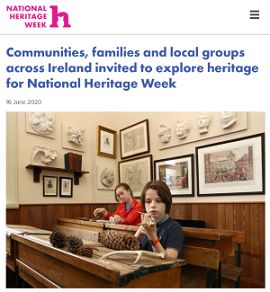 Plans are in place for a modified National Heritage Week for Ireland, which take into account ongoing restrictions on events and gatherings due to COVID-19.
---
Grimsby's historic Ice Factory thrown new survival lifeline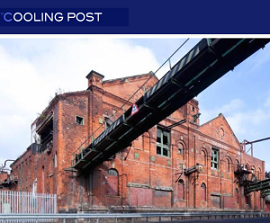 Opened in 1901, and derelict for the last 30 years, the Grimsby Ice Factory is the earliest and largest known surviving ice factory in the world. It still contains an array of historic ice making equipment including four J&E Hall ammonia compressors installed in 1931.
---
Risk Assessments and Contractual Impact from CIAT

A note on contractual obligations under the current COVID-19 pandemic has been issued by The Chartered Institute of Architectural Technologists(CIAT).
---
RTPI calls on government to issue planning guidance to prevent development delays

The Royal Town Planning Institute (RTPI) has called on the government to urgently issue planning guidance to prevent unnecessary delays to development from the pandemic.
---
How to Enjoy Heritage from Home, from the Heritage Fund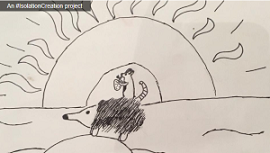 The Heritage Fund has put together a list of heritage-inspired activities to be done from home.
---
Listed Property Owners Club's Spring Checklist for Buildings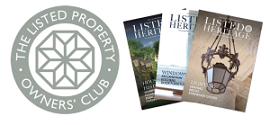 Spring is a good time to stand back and consider any building repairs that are required over the next 12 months, notes the LPOC, and regular inspection and maintenance is the key to keeping homes in good repair, as per its accessible step-by-step guidance.
---
Firefighters tackle blaze at converted Grade II listed former mill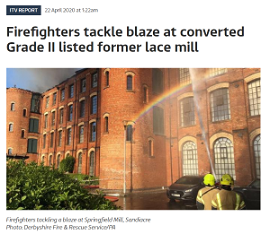 Derbyshire Fire and Rescue Service said "rapid and effective firefighting" had saved three quarters of the mill – which is now apartments.
---
Thieves take advantage of lockdown to steal lead from church roof in Halsham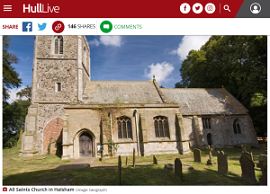 Police have appealed for witnesses after thieves stole lead from the roof of All Saints Church in Halsham near Hedon during the coronavirus lockdown.
---
IHBC's CPD Circular provides info on digital CPD opportunities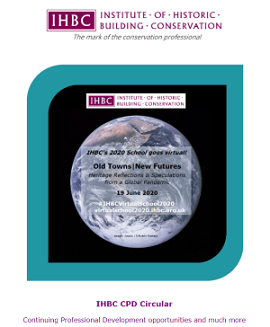 The regular newsletter showcases the IHBC's own Continuing Professional Development (CPD) content as well as online opportunities from 'IHBC Recognised CPD Providers' and other conservation related training and events.
---
Frank Lloyd Wright houses offer virtual tours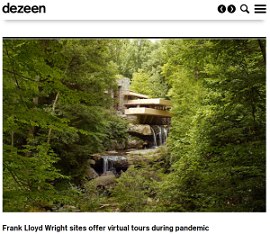 To make sure the public still has access to twelve of those famous works, #WrightVirtualVisits has been launched, which offers virtual tours of 12 iconic houses.
---
CIC's Coronavirus Digest review and survey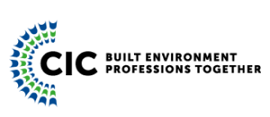 The Construction Industry Council's (CIC's) 'CIC Coronavirus Digest – Issue 8' surveys the latest government advice with updates from the construction industry.
---