100 Sustainable Scottish Buildings
100 Sustainable Scottish Buildings, Richard Atkins and Emily Stephen (editors), SEDA, 2017, 240 pages, colour illustrations.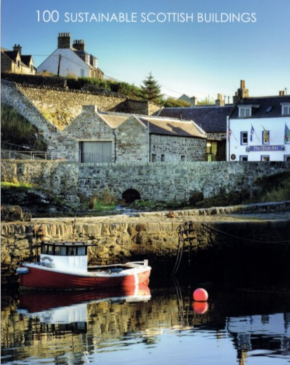 100 Sustainable Scottish Buildings is not a list of the 'top 100' sustainable buildings in Scotland; it is much more than that. An instructive assemblage of different types over different periods, it demonstrates the diversity and potential of a thoughtful response to social, economic, environmental sustainability. It is superbly illustrated. Punctuated by five short strategic pieces on central themes such as circular economy, social capital and buildings as agents of change, this is a useful inspiration and reference aimed at all those who work in the built and historic environment, demonstrating fulsomely what it claims, namely that 'sustainability is a responsibility and an opportunity, not a hair shirt to be endured'.
The impressive international credentials of the contributors give an accurate steer as to the calibre of the monograph: Robin Harper, the first Green MP in the UK, provides a motivating foreword, followed by Professor Ray Cole of University of British Columbia, Canada, Professor Sandy Halliday of Gaia Research, and Chris Butters, guest professor at the Oslo School of Architecture and St John's University Minnesota. David Cheshire of Aecom and Chris Stewart of Collective Architecture and SEDA further enrich the quality, while the co-editor and contributor, Richard Atkins, is co-author of the RIBA's Sustainability Guide to the Plan of Works (2013, 2016).
There is much to savour on what is possible from the contents. Refurbishments are detailed constructively: notably, the Nicolson Street Housing, Edinburgh, by Gaia Architects, a city-centre, Category-B-listed building, where work informed by research ensured that all toxic materials and potential asthma and allergy triggers were removed, while materials with hygroscopic properties and breathing walls aided moisture management. Similarly, the 'whole-house' sustainable refurbishment undertaken at Scotstarvit Cottage by Historic Environment Scotland and the National Trust for Scotland used hemp and breathable perlite insulation, retaining all original features and passive ventilation. Challenges, such as the re-fitting of the Category-A-listed Royal Commonwealth Pool by S&P Architects, show what can be achieved successfully within an existing envelope, using filtration systems, solar heating and recycled water.
Historical types are explored for their early wisdom: for example, the colony housing in Edinburgh's Stockbridge with a layout that combines the importance of sunlight with the advantages of communal living, low-rise accessibility, and simple practicality and compactness.
New designs enthuse those handling work in historic settings. Gokay Deveci's affordable, low-energy housing at Tigh-na-Claddach on Dunoon's seafront proves that 'sustainable energy-efficient design is possible on a social housing budget'. Under the theme of work, Gaia Architects' Straw Bale Office, Dunning, is a useful example of imaginative experiment using local and reclaimed materials sourced within 20 miles, from hazel twigs to wool insulation.
In conclusion, this book delivers, as Professor Fionn Stevenson of Sheffield School of Architecture advises: 'If you want to truly understand the green spirit of ecological building design that is alive and thriving in Scotland... there is no better collection in the UK to guide students and practitioners alike'.
---
This article originally appeared as 'Not a hair shirt' in IHBC's Context 154, published in May 2018. It was written by Deborah Mays, head of listing advice at Historic England and a former HESPR registered consultant.
--Institute of Historic Building Conservation
Find out more
IHBC NewsBlog
Historic England's '21 Fascinating Places Listed in 2019'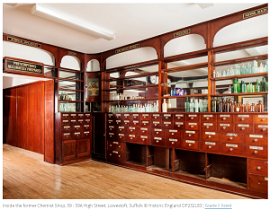 Over 500 historic places have been added to the National Heritage List for England (NHLE) in 2019 and Historic England (HE) has showcased 21 highlights.
---
UK's iconic first red public telephone box upgraded to GII*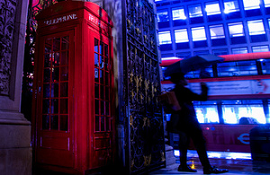 The K2 prototype telephone box situated outside the Royal Academy in London – built as part of the 1924 competition that gave rise to the iconic design and first listed at Grade II in 1986 – has had its listing upgraded to Grade II*.
---
Historic England publishes guidance on BIM for Heritage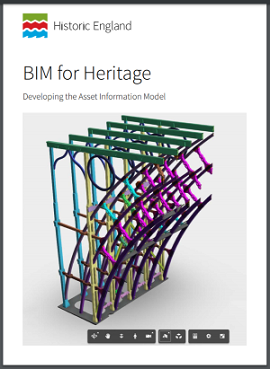 The second in a series focusses on developing the Asset Information Model (AIM).
---
High Streets Face a Bleak Future Without Rethinking Regeneration Strategies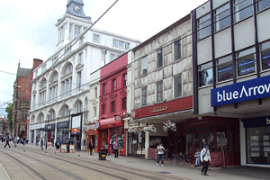 Reflecting issues that will be encountered across the IHBC's June 2020 Brighton School, think tank Centre for Cities argues for High Street success.
---
Take a look inside the first flat in the iconic Battersea Power Station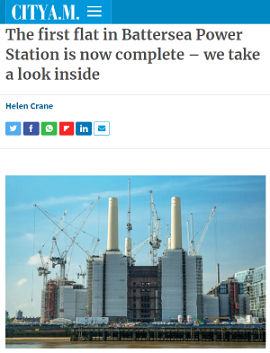 City A.M took a tour of the first apartment to be completed within the original grade II*-listed power station with designer Tim Boyd of Michaelis Boyd – which also designed the interiors for Soho House and the Groucho Club – and Battersea Power Station's UK sales director Georgia Siri.
---
Retrofit scheme named World Building of the Year at WAF 2019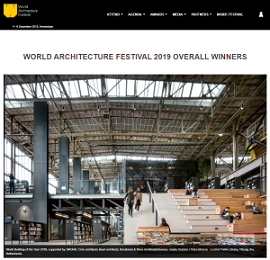 A conversion of a locomotive hangar into a public library is the first retrofit to win the top prize at the World Architecture Festival (WAF).
---
Historic England Updates Technical Conservation Guidance and Research Doc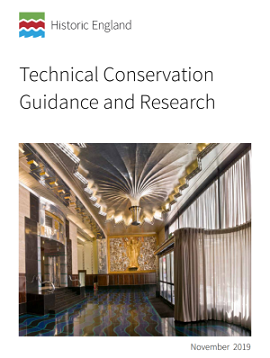 New guidance and research includes: Lightning Protection, Church Roof Replacement using Terne-coated SS, the conservation of Fibrous Plaster, and more.
---
Heritage Declares launched to urge more quick and effective response to climate change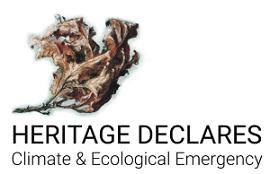 The non-affiliated group aims to galvanise climate action in the heritage sector.
---
Methodology for Moisture Investigations in Traditional Buildings agreed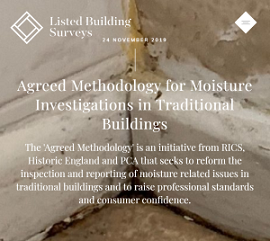 A 'Methodology for Moisture Investigations in Traditional Buildings ' has been agreed between RICS, Historic England and the service provider PCA, a trade body, which should help raise professional standards and consumer confidence.
---
Drinkers toast the future after historic Leeds pub granted GII listed heritage status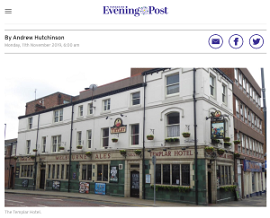 The Templar Hotel on Vicar Lane has been listed at Grade II by the Department for Digital, Culture, Media and Sport on the advice of Historic England.
---
Housing Minister announces new champion for modern 'MMC' housebuilding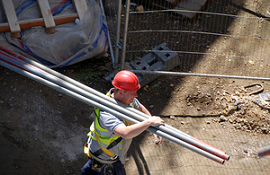 Government has announced a new Champion for Modern Methods of Construction as part of the government's drive to make the UK the global leader in housing standards.
---
RTPI on 'Why planning needs better outcome measurement'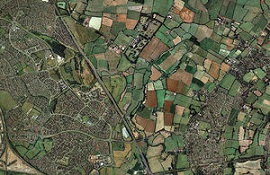 Planning is about so much more than the number of applications approved and the speed of processing them so the RTPI is commissioning research aimed at producing a toolkit that can demonstrate a wider range of outcomes.
---