The anatomy of dissent

Liverpool's Canning Dock and the Port of Liverpool Building in around 1910 (Photo: Wikimedia).
Historical opinion has recently divided into factions. In the blue corner is the orthodox camp, with its established canon and hagiographies. In the red corner is the revisionist camp, asking awkward questions and suggesting that other viewpoints are available. The worst of this problem is the gladiatorial nature of the contest and the vague implication that there has to be a winner.
This all seems rather strange when you consider what history actually is. No two people will give you the same account of an event the next day, let alone years later. In the hands of a third party, the historian, with their own insight and perspective, the account will be different again. Yet this is the version that gets written down. It is axiomatic that there can be no single historical view but many. It is the job of the true historian to listen to all of them, and of the history educator to encourage diversity of approach. And what applies to history in general also applies specifically to heritage.
In looking for ways in which one might evaluate these issues, I found myself returning to Robert M Pirsig's 1974 novel 'Zen and the Art of Motorcycle Maintenance'. This may not speed you to self-knowledge; nor will it be much cop if you have a broken motorbike. But if you seek enlightenment on the nature of Quality and its relationship to Things, both tangible and intangible, it is a tour-de- force. Thread by thread, the history and scope of philosophical and metaphysical thingness is minutely and rationally examined.
The anatomy of dissent has always been under examination. In my youth it was taken up by the literary enfant terrible of the day, Norman Mailer, whose forays into what constituted 'hipsters' and 'squares' was an integral part of the cultural revolution of the 1960s. More recently McCandless and Posavec's 'Left vs Right Concept Map' gives a picture more suited to today's shorter attention spans.
Sometimes such differences in attitude are equated with emotional and intellectual intelligence. Pirsig concludes that this is a red herring and that both are required in the pursuit of reason, whose practical application must not fall into any 'gumption traps' of which the 'value trap' is pertinent here. A value trap is when a search for the quality of something is limited by a preconceived idea; say the full extent of a heritage asset's interest being obscured by a less-than-comprehensive adopted written description.
Add people and the picture gets even more blurry. For many people a heritage asset peaks in significance if it forms the backdrop of a selfie. This distorts heritage value by adding an aspect of status. Heritage is not important because it is designated. It is designated because it is important; a point lost on many lay commentators in whose hands world heritage sites have become merely matters of national status.
Thus Liverpool's loss of its world heritage site designation has been greeted with anger, dismay, recrimination, silly comparisons with the Taj Mahal and undifferentiated forecasts of doom for other world heritage sites. But let us apply some gumption. Unesco's decision has not itself affected the heritage value of Liverpool one jot; it was exactly the same the day after as it was the day before. Liverpool's unparalleled heritage importance comprises all of the founding, growth, prosperity, decline and regeneration of the whole of a world city with a myriad of strands and complexities.
While one might be critical of some recent planning and heritage choices, Unesco has merely found that part of Liverpool's fabric no longer matches its own description of it just 20 years ago: a snapshot, a selfie even. This value trap may be satirised by the thought that had the world heritage site been designated in, say, 1890, both the construction and demolition of the overhead railway, not to mention the construction of the Three Graces on the site of a historic dock, would have attracted the same opprobrium. So let's avoid the value traps and stay 'hip' – whatever that means.
---
This article originally appeared in Context 169, published by the Institute of Historic Building Conservation (IHBC) in September 2021. It was written by James Caird.
--Institute of Historic Building Conservation
IHBC NewsBlog
Bristol Harbourside landmark Canons House gets GII listing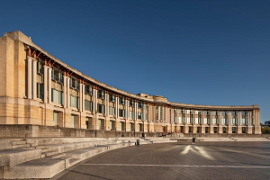 Canons House, a landmark building on Bristol Harbourside, has been awarded Grade II (GII) listed status having been built as a regional headquarters for Lloyds Bank between 1988 and 1991 (Arup)
---
BRE/BEIS project to modernise home energy rating scheme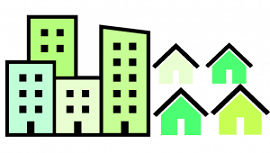 The Building Research Establishment (BRE) has announced a new project with the Department for Business, Energy and Industrial Strategy (BEIS) to improve and modernise the home energy rating scheme used to measure the energy and environmental performance of UK homes.
---
Interdisciplinary IHBC accreditation recognised by CSCS for PQP Cards

Sector lead the Construction Skills Certification Scheme (CSCS) has recognised the IHBC's professional accreditation and support (CPD etc.) in awarding its PQP (Professionally Qualified Person) cards.
---
IHBC Heritage Marketplace provides learning-led virtual engagement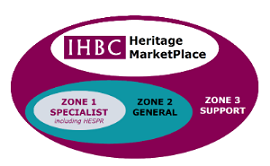 The IHBC's 2022 Aberdeen School Heritage MarketPlace (4.30-7.30PM, 15 June) is designed to extend the scope of a traditional IHBC School exhibition floor.
---
Unearthing the history of Gloucester's 'the Fleece' Hotel starts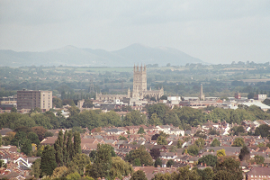 Work to repair a fire-hit medieval hotel in Gloucester is underway as crews have started work to strip back some of the modern trappings and reveal the historic framework.
---
Booking Open for IHBC Annual School: Aberdeen, 16-18 June 2022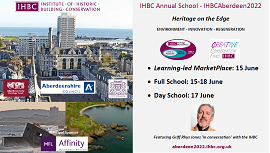 Options for in-person and virtual delegates to explore 'heritage on the edge' across up to 4 days of IHBC engagement & learning.
---
European Heritage Heads Forum statement on Ukraine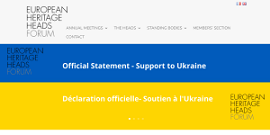 The Secretariat to the European Heritage Heads Forum has has coordinated its declaration of solidarity and support for Ukraine's cultural heritage institutions.
---
Welcome to #IHBC25 – 25 years since we turned professional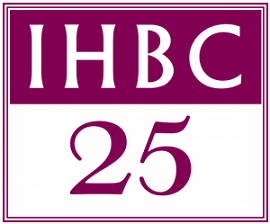 2022 will see the IHBC mark a quarter of a century since our incorporation as a professional body supporting and accrediting built and historic environment conservation specialists. We're kick-starting it by inviting your ideas on how to mark this special year!
---
IHBC launches new Guidance Note on 'Design sources for historic building conservation'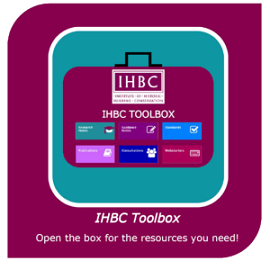 The IHBC's latest Guidance Note adds to the institute's open-access, online practitioner's Toolbox.
---
IHBC at COP26 - Conserving our Places Conserves our Planet - Podcast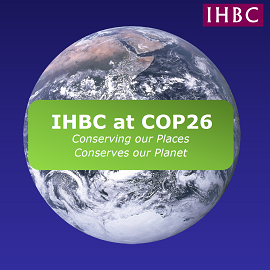 The IHBC seeks to raise awareness and understanding of how building conservation philosophy and practice contributes towards meeting the challenge of climate change.