The Past and Future City
The National Trust for Historic Preservation (USA), founded in 1949, has more than a million members and supporters. Its mission is 'to protect significant places representing our diverse cultural experience by taking direct action and inspiring broad public support'. The trust's profile and advocacy provide strong leadership in the sector (https://savingplaces.org/).
The trust manages and/or owns a diverse collection of historic sites, including the 900-year-old Native American adobe Acoma Sky City, New Mexico; the mid-18th-century Palladian plantation house, Drayton Hall, Charleston, South Carolina, preserved in near-original condition; and Mies van der Rohe's 1951 Farnsworth House, Plano, Illinois. Reports published by its programme office Preservation Green Lab include The Greenest Building: quantifying the environmental value of building reuse (2011); Saving Windows, Saving Money: evaluating the energy performance of window retrofit and replacement (2012); and Realizing the Energy Efficiency Potential of Small Buildings (2013). With a compass that is broader than traditional heritage issues, the trust is successfully engaging with new and younger audiences; it estimates that its impact has increased by a factor of 10 in recent years.
Stephanie Meeks (previously with the Nature Conservancy) and Kevin Murphy are respectively chief executive of the trust and its and speechwriter/editor. The Past and Future City is a well-researched and impassioned celebration of the role of historic preservation (conservation) in the regeneration of America's cities and the revitalisation of urban communities in ways that are socially and economically vibrant, and fully sustainable. Noting the 'great inversion' this millennium from the 'atomised' neighbourhoods of car-dependent suburban sprawl to the place attachment and sense of identity based on mixed-use urban neighbourhoods, Meeks applauds their 'powers of place', with special emphasis on the social fabric (including low-key examples such a handball court) as well as their physical structures.
Continuity of use and diversity, especially at the small scale, is a main theme, recognising that successful community-based urban conservation fosters proximity, identity and wellbeing, including healthy living practices such as walking and cycling. Further, it coincides with today's environmental awareness, broadening the interest in building conservation, debunking the notion that older buildings are problems, and lauding them as a spur for economic growth, suited to start-up businesses and incubators of innovation. Background to the struggle to stem the post-war tide of downtown destruction includes a chapter devoted to Jane Jacobs, incorporating turning points in the preservation movement such as the 1963 razing of Penn Station, New York, one of the world's great railway stations.
A main part of the Green Lab's role has been to develop methodologies to reinforce Jacob's arguments at multiple levels. GIS technology has been the key to the entire project; metrics have been found to measure aspects including social, economic and cultural performance. The fabric of neighbourhoods has been measured by building age, age diversity, and granularity, with the composite measure providing the 'character score' – a high score going to neighbourhoods with older and smaller buildings with greater age diversity. Tall buildings and large floor plates imposed on historic districts come in for special censure. The Green Lab has mapped examples from across America of metropolises, midsize and smaller cities, where 'old buildings are helping cities grow, develop, and become stronger communities. We now have empirical evidence that these buildings are necessary to civic and municipal health and are the key to long-term success.'
Difficulties, however, arise with success, and this reviewer is challenged by the chapter 'Mitigating the Great Inversion: the problems of affordability and displacement', and its handing of questions around property values and gentrification. While admitting that the Manhattan High Line sparked a doubling of property values in the surrounding area between 2003 and 2011, and citing numerous examples across America where revitalisation of historic neighbourhoods preludes the potential mass displacement of existing families and businesses, remedies suggested in The Past and Future City, whether dependent on fiscal or planning intervention, community buy-outs or other, are not well exampled and appear unrealistic in today's liberal market economies. They are aspirational, vital, and merit further study by the Green Lab.
The Past and Future City is an important book for the many connections it makes with subject areas and disciplines beyond the traditional compass of heritage professionals, including the connections it makes between heritage and environmental conservation. It resonates with numerous of the challenges facing heritage professionals in the UK.
---
This article originally appeared as 'Economic realities' in IHBC's Context 155, published in July 2018. It was written by Dennis Rodwell, architect-planner and consultant in cultural heritage and sustainable urban development.
--Institute of Historic Building Conservation
IHBC NewsBlog
IHBC's first Virtual School a Marked Success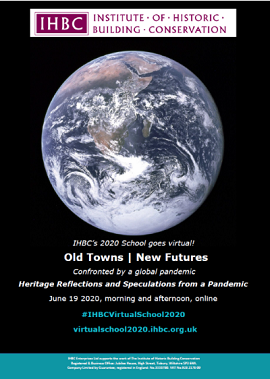 The first 'Virtual School' hosted by the IHBC was launched on 19 June with lead speakers covering pandemic-related topics shaping valued places over two sessions.
---
Ireland National Heritage Week: 15-23 August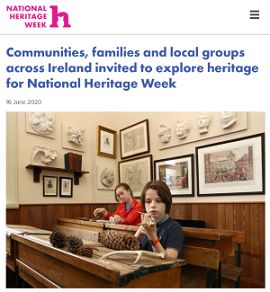 Plans are in place for a modified National Heritage Week for Ireland, which take into account ongoing restrictions on events and gatherings due to COVID-19.
---
Grimsby's historic Ice Factory thrown new survival lifeline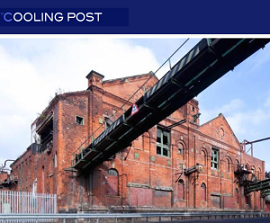 Opened in 1901, and derelict for the last 30 years, the Grimsby Ice Factory is the earliest and largest known surviving ice factory in the world. It still contains an array of historic ice making equipment including four J&E Hall ammonia compressors installed in 1931.
---
Risk Assessments and Contractual Impact from CIAT

A note on contractual obligations under the current COVID-19 pandemic has been issued by The Chartered Institute of Architectural Technologists(CIAT).
---
RTPI calls on government to issue planning guidance to prevent development delays

The Royal Town Planning Institute (RTPI) has called on the government to urgently issue planning guidance to prevent unnecessary delays to development from the pandemic.
---
How to Enjoy Heritage from Home, from the Heritage Fund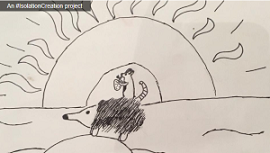 The Heritage Fund has put together a list of heritage-inspired activities to be done from home.
---
Listed Property Owners Club's Spring Checklist for Buildings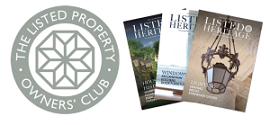 Spring is a good time to stand back and consider any building repairs that are required over the next 12 months, notes the LPOC, and regular inspection and maintenance is the key to keeping homes in good repair, as per its accessible step-by-step guidance.
---
Firefighters tackle blaze at converted Grade II listed former mill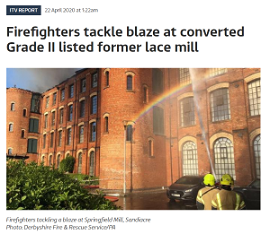 Derbyshire Fire and Rescue Service said "rapid and effective firefighting" had saved three quarters of the mill – which is now apartments.
---
Thieves take advantage of lockdown to steal lead from church roof in Halsham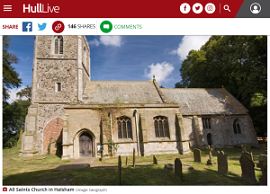 Police have appealed for witnesses after thieves stole lead from the roof of All Saints Church in Halsham near Hedon during the coronavirus lockdown.
---
IHBC's CPD Circular provides info on digital CPD opportunities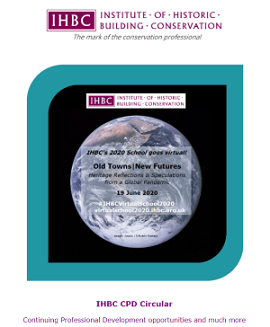 The regular newsletter showcases the IHBC's own Continuing Professional Development (CPD) content as well as online opportunities from 'IHBC Recognised CPD Providers' and other conservation related training and events.
---
Frank Lloyd Wright houses offer virtual tours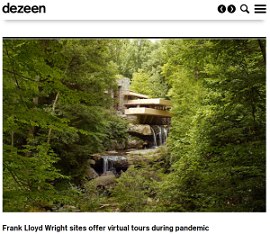 To make sure the public still has access to twelve of those famous works, #WrightVirtualVisits has been launched, which offers virtual tours of 12 iconic houses.
---
CIC's Coronavirus Digest review and survey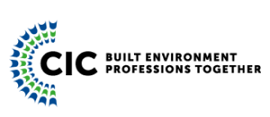 The Construction Industry Council's (CIC's) 'CIC Coronavirus Digest – Issue 8' surveys the latest government advice with updates from the construction industry.
---