The Past and Future City
The National Trust for Historic Preservation (USA), founded in 1949, has more than a million members and supporters. Its mission is 'to protect significant places representing our diverse cultural experience by taking direct action and inspiring broad public support'. The trust's profile and advocacy provide strong leadership in the sector (https://savingplaces.org/).
The trust manages and/or owns a diverse collection of historic sites, including the 900-year-old Native American adobe Acoma Sky City, New Mexico; the mid-18th-century Palladian plantation house, Drayton Hall, Charleston, South Carolina, preserved in near-original condition; and Mies van der Rohe's 1951 Farnsworth House, Plano, Illinois. Reports published by its programme office Preservation Green Lab include The Greenest Building: quantifying the environmental value of building reuse (2011); Saving Windows, Saving Money: evaluating the energy performance of window retrofit and replacement (2012); and Realizing the Energy Efficiency Potential of Small Buildings (2013). With a compass that is broader than traditional heritage issues, the trust is successfully engaging with new and younger audiences; it estimates that its impact has increased by a factor of 10 in recent years.
Stephanie Meeks (previously with the Nature Conservancy) and Kevin Murphy are respectively chief executive of the trust and its and speechwriter/editor. The Past and Future City is a well-researched and impassioned celebration of the role of historic preservation (conservation) in the regeneration of America's cities and the revitalisation of urban communities in ways that are socially and economically vibrant, and fully sustainable. Noting the 'great inversion' this millennium from the 'atomised' neighbourhoods of car-dependent suburban sprawl to the place attachment and sense of identity based on mixed-use urban neighbourhoods, Meeks applauds their 'powers of place', with special emphasis on the social fabric (including low-key examples such a handball court) as well as their physical structures.
Continuity of use and diversity, especially at the small scale, is a main theme, recognising that successful community-based urban conservation fosters proximity, identity and wellbeing, including healthy living practices such as walking and cycling. Further, it coincides with today's environmental awareness, broadening the interest in building conservation, debunking the notion that older buildings are problems, and lauding them as a spur for economic growth, suited to start-up businesses and incubators of innovation. Background to the struggle to stem the post-war tide of downtown destruction includes a chapter devoted to Jane Jacobs, incorporating turning points in the preservation movement such as the 1963 razing of Penn Station, New York, one of the world's great railway stations.
A main part of the Green Lab's role has been to develop methodologies to reinforce Jacob's arguments at multiple levels. GIS technology has been the key to the entire project; metrics have been found to measure aspects including social, economic and cultural performance. The fabric of neighbourhoods has been measured by building age, age diversity, and granularity, with the composite measure providing the 'character score' – a high score going to neighbourhoods with older and smaller buildings with greater age diversity. Tall buildings and large floor plates imposed on historic districts come in for special censure. The Green Lab has mapped examples from across America of metropolises, midsize and smaller cities, where 'old buildings are helping cities grow, develop, and become stronger communities. We now have empirical evidence that these buildings are necessary to civic and municipal health and are the key to long-term success.'
Difficulties, however, arise with success, and this reviewer is challenged by the chapter 'Mitigating the Great Inversion: the problems of affordability and displacement', and its handing of questions around property values and gentrification. While admitting that the Manhattan High Line sparked a doubling of property values in the surrounding area between 2003 and 2011, and citing numerous examples across America where revitalisation of historic neighbourhoods preludes the potential mass displacement of existing families and businesses, remedies suggested in The Past and Future City, whether dependent on fiscal or planning intervention, community buy-outs or other, are not well exampled and appear unrealistic in today's liberal market economies. They are aspirational, vital, and merit further study by the Green Lab.
The Past and Future City is an important book for the many connections it makes with subject areas and disciplines beyond the traditional compass of heritage professionals, including the connections it makes between heritage and environmental conservation. It resonates with numerous of the challenges facing heritage professionals in the UK.
---
This article originally appeared as 'Economic realities' in IHBC's Context 155, published in July 2018. It was written by Dennis Rodwell, architect-planner and consultant in cultural heritage and sustainable urban development.
--Institute of Historic Building Conservation
IHBC NewsBlog
The rise of 'facadism' in London, from the BBC and 'The Gentle Author'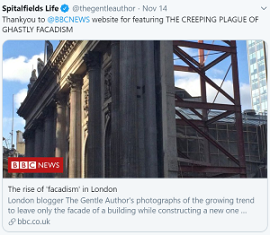 London blogger The Gentle Author has been photographing the changing face of London, focusing on what is known as 'facadism', the practice of destroying everything apart from the front wall and constructing a new building behind it.
---
Great Yarmouth Winter Gardens Facing Off Dilapidation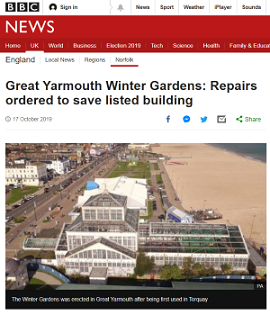 Urgent repairs have been ordered to save one of the country's most endangered buildings from dilapidation while Great Yarmouth Borough Council seeks an investor.
---
Construction urged to do more for butterflies and bees, via SNH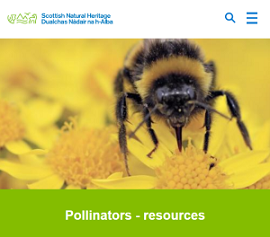 SNH has published new guidance on how best to fit pollinators into urban design and construction with a series of easy steps to suit all project budgets and sizes.
---
Applications now open for the Sustainability Scholarship for 2020: Closing 29/11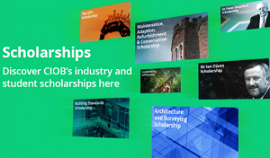 Applications are invited for the Sustainability Scholarship 2020, with successful applicants to receive £3000, support and mentoring from experts, and closing 29 November.
---
Government asked to save plans for Queensbury tunnel cycle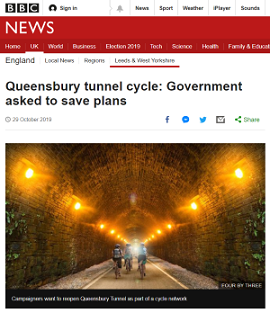 It was hoped the 1.4 mile (2.3km) Victorian Queensbury Tunnel could be used by cyclists travelling between Bradford and Halifax, but plans have been threatened.
---
Case Study in Durham Cathedral: Project Managment and Building Services Challenges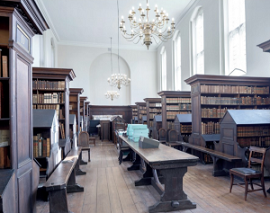 Completing works that widened public access to the hidden architectural spaces and collections of Durham Cathedral showcases exceptional project management.
---
Autumn clamp down on dust by HSE – site visits planned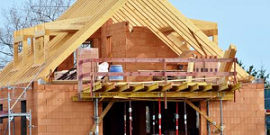 This month HSE is carrying out its latest construction inspection initiative with a focus in particular on measures in place to protect workers from occupational lung disease caused by asbestos, silica, wood and other dusts when carrying out common construction tasks.
---
Public property hubs to be delivered in Birmingham and Peterborough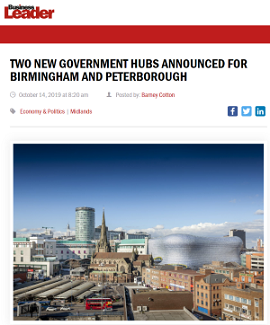 Peterborough and Birmingham are the latest places to benefit from the Government Hubs programme to regenerate city centre sites.
---
Banksy graffiti taken off Grade II listed Yorkshire bridge facing dismantling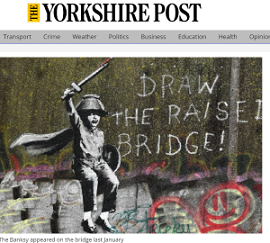 Graffiti by Banksy has been taken off a bridge in Hull as the Grade II (GII) listed Scott Street bridge itself faces dismantling.
---
The Liverpool Grade II 'jewel' that lies empty, derelict and vandalised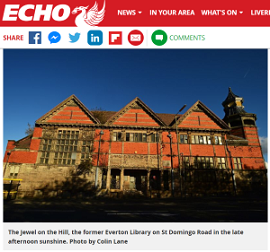 Liverpool landmark the Everton Library, a Grade II (GII) listed building that has been the focus of calls to restore it to its former glory continues to lie leaking, vandalised and derelict, when £5m could renovate the building, reports The Liverpool Echo.
---
Flintshire: Shotton steelworks' John Summers building to be restored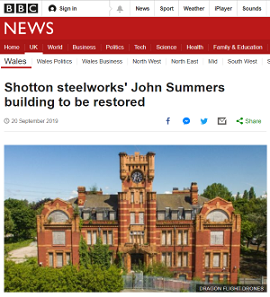 A landmark on a list of the UK's most endangered buildings, Shotton steelworks' Grade II-listed general office and clock tower, is to be brought back to life in Flintshire.
---