NBS Source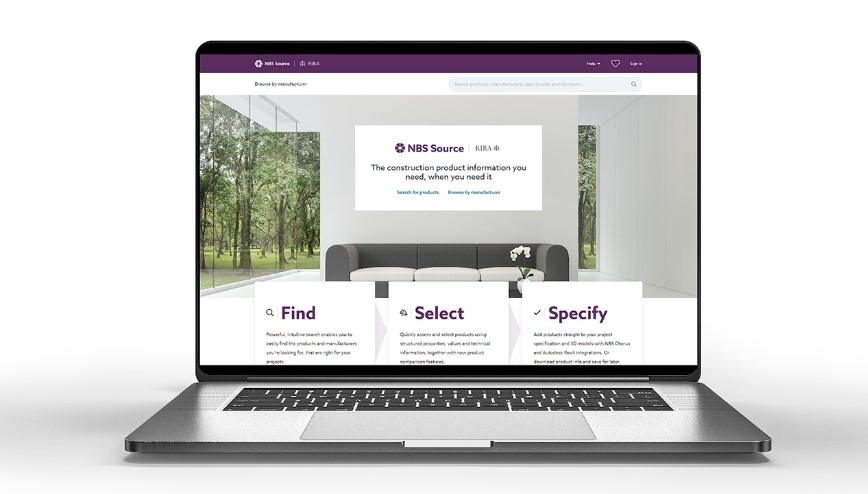 [edit]
Introduction
NBS Source is a cloud-based platform that contains construction product information. It includes entries from the NBS National BIM Library, NBS Plus and RIBA Product Selector.
[edit]
History
NBS is a provider of connected construction information through technology platforms. Thousands of users interact daily with its tools to create specifications, find products and develop their digital models. The organisation was founded in 1973.
NBS is backed by the Royal Institute of British Architects (RIBA), which is a significant shareholder, and industry advocate on its behalf. Through NBS's relationship with the RIBA, it has unique knowledge of and access to the architecture and design communities.
NBS Source was announced in February 2020 and launched in May 2020. It replaced the RIBA Product Selector in August 2020. All manufacturers listed on RIBA Product Selector are included in NBS Source.
[edit]
Purpose
The purpose of NBS Source is to allow specifiers to create more accurate product comparisons. It presents manufacturer data in a structured format - regardless of operating system platform - to provide consistent properties and values, performance criteria and certification information. It also includes enhanced product data and works in Revit and within NBS Chorus.
This consistent format uses existing standards (such as those created by BSI, ISO, Uniclass and IFC) and anticipates regulations that could require manufacturers to present product information in a specific manner that includes more detailed data, uses standardised systems and reflects the need for transparent data sharing. It is up to manufacturers to provide this information in the proper format.
[edit]
Functionality
NBS Source includes a search feature that uses natural language processing to make it faster to conduct accurate searches throughout the database. Once an item is selected, it can be dragged and dropped into the specification.
NBS Source also includes functionality that allows specifiers with questions to communicate with the manufacturer and collaborate on the specification. Alerts can also be set so specifiers will know when updates have been made.
NBS Source is free for professional specifiers, and product information is free for anyone to view. In order to download content, users must register for an NBS ID, which is also free.
BIM Directory
---
[edit] Information Requirements
---
[edit] Information Models
---
[edit] Collaborative Practices
---
[edit] Standards
---
[edit] Levels of BIM
---
[edit] Glossary
---
[edit] Guide to BIM Level 2