Historic paintwork
Despite the fact that in the past, painted surfaces were generally quite commonly used, there is very little historic paintwork which survives intact. Painting was common because either wallpaper had not yet been invented or was so highly taxed it could only be afforded by the wealthy. Many of the best and most historically interesting surfaces lie under many layers of newer paint or wallpaper which make them difficult to access.
The practice of painting internal decoration – such as cornices and friezes – was common although oak panelling was prized enough to allow its natural character to be expressed. In contrast, humble pine panelling might have been painted to emulate more expensive wood types, such as mahogany or walnut, or might be embellished with painted, simulated mouldings to heighten the contrast between shadow and light. Carved detail may have been emphasised with a layer of gilding or picked out in contrasting colours.
Before the early nineteenth century, most rooms contained little furniture; this prompted designers and decorators to pay greater attention to the decoration of walls and ceilings. Without such decoration, small-scale detail could have become lost in candlelight.
Paints were usually oil- or water-based and often difficult to remove. The commonest were those based on a mix of lime or distemper and could be applied to surfaces that did not have a very fine finish.
Walls to be painted with oil-based paint required more preparation, but the versatility of oil paint allowed more effects to be achieved. The resulting shades would be neutral in tone but colour could be added if it was afforded. When colour was not required, shadow effects created by varying shades of grey could sometimes be added to ornament in order to create greater relief.
Walls, furniture and curtains may have been given heightened contrast by strategically applied stencilling in a variety of patterns and colours. This could also have been directly applied to furniture. 'Japanned' or painted furniture became popular in the period between the late-18th and early 19th centuries.
Historic paint can be removed by either using chemicals, scraping or burning off. However, removing layers can also mean removing layers of potentially interesting history. If removal is undertaken without proper recording, it may be difficult to properly authenticate whatever design is instigated.
Some have argued that historic interiors are best represented in the colours of the period in question. These would normally have been chosen to suit the available light, be that candle, oil, gas or electricity. Generally, a gloomily-lit room would usually have been better suited to lighter-coloured walls.
Many historic interiors which have been repeatedly overpainted may conceal a rich history of authentic wallpapers lying below the surface. Lifting a dado, rail albeit temporarily, may reveal the original wallpaper that was used and may therefore serve as a guide to any restoration which may follow.
IHBC NewsBlog
2021 Building Conservation Directory published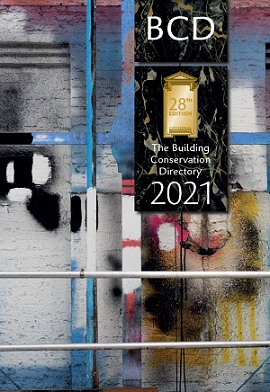 The 2021 edition of the Building Conservation Directory, also available online, has been published. Find skilled trades specialising in work to historic and traditional buildings.
---
BT dials up 'Adopt a Kiosk' scheme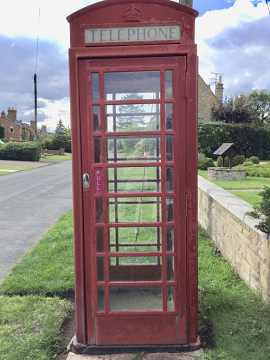 BT has revealed that almost 4,000 of its iconic red phone boxes across the UK are available for local communities to adopt for just £1.
---
Watch IHBC's webinar on 'Retrofit of Traditional Buildings'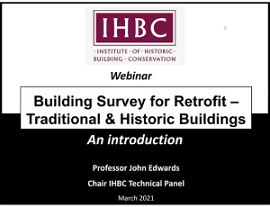 On 26 March the IHBC, led by Prof. John Edwards, hosted a free one-hour CPD webinar 'Introduction to Building Survey for Retrofit' for sector professionals.
---
Has the world left Europe behind?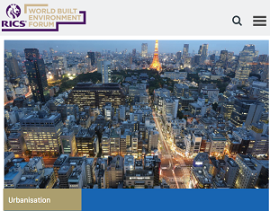 Greg Clark, writing an opinion piece for RICS, explores how good governance in cities pays dividends.
---
AHF on 'Transforming Places through Heritage'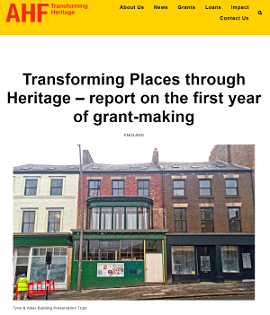 The Architectural Heritage Fund has issued a report on the first year of its 'Transforming Places Through Heritage' grants programme, funded by DCMS.
---
'Star Cities', Marvels of Renaissance Engineering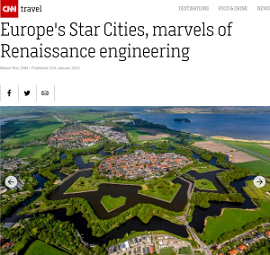 Europe's star cities are scattered all over Europe but their perfect geometrical beauty can only be fully admired when seen from above.
---
COTAC Releases Insight 1 series – The Need to Appreciate the Built Heritage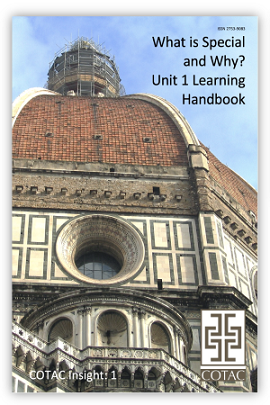 The freely available Insight 1 series targets a wide range of cohorts who wish to gain an appreciation of practical heritage conservation.
---
Palace of Westminster 'deteriorating faster than it can be fixed'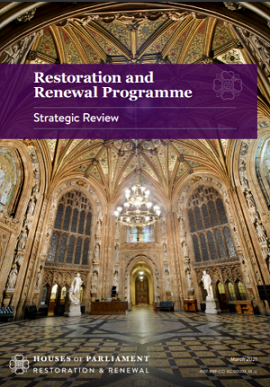 The restoration and renewal of the Palace of Westminster is of 'paramount importance' according to the recent strategic review.
---
Find Webinars and other Events pertaining to Heritage Conservation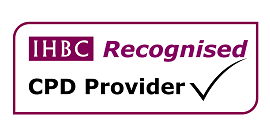 The IHBC's monthly CPD Circular showcases upcoming Events, Awards, Placements, Bursaries & Scholarships, Calls for Papers and more from across the UK and beyond.
---
139-Year-Old Victorian house moves through San Francisco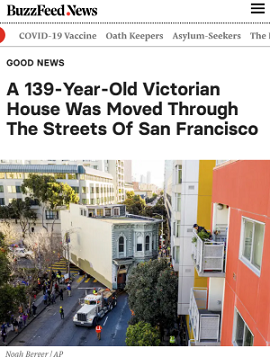 The move of a 139 year old Victorian House through the streets of San Francisco drew an excited crowd of onlookers who came out to watch a truck slowly and carefully pull the historic house through the streets.