Historic paintwork
Despite the fact that in the past, painted surfaces were generally quite commonly used, there is very little historic paintwork which survives intact. Painting was common because either wallpaper had not yet been invented or was so highly taxed it could only be afforded by the wealthy. Many of the best and most historically interesting surfaces lie under many layers of newer paint or wallpaper which make them difficult to access.
The practice of painting internal decoration – such as cornices and friezes – was common although oak panelling was prized enough to allow its natural character to be expressed. In contrast, humble pine panelling might have been painted to emulate more expensive wood types, such as mahogany or walnut, or might be embellished with painted, simulated mouldings to heighten the contrast between shadow and light. Carved detail may have been emphasised with a layer of gilding or picked out in contrasting colours.
Before the early nineteenth century, most rooms contained little furniture; this prompted designers and decorators to pay greater attention to the decoration of walls and ceilings. Without such decoration, small-scale detail could have become lost in candlelight.
Paints were usually oil- or water-based and often difficult to remove. The commonest were those based on a mix of lime or distemper and could be applied to surfaces that did not have a very fine finish.
Walls to be painted with oil-based paint required more preparation, but the versatility of oil paint allowed more effects to be achieved. The resulting shades would be neutral in tone but colour could be added if it was afforded. When colour was not required, shadow effects created by varying shades of grey could sometimes be added to ornament in order to create greater relief.
Walls, furniture and curtains may have been given heightened contrast by strategically applied stencilling in a variety of patterns and colours. This could also have been directly applied to furniture. 'Japanned' or painted furniture became popular in the period between the late-18th and early 19th centuries.
Historic paint can be removed by either using chemicals, scraping or burning off. However, removing layers can also mean removing layers of potentially interesting history. If removal is undertaken without proper recording, it may be difficult to properly authenticate whatever design is instigated.
Some have argued that historic interiors are best represented in the colours of the period in question. These would normally have been chosen to suit the available light, be that candle, oil, gas or electricity. Generally, a gloomily-lit room would usually have been better suited to lighter-coloured walls.
Many historic interiors which have been repeatedly overpainted may conceal a rich history of authentic wallpapers lying below the surface. Lifting a dado, rail albeit temporarily, may reveal the original wallpaper that was used and may therefore serve as a guide to any restoration which may follow.
IHBC NewsBlog
IHBC's first Virtual School a Marked Success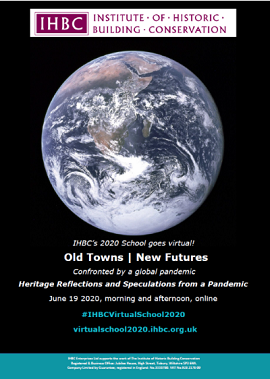 The first 'Virtual School' hosted by the IHBC was launched on 19 June with lead speakers covering pandemic-related topics shaping valued places over two sessions.
---
MPs are Asked for Views on £4bn Parliament Restoration Plan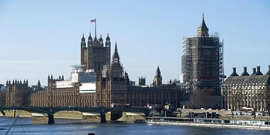 MPs and peers are being asked for their views on the planned restoration and renewal of the Houses of Parliament.
---
Ireland National Heritage Week: 15-23 August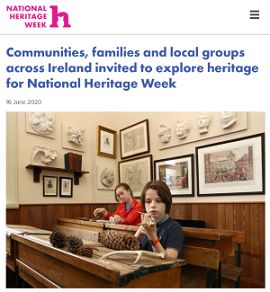 Plans are in place for a modified National Heritage Week for Ireland, which take into account ongoing restrictions on events and gatherings due to COVID-19.
---
Grimsby's historic Ice Factory thrown new survival lifeline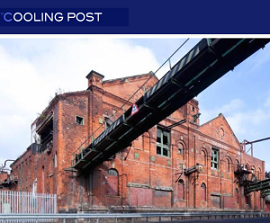 Opened in 1901, and derelict for the last 30 years, the Grimsby Ice Factory is the earliest and largest known surviving ice factory in the world. It still contains an array of historic ice making equipment including four J&E Hall ammonia compressors installed in 1931.
---
Risk Assessments and Contractual Impact from CIAT

A note on contractual obligations under the current COVID-19 pandemic has been issued by The Chartered Institute of Architectural Technologists(CIAT).
---
RTPI calls on government to issue planning guidance to prevent development delays

The Royal Town Planning Institute (RTPI) has called on the government to urgently issue planning guidance to prevent unnecessary delays to development from the pandemic.
---
How to Enjoy Heritage from Home, from the Heritage Fund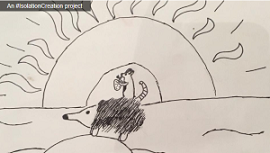 The Heritage Fund has put together a list of heritage-inspired activities to be done from home.
---
Listed Property Owners Club's Spring Checklist for Buildings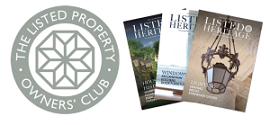 Spring is a good time to stand back and consider any building repairs that are required over the next 12 months, notes the LPOC, and regular inspection and maintenance is the key to keeping homes in good repair, as per its accessible step-by-step guidance.
---
Firefighters tackle blaze at converted Grade II listed former mill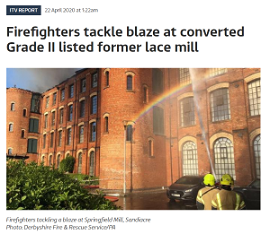 Derbyshire Fire and Rescue Service said "rapid and effective firefighting" had saved three quarters of the mill – which is now apartments.
---
Thieves take advantage of lockdown to steal lead from church roof in Halsham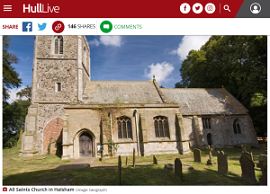 Police have appealed for witnesses after thieves stole lead from the roof of All Saints Church in Halsham near Hedon during the coronavirus lockdown.
---
IHBC's CPD Circular provides info on digital CPD opportunities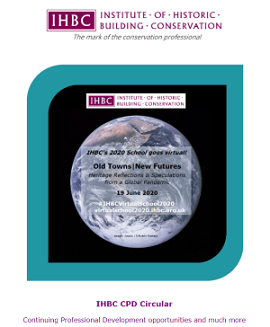 The regular newsletter showcases the IHBC's own Continuing Professional Development (CPD) content as well as online opportunities from 'IHBC Recognised CPD Providers' and other conservation related training and events.
---
Frank Lloyd Wright houses offer virtual tours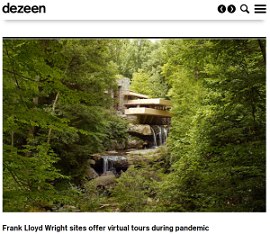 To make sure the public still has access to twelve of those famous works, #WrightVirtualVisits has been launched, which offers virtual tours of 12 iconic houses.
---