The Anatomy of Colour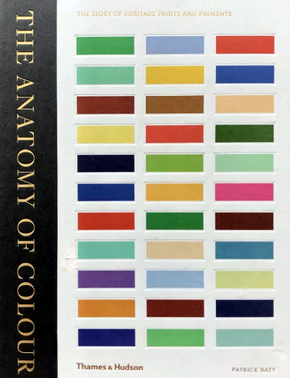 The Anatomy of Colour, Patrick Baty, Thames and Hudson, 2017, 352 pages, 600 illustrations, hardback.
In 'The Anatomy of Colour', Patrick Baty has produced an excellent and highly readable resource charting the development of the materials and colour theories underpinning the house-painting industry since the 17th century. It will delight both the paint geek and the general public alike.
With his unique background as a paint historian, analyst and merchant, Baty clearly demonstrates how the technology of the day influenced interior decoration, and he successfully debunks some of the many established myths around the concept of traditional paints. Often terms that we use on an everyday basis such as paint are not fully understood. He begins his book with an informative walk through traditional decorative materials, their manufacture and use by the house painter. This forms a strong foundation for exploration of subsequent developments, which he outlines in chronological order.
Within each historical period he carefully describes how colour was used within buildings, with the help of a splendid array of colour photographs and illustrations. The discussion is by no means limited to paint colour alone. Baty widens his remit to encompass both wallpapers and decorative techniques such as marbling and graining. Although the misconceptions swirling around historic decoration schemes are too numerous for the author to detail fully, he highlights how some of our notions of what a 17th or 18th century interior should look like were concocted in the post-second-world-war period. However, Baty delves deeper into his subject than most authors to consider the establishment of colour systems, theories and standards that have supported our use of colour since the 18th century. Among the book's delights are the visual presentation of these systems and the impressive library of colour cards that he has built up over the years.
By bringing his breadth of research and experience to the book, Baty clearly aims to appeal to a wide readership, from paint scholar to DIY decorator. Not only does he provide a definitive reference source for the former, but he is also able to interject practical advice into the text, outlining some of the pitfalls of the materials he describes. The voice of the exasperated paint merchant can sometimes be quietly heard between the lines of text.
While Ian Bristow's influential two-book series 'Architectural Colour in British Interiors' and 'Interior House-Painting Colours and Technology' is an invaluable resource for those interested in historic house decoration, those books concentrate on the period between 1615 and 1840. By continuing to pursue the topic from the mid- 19th century up to the 1960s, The Anatomy of Colour shines a light on a period where there is a genuine lack of easily accessible information. It is an unenviable task, as the introduction of new materials and production methods accelerated at a phenomenal rate from the 1920s onwards. However, Baty tackles the subject confidently in a clear and easily understandable manner, plugging an information gap at a time when there is increasing interest in 19th and 20th century decoration.
Many of us have been avid readers of Baty's past writing in periodicals and on his blog. In 'The Anatomy of Colour', he draws on and encapsulates his extensive knowledge and expertise into one thoroughly enjoyable and informative text.
---
This article originally appeared as 'Historian, analyst, merchant' in IHBC's Context 155, published in July 2018. It was written by Lisa Oestreicher, architectural paint research consultant.
--Institute of Historic Building Conservation
IHBC NewsBlog
The rise of 'facadism' in London, from the BBC and 'The Gentle Author'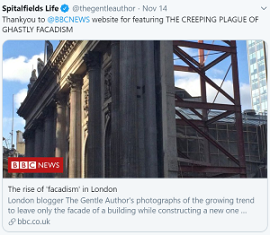 London blogger The Gentle Author has been photographing the changing face of London, focusing on what is known as 'facadism', the practice of destroying everything apart from the front wall and constructing a new building behind it.
---
Great Yarmouth Winter Gardens Facing Off Dilapidation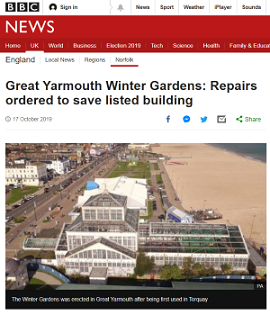 Urgent repairs have been ordered to save one of the country's most endangered buildings from dilapidation while Great Yarmouth Borough Council seeks an investor.
---
Construction urged to do more for butterflies and bees, via SNH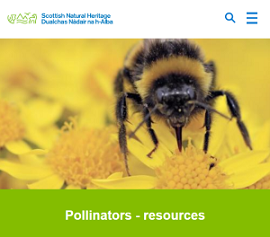 SNH has published new guidance on how best to fit pollinators into urban design and construction with a series of easy steps to suit all project budgets and sizes.
---
Applications now open for the Sustainability Scholarship for 2020: Closing 29/11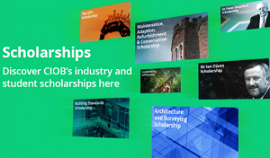 Applications are invited for the Sustainability Scholarship 2020, with successful applicants to receive £3000, support and mentoring from experts, and closing 29 November.
---
Government asked to save plans for Queensbury tunnel cycle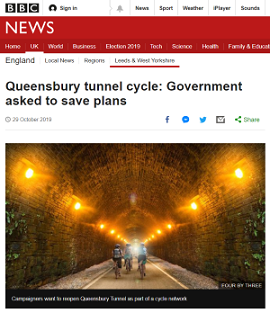 It was hoped the 1.4 mile (2.3km) Victorian Queensbury Tunnel could be used by cyclists travelling between Bradford and Halifax, but plans have been threatened.
---
Case Study in Durham Cathedral: Project Managment and Building Services Challenges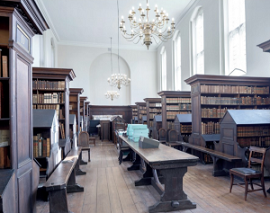 Completing works that widened public access to the hidden architectural spaces and collections of Durham Cathedral showcases exceptional project management.
---
Autumn clamp down on dust by HSE – site visits planned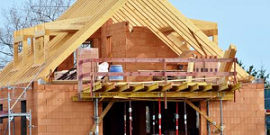 This month HSE is carrying out its latest construction inspection initiative with a focus in particular on measures in place to protect workers from occupational lung disease caused by asbestos, silica, wood and other dusts when carrying out common construction tasks.
---
Public property hubs to be delivered in Birmingham and Peterborough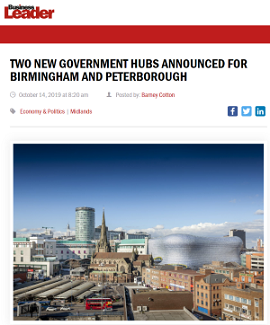 Peterborough and Birmingham are the latest places to benefit from the Government Hubs programme to regenerate city centre sites.
---
Banksy graffiti taken off Grade II listed Yorkshire bridge facing dismantling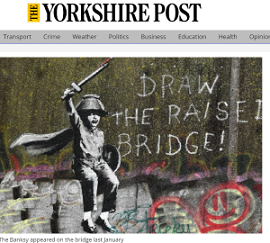 Graffiti by Banksy has been taken off a bridge in Hull as the Grade II (GII) listed Scott Street bridge itself faces dismantling.
---
The Liverpool Grade II 'jewel' that lies empty, derelict and vandalised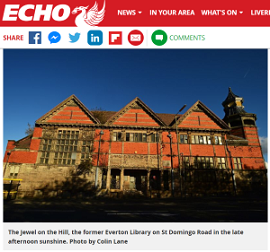 Liverpool landmark the Everton Library, a Grade II (GII) listed building that has been the focus of calls to restore it to its former glory continues to lie leaking, vandalised and derelict, when £5m could renovate the building, reports The Liverpool Echo.
---
Flintshire: Shotton steelworks' John Summers building to be restored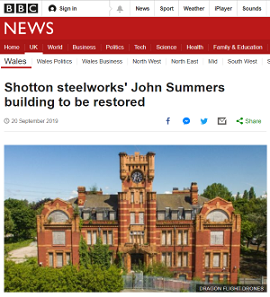 A landmark on a list of the UK's most endangered buildings, Shotton steelworks' Grade II-listed general office and clock tower, is to be brought back to life in Flintshire.
---