Digitalisation in Construction
[edit]
Introduction
The Energy White Paper, Powering our Net Zero Future (CP 337), published in December 2020 by HM Government, defines digitalisation as: '…the integration of digital technologies into a process, organisation, or system. For example, smart meters which automatically send meter readings to energy suppliers, meaning more accurate bills for customers.'
The construction industry is finding significant efficiencies and cost savings as a result of digitalisation. But, a recent report by ex cabinet minister Kenneth Baker outlined fears for the future, identifying up to 15 million jobs at risk by 2025.
"From big data to ultra-fast robots, the digital revolution is already happening"
Whilst this is a valuable and seminal document, it is also a wakeup call for all industries to prepare for tomorrows economy, and the training and education of tomorrow's youngsters.
Given the construction industry has experienced an trend of young people lacking the motivation to enter our industry, this revolution may offer a mixed blessing.
Might we now get the pick of the crop?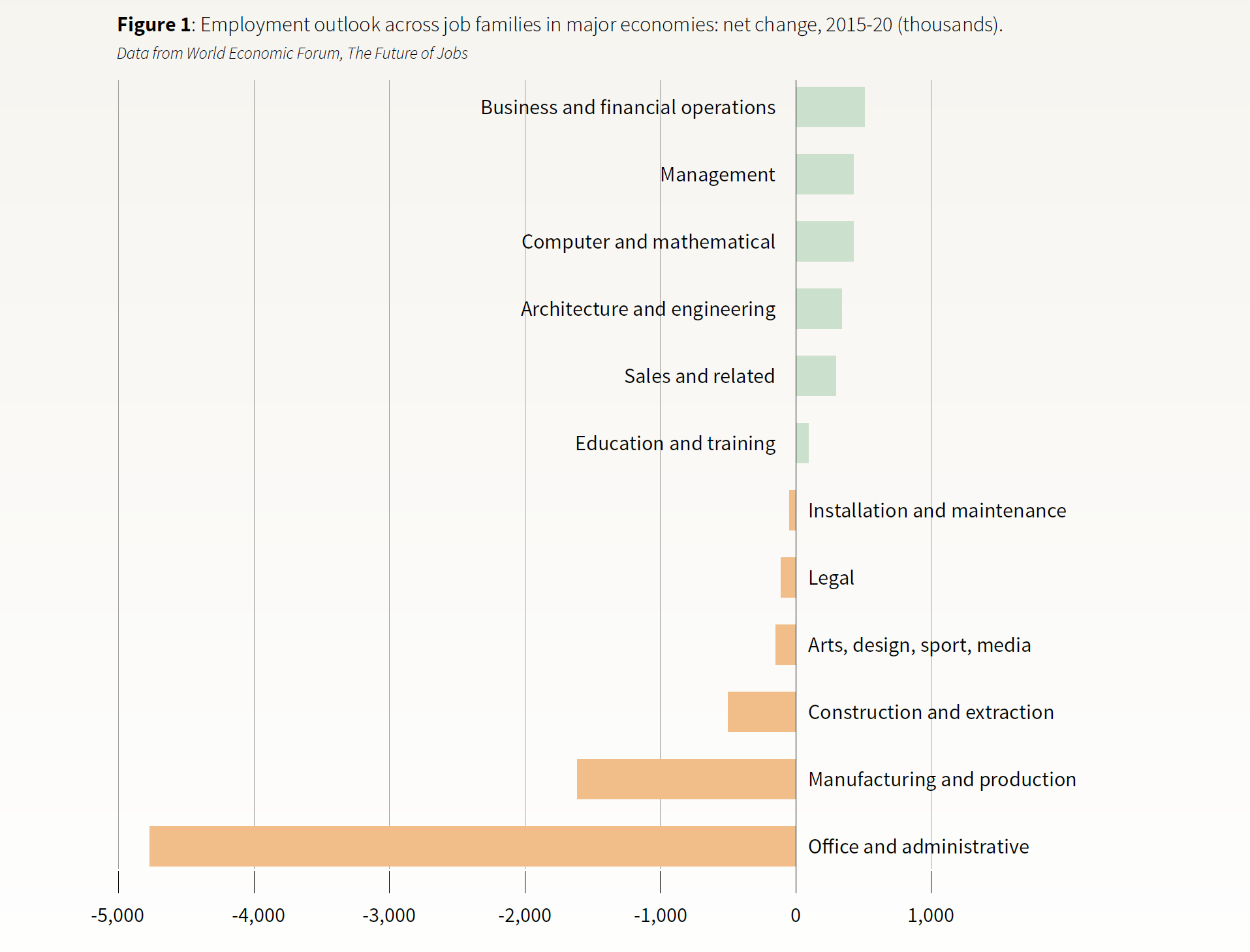 Baker's report predicted the type of jobs that will be in demand in the near future will be in technical management. Whilst his predictions show net change in employment declining in construction, technical management is the premise that the entire industry revolves around. Given that this is in complete alignment with the report recommendations, we should as an industry see benefit from the changing economy and employment structure.
Here is a list of the core skills required to work in the construction industry, now, and in the future:
Reasoning.
The ability to examine and solve problems.
Experience of working in teams.
An ability to make data-based decisions – being 'data savvy'.
Social skills – particularly the confidence to talk and engage.
Critical thinking, active listening, presentation and persuasion.
Practical skills: the ability to make and do things for real.
Baker's report also suggests that education should adopt a new curriculum, similar to that currently offered by University Technical Colleagues (UTCs). The syllabus blends traditional academic subjects with technical specialisms and project-based learning. The close ties to universities and employers ensure that students see the relevance of what they are learning, and thanks to employers, their learning becomes authentic.
As an approach, this concept of education works commendably well for construction, and should increasingly make it, more attractive to the young students of the future.
Digitalisation offers profound improvements in pre-construction, including significant efficiency gains in bid team performance, that will start to become the norm.
As the use of cloud-based bid management tools takes off, digital collaboration technology magnifies the importance of bid team expertise and judgement.
Digitalisation enables knowledge workers to perform at their highest level, and consequently become an integral part of business growth, not just an unnecessary operational overhead.
What is most important, is that digitalisation will increase the time available for bid teams' solution development and problem solving. Through reducing the waste spent catching up and duplicating information across multiple systems and spreadsheets, more quality time can be leveraged to develop skills. The time gained allows for the all-important relationship management communications, which is fundamental in successful bid management.
Those in pre-construction should not fear change, but enjoy a less frantic, less stressful work winning environment, where quality and professionalism count for more than the numbers of bids pumped out each month.
Pre-Construction professionals who understand how to drive bid performance in a digital manner will be in great demand, and should look forward to the revitalised and efficient industry that is now on its way.
BIM Directory
---
[edit] Information Requirements
---
[edit] Information Models
---
[edit] Collaborative Practices
---
[edit] Standards
---
[edit] Levels of BIM
---
[edit] Glossary
---
[edit] Guide to BIM Level 2