Conservation area advisory committees CAAC
Conservation area advisory committees (CAAC) have a strong connection with the history of conservation areas and the Civic Amenities Act of 1967, shortly after which the first conservation area in Highgate, London was established. The first advisory committees started to appear in the 1970s, and there has continued to be government policy to support community involvement in them: "to create a sense of ownership in the locality and help strengthen local communities" (Ref the government's statement on The Historic Environment for England, 2010).
The membership of a local CAAC comprises people with an interest in the built environment and its heritage, drawn from local amenity societies, residents' associations, independent historical, architectural and planning experts, and local residents and businesses. There is no statutory duty for councils to operate or facilitate CAACs, nor is there national guidance on how they should be organised or operated. They are independent of the Council and any local person can stand for election.
[edit]
Local focus
There is a strong relationship between locally listed buildings or a local interest list and the local CAACs because both are seen to act in the interests of local heritage but outside of any statutory obligations, so in an advisory manner. In the same way that councils are not obliged to support CAACs, they are also not obliged to draw up lists of local buildings that are deemed of historical, architectural or cultural significance. However many councils do hold lists of buildings that are not deemed significant enough for national listing criteria but are worthy of note locally. The criteria for this varies from council to council.
[edit]
Role and responsibility
The main role of a CAAC in the planning process is to provide a local focus and knowledge in respect of conservation and heritage matters. This is done by meeting regularly and commenting on planning and conservation area consent applications. Often applications will be sent to the local CAAC for comment.
In determining applications in conservation areas, planning officers and planning committee members benefit from the local knowledge that can be gained from the observations and comments provided by the local CAACs. It is important to note again the role of the local CAAC is in an advisory capacity only, and as such comments are taken as a material consideration in planning applications on the same basis as any other material consideration.
CAACs also comment on public works (other than general maintenance) to the highway, public open spaces, and other Council-managed space within conservation areas. They can recommend buildings for statutory listing by contacting English Heritage, assist in reviews of the council's register of locally listed buildings of merit, and make comments on the contents of draft conservation area character appraisals and other draft planning policies.
IHBC NewsBlog
Part of historic Old Courthouse in Cockermouth collapses into river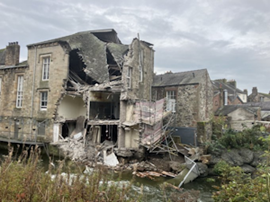 A section has fallen away and landed in the River Cocker below, including the back walls over three floors, sections of flooring and parts of the roof.
---
Scaffolding removed from Salisbury Cathedral after 37 years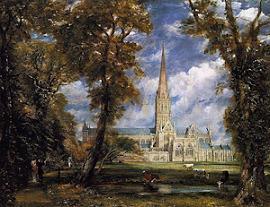 Starting with a survey in 1986, the 'topping out' ceremony took place 7 Sep 2023.
---
Demolition of Kirkcaldy's Category B former Kitty's nightclub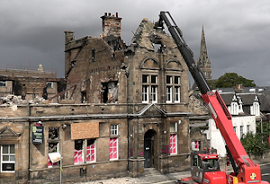 Following a fire, engineers confirmed that the building faced complete demolition.
---
Irreplaceable Welsh castle saved from collapse thanks to £2.2m grant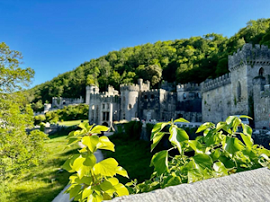 Wales' Gwrych Castle has a funding lifeline from the National Heritage Memorial Fund (NHMF) as part of its Covid-19 Response Fund
---
New interactive models of the 'Dinosaurs' sculptures in Crystal Palace Park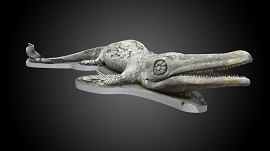 Interactive 3D models have been created of the 29 surviving 'dinosaurs' in Palace Park, South London.
---
How was it built – the Iconic Forth Bridge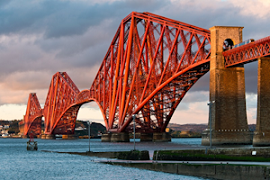 The Forth Bridge is one of the engineering wonders of the world. From the Engine Shed HES, find out more about how this incredible structure was built and what the conservation challenges are today.
---
Stirling's Christie Clock Tower demolition 'over safety' sparks Council investigation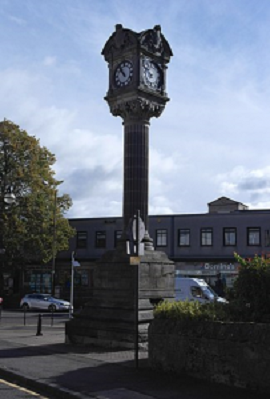 A clock tower which stood in Stirling for 117 years has been controversially and dramatically demolished by the local council over safety fears
---
The Natural Stone Source Book 2023-24 Specifiers Guide published

This guide is designed to be both inspirational and educational, providing the information and creative stimulation needed for successful completion of a natural stone project.
---
Context C176 published - World Heritage Sites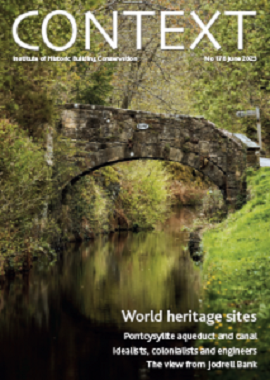 The issue explores the diverse facets of conservation of World Heritage Sites from across our globe.
---
Historic Environment Scotland unveils plans for new Archive House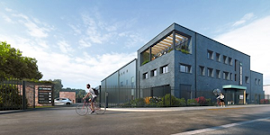 The innovative project will be an exemplar of reuse and retrofit of an existing building.