British Embassies: their diplomatic and architectural history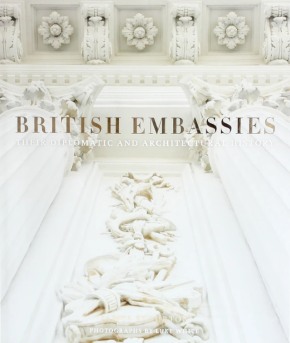 British Embassies: their diplomatic and architectural history, James Stourton, photographs by Luke White, Frances Lincoln, 2017, (351 pages, 15 black-and-white and 260 colour illustrations).
---
How can Britishness be articulated and deciphered in a building? This question is just as relevant to the design of diplomatic missions as of central government offices. Embassies are national aspirations cast in stone, decorated and furnished to represent the country's identity. Following the success of his Great Houses of London (2012), the former chairman of Sotheby's UK, James Stourton, has gone on a tour across five continents to visit 27 British embassies (including Brussels, Moscow, Tehran, New Delhi, Tokyo, Brasilia and Buenos Aires), and to study their architecture and the histories behind them.
He returns with a lavishly illustrated compendium, packed with first-hand information about the cheerful as well as humiliating moments in every compound's eventful past. Telling the story of each foreign mission in chronological order, he begins with Britain's first chancelleries abroad: Paris, Constantinople and Vienna, 19th-century capitals of empires and hothouses of diplomatic activity.
The earliest two residences (Hôtel Charost in Paris and Pera House in the Ottoman capital) occupied mansions leased from the host country. It was not until 1844 that work on Britain's first purpose-built embassy began, to replace its burned-down residence above the Bosporus. The Foreign Office advice to keep costs down by saving on decoration was paid lip service by architect William James Smith, whose design set in motion a lasting diplomatic tradition of representation with a capital 'R' and a proclivity for exploding budgets. It generated a wealth of proud footholds such as the powerful statement of a Victorian country house in Cairo or the grandeur of Edwin Lutyens' embassy in Washington. In their designs, we can find stereotypically British-adopted architectural features such as Palladian windows or broken pediments (interior and exterior). We can also detect representation in both directions: representing Britain while reflecting the architectural tradition of the host country.
The result: in Tunis, a dream of 1001 Nights in blue tiles and arabesque patterns merged with the soberness of Georgian-style doorframes; in Addis Ababa, traditional Tukul huts alongside English country-cottage-style and garden layout; in Rome, Basil Spence's modernist interpretation of an Italian mannerist palazzo in concrete. The Edwardian exuberance of ballrooms and elegance of drawing rooms often differs remarkably from the rather more sordid business of intelligence gathering and military meddling conducted behind the facade, as the deliciously informative text reveals. One can find priceless quotations, particularly from the Churchill, Thatcher and Blair eras, and encounter familiar faces – such as those of agent Kim Philby. Even architecturally speaking, this book contains subtle messages: an embassy, like other buildings of age, has its unique history, which entails initial design, changes, additions and adaptations.
British Embassies serves as a reminder to anybody involved in conservation that all phases and features have their place in the sometimes-complex story of a building and deserve respect. This book will appeal to anybody interested in historic buildings, historic interiors or diplomatic history, particularly to those interested in all three subject areas.
---
This article originally appeared as 'Being British Abroad' in IHBC's Context 163 (Page 55), published by The Institute of Historic Building Conservation in March 2020. It was written by Michael Asselmeyer, an historian and Architect.
--Institute of Historic Building Conservation
IHBC NewsBlog
RTPI: Measuring What Matters: Planning Outcomes Research

The Royal Town Planning Institute(RTPI) has issued research from across the UK and Ireland into how authorities can measure the outcomes of planning.
---
Wales introduces the Optimised Retrofit Programme (ORP) for a green recovery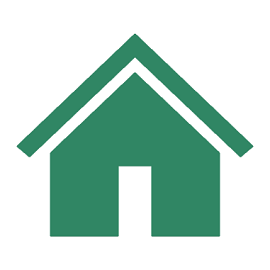 The Welsh Government has given the green light and a further £10M to a major new programme that will transform social housing across Wales, boost the economy and open the door to a new Welsh industry: the Optimised Retrofit Programme (ORP).
---
Lifeline grants for culture in all corners of the country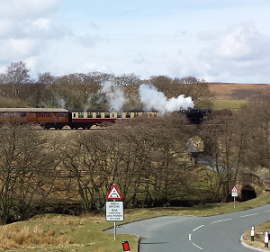 Culture across the country benefits as Lifeline grants from the latest round of the £1.57 billion Culture Recovery Fund will protect a further 162 heritage sites across the country.
---
Scottish Government rejects transformation of landmark building into luxury hotel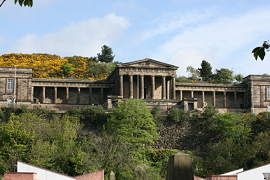 Now the building long touted as a potential home for the Scottish Parliament stands as a symbol of a divided Scottish capital.
---
One of Britain's last AA telephone boxes saved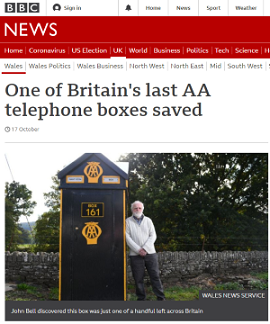 AA Box 161 has now been listed. The telephone boxes were a sanctuary for motorists in distress, but of the hundreds across Britain just 21 remain.
---
IHBC submits comments on BSI's PAS 2038 – Retrofitting non-domestic properties

The IHBC has noted that it fails to emphasise the need to carry out appropriate repairs as the vital precursor to installing retrofit measures.
---
Mapping tool for unused construction materials launched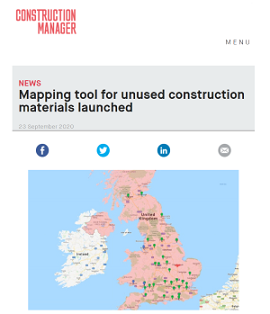 A mapping tool that provides contractors and their suppliers with a central database of local Materials Exchange Platform (MEP) projects to help cut waste by finding a home for unused materials has been launched.
---
'Unusual' WW2 sites listed and upgraded to mark 80th anniversary of Battle of Britain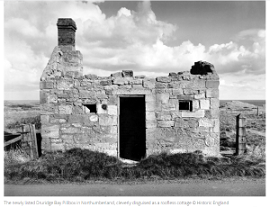 An air raid shelter, a pillbox cleverly disguised as a roofless cottage, a rare Chain Home radar defence tower, and a war memorial have been granted protection.
---
Derby City Council plans to knock down the 43-year old Assembly Rooms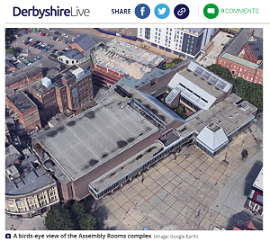 A planning application has been submitted by Derby City Council to knock down the Assembly Rooms – which has played host to the likes of Elton John, Iron Maiden, Take That, etc.
---
RIBA launches new contracts for the provision of conservation architectural services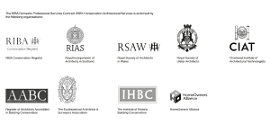 Specifically tailored for conservation projects, the Royal Institute of British Architects (RIBA) has launched two brand new professional services contracts.
---