British Embassies: their diplomatic and architectural history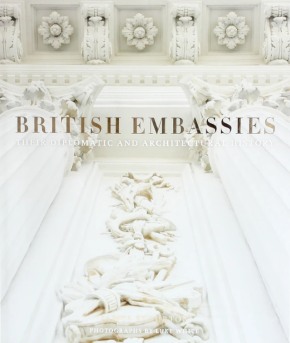 British Embassies: their diplomatic and architectural history, James Stourton, photographs by Luke White, Frances Lincoln, 2017, (351 pages, 15 black-and-white and 260 colour illustrations).
---
How can Britishness be articulated and deciphered in a building? This question is just as relevant to the design of diplomatic missions as of central government offices. Embassies are national aspirations cast in stone, decorated and furnished to represent the country's identity. Following the success of his Great Houses of London (2012), the former chairman of Sotheby's UK, James Stourton, has gone on a tour across five continents to visit 27 British embassies (including Brussels, Moscow, Tehran, New Delhi, Tokyo, Brasilia and Buenos Aires), and to study their architecture and the histories behind them.
He returns with a lavishly illustrated compendium, packed with first-hand information about the cheerful as well as humiliating moments in every compound's eventful past. Telling the story of each foreign mission in chronological order, he begins with Britain's first chancelleries abroad: Paris, Constantinople and Vienna, 19th-century capitals of empires and hothouses of diplomatic activity.
The earliest two residences (Hôtel Charost in Paris and Pera House in the Ottoman capital) occupied mansions leased from the host country. It was not until 1844 that work on Britain's first purpose-built embassy began, to replace its burned-down residence above the Bosporus. The Foreign Office advice to keep costs down by saving on decoration was paid lip service by architect William James Smith, whose design set in motion a lasting diplomatic tradition of representation with a capital 'R' and a proclivity for exploding budgets. It generated a wealth of proud footholds such as the powerful statement of a Victorian country house in Cairo or the grandeur of Edwin Lutyens' embassy in Washington. In their designs, we can find stereotypically British-adopted architectural features such as Palladian windows or broken pediments (interior and exterior). We can also detect representation in both directions: representing Britain while reflecting the architectural tradition of the host country.
The result: in Tunis, a dream of 1001 Nights in blue tiles and arabesque patterns merged with the soberness of Georgian-style doorframes; in Addis Ababa, traditional Tukul huts alongside English country-cottage-style and garden layout; in Rome, Basil Spence's modernist interpretation of an Italian mannerist palazzo in concrete. The Edwardian exuberance of ballrooms and elegance of drawing rooms often differs remarkably from the rather more sordid business of intelligence gathering and military meddling conducted behind the facade, as the deliciously informative text reveals. One can find priceless quotations, particularly from the Churchill, Thatcher and Blair eras, and encounter familiar faces – such as those of agent Kim Philby. Even architecturally speaking, this book contains subtle messages: an embassy, like other buildings of age, has its unique history, which entails initial design, changes, additions and adaptations.
British Embassies serves as a reminder to anybody involved in conservation that all phases and features have their place in the sometimes-complex story of a building and deserve respect. This book will appeal to anybody interested in historic buildings, historic interiors or diplomatic history, particularly to those interested in all three subject areas.
---
This article originally appeared as 'Being British Abroad' in IHBC's Context 163 (Page 55), published by The Institute of Historic Building Conservation in March 2020. It was written by Michael Asselmeyer, an historian and Architect.
--Institute of Historic Building Conservation
IHBC NewsBlog
Ireland's Our Rural Future: support for LA purchase of vacant and derelict buildings for community use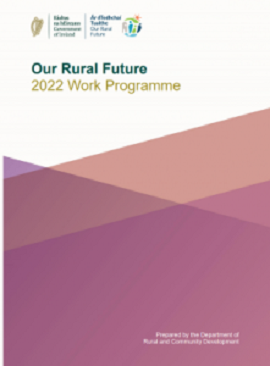 Ireland's Minister for Rural and Community Development, Heather Humphreys, announced a new funding stream to support Local Authorities (LAs) to purchase vacant buildings that could be converted and developed for community use.
---
BBC: Eleven Historic English pubs recognised for their interiors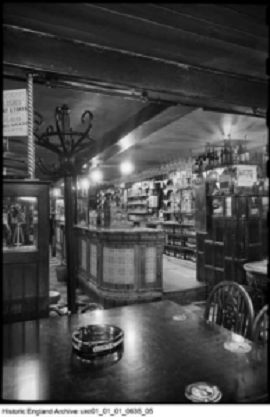 Eleven pubs across England have been recognised for their historic or unusual interiors, as they have been listed, upgraded or relisted.
---
HEF's Heritage Sector Resilience Plan launched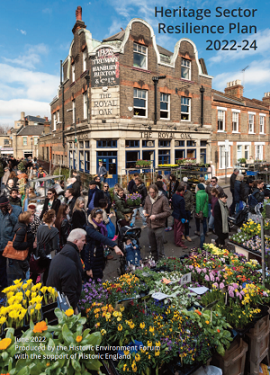 The Heritage Sector Resilience Plan, developed by the Historic Environment Forum (HEF) with the support of Historic England, has been launched.
---
Common Commitment to all Ireland's heritage – North South Agreement on Vernacular Heritage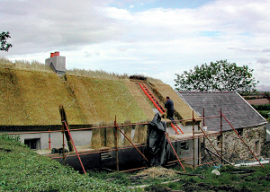 An 'All-Island' commitment to Ireland's vernacular heritage has been established with the signing of the North South Agreement on Vernacular Heritage, supporting traditional buildings etc.
---
Bristol Harbourside landmark Canons House gets GII listing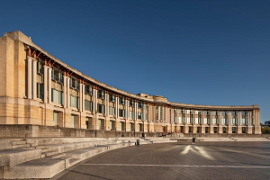 Canons House, a landmark building on Bristol Harbourside, has been awarded Grade II (GII) listed status having been built as a regional headquarters for Lloyds Bank between 1988 and 1991 (Arup)
---
BRE/BEIS project to modernise home energy rating scheme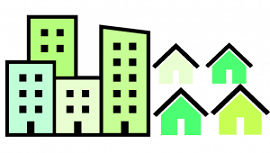 The Building Research Establishment (BRE) has announced a new project with the Department for Business, Energy and Industrial Strategy (BEIS) to improve and modernise the home energy rating scheme used to measure the energy and environmental performance of UK homes.
---
Interdisciplinary IHBC accreditation recognised by CSCS for PQP Cards

Sector lead the Construction Skills Certification Scheme (CSCS) has recognised the IHBC's professional accreditation and support (CPD etc.) in awarding its PQP (Professionally Qualified Person) cards.
---
Unearthing the history of Gloucester's 'the Fleece' Hotel starts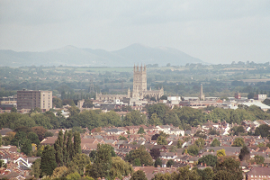 Work to repair a fire-hit medieval hotel in Gloucester is underway as crews have started work to strip back some of the modern trappings and reveal the historic framework.
---
European Heritage Heads Forum statement on Ukraine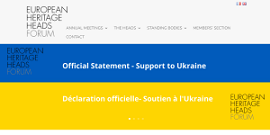 The Secretariat to the European Heritage Heads Forum has has coordinated its declaration of solidarity and support for Ukraine's cultural heritage institutions.
---
Welcome to #IHBC25 – 25 years since we turned professional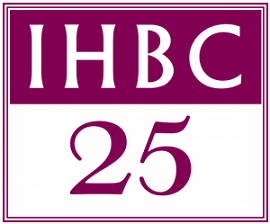 2022 will see the IHBC mark a quarter of a century since our incorporation as a professional body supporting and accrediting built and historic environment conservation specialists. We're kick-starting it by inviting your ideas on how to mark this special year!